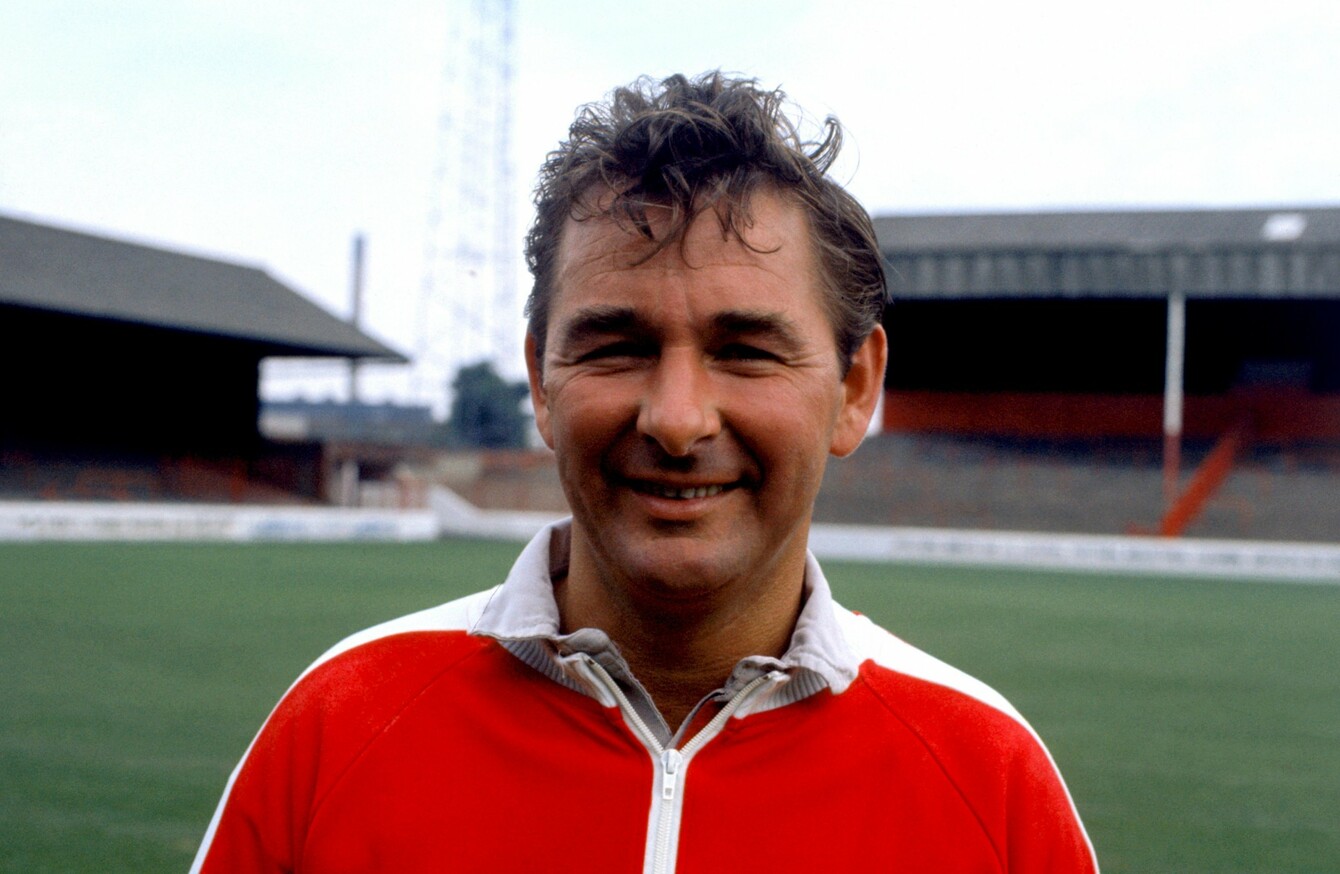 Image: EMPICS Sports Photo Agency
Image: EMPICS Sports Photo Agency
1. Everyone in football, especially that era, seems to have a Clough story, but nothing perhaps quite as bonkers as this one – and I say that as someone who has written a couple of books about the man's work. It is also, I'm pretty sure, the first time I can remember anyone telling an anecdote this way when it openly references, as a point of humour, the drinking and alcoholism that finished Clough – an illness some people (among them, TalkSport regular Ray Wilkins, presumably) call it. Sorry to be a dreadful spoilsport – I'm fully aware I will be told to get a sense of humour, that it's banter and LOL – but I've started to wonder whether Saunders might be a bit of a pillock.
I do have my own drunk-Cloughie story. A year or so after Saunders left Derby (he eventually went to Liverpool), I was in my first job, at the Newark Advertiser, and Clough was invited to plant a tree to mark the opening of a local arts centre.
This time, for the record, he was in a suit, not the green sweatshirt. Blotchy cheeks, though. Pissed again. Not exactly Clough in his pomp, with those piercing eyes, the immaculately coiffured hair, the healthy skin and all that precious, peculiar magic from the days winning league titles and European Cups.
Anyway, the tree. Most people would pop it in the ground, sprinkle a bit of mud on the roots and pat it down with a spade. Not Clough. He was down on his knees, flattening the soil with his bare hands, ruining a good suit. Nobody was laughing, though, and more fool me, perhaps, for not putting on a Clough accent over the years and trying to get some mileage out of it. It's just there are a thousand stories about this man that don't refer to him being plastered.
He was the guy, remember, who once told a colleague: "Sinatra met me, you know," – and call me a spoilsport, humourless, whatever you will, those are the stories that make me laugh. Not ones about his blotchy cheeks or making an oaf of himself when he was sliding into alcoholism or maybe already there. Not stories I suspect that might have more topspin than a Roger Federer serve.
The Guardian's Daniel Taylor investigates Dean Saunders' recent anecdote about Brian Clough and finds that his story – with a man's alcoholism as a punchline – was heavily fabricated.
2. The arm regarded by many as the strongest in New York measures 39 inches from neck to wrist, with biceps the circumference of a football and skin spray-tanned to a similar leathery brown. Even in repose, its snaky veins swell to the surface, masked only by a tangle of tattoos. Six days a week, the arm spends two hours in the gym, sculpting itself to perfection. It can curl 100-pound dumbbells with ease. It requires specialized tailoring. It has saved lives.
So the man attached to the arm, a 6-foot-5, 275-pound behemoth named Mike Ayello, was more than a little surprised one Saturday afternoon in August to see his prized limb pinned against the table of a Long Island sports bar in a matter of milliseconds.
Mr. Ayello works as a New York City firefighter for Ladder Company 135 in Glendale, Queens, but for seven years, he has moonlighted as a professional arm wrestler. The pursuit is no mere hobby: Arm wrestling has become big business. Capitalizing on AMC's 2014 reality television show "Game of Arms," the World Armwrestling League signed a broadcasting deal with ESPN. The popularity of the sport has been growing ever since, attracting a burst of fans and corporate sponsors. Many of the game's top "pullers," as arm wrestlers are called, now train with the urgency of Olympic athletes for tournaments that can net them tens of thousands of dollars in a single day. Still, for a great many competitors, the money is hardly the point.
Noah Remnick writes in the New York Times about how a barroom pastime has now turned into big business.   
3. While other English clubs boast huge Irish followings, none command the level of adoration that is accorded to the red half of Manchester, an emotional bond that stretches almost 60 years back to the dark night a 22-year-old from Cabra by the name of Billy Whelan was among those to lose their lives in the Munich air crash and that has been handed down like an heir loom. "Support for United passes through families and through generations," said Kevin Moran. "That will never change."
The Irish fascination with United can only be understood through the prism of Munich. Those too young to have seen Johnny Carey in the flesh were swept up a decade later in the emotional outpouring that followed Whelan's tragic death. A year earlier, Whelan had been part of a Busby Babes side that visited Dublin to play Shamrock Rovers in a European Cup tie and the brush with stardom had electrified an entire generation of kids. "From that moment on United became an Irish team," reflected Pete Mahon, current Drogheda manager, with no hint of hyperbole. "How could you support anyone else after being in Dalymount that night?"
Thousands did support other teams, of course, but never with the same hard currency that came with United. At the height of the "Irish connection" around the turn of the century, when United had a cafe and two merchandise outlets in Dublin alone, then taoiseach Bertie Ahern did a stint as a guest on RTE's flagship Premiership highlights show. Think about it: would a politician ever be accorded that status if he was a fan of any other club? A proud Dub and United fanatic, Ahern knew how to push all the right populist buttons.
Over at Soccerful.com, John O'Brien delves into the links between this country and Manchester United but sees the current lack of Irish players at the club as nothing to be worried about.    
4. Neil O'Donoghue was 17 years old when he was working as a ticket collector in Heuston station, Dublin, while playing part-time for Shamrock Rovers. Never much of a student, prospects were few and far between for him and Ireland seemed small and suffocating. He had already worked as a labourer in London when one day, he was approached by his brother's friend, who asked him if he was interested in a scholarship to the US. O'Donoghue decided to chance his arm. "My idea was to come over here for a year and have a good time," he says. "As it turned out, I fell in love with the place."
Auburn University lies on the eastern border of Alabama and has a history rooted in American football. O'Donoghue, now 63, had never played the game before – in fact, he had only been to one match in his life – but he was determined to earn himself a full scholarship and stay in the States. He had been studying PE and playing football for Saint Bernard college but he became tired of his part-time job – cleaning trucks with acid – and when the price of petrol rose, Saint Bernard dropped the football, forcing O'Donoghue to look elsewhere.
He decided that he could transfer his kicking skills from one football pitch to another and so he made the 163-mile journey to Auburn. "I drove down with a couple of buddies and knocked on the coach's door. I was sticking my neck out but I didn't know any better. I thought I had the ability to do it." He was right.
For The Guardian, Ian McCourt delves into the remarkable tale of Neil O'Donoghue – the last Irishman to play in the NFL.
The42 is on Snapchat! Tap the button below on your phone to add!