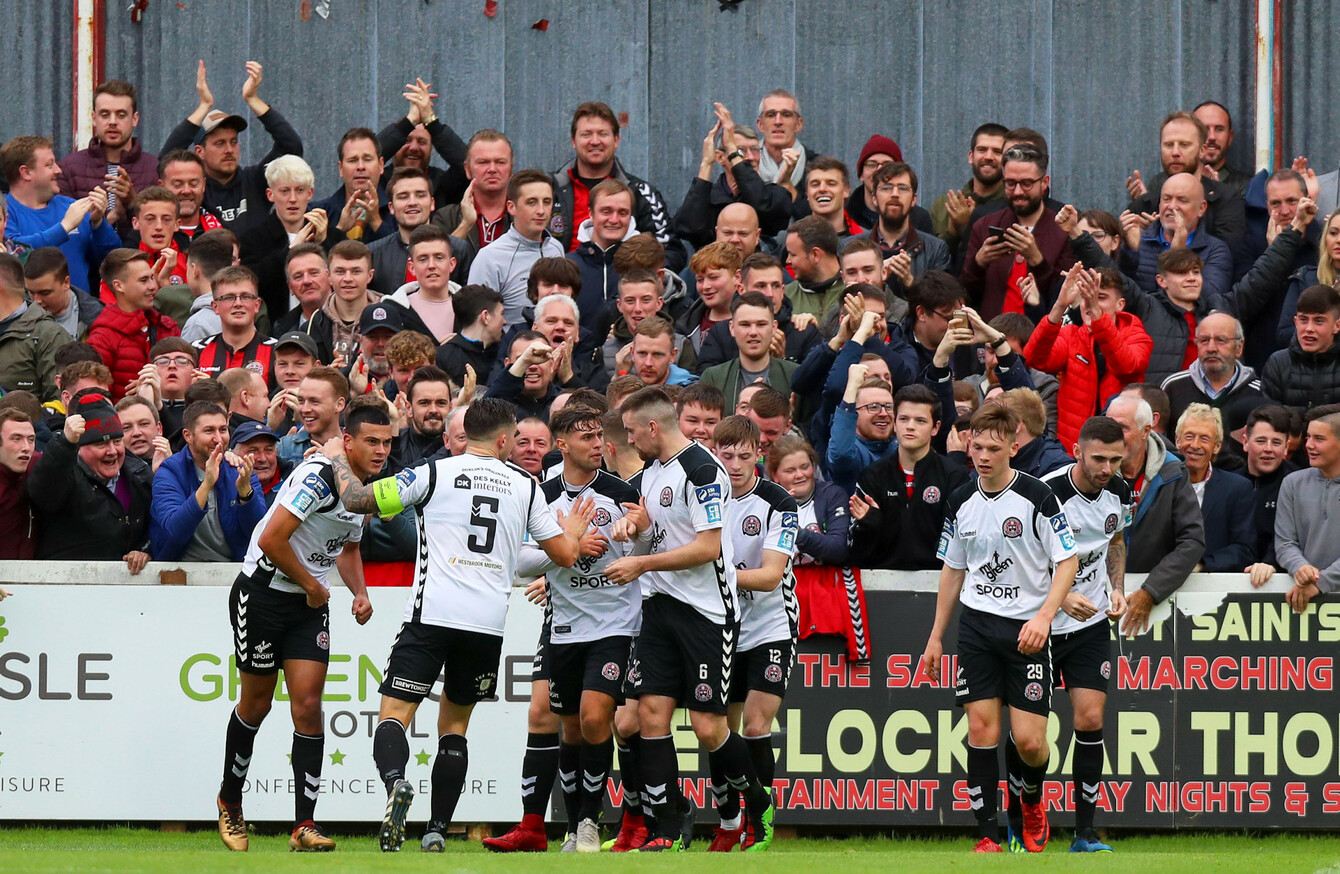 Four members of Bohemians' U19s featured as the club's senior side beat rivals St Pat's 3-1 last month.
Image: Tommy Dickson/INPHO
Four members of Bohemians' U19s featured as the club's senior side beat rivals St Pat's 3-1 last month.
Image: Tommy Dickson/INPHO
WHEN DANISH CHAMPIONS FC Midtjylland slotted in their second goal before half-time in their Uefa Youth League clash against Bohemians, it would have been easy for the League of Ireland side to crumble, their manager Craig Sexton admits.
His side had not given a true account of themselves in the early stages and, reflecting on the game three weeks on, Sexton accepts that his side may have have been initially overawed by the occasion; the lights, the crowd, the size of the arena and the magnitude of the match.
"The little details make a difference for lads," he says. "It's a big stadium, you're playing with the official white Champions League footballs, the pitch they have is immaculate and has won Pitch of the Year for the last three years over in Denmark. 
"I think our lads might have just got a little bit overawed at the beginning, which is absolutely acceptable with them just being young lads. We didn't pass the ball well enough in the first half, we improved on that end after the break and got the goal back."
In truth, it was all a lot for a group of inexperienced Irish teenagers no older than 18 to take on board, walking out onto a pitch Manchester United had played on just two years before — a Europa League last 32 tie, where Louis van Gaal's side suffered an embarrassing 2-1 defeat in Denmark.
The MCH Arena in Herning was only completed a decade ago and boasts a capacity of close to 12,000 spectators. The name 'Midtjylland' came to prominence for their stunning home-leg win against the Premier League giants. They were reported in the media as minnows back then, but up against Bohemians' U19s in the first-round of the Uefa Youth League, they are anything but.
Source: Bohemian FC/YouTube
The club was contextualised as plucky and up-and-coming two years ago against Man United at senior level, but in Denmark they are their own giants, especially at underage level where their academy is one of the best across the continent. They are the reigning Danish Superliga champions, who also claimed the title in 2014/15 as well. They count Denmark national team captain Simon Kjær as one of their proudest graduates.
18-year-old Steven Nolan's second-half strike to halve the deficit on 3 October, making it 2-1 on the night, could prove absolutely crucial if Bohemians are to have any chance heading into Wednesday's second leg in Dublin. The Uefa Youth League is the pinnacle of elite U19 football and the Irish club's qualification for the competition's opening round is a feat worthy of significant plaudits and recognition.
Barcelona star Munir was the tournament's top goalscorer in its debut edition in 2013/14, finding the back of the net 11 times before being elevated into the La Liga side's senior squad the following season, playing up front alongside Lionel Messi and Luis Suarez. Liverpool's Dominic Solanke scored 12 goals the following year as Chelsea claimed the title, while Tammy Abraham scored eight goals two seasons back as well.
It is a competition which boasts the best of the best at U19 level, and one where you can be guaranteed to see a future Champions League winner, or five, playing against one another inside vast stadiums and arenas.
Bohemians' 2-1 defeat in their first leg against Midtjylland was by no means a major disappointment, goalscorer Nolan admits sitting inside the players' lounge at Dalymount Park on Monday. In fact, a 1-0 win tomorrow night would be enough for the Dublin side to cause the upsets of upsets, and book their place in the second-round.
The away goal was crucial. It gives us something to look forward to on Wednesday," the DIT business student and former St Kevin's Boys striker says. "It was sort of a nervous start, but once we got into the game we found our feet.
"The pitch was unbelievable over there, and the ball was so fast going across it. We grew into the game and once we got that away goal, we started to threaten them near the end. It's a positive result."
"It was actually a bit surreal walking out in the stadium," Nolan smiles. "It's something that you dream of as a kid — big stadium on a European night, and the pitch was just like a carpet.
It was brilliant and I think that sense of it being a big occasion maybe contributed to the nervous start. Everyone still had their head in the clouds, but once we got the ball down and started playing, we did begin to start threatening them."
The contrast between the two sides cannot be stressed enough. A short visit to Midtjylland's academy while over in Denmark proved to be an eye-opening experience for manager Craig Sexton and his squad of young players before the first-leg in Denmark.
Midtjylland players are housed at the renound Sportcenter Ikast and are based there permanently. The young footballers receive a full schooling at the academy and train on a full-time basis alongside their studies — sometimes training up to nine times on a given week.
The football club has all the best medical professionals on hand to track and monitor young hopeful's progression with detailed analytics, with Midtjylland's academy becoming the first of its kind in Denmark when it opened its doors in 2004.
They've got a brain surgeon at the club," manager Sexton laughs. "Our lads found that sort of stuff out when they visited the academy. They've a brand new 12,000-seater stadium, they've got financial backers behind them, their players are training six days a week, they live on campus.
"We do three a nights a week training out in IT Blanchardstown with the Bohs first team, plus a game, and maybe another day's training if we can fit it in.
"It's difficult and the comparison is there to see, so to get a result would be amazing for us. I think the first-leg proved, though, how much we punch above our weight as a nation.
"Whether it's us, or any of the Irish underage international teams, a lot of the time we're only one kick of a ball away from these types of elite teams, and we're not as overawed as we used to be. I think it shows that the structures are getting better in this country.
With the pathway created with the new League of Ireland National Leagues from U15s, to U17s to U19s — it's going to work. It's a system that has our best footballers all playing together at the highest level in this country; that's only going to turn out well."
Bohemians are the third Irish club to qualify for the Uefa Youth League, following Cork City in 2016 and UCD last year,and with the impact of the new National League player-pathway structure from U15, to U17 and then to U19 level being highlighted as a key reason for the recent success.
The Bohemians manager admits that it would have been easy for his side to throw in the towel over in Herning at the beginning of the month having gone 2-0 down in the first half. But a side which won the SSE Airtricity League U19 title last year, followed by the Enda McGuill Cup this year, demonstrated its resilience to pull a goal back and make Wednesday's second leg in Dalymount Park a contest again.
A decade apart. 🔴⚫️

Pic 1: Craig Sexton cheering on #Bohs from the stands in FAI Cup final win v Derry City in 2008. (📸Dave Maher @sportsfile)

Pic 2: Craig Sexton leading the Bohs U19s to Enda McGuill Cup final win v St Pat's in 2018. (📸@BohsABaldiemann) pic.twitter.com/SpbMVcu4xc

— Bohemian FC 🔴⚫ (@bfcdublin) September 5, 2018
"It epitomises the character within the group," Sexton says of his players. "We've got a really good dressing room, a really good group of really good people. Never mind just footballers, just really good people. We had just gone 2-0 down from a set piece, which was a little bit disappointing, but then Steven [Nolan] scored within a couple of minutes.
And I think that shows our character. We could have crumbled at that point — 2-0 down away from home in Europe, especially against a team like Midtjylland. We knew that we just needed to roll our sleeves back up and get back on the horse and give it a right go. It's going to be tough again on Wednesday, but we know it's possible to go through."
Sexton, still aged only 26, grew up a Bohemians supporter and was a goalkeeper in the League of Ireland for four seasons, lining out for his boyhood club before a later spell with Athlone Town. He says that he thoroughly enjoys the management end of things, and revels in seeing his young players develop and earn the chance to win silverware and prove their skill in the club's senior team.
Bohemians' underage sides and the player-pathway shown at the club has been lauded in recent months. Four of Sexton's U19 players were involved as the club's senior side dismantled rivals St Patrick's Athletic away from home 3-1 in a tense Dublin Derby in Inchicore last month — German-born striker Ali Reghba sensationally scoring twice in three minutes at Richmond Park on his first senior start for the club.
Players like 18-year-old Reghba, Steven Nolan, Promise Omochere, Mitchell Byrne and captain Andy Lyons have excelled over the last year and represent just some of the emerging talent coming through at Dalymount Park. Wednesday's second leg against Midtjylland will be a chance for them and their Gypsies team-mates to cause a stunning upset.
Their manager knows it's an incredibly tough task to turn their 2-1 first-leg defeat around, with the difference in financial backing, academy size and the vast resources that their opponents have at their disposal meaning the League of Ireland club should be easily beaten.
But Bohemians' first-leg performance, holding out for large sways of the 90 minutes at the 12,000-seater MCH Arena, before snatching a crucial away goal is evidence that there is more to come from the young team, and that the tie is far from over.
The club hopes to have a large crowd on their side at Dalymount Park on Wednesday night for an occasion fully worthy of one. Some of Europe's greatest wonderkids, including Bayern's Renato Sanches, Chelsea's Andreas Christensen and Manchester City's Phil Foden, have all plied their trade in the Uefa Youth League over recent seasons.
Bohemians will be hoping to make it another round further in the competition, to etch their name alongside some of the great names further along in the group stages, including Real Madrid and Barcelona, as well as side's like Ryan Nolan's Inter Milan and Tottenham, who boast Ireland underage striker Troy Parrott.
Wednesday is going to be difficult," muses Sexton. "I think we need to stay in the game as long as we can. A 1-0 win gets us through and, don't get me wrong, we know it's going to be difficult.
"Midtjylland are quite open and expansive.They are really good technically, they play quite similar to Liverpool: lots of runners forward, moving the ball well, stretching the game.
"So we need to stay in the tie for as long as we can. It is going to be a tough ask, but do I think we can win the game? Absolutely. Is it going to be difficult? 100 per cent. We need to produce a ten out of ten performance and probably a little bit more on top of that too.
Are our lads capable? They absolutely are, I've no concerns about that," the manager adds. "They have produced so many good performances over the last two seasons, winning the SSE Airtricity League title last year and the Enda McGuill Cup last month too, so I know it's in them.
"We've so many good players coming through, which is brilliant, and we're just hoping that we can make a little bit of noise at Dalymount on Wednesday and get a good crowd through the gates.
"I think when they [Midtjylland] get into the away dressing rooms too… I think they might get a bit of a shock," he laughs.
"They'll be away from their home comforts in Denmark. If we can get a massive crowd here and get behind the lads, I think it would be huge and I think it will push them on to get a result and come out on top."
With public faith in the senior national team at a low ebb following three poor Uefa Nations League results in a row, the latest of which a 1-0 defeat at home to Wales, many have continued to stay optimistic about the promising young talent in Irish football which paves the way for a brighter future.
With Cork City, UCD and Bohemians all qualifying for Uefa's elite U19 competition one year after another, and the success of Colin O'Brien  — bringing the Irish U17s to the quarter-finals of the European Championships and Tom Mohan recently leading the U19s to a 2-1 victory over the Netherlands two weeks ago — it seems there is plenty of reason to have hope for the coming generations.
Subscribe to our new podcast, Heineken Rugby Weekly on The42, here: