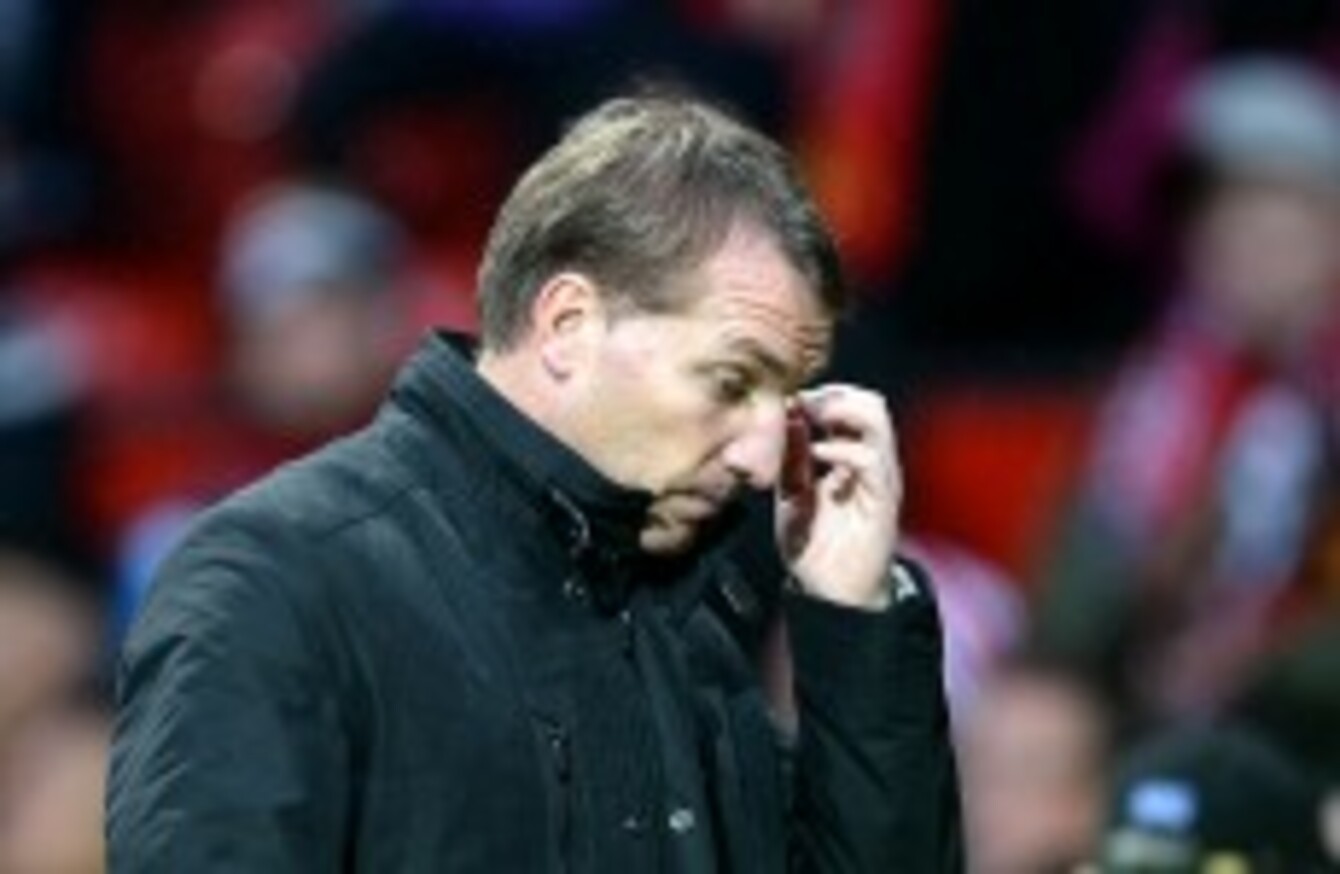 It's been a year of highs and lows.
Image: Martin Rickett
It's been a year of highs and lows.
Image: Martin Rickett
January to May
IT'S A MUCH over-used footballing cliché that things can change so quickly in this great sport of ours. Within a matter of games you can go from hero to zero.
It's a typical cliché that most of the time means very little. However, for Brendan Rodgers it sums up a whole year.
The Liverpool manager went from the absolute heights of euphoria — where his side had a first league title in 24 years in their sights and he was named Manager of the Year — to the depths of despair when they would let that title slip, lose their key player, get eliminated from the Champions League at the group stages and calls for the 41-year-old's head became rife.
The year started with an unbeaten league run that would last from 1 January to 27 April, spanning 16 games and a huge 52 goals — that's over three goals a game. There were wins over Manchester United, Arsenal, Tottenham, Everton and Manchester City. What could possibly go wrong?
A lot. Eight days at the end of April and the beginning of May would determine a season and, quite possibly, turn out to be the beginning of the downfall of Brendan Rodgers.
Steven Gerrard's slip and Demba Ba's subsequent goal, followed by a capitulation at Selhurst Park that sparked scenes of tears from Luis Suarez, allowed Manchester City in to steal the league title.
The loss to Chelsea was the first time Rodgers' side had failed to score in 25 league games. After looking unbeatable and with most people accepting that the league trophy would be making the 30 mile trip from Manchester to Liverpool, two games changed everything — a testament to the unpredictability of football and why nothing should ever be taken for granted at such a high level.
The summer
Luis Suarez's moment of madness at the World Cup in Brazil and his desire to move to Spain meant that Liverpool and Rodgers were left with no choice but to let the Uruguayan go.
This was always going to have a huge effect on Rodgers' team but it would be the signings made subsequently — totalling over £100 million — that would prove to be his biggest mistakes of 2014.
Rickie Lambert, Adam Lallana, Emre Can, Dejan Lovren, Javier Manquillo, Alberto Moreno, Divock Origi, Lazar Markovic and Mario Balotelli all came in to the squad for a combined fee of £117.1 million.
Of those nine players only really Lallana and Can have looked impressive. Moreno has looked good in parts but has been at fault for a number of goals since coming in at left-back. The less said about Mario Balotelli, the better.
August to December
Some would say Rodgers is still lucky to be in his job. And, with the incredibly harsh nature of the managerial sphere that we see in football these days, they would probably have a point.
But can you really go from being Manager of the Year and being hailed as the Messiah at one of the biggest football clubs in the world, to being out of a job just months later?
The answer should be no. But it's not. At this stage it wouldn't surprise anyone if Rodgers were to be sacked. His signings and the first half of the season that Liverpool have had would have to be considered a sackable offence, were it not for what he had done last season.
You have to imagine that not all of the summer signings were solely down to Rodgers. And it goes without saying that the poor performances on the pitch aren't completely down to the manager, it is the players, after all, that cross the white line. But the culture of the game is that the blame lies with the manager.
What's interesting is that neither Tom Werner nor John Henry have taken to social media or released a statement backing Rodgers. Were they to do so all speculation of his departure would dissipate. But they haven't.
An interesting thought to consider as we head into 2015.