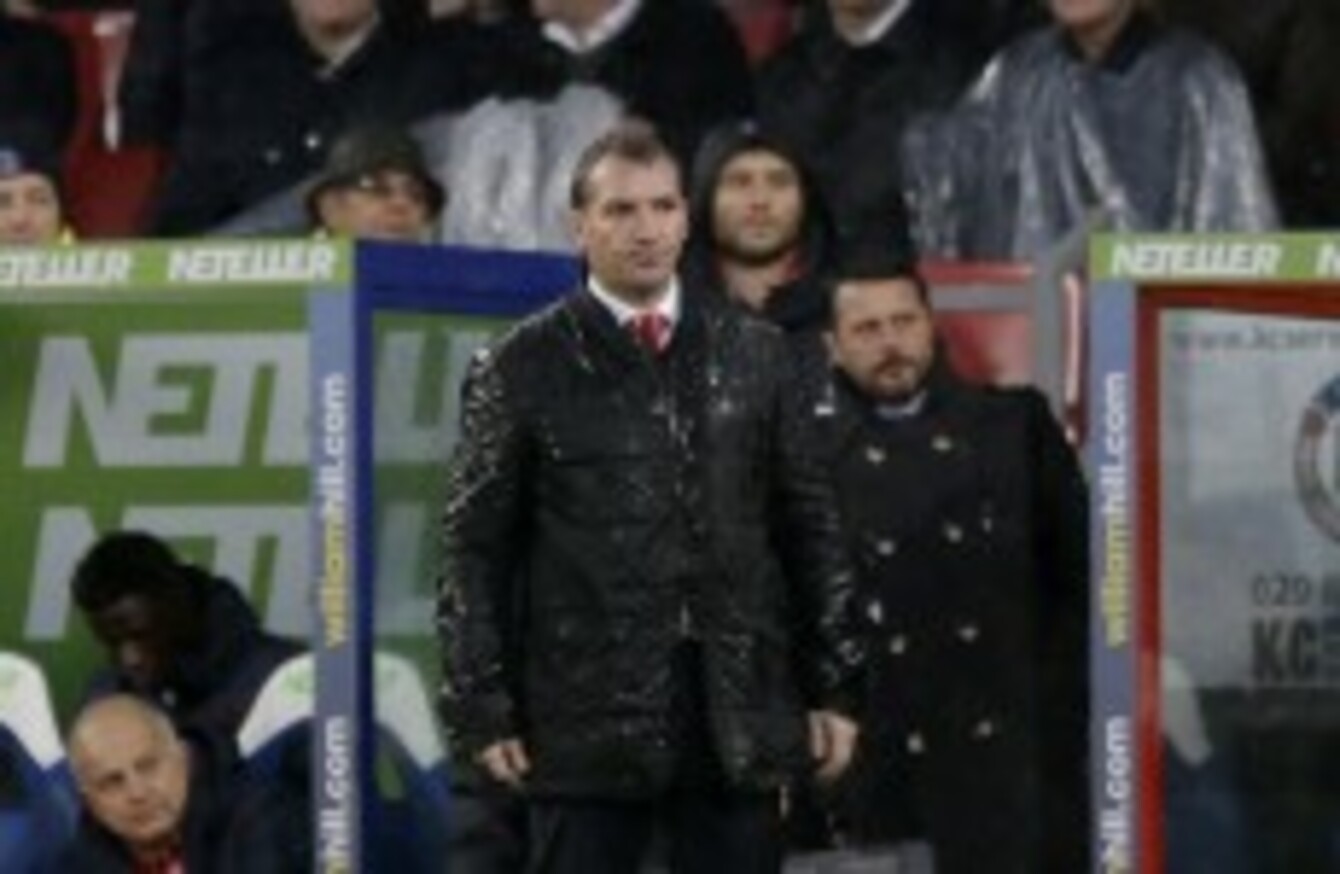 Image: AP/Press Association Images
Image: AP/Press Association Images
This afternoon was Liverpool's fourth defeat in a row in all competitions. They sit 11th in the league, just four points above the relegation zone and a full 18 points behind Chelsea. This is a team that finished second last year and, probably, should have won the league.
Yes, they lost Luis Suarez in the summer – a player that is irreplaceable in terms of ability, work rate and, most importantly, goals. But Rodgers spent £100 million during the summer and it's had very little effect.
Adam Lallana and Alberto Moreno have looked good but the list of signings that simply don't look up to Premier League standards is astonishing. Rickie Lambert scored today and threw himself around up front but he's not a player who's going to score 20+ goals a season, probably not even 15 considering he's currently only on one. And he's 32.
Dejan Lovren is another player who looks way out of his depth. He was made to look a fool by Yannick Bolasie for Palace's second goal and has consistently made mistakes in every game he's played so far.
The Liverpool manager's team selection today can be looked at critically as well. One glaring example is that of switching Glen Johnson to left back instead of playing Alberto Moreno – someone who has looked accomplished in that position this year.
Rodgers is only in the job since 2012 but he has not hesitated to wade into the transfer market, more often than not unsuccessfully. Take Iago Aspas, Luis Alberto, Aly Cissokho, Mamadou Sakho, Nuri Sahin, Samed Yesil, Tiago Ilori, Victor Moses and Oussama Assaidi. These are all players signed by Rodgers but could you honestly pick one of them to be a mainstay in a team that is supposed to be challenging for the league title?
The signing of Mario Balotelli was always going to be a risk and it's one that hasn't paid off. The Italian has looked thoroughly disinterested every time he has played so far and brings a lot of unneeded media attention to the team.
Prior to the Chelsea game two weeks ago the Liverpool players were on the pitch hugging and high-fiving in a routine similar to what Arsenal's 'Invincibles' became famous for. Balotelli, however, was standing alone, away from everyone else staring idly into space.
The striker hasn't linked with the team at all yet and moments such as that will only serve to make such a link less likely.
There is no leadership in the Liverpool team
Throw your mind back to last May when Liverpool played Palace at Selhurst Park. It was, ultimately, the scene of the collapse that saw them lose the league title but it was also a game that showed how much passion and togetherness there was in that Liverpool team.
When Luis Suarez netted Liverpool's third goal he grabbed the ball from the back of the net and sprinted back to the halfway line, eager to get the game back underway. Suarez was pumped full of adrenaline, wanting to increase Liverpool's lead and move another step closer to that elusive league title. This passion fed into the other players to the stage where you could almost feel how much they wanted to win.
That passion and tenacity is well and truly gone this season and it was very evident today. Liverpool had looked the better team for periods of the game and indeed looked more likely to score as the game entered the final quarter. But when Joe Ledley put Palace 2-1 up the visitors collapsed.
There were no rallying calls or individual players taking the game by the scruff of the neck, they looked beaten and ultimately were four minutes later when Mile Jedinak curled the ball into the topmost corner.
Think back again to Steven Gerrard's famous "we go again" huddle after the Manchester City game last season. There was nothing like that today and there has been nothing like that this season.
Naturally such passion comes out more when the season is approaching an end and you're locked in a battle to win the title but the league is not won just in the last month or so, it's won over 38 games and that passion is needed over 38 games.
Gerrard off the pace
Steven Gerrard is now 35 years of age and it's showing on the pitch. No 35-year-old can play 90 minutes almost every week but that's what Rodgers is asking of his captain.
It's a sad sight to see one of the greatest midfielders in a generation being bypassed in games but it's something that Rodgers does not seem to be noticing.
Palace relied heavily on the counter attack today and Gerrard was unable to do anything about it every time. Consistently he was beaten and didn't have the legs to get back.
Even on the ball he was poor, firing aimless shots over and wide rather than creating chances. His attempts at over-elaborate 60 yards passes rarely found their target. It's turning into somewhat of a slow, drawn out demise for Gerrard, something that should not be the case for one of the Premier League's all-time stars.
Alex Ferguson phased Paul Scholes and Ryan Giggs out of the team at United, using them instead at key times in big games, or bringing them off the bench to influence the team. Rodgers needs to do the same with Gerrard.
When considered it's an odd thing that the possible sacking of last May's manager of the month is even being considered but it's a sign of the times. Wednesday's trip to Ludogorets is vital. If Liverpool failed to make it out of the Champions League group stages and sat in the bottom half of the table Brendan Rodgers could well be unemployed come Christmas.