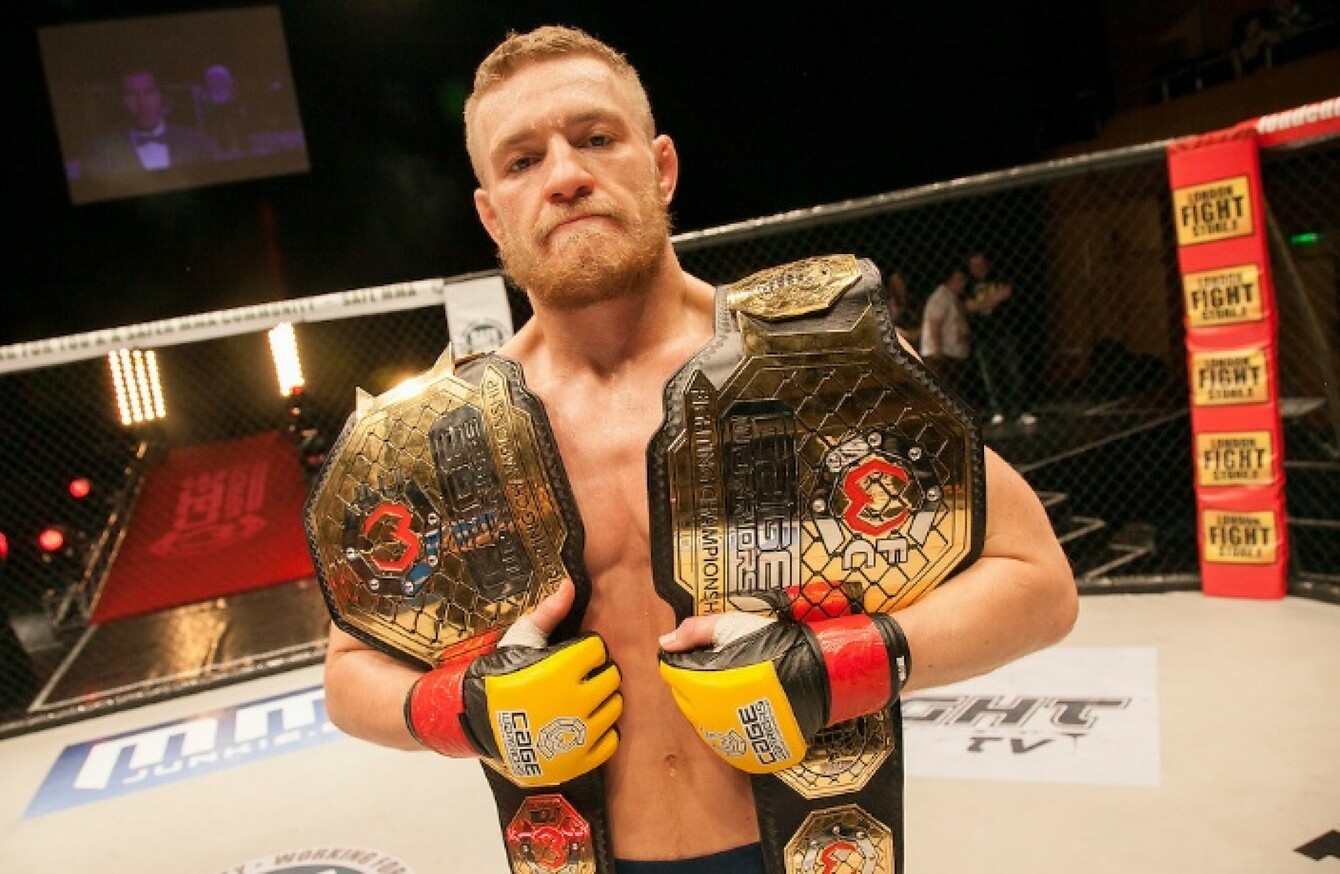 Conor McGregor with the Cage Warriors featherweight and lightweight belts after defeating Ivan Buchinger at The Helix in December 2012.
Image: Dolly Clew/Cage Warriors
Conor McGregor with the Cage Warriors featherweight and lightweight belts after defeating Ivan Buchinger at The Helix in December 2012.
Image: Dolly Clew/Cage Warriors
ONE OF THE most successful mixed martial arts promotions in Europe looks set to return to Irish shores.
Having not staged an event in Ireland since 2014, Cage Warriors Fighting Championship is putting plans in place to end their absence next year.
According to the promotion's president, Cork native Graham Boylan, Cage Warriors is targetting an Irish comeback in 2017.
"This is an Irish-owned company with a number of Irish investors and we want to open the massive platform we have on live TV and UFC Fight Pass up to the young Irish athletes coming through. Cage Warriors is coming back home to Ireland next year," Boylan said.
"Conor McGregor was a Cage Warriors two-division champion and I can tell you that we will look to crown another Irish champion — hopefully in March — if the stars align."
Prior to the explosion in popularity of MMA in Ireland, Cage Warriors staged several hugely successful events here which helped to provide a launchpad for many of the country's leading fighters.
The promotion's first visit to Irish soil was in November 2010. At Neptune Stadium in Cork, Joseph Duffy defeated Conor McGregor on a card which also featured other future UFC fighters such as Cathal Pendred, Artem Lobov, Aisling Daly and Rosi Sexton.
They returned to the Cork venue six months later with a bill that included Duffy, Pendred, Chris Fields, John Michael Sheil and Jake Hecht, who made his UFC debut 10 months later.
The first of five memorable shows at The Helix took place in June 2012. Cage Warriors 47 was seen as a turning point in the careers of Paul Redmond, Neil Seery, Pendred and McGregor. Courtesy of a second-round submission of Dave Hill, McGregor won the Cage Warriors featherweight title.
Six months further down the line, McGregor was back at The Helix to add the lightweight title to his CV by knocking out Ivan Buchinger in the main event at Cage Warriors 51. It was a win that earned him a contract with the UFC, where he replicated his dual-division success by overcoming Jose Aldo and Eddie Alvarez to win the UFC's 145lbs and 155lbs belts.
Among the other classic Cage Warriors bouts that were hosted by The Helix were Neil Seery's flyweight title triumph at the expense of Mikael Silander, Cathal Pendred's stoppage of Che Mills and Joseph Duffy's return from a three-year break from MMA as he got the better of Damien Lapilus at Cage Warriors 70 in August 2014.
That was the most recent Cage Warriors event in Ireland as the organisation went through a hiatus in 2015 after experiencing a change of ownership. In their absence, rival UK-based promotion BAMMA capitalised by holding three successful events at Dublin's 3Arena since September of last year, with another — in conjunction with leading US organisation Bellator — scheduled for 16 December.
Cage Warriors returned with new financial backers in April with the first of six events in 2016. Aided by the popularity of fighters such as Chris Fishgold and Paddy Pimblett, as well as live broadcast details with UFC Fight Pass and BT Sport, the promotion has re-established itself as one of the leading MMA events on the European circuit.
Since their return, the promotion has focused solely on the UK. However, Boylan says Ireland features prominently in their plans for 2017, with fighters such as Belfast light-heavyweight Karl Moore and Cork featherweight Lloyd Manning — both of whom were victorious at the organisation's event in London earlier this month — aiming to follow in the footsteps of the likes of McGregor and Seery.
"The athletes put in all the hard work and they deserve all the credit," Boylan said. "The one thing we can do for them is turn the lights on and bring the cameras of the world to their doorstep. We're planning big and we will announce the date and venue shortly."