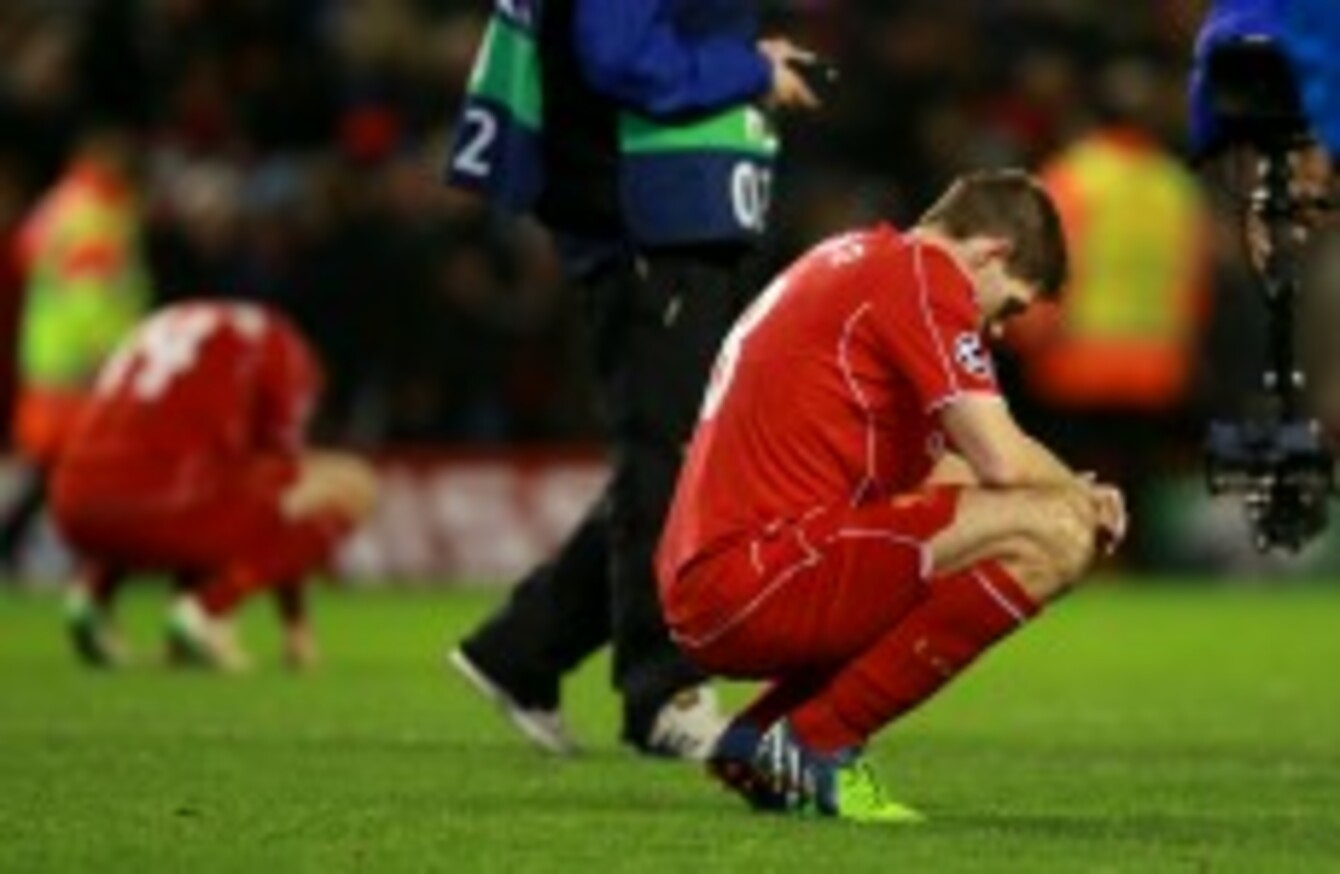 Steven Gerrard dejected after Liverpool crash out.
Image: PA Wire/Press Association Images
Steven Gerrard dejected after Liverpool crash out.
Image: PA Wire/Press Association Images
Liverpool lack pace, especially up front
While the defensive frailties of Liverpool have been discussed and are still very much apparent, the lack of any sort of pace going forward is hugely worrying for Brendan Rodgers.
With players such as Raheem Sterling and Phillipe Coutinho playing behind Rickie Lambert is is vital that Lambert is making runs in behind the defence, therefore creating an option for the creative players to find.
Not once did Lambert do that last night. The majority of times the former Southampton man received the ball he had his back to goal as he had dropped in front of the Basel defence to receive it. This rendered him completely ineffective and gave Coutinho and Sterling no options.
Lambert is not a striker blessed with pace (neither is Mario Balotelli) but when they are deployed up front on their own they must make it their business to run in behind the defence.
In the video below we can see an example of Lambert doing so effectively against Crystal Palace as he nets his first Liverpool goal.
Source: Premier League Pass/YouTube
Lambert's tendency to drop in deep allowed the Basel defence to push up higher as there was threat in behind. If Liverpool are going to have a chance against United on Sunday they are going to need someone making those penetrative runs.
Real Madrid look scarily good
It's now 19 wins in a row for Real Madrid, six of them coming in the Champions League as they completed the group stages with a 100 percent record, finishing 11 points clear of second placed Basel. In doing so they became only the fourth club to win every group stage game, and the first team ever to do it twice having achieved a 100 percent record in 2011/12 as well.
In those 19 games they have scored 71 goals — an average of just under four goals a game. They scored 16 goals in Group B, conceding only two. On top of that they have Cristiano Ronaldo, a man who has scored more goals this season than 14 of the teams in La Liga. If Ronaldo continues his current scoring form he will surpass 100 goals in a single season. His current league goal tally would have been enough to see him win the Spanish Golden Boot in 33 previous seasons. And there are still 24 games left.
It's difficult to see anyone stopping Los Blancos this season. Perhaps Bayern Munich could but they are not at their devastating best that we have seen in the last few years. With Gareth Bale, James Rodriguez, Karim Benzema and Javier Hernandez all chipping in with goals it's hard to see any defence stopping Madrid in their march towards an 11th European Cup.
 It's not always goals that get you through
Despite only scoring four goals in their six matches Monaco, somehow, managed to top Group C thanks to a 2-0 home win over Zenit St Petersburg last night.
Despite their lack of goals however, they managed to accumulate 11 points, thanks to two 1-0 wins, a 2-0 win and two 0-0 draws.
Exciting? No. Effective? I suppose you'd have to say yes. While it's very enjoyable to watch the free-flowing, attacking football of Real Madrid, football is a results business and that's what Monaco have got.
While they may be considered by many to be one of the weaker teams in the last 16, they do have the advantage on their side of topping the group, meaning they will be drawn against a second placed team.
Among those teams are Shakhtar Donetsk, Sporting Lisbon and Basel, to name a few. None of those teams could be considered especially strong meaning we might well see the principality in the quarter-finals.
We might even see them grind out two 0-0 draws, win on a penalty shootout and advance to the last eight of Europe's elite club competition with only four goals. Now that really would be a story!
Could this be the year City fulfil the European potential?
Where the red half of Manchester took to Europe like a duck to water the blue half have never quite done so — more like a polar bear to a desert. City crashed out of the competition at the first hurdle in their first attempt, back in 1968. They repeated that feat the following two times, going out in the group stages in 2011 and 2012. Last year they made it out of their group but were sent home after the first knockout round.
This year looks like it could be different however. Cast your mind back to two weeks ago — City were trailing Bayern Munich with three minutes to go and looked down and out. Thanks to Sergio Aguero however they staged an incredible comeback that kept them in with a chance of progressing.
Tonight they still needed other results to go their way and were without Aguero, coming up against a strong Roma team. But they went out and got the job done. They look like they want it more this year whereas, in previous years they have seemed almost apathetic to European competition.
With the knockout rounds not until February, when Aguero  is back to full fitness, we might just see them break their European curse and go very far.
What will the draw throw up on Monday?
After Barcelona topped Group F tonight Paris St Germain will go into the draw on Monday looking like the best second placed team. Apart from Arsenal (and possibly Juventus) no one will fear any of the second placed teams.
PSG will want to be avoided however. With a total of 13 points they were the best second placed team on paper by a long way, accumulating enough points to see them win three of the other groups.
PSG could be a dark horse to go all the way, especially with the attacking prowess of Zlatan Ibrahimovic. Having said that only one team that finished second in the last five year have gone any further than the quarter-finals, that being Real Madrid in 2012/13.
It's also interesting to see that three Premier League teams have made it into the Last 16 despite the apparent drop in quality of English football. Both Chelsea and City will be a match for any team and must be considered as better than the majority of the 16 sides.