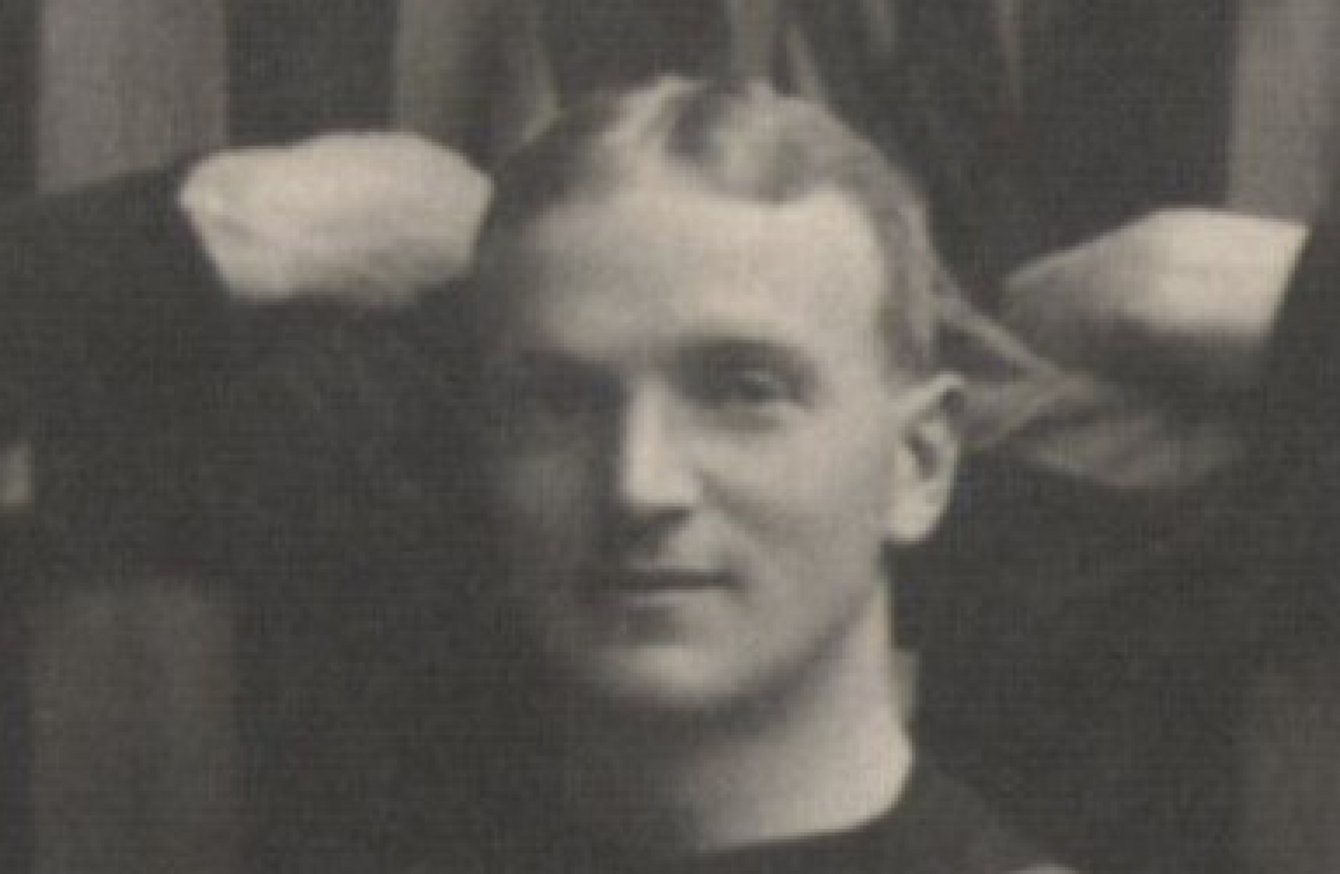 THE PAPER TRAIL teases you into thinking there's a neat resolution to it all but maybe the mystery suits Charles O'Hagan perfectly.
After all, his nomadic life was very rarely punctuated by full-stops.
The story of a solid, if unspectacular, footballer from Donegal is intriguing and frustrating in equal measure.
It takes in The Great War, the intoxicating and seductive wiles of 1920s Berlin and a remarkable stint as a high-profile football manager in Spain.
Yet, it begins on Buncrana's main street at a time when Ireland was still grappling with the aftermath of the post-Famine chaos.
Born in 1882, O'Hagan's family ran the local shop. The 1901 census reveals that Charles was the third-eldest of six children living at home and at 19, still registered as a scholar – like his younger, teenage siblings Rose-Eveline and Daniel.
His older brother and sisters – John, Annie and Sarah – all worked in the shop alongside their mother, Anne, who was a widow.
Though they had to deal with the loss of their father, the children, evidently, excelled. They could all read and write and were extremely well-educated.
Charles attended St. Columb's College in Derry where he first began playing football and there was a subsequent stint with the city's Irish League team.
But then, his sense of adventure began to kick in.
Instead of continuing on an academic path – one so fortunately bestowed upon him by his family – he turned his back on Donegal and would never return.
By 1902, the 20-year-old was in Liverpool and playing amateur football for local side Old Xaverians. He put his family background to good use and earned some money by working in the office of a Spanish fruit merchant.
Unbeknownst to him at the time, that experience would prove invaluable years later.
His football abilities soon attracted the interest of high-flying Everton and he was signed by the Toffees in March 1903 but never made a senior appearance. The following year, he dropped outside the football league to join Tottenham Hotspur.
O'Hagan enjoyed himself in London, scoring freely as an inside-left. His form was so impressive that he made his debut for Ireland soon after in a Home Nations clash with Scotland in March, 1905. The following month, he scored his first international goal in a 2-2 draw against Wales in Belfast.
But, as his career was building some momentum at Spurs, he elected to move again and swapped north London for England's north-east, signing for Middlesbrough in 1906.
It was an ill-advised switch.
The year before, Boro had broken the transfer record to sign Alf Common for £1,000 and subsequently, O'Hagan found it difficult to break into the starting XI.
Quickly fine-tuning a fitful and anxious approach to his career, O'Hagan could not stay still for long and was in Scotland within months.
He rediscovered his form while at Aberdeen, developing a superb partnership with winger Willie Lennie. In four seasons at Pittodrie, O'Hagan scored 24 goals and became the first Dons player to be capped at international level.
While with the club, he featured a further six times for Ireland, scoring once more – against Wales, again, in 1907. His last international appearance came in a 4-0 defeat to England in 1909.
Though largely successful, O'Hagan's spell at Aberdeen was not without its controversy.
In March 1908, the Dons faced Celtic in a Scottish Cup semi-final. The Glasgow side won by a single goal – the strike from Jimmy Quinn coming 90 seconds from full-time.
Years later, O'Hagan would publicly state that nine members of the Aberdeen team accepted £15 bribes to throw the game. But bizarrely, the following month, he took out an ad in a local newspaper in which he referred to his own comments as 'entirely false, malicious and slanderous'.
O'Hagan enjoyed his best years in Scotland and even when he left Aberdeen, he spent two excellent seasons with Greenock Morton.
The Aberdeen Journal carried the story of his move in September, 1910.
It is understood that Charles O'Hagan, the Irish internationalist, who played inside left with the Aberdeen Football Club for the past four years, but was not re-signed at the end of last season, has been fixed up by the Greenock Morton Club, in whose ranks he will appear on satisfactory arrangements being completed between the Aberdeen and Morton clubs as to his transference.
O'Hagan belongs to Buncranna, and played for Tottenham Hotspur, Everton and Liverpool before coming to Aberdeen. He is a very capable wing player, and has frequently been "capped" for Ireland."

As much as his time at Morton was impressive, there was a forgettable spell at another Scottish club – Third Lanark – with whom O'Hagan finished out his playing career in 1913.
And then, silence.
In his early 30s, O'Hagan went underground for a few years. But when the bombs came, he reappeared in Ireland.
A clipping from The Evening Telegraph from March 1915 detailed how he had joined the war effort and was a Second-Lieutenant of the Leinster Regiment.
"O'Hagan has just secured his commission, and leaves his old regiment, the Irish Guards, to join his new comrades at the Curragh", the report reads.
Having recovered from a somewhat serious illness, Second-Lieutenant O'Hagan is now fit and is ready for military duty."
He went on to become a member of the Highland Light Infantry and spent three years in France and Belgium. He survived the war – a small miracle in itself considering what he would've been exposed to on the unforgiving and relentless Western Front – and, once again, disappeared for a while.
By 1920, O'Hagan was in Norfolk, having landed his first coaching job.
Norwich had officially reformed a year earlier after going into voluntary liquidation during the war. Their resurrection came at the perfect time too as the Football Association had just created a Third Division, which the Canaries promptly joined.
In August, O'Hagan was in the dugout for Norwich's first ever game in the Football League – a 1-1 draw with Plymouth. And though the side remained unbeaten for their first four games, they had to wait until November to register a first victory.
The following month, O'Hagan resigned after managing to oversee just four wins from his 22 games in charge.
Then, like clockwork, he vanished again.
Years later, on 5 October 1923, a Spanish national newspaper – El Liberal – carried a story about a new managerial appointment at Sevilla.
"It is with great satisfaction that we provide our readers with the following wonderful news", the article began.
"Sevilla FC, after a laborious search, have succeeded in signing a new trainer to coach our players.
The man in question is a Mr. Charles O'Hogan, an experienced Irish footballer who played with such important British clubs as Tottenham Hotspur, Everton and Huddersfield, the first of which he played with in last season's FA Cup final.
O'Hogan arrives with great references and we believe that under the experienced tutelage of this trainer, Sevilla FC will reach the highest level of football and in the shortest time possible now that all these elements have been put in place.
Source: travelfilmarchive/YouTube
The board of directors at Sevilla FC deserve the most cordial and sincerest of congratulations for their astuteness in this area, for as with the current development of football in Seville such an improvement was required.
Now the only thing that remains is for our players, while availing of this sacrifice the club has made, to correspond with requisite enthusiasm to the methods of Mr. O'Hogan so that the labour of said trainer may bear abundant fruit in the shortest possible time."
There were a few inaccuracies.
One, the misspelling of his surname. Two, the reference to O'Hagan ever having played with Huddersfield. Three, the mention of an appearance for Tottenham Hotspur in an FA Cup final during the 1920s.
Whether O'Hagan encouraged these errors ('great references') isn't known but, for a man with only a couple of months of lower league coaching experience under his belt, the legend sounded a lot better than the truth. And why get in the way of it?
The club had been formed in 1890 and the first president was a Scot named Edward Farquarson Johnston, who ran a shipping business. One key element of the company's work was the transport of Seville oranges back to Britain.
Again, it's only conjecture but knowing O'Hagan's initial work in Liverpool – in the office of a Spanish fruit merchant – he may have made contacts there that subsequently led him to Sevilla's early administrators and decision-makers.
Also, Irish coaches seemed en vogue in Spain.
In 1922, Racing Santander had appointed Patrick O'Connell, who would lead the side to much regional success over seven years before moving to more high-profile jobs at Real Betis and Barcelona.
At the time, there wasn't a national league in Spain – that only arrived in the late 1920s – so Sevilla were reduced to playing a collection of friendlies, taking part in some small European tours and featuring in the annual Andalusian Cup.
During O'Hagan's tenure, the team won the regional tournament for a sixth time while in the Copa del Rey – the Cup competition that had been going since 1903 – they reached the quarter-finals only to be beaten by Basque side Real Union, the eventual champions.
And then, just like that, in spite of an encouraging first season in charge, O'Hagan was gone again.
There are various rumours as to why O'Hagan left Sevilla after just a single campaign. One is that supporters felt he had too close a connection with nearby Rio Tinto – the first club formed in Spain and who were Sevilla's Andalusian rivals.
Another claim was that O'Hagan enjoyed a tipple just a little too much.
But they were nothing more than whispers.
What is known for certain is that O'Hagan lined up another job quite quickly.
In the summer of 1924, after leaving Seville, he returned to Northern Ireland and headed for Portrush. It's unclear if O'Hagan had family living in the seaside town at the time but it was where he was drawn to as his coaching career stalled and when he needed some support.
While in Antrim, he became aware of a coaching position in Berlin with the Preussen (Prussia) club – now BFC Preussen of the capital city's regional league.
It seemed a perfect fit. Another adventure for the insatiably curious O'Hagan.
It was the era of the Weimar Republic and Berlin was a thriving and alluring location. It was the European hub for cutting-edge literature, art, film and erotica.
Source: ghost122769/YouTube
There was a freedom and energy. As was later made famous in the musical Cabaret – based on a series of novels written by Christopher Isherwood during the 1920s – anything was possible.
"Leave your troubles outside", the Emcee of the Kit Kat Klub says.
So, life is disappointing? Forget it! We have no troubles here! Here, life is beautiful. The girls are beautiful".
But by that stage, O'Hagan was in his early 40s and set for comfortable middle age. He had a wife, Peggy, and one daughter. Maybe he saw Berlin as one last hurrah.
Whatever the case, the attraction was inevitable.
He applied to Preussen and was offered the job. And in June 1924, he made a return to mainland Europe.
But, the dream quickly turned sour.
Just two months later, an article appeared in the Aberdeen Press and Journal under the headline 'O'Hagan's Plight'.
In it, O'Hagan was 'penniless and disillusioned' and living in London. At great length, he revealed what had happened.
"For the first fortnight, I was treated well", he said.
Then, petty jealousies started and on the day training proper was to commence, I was called before the directors who tried to bully me and asked several insolent questions. Finally, I was asked if I had served in the British Army during the war and I made no secret of the fact that I had served in France and Belgium. Without any more to do, I was told that my agreement must be considered cancelled. I protested against this, as I thought they should never have engaged me if they did not want a man who had fought in the war. They told me to get out.
I asked for a ticket back to Aberdeen or Portrush. At first, they would do nothing in the matter. Then they agreed to give me a ticket back to London and gave me the address of a man in Poplar who they said would see me the rest of the way, as they would wire him instructions.
When I got to London, I went to Poplar only to find that the man there knew nothing about me. The cost of going out there (Berlin) and buying the things I wanted has left me penniless and now I must wait until I get into communication with my friends."
So, by August 1924, O'Hagan was seemingly lost both professionally and personally.
Football had chewed him up and spat him out. He had retired from playing at just 31 at a time when many played into their 40s and while the war did intervene in 1914, he had stopped playing the year beforehand.
Then, a subsequent career as a manager didn't go according to plan. Sure, it afforded him the chance to be adventurous and to see different places but he couldn't settle – a pattern that seemed to define his itinerant existence.
He stayed just a number of months at Norwich and despite his debut season having gone well with Sevilla, he was quick (too quick?) to leave there too.
The Berlin sojourn – which had promised so much – ended in humiliation.
He seemed to struggle with the aftermath. And, reverting to type, disappeared for a while.
But on 20 November 1928, the 46-year-old O'Hagan had one more trick to play.
Still gripping to that sense of adventure, he boarded a ship in Derry and set sail for New York.
And it's there – quite dramatically – that the story merely ebbs and flows into the distance.
There's no fairytale ending only one more concrete fact: O'Hagan only lasted three years in Manhattan and died there on 1 July 1931.
And even in death, he retained that sense of mystery that followed him throughout his life.
Unsubstantiated reports claim he had moved to America to pursue a career in journalism. But, O'Hagan's brief time in New York is unaccounted for. There's no way of knowing what kind of writing he specialised in or what publications he contributed to.
Just when he seemed set to add a fascinating postscript to what went before, O'Hagan, ghost-like, slipped into the background and faded away.
For someone who lived such a colourful and unique existence, it seems inevitable that his time in the US followed along similar lines.
There was prohibition, bootlegging gangsters and the glamour and showbiz nature of The Roaring Twenties.
O'Hagan had come a long way from the main street in Buncrana.
But we'll never know just how long.
Many thanks to Colm Farry and Michael Bailey for their assistance in the research of this article.  
The42 is on Snapchat! Tap the button below on your phone to add!