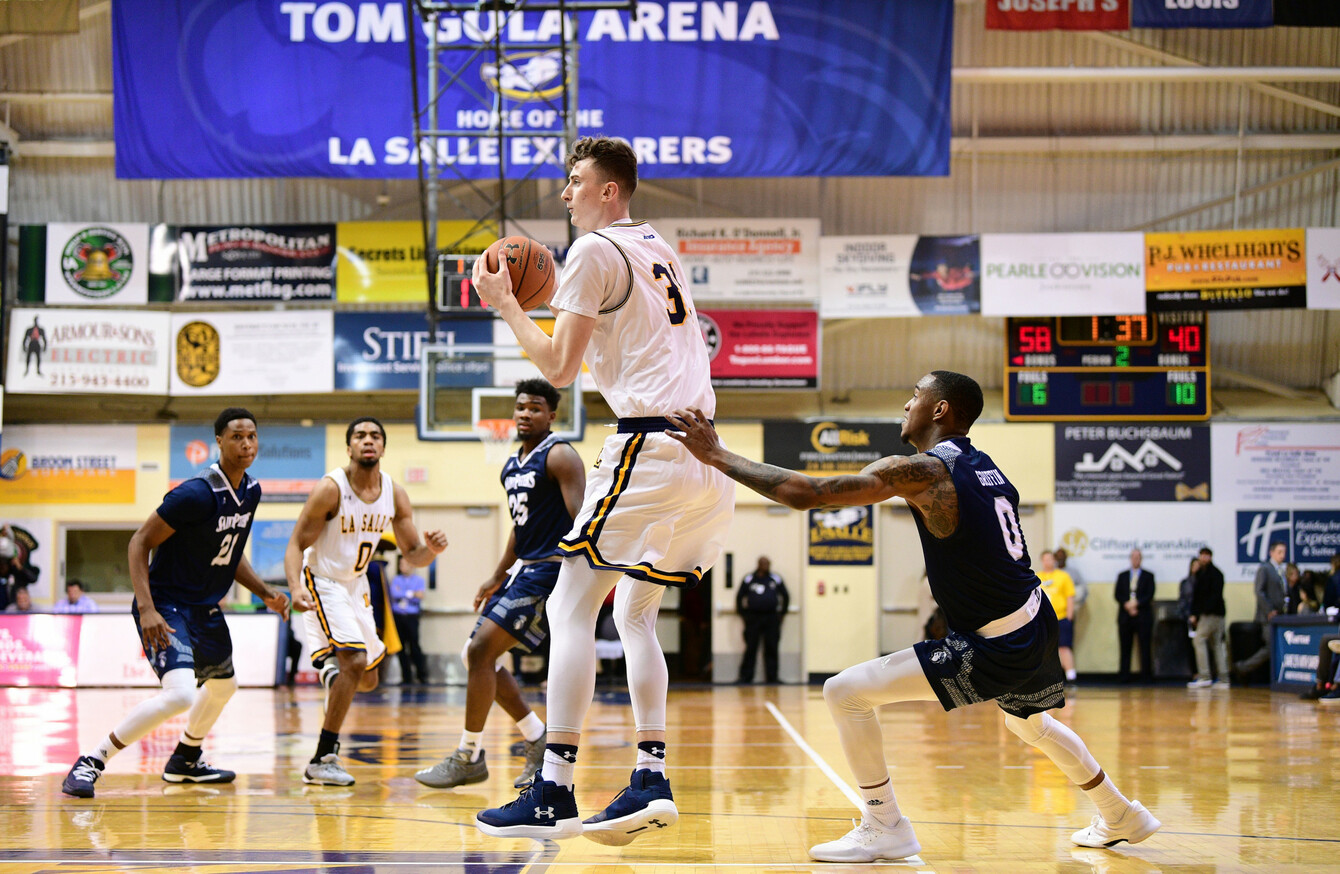 Image: La Salle Explorers/La Salle University
Image: La Salle Explorers/La Salle University
CIAN SULLIVAN IS a rare breed.
He's 7-foot-2. He's playing college basketball in the United States. And he's a Kerryman who has little interest in Gaelic football.
"My Dad played," he says.
"But it wasn't for me. A lot of people asked me to play rugby too but I got into basketball when I was young and I just fell in love with it. It was something I wanted to do and the more I grew, the more realistic it became to stick with it."
Whenever Alex Ferguson would meet a young prospect, he'd usually take a look at the boy's father to try and gauge the family genetics. Keeping that logic, any basketball coach worth their salt could probably have predicted Sullivan would grow up tall.
"My Dad is 6-foot-4 at most and my Mum's 6-foot-1 so there's height on both sides but nobody is 7 foot. I was always the tallest but I went through crazy growth spurts too. It was both."
By his mid-teens, Sullivan was 6-foot-7 and basketball had developed from hobby to obsession. At the start, it was just him, a ball and a hoop. Then, he'd log on to Youtube and watch various NBA clips. The time difference meant he rarely was able to watch games but he'd catch up whenever he could. Then there was the school team at Mercy Mounthawk in Tralee and his coach, John Dowling, an experienced ex-player, spotted enormous potential.
Sullivan began to realise the potential opportunities and how a scholarship to a college in the United States wasn't such a crazy idea, though it took others a little while longer to wrap their heads around it.
"I was 15 or 16 and my Dad said to me, 'What do you want to do after school?'" Sullivan remembers.
And I said, 'To be honest, I want to go to America and play basketball'. And everyone laughed. We were driving home from school at the time and for the entire journey, my brother and my Dad were just laughing. 'What are you talking about? No one ever heard of an Irish basketball player.' But here I am now. So it's funny. We always joke about that."
Dowling had basketball connections in the US and he cut together videos of Sullivan in action to send to various influencers. And in April 2015, he landed a scholarship worth $50,000 to attend St. Andrews prep school in Rhode Island.
"I had to decide if I wanted to leave immediately and go to high school in the US," Sullivan says.
"But I decided on doing my Leaving Cert so that – worse case scenario – if nobody wanted me, I could still go to college back home. So, after my Leaving I did one year in Rhode Island and it opened a lot of doors for me. I was seen by a lot of people. Being 7-foot-2 doesn't hurt! That's the first thing. I was always the tallest so that's a big attraction. But I wasn't just tall. I could play too."
St. Andrews is well-known as a gateway into the upper echelons of the collegiate basketball system. Michael Carter-Williams, who was NBA Rookie of the Year in 2014 and is currently with the Charlotte Hornets, is an alumnus. Just being there ensured Sullivan was in the shop window.
Inevitably, universities started to swarm.
Just two months into his freshman year, he was offered a five-year scholarship with La Salle in Philadelphia, a team that reached the NCAA Sweet Sixteen in 2013. He's been there since last year, initially as a 'red-shirt' which meant his first season was solely about development.
The coaching staff have been impressed. John Giannini, who has been in charge of the team for the last 14 seasons, expected Sullivan to be a lumbering giant. Then he went and watched himself.
"He made shots, he made free throws, he ran easily, caught the ball well," he told The Inquirer earlier this year.
"He's offensively skilled, no awkwardness to his offensive abilities at all. It's really just continuing to get stronger and improving his reactions playing against smaller, quicker guys which, when you're that size, that's almost everyone you play against. He's someone who is impossible not to like. He's very sincere. He always tries hard at everything he does. He's trustworthy. He's a fun guy to be around, plus he has outstanding character."
Sullivan admits he still has plenty of work to do, namely to get himself in peak physical condition. He's already bulked up considerably since arriving at La Salle and put on 11 pounds. But there's more to come. As a centre, his game revolves around the basket and is about rebounding, contesting shots and screening. The physicality is crucial.
"My main thing is that I'm too skinny and I'm not strong enough," he says.
I'm still working on it and it's not something you can do overnight. It takes time. But it's my biggest weakness – the strength and conditioning. Skill-wise, I'm all set. But there's plenty to work on. Back home, the height would make up for what I was missing. What I lacked in strength, I'd make up for by just being so tall. I could shoot over everyone and I was more skilled.
"But it's so different to back home. It's so much faster and more athletic. At home, no-one is really making plays above the rim, no-one is really dunking the ball. It's a slower game. That was the biggest thing I noticed in Rhode Island. So jumping to college basketball now, the differences are even greater."
Still, Sullivan can rely on quite a few NBA players to provide inevitable inspiration.
"I like watching Kristaps Porzingis for the Knicks," he says.
"Just because he's 7-foot-3. He's a skinnier guy. He's European. That's something I aim for. I would use him for motivation. I like all the European 'big men' just because they're something similar to me."
The season is ramping up right now so Sullivan is getting used to another Christmas away from his family. But, as he's keen to point out, those are the lengths he needs to go to to push to the highest possible level.
"A lot of people back home won't really realise the sacrifices you have to make," he says.
"I think I've just been back once in the last two years. But even in the summer too, you've got to stay and put in the extra work. That's something I didn't realise that much – staying here during the off-season and just continuing to do the same level of work. My main thing is strength and conditioning and improving that. Keep working on those skills every day. Sacrifice more summers and stay here. Staying here represents the best opportunity for me to get better. So it's really about what I'm willing to sacrifice in order to to that."
Sullivan is only the eighth Irish player to play college basketball. There are two others currently – Dubliner John Carroll is at Hartford and Jordan Blount from Cork is at Illinois-Chicago.
Already, he's part of an incredibly small group. But he's not interested in self-praise. There's work to do.
"I'm still working my way to get some more playing time," he says.
"All I can do is work hard every day and wait my turn, wait until I'm ready. I have a good work ethic so that's something they looked at and liked. I just try and get better everyday and just want to be an all-round player."
Undertaking a degree in Mass Media, Sullivan has slotted in to life in a third-level American institution pretty seamlessly. There's even a hint of a drawl.
Is he the type to take a second and reflect? On all those hours with a ball and a hoop and all those people who wondered why he wasn't playing centre-field for his local football team?
"When I was younger it was like, 'Why are you playing basketball?' I feel like there was a time when only I saw the future and nobody else did. I kinda knew. But it happened so fast. It's only the other day when I was at home playing. And now here I am across the world doing the same – playing the game I love. I'm going to enjoy it while I can and see what comes after."
The42 has just published its first book, Behind The Lines, a collection of some of the year's best sports stories. Pick up your copy in Eason's, or order it here today (€10):