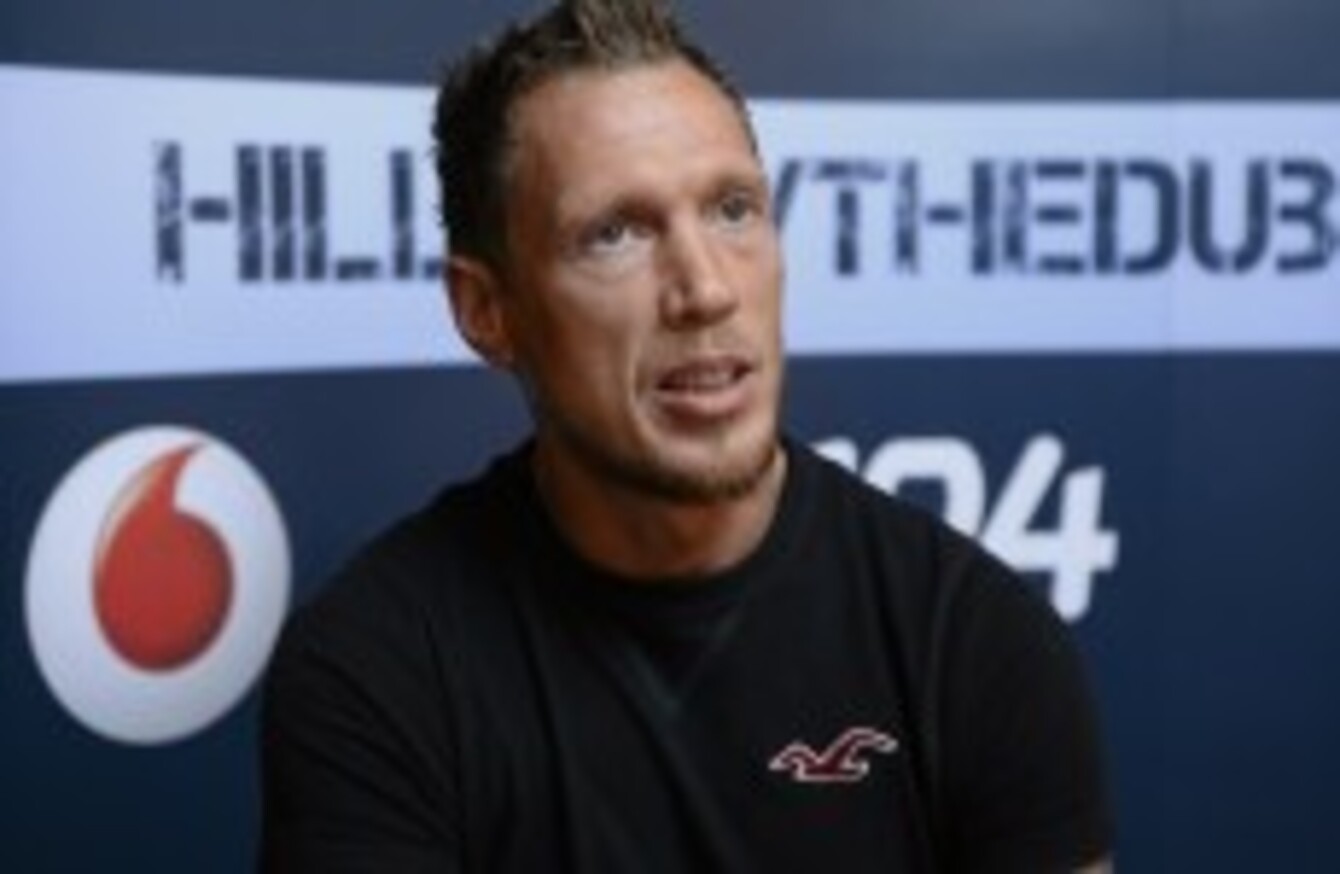 Former Mayo footballer Ciaran McDonald at a Vodafone GAA Press Conference yesterday.
Image: Sportsfile/Ray McManus
Former Mayo footballer Ciaran McDonald at a Vodafone GAA Press Conference yesterday.
Image: Sportsfile/Ray McManus
FLANNERY'S BAR ON Camden Street may be regarded as a nocturnal haunt for GAA followers but yesterday it veered from that script.
The Dublin midday traffic whizzing past would have been oblivious to the seminal Gaelic Games event taking place inside. At first glance it was a standard press conference, as Vodafone organised an event ahead of next Sunday's All-Ireland semi-final showdown.
Former Dubs attacker Ray Cosgrove was present to offer his views but the star attraction was Ciaran McDonald, the flamboyant attacker on the Mayo sides that contested the 2004 and 2006 national deciders.
The curiosity of the Crossmolina man is simply that he has rarely disclosed his thoughts to the world. During his career he was a notably reticent figure and yesterday was only the third time that he had ever given an interview.
McDonald was a fascinating character as a player, a gifted playmaker at centre-forward with a glittering set of skills. There was an individual streak as well that was reflected in his thatch of blonde hair, the tattoos stamped on his arms and  the beads around his neck. He played with his socks pulled up and often sported white Adidas Predator boots.
Yesterday he was articulate and engaging when speaking on a variety of topics. McDonald's career at inter-county level ground to a halt in 2008. But that conclusion under the tenure of John O'Mahony was tinged with controversy and as McDonald confirmed the departure was not his own decision.
"Did I officially retire from inter county football? No. The manager at the time made his decision. At the time, I thought there were a few more years left in me. I was still playing good football and still training hard. I was alright, you know? That's in the past."
Still there have been flashes of the old genius in recent times. McDonald may be 38 next January but he continues to pull the strings for the 2001 All-Ireland club champions Crossmolina and has helped guide them to the semi-final stage of this year's Mayo SFC, including a standout display in June when he kicked nine points, six from play, against Kiltane.
The grapevine out west hummed with the tantalising thought over the summer that James Horan was about to bring McDonald back into the county setup. Time to set the record straight.
"Would I like to play for Mayo? Of course I would but realistically you can't be bringing in fellas halfway through a season. It is not the way it is done. James Horan is a great manager, proved it with Ballintubber and is proving it with Mayo. I am playing okay football. Our club, which I love to bits, is in the semi-final. Was I expecting a phonecall? No, of course I wasn't. He's a strong young panel that he is building."
Ciaran McDonald in a Connacht championship game in 2007. Pic: INPHO/Morgan Treacy
McDonald has observed the development of the squad which Horan has assembled and the ease at which a bond can be formed now in comparison to when he began his career.
"They're a tight bunch of lads. Football has changed as club football is put on hold for senior football now. They have their four or five nights a week together and it's just one unit for as long as they are in the championship.  They're more like a club team now.
"I came onto the scene with Mayo in '93, '94 and club teams now are training harder than county teams were then. We trained with Crossmolina on Wednesday night and we had 35 fellas out training at 10pm at night. Twenty years ago you wouldn't have had that."
And that development has coincided with a shift in the brand of football Mayo and other sides are playing.
"People say Tyrone started the defensive football in '03, but it was still man-on-man marking," said McDonald. "That's gone out of the way now. There are nine defenders marking six forwards – it's a safe-guard. Teams don't get run over anymore. Once upon a time you had six backs on six forwards and it was all match-ups.
"They're playing a structured zonal defence and you won't get a fella one-on-one getting absolutely screwed any more. But even when I was playing with Mayo, I didn't play orthodox. I did what Mickey Moran or John Maughan told me to do. They never sent me to stay in, I was still going deep. Members of the press or other public thought I was doing my own thing but that was the way I was told to play."
McDonald's own football style always had flair close to its heart as he was adept at spraying passes with the outside of his boot or sweeping over magical points like his famous score to win the 2006 All-Ireland semi-final. Even in the modern game he firmly believes there is still room for skill.
"Managers are simplifying it and it's not being played off the cuff or with instinct. It's a safer game. But there's still flair players in football. It'll always be a moment of magic or skill that will win a game. You still have to have lads that will put it over the bar. The Colm McFadden's that will put it over from 45 yards when there is two or three hanging off him."
The coveted All-Ireland senior medal may have eluded McDonald but his county still pursue one. And he has a hunch they will qualify for this year's final next Sunday.
"Mayo are in a good place at the moment. They need goals to win and everything has to click for Mayo. The midfield battle is key. But do they have the belief to win and does James Horan have the plan? Yep, I believe they do and they'll beat Dublin."
**********
Ciaran McDonald on…
2006 All-Ireland semi-final
"My recollection is a bad ball I gave way and it would have stood out a lot more if they had equalised from that than the point I scored. It was the chance to get back to an All-Ireland final and redeem ourselves after what happened in 2004. And yet again we didn't. With Mayo it (game v Dublin) was a great day but my best days in Croke Park was undoubtedly my club days – club All-Ireland finals."

YouTube credit: KilkennyFootball
Andy Moran loss
"Massive, he's probably one of the players that would make it into any team in the country at the moment. You can give no better compliment. I never saw a fella in all my time that lives, breathes football as much. He probably wrecks people's heads at times talking about football."
Mayo's go-to guy now
"Alan Dillon. An awesome footballer with a great football brain. Alan has nothing to prove in Gaelic Football bar win his All-Ireland medal. With God's help, he'll win that."