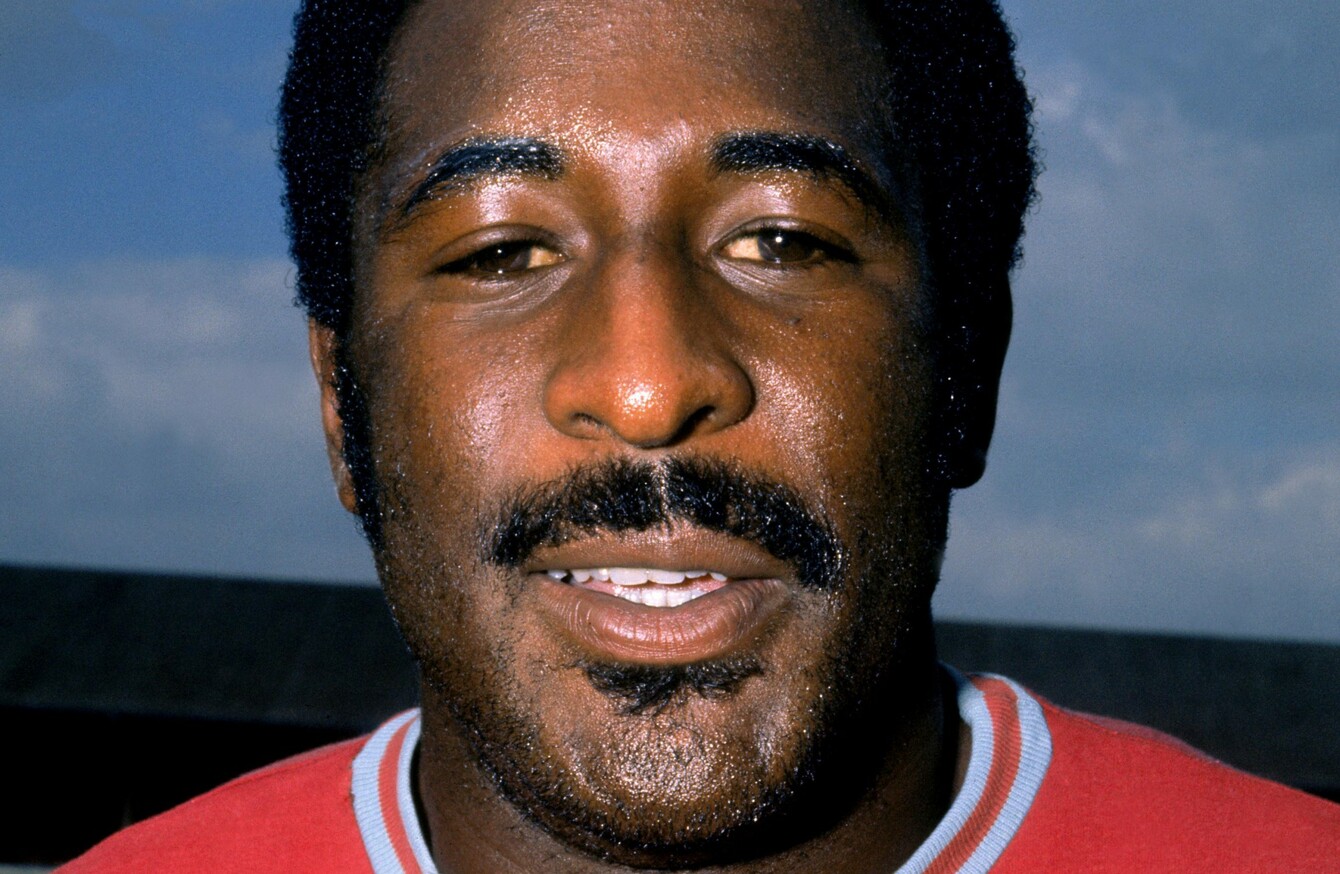 Then-West Ham star Clyde Best pictured in 1973.
Image: EMPICS Sport
Then-West Ham star Clyde Best pictured in 1973.
Image: EMPICS Sport
IN AUGUST 1968, when a teenage Clyde Best left the Caribbean for the first time in his life to go for a week-long trial at West Ham, it was his equivalent of buying the winning lottery ticket.
A black Bermudan footballer playing alongside footballing legends such as Bobby Moore and Geoff Hurst was quite literally unheard of at the time.
The unknown youngster had been brought to London by one of the game's most celebrated coaches of that era, Ron Greenwood, who gave Best a chance on the advice of a coach he knew in Bermuda.
And even in those early days, Best's impressive physique made him stand out. As former West Ham teammate Harry Redknapp, who calls Best "English football's first real black role model," recalls in the foreword for the star's autobiography, The Acid Test: "The senior players had just finished training and looked across at this huge lad who was only 16 but looked more like 24 as he trained with the youth team.
While most of the kids were practising their crossing and smashing shots over the bar, Clyde was having none of that as he took a cross on his chest and volleyed the ball into the top corner. Everyone was amazed and Ron, who was in charge of the first team, went over to have a looked and was immediately impressed."
Unsurprisingly, before long, Best had signed a permanent contract with the Hammers and was making his first-team debut against Arsenal.
Just a few years previously, he had fallen in love with West Ham while watching them beat Preston 3-2 in the 1964 FA Cup final on television back in Bermuda. Now, he was mixing with some of those same players he had dreamed of emulating before.
Suddenly having to leave family and friends to move to a faraway land, get accommodation in digs with strangers and be thrust almost instantaneously into the spotlight sounds like quite a daunting experience, but Best was so driven that nothing would put him off pursuing this dream.
"It wasn't intimidating for me because that's what I wanted to do and England was the only place I could go and play," he tells The42. "I had to take the chance and it paid off."
And although he was the first high-profile Bermudan footballer to make an impact in English football, he says others could easily have followed suit if the situation had been different.
You would have been surprised when I played in Bermuda how good the players were. It was just that they could never travel (to places like England) because of their (work and family) commitments.
"Many English teams used to come to Bermuda and knew they were in for a good game."
Best would go on to score 58 goals in 221 appearances during an eight-year spell at the Hammers.
Over the course of his career, he would also come up against some of the greatest-ever footballers, including Pele, Johan Cruyff and his namesake George Best.
"George was a great player because he made everything so simple," he says. "You can tell he was a person brought up playing football on the street.
The best players come from playing on the street — not at a club where somebody's giving instructions. All the best players played a lot of games in the neighborhood and stuff like that. That's how you develop your skills and technique. And George was definitely one of those players."
Yet playing football for a living wasn't always the dream he had once imagined it to be. At the start of his book, Best vividly recounts one particularly disturbing incident early on in his West Ham career during the 1970-71 season.
Still a teenager and a relatively inexperienced footballer at the time, he received a letter that made his blood "run cold".
It warned me that as soon as I emerged from the tunnel and took to the field the following day, I would have acid thrown in my eyes," Best recalls.
With black footballers a rare sight in the English top flight at the time, Best was already accustomed to hearing abusive language and monkey chants, but now his personal safety was being threatened purely because of the colour of his skin.
The matter was largely kept secret, though Best did tell Greenwood about the letter, and the Hammers boss duly informed police. A heavy security presence consequently occupied both sides of the tunnel as players, including a nervous Best, emerged from the dressing room for the game in question.
Best jokes that it is the fastest he had ever run in 90 minutes and in the end, the threat never materialised, but the incident still gives a depressing insight into how hostile English football was towards black players during this era.
Thankfully though, it was the only time Best genuinely feared for his wellbeing on a football pitch.
You learn from stuff like that because there are people out there who don't know you and are just not going to like you. It's a shame in life when a person that doesn't know you looks at the colour of your skin and doesn't like you. That's a sick person
"It's unfortunate that we have people like that in the world, but that's life. I was brought up to remember that in order for you to like me, I have to treat you the same way I want to be treated myself. And if I do that, I can't do wrong."
Best says the persistent racist abuse he suffered while playing football in the late '60s and early '70s was "difficult," but for the most part, the talented striker insists he did not let it affect his performances.
The best way to react to stuff like that is to stick a ball in the net and you shut everybody's mouth. It's always going to be there when you're the only one of colour in a situation like that and you've got to be able to deal with it.
"If you don't, you're going to run away from the game. You can't afford to do that, because you have to think of the people coming after you, so you have to prepare for that. And I think I've done that pretty well."
In the end, however, the regular racist abuse he suffered took its toll on Best "psychologically," and the former prodigy suggests it is part of the reason why he left West Ham to play for Portland Timbers in the US at the relatively young age of 25, never really fulfilling the potential of his teenage years when he took English football by storm. Instead, he toiled away in the relative obscurity of North America, lining out for sides such as Cleveland Force, Toronto Blizzard and Los Angeles Lazers, and playing a combination of indoor and outdoor football during eight years spent in the US footballing world.
I was a bit like Frank Sinatra — I did it my way," he says. "I got out when I wanted to. When you're not fast anymore or you're not happy with what you're doing, you just have to move on. It's a lot easier for me moving out myself rather than them telling me I've got to go. And so I went out when I wanted to go."
Nevertheless, despite the somewhat premature departure during his playing days, Best retains an affinity with West Ham, visiting their ground occasionally and watching Premier League matches from his home in Bermuda regularly.
Source: zoomintvsports/YouTube
In recent times, Best particularly admired the "bold" decision of Kevin-Prince Boateng and his then-Milan teammates, who walked off the pitch in protest at the star being subjected to racist abuse during a 2013 match against fourth tier Italian side Pro Patria (see video above).
It's up to people like Fifa and football associations to stamp that sort of behaviour out of the sport altogether, because the game belongs to everybody, that's why we call it 'the beautiful game,'" he adds.
"I think they're trying. They can do more. You go to stadiums and see people treating players of colour badly — the best way to hurt (the team and their racist fans) is to hit them in the pocket, make them play behind closed doors."
Moreover, the issue of racism in football is likely to attract plenty more media attention in the near future. The 2018 World Cup is due to be hosted in Russia — a country with a recent track record of discriminatory behaviour.
A report by researchers from the Moscow-based Sova Centre and the Uefa-affiliated Fare Network last year found 92 incidents of discriminatory displays and chants over the course of the Russian season, claiming that racism was "guaranteed" at the 2018 World Cup.
Given the closeness to the World Cup, we're now talking about a situation where we are trying to minimise those incidents rather than eradicate them altogether," the report pessimistically added.
And should this issue continue to be a serious problem, Best suggests Fifa should consider taking the World Cup away from Russia.
If they're having trouble with racism, it's probably something that Fifa will have to think about.
"The game belongs to everybody and everybody has a right to play. If they can't accept people of colour, the World Cup is definitely not a place for them, as there'll be many black players involved."
And while the modern Premier League era is a much more racially diverse, multi-cultural environment than the league Best left behind in the '70s, it would be naive to think that racism has entirely disappeared from British football, despite the immeasurable progress made since his playing days.
One shameful trend is the conspicuous lack of opportunities being afforded to black managers in the British game. Best acknowledges that this is a big problem currently, but feels a solution akin to the Rooney Rule in the NFL, where teams are required to at least interview minority candidates for coaching and various other administrative jobs, is not the way forward.
To rectify the problem, you have to persuade the people who own the clubs to give these people that are good enough a try," he says. "I don't think just because you're of one colour, you should have the job.
"The best person should get the job and if the best person happens to be a person of colour, you give them the job. You shouldn't be picking a person because of the colour of their skin.
Look at (Brighton manager) Chris Hughton now and the job that he's done. And it's not the first time that he's done a good job."
Source: FootballGaffesGalore/YouTube
Ultimately, Best's own time in English football was all too brief, but it did not prevent him from leaving an indelible legacy.
Without pioneers such as the former West Ham star, the Premier League would not be what it is today, while even the black footballers of previous eras, such as Garth Crooks, John Barnes and Howard Gayle, attest to the profound and galvanising effect Best's early breakthrough and success had on them as youngsters.
In 2004, Best received a Fifa Order of Merit Award, while an MBE followed in 2006. He also had a stint managing the Bermuda national team between 1997 and 1999.
Best responds with typical modesty when asked about his status as a role model for black footballers, but the 65-year-old former player adds that he is proud of his achievements in the game.
If that's the tag they want to put on me, I don't have a problem with it. It's not up to me to put a tag on myself, though they say I was the first (high-profile) black footballer in the modern era. If it means that people looked at me and learned from what I did to better themselves, I'm all for that.
"In life, you're in here for a long time, you make a contribution and you just move on to the next stage
So I'm happy with what I've done and I know that I paved the way for a lot of players of colour and I'm just glad I had an opportunity to do it and that people could learn from it."
The Acid Test: A Life in Football by Clyde Best is published by De Coubertin Books. More info here.
The42 is on Instagram! Tap the button below on your phone to follow us!