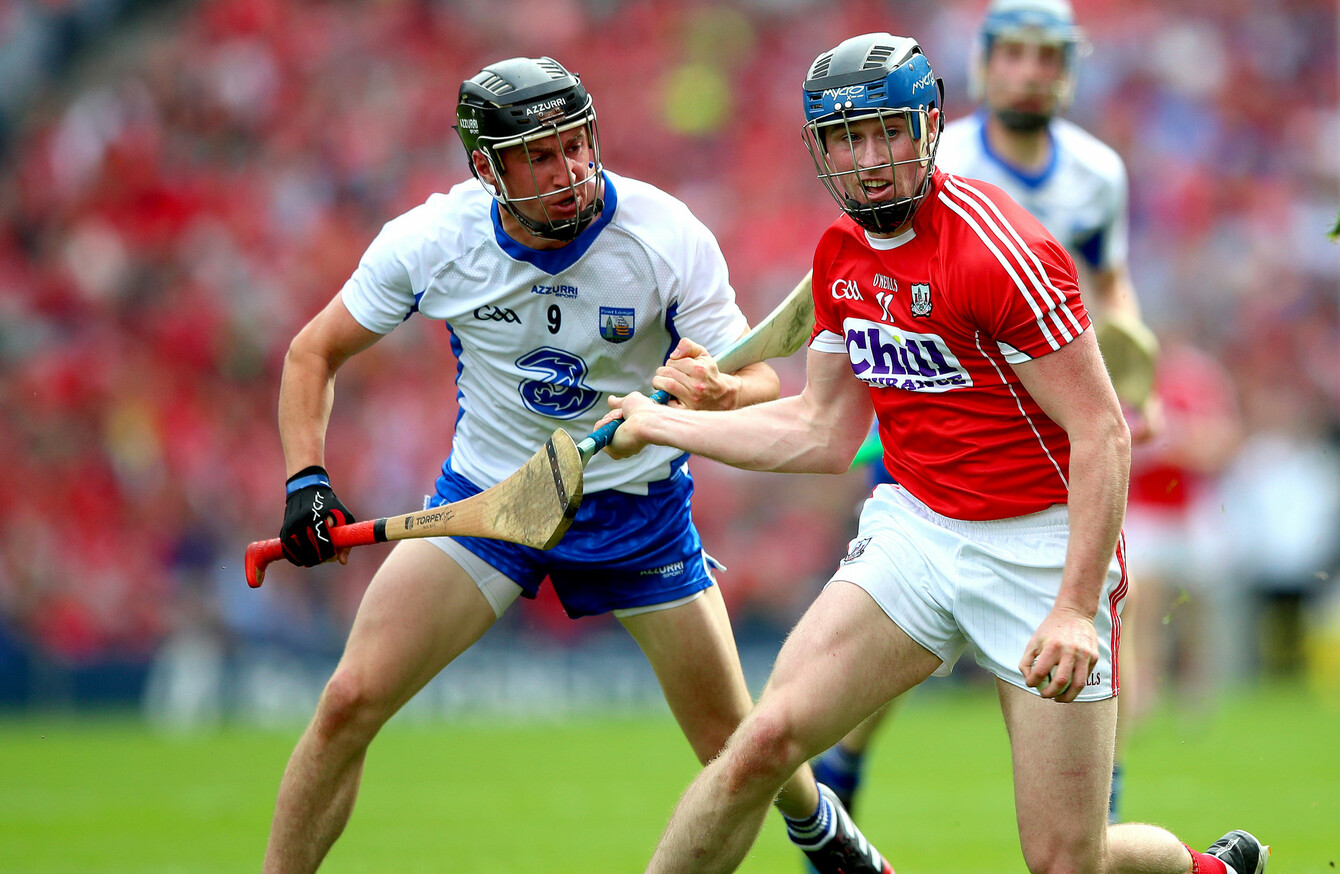 Gleeson, left, was sent off against Cork.
Image: James Crombie/INPHO
Gleeson, left, was sent off against Cork.
Image: James Crombie/INPHO
WATERFORD BOSS DEREK McGrath has confirmed that they will not be launching any further appeals to the suspension that will rule Conor Gleeson out of the All-Ireland senior hurling final.
Gleeson was sent-off for striking Patrick Horgan towards the end of their All-Ireland semi-final win over Cork.
The Fourmilewater player's case was heard at the CHC last night and they announced that he would be handed a one-match ban.
And Waterford will now accept the suspension ahead of the final meeting with Galway on 3 September.
"We spoke in advance of the hearing last night and we spoke about possible outcomes in advance," McGrath told The42 at a press event in Waterford this morning.
"I won't say we've exhausted every outcome, but we've made a decision as a management – and player – to leave it at that now. We're concentrating on the game as such.
"I'd have spoken to Conor about the different circumstances. I was up with his mother yesterday and they're very supportive of the stance we felt we should take, which is to go to the first hearing, see how that goes, and our approach then was to get the red reduced to a yellow in terms of the infraction.
"When that wasn't going to be successful as a result of last night, we felt it was a case of a different scenario to what Tadhg faced. That was the reasoning behind it, rather than a duty of care to the players.
"These fellas are well able to accept that each situation is different, we're moving on to look forward to the All-Ireland.
"The infraction only came in the post last Wednesday evening. Our argument was based on downgrading from red to yellow, that was our approach.
"There's no scenario where Tadhg got treatment in going to the DRA that Conor isn't getting."
McGrath admitted that the absence of the defender is a setback after his impressive displays this summer but Waterford can now call on Tadhg de Búrca after he missed the semi-final win over Cork.
"(Conor is) a massive loss to us. He performed key roles in the last three or four games. He did well on Richie Hogan against Kilkenny, did well on Shane Dooley and Joe Bergin against Offaly, against Conor McDonald with Wexford and on Conor Lehane the last day. He's been assigned key tasks, so he's a very significant loss.
"Tadhg was always going to come back into the team no matter what the scenario, whether Conor was playing or not. It shakes it up a bit in terms of our approach."
McGrath insists he was never concerned that Austin Gleeson was set to be suspended for the game after a helmet incident involving Cork's Luke Meade.
"I wasn't worried, I was aware of the conversations that were taking place outside when immediately leaving Croke Park.
"Given the route we'd been down with Tadhg in terms of the referee's report being sacrosanct and all the judicial learnings from the two weeks previous, which the management had immersed itself in behind the scenes, I was confident from the outset.
"I was confident based on conversations which had taken place with our own on-field players in terms of bringing back information as per conversations between referee and linesman.
"I was confident an adjudication had been reached on the given day. I'm keen now to move forward and talk about the All-Ireland."
Subscribe to The42 podcasts here:
" label="Android" icon="url"]