CORK WERE DESERVING winners of this Munster final.
Their distribution of the ball, skill levels and accuracy were a lot better than Clare's.
They scored 1-25, which is excellent shooting, and when the pressure came on in the second half, and Clare got within two points, the Rebels had the conviction to come again and tack on another couple of points when required.
It was very impressive from start to finish and bar a short period in the second half, when Clare scored 1-2 without reply, Cork were really in charge.
To be fair, Clare had some of their homework done on Cork, and really restricted Anthony Nash from long puck-outs.
They forced to him hit a lot of short ones, Damien Cahalane a regular recipient, but this was a part of the plan that Clare got wrong.
They didn't cut out the quality of distribution that Cork were able to execute to the likes of Alan Cadogan and Patrick Horgan, and probably didn't envisage that it would be as good as it was.
Cadogan and Horgan finished up with 1-13 between them – they were Cork's weapons of mass destruction.
But Clare didn't help themselves either in terms of discipline, as nine of Horgan's 13 points were frees. It just goes to show, though, how under the cosh they were.
Clare were banking on nullifying the Nash puck-out but Cork's deliveries from their half-backs and midfield were phenomenal.
Even though Colm Galvin played a deep-lying role at times for Clare, they still weren't able to cut out that diagonal ball to Cadogan and Horgan, and Cork did a lot of damage from that, particularly in the first half.
Allied to that, and these are the cold stats from a Clare point of view, they had 15 wides, a missed penalty and two goal chances not taken that hit the woodwork, and lost by five points.
As I keep mentioning in these columns, the margins are so fine. You could use the golf analogy, in that you can be excellent from tee to green but you still have to get the ball into the hole.
Clare did create a lot of chances but didn't execute.
From watching the game back again, in detail, the trends of the game became clear.
Cork hit the ground running with tried and trusted strategy
Within one minute and 22 seconds of the the throw-in, Alan Cadogan had two possessions.
Here's his first, with just 16 seconds on the watch:
Look at the amount of room that Cadogan has to run into.
This is Cork's very first attack and Clare's backs have been pulled all over the place.
But this shouldn't be new to them, because Cork have been implementing this tactic in their previous games against Waterford and Tipperary.
It's based on their half-forwards pulling out the field, and leaving oceans of space inside for the likes of Cadogan to run into.
There are very few corners backs in the country who have to pace to handle Cadogan but at this early stage, it looks as if Clare aren't sure who's picking him up, even though it will eventually turn out to be Oisín O'Brien, who had a torrid time, as the game developed.
It's a nice handy point for Cork, and they're quickly off the mark.
Here's Cadogan again, winning his second possession:
He's still in loads of space and the point here is that, even this early, Clare should already know what the Cork strategy is.
These were very early warning signs from them but you can't underestimate the occasion either.
It was Clare's first Munster final in nine years, with over 45,000 fans rammed into Semple Stadium.
This brings huge pressure on players and management, and sometimes rational thinking goes out the window, and you can get caught cold very quickly.
Cork's good distribution versus Clare's wastefulness
2 mins 53 seconds: This time, Cork go short with a puck-out, and Damien Cahalane's long ball hops in front of Seamus Harnedy (pictured below), who gets out in front of his man, turns and pops over a point.
What happens here is that Cork eliminate the Clare half-back line, they're simply not a factor.
Cahalane's ball is straight over them, Harnedy wins it, and scores.
It's excellent Cork play but again, it's happening far too often, and far too early.
It should also be noted that within five minutes, Clare had three bad wides registered.
In a huge game such as this, they're already playing catch-up, when they would have realised that a good start was vital.
Anthony Nash restarts play in the fifth minute, after Tony Kelly's driven a poor wide, and look at the precision of it, as Conor Lehane goes to control with his stick:
Lehane eventually gets a shot away but it's wide. Still, Cork are able to find their players how they want to with long ball.
8:10: Mark Coleman's line ball is brilliantly won by Patrick Horgan (white circle) ahead of David McInerney, and he moves to the left touchline before scoring an outstanding point:
Now, here's the contrast.
9:59: Tony Kelly's diagonal ball towards Conor McGrath, left to right towards the New Stand side of Semple Stadium, goes straight out over the line.
14:24: Colm Galvin's diagonal ball, right to left towards the Old Stand side, goes straight out over the line.
17:03: Another diagonal ball, aimed again towards the Old Stand touchline and towards Conor McGrath, goes straight out over the line.
Three examples there of Clare, with good possession, handing the initiative back to Cork.
In the 11th and 12th minutes, here's a significant passage of play.
It was a goalscoring chance for Cathal Malone, who runs in from the right flank and boots a shot off the post. He's a bit unlucky not to score but Clare salvage something from the attack, as Podge Collins sends over a point.
But from the Cork restart, their goal comes. It's a brilliant Nash puck-out into midfield, to Luke Meade (circled):
The ball into Cadogan is beautiful and this is where he wants to be, one-on-one with O'Brien, and he gets the turn on him:
It's a goal from there and a huge swing, from a situation where Clare had a goal chance.
This highlights the contrast between the two teams in terms of being really clinical.
When a forward like Cadogan, John 'Bubbles' O'Dwyer, Colin Fennelly, Maurice Shanahan or Conor Whelan gets the ball, and they're moving onto it at speed in a one-on-one situation, you really have to be an amazing corner back to dispossess them.
These fellas have real pace and that's a reason why you see teams operating with covering defenders, to protect inside backs from these scenarios.
Inside forwards of this calibre have have too much pace to cope with and if they get ball in hand and turn, they'll go for the jugular.
Cork are exploiting this consistently this summer, and relying on their biggest strengths, pace and skill.
Clare, in contrast, are struggling, and here are further examples…
8:43: Clare are in possession and playing the short game, as Conor Cleary pops it short to Podge Collins. But in the shot below, Bill Cooper (red helmet) brilliantly flicks the ball away from the Clare man (11), who's dispossessed:
16:43: Clare in possession again, as John Conlon wins an Anthony Nash puck-out. But he carries the ball too long, he's caught on the strike and a point chance is gone.
21:39: Clare have a sideline ball but Tony Kelly doesn't connect well and the ball dribbles into midfield. Conor Lehane picks it up and scores a Cork point.
22:31: Cathal Malone shoots a bad Clare wide, following good build-up play.
24:18: Clare have another sideline ball in a good attacking position. It's taken by Podge Collins but goes straight to the outstanding Mark Coleman, who moves it down the field Seamus Harnedy gains possession and Clare get away with it this time, as the Cork man shoots wide.
27:57: Yet another sideline ball for Clare, and Bill Cooper cuts it out. Within a minute of this, Darragh Fitzgibbon is fouled by Colm Galvin and Cork have a simple point from a free.
33:44: Clare have good possession from Colm Galvin, and he finds John Conlon on the left touchline. But the pressure is applied by Christopher Joyce and Conlon shoots Clare's seventh wide.
That's one hell of a rap sheet in the first half.
One or two instances like that and you can accept them but that many are killers.
It's terrible stuff from Clare on Munster final day, handing balls that you're in possession of straight back to the opposition more often than not.
Another aspect of Clare's play that disappointed me was their reluctance to go to the full-forward position more with distribution.
They were looking at diagonal balls to McGrath, Shane O'Donnell and Conlon but in the 19th minute, the route one delivery worked.
It was good play from the back, as Andrew Fahy picked out David McInerney, who moved the ball on to Patrick O'Connor and then Colm Galvin.
The midfielder looked up and went long to Aron Shanagher, who initially pulled off a fine catch before being forced out. When the ball spilled loose, Shane O'Donnell latched onto it and won a penalty.
If Shanagher got more of that type of ball, Clare could have been more of a threat. Shanagher admittedly didn't look particularly sharp but I would have liked to have seen them go long to that full-forward position more often. It worked well for them in the Limerick game, as I highlighted in this previous column, and they could have got more joy from that tactic.
Cork, meanwhile, knew what they were about, and kept it simple.
I highlighted in last week's column how Wexford suffered badly before half-time against Galway, and Clare did yesterday, as Cork turned the screw in the minutes leading up to the interval.
32nd minute: Another long Nash puck-out, ball breaks and Alan Cadogan puts Cork five points up, 1-8 to 0-6. Long and simple again from Cork, no messing, no real structure or pattern, just get it in there.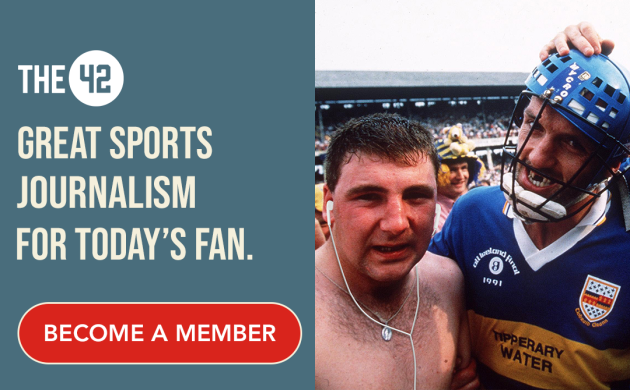 36th minute: Another super Nash puck-out to Bill Cooper, who puts Darragh Fitzgibbon through and moving at pace. He's fouled and Horgan puts the free over.
36:21: Conor Lehane is fouled after taking the ball from Darragh Fitzgibbon. Horgan puts over the point. Credit here to Coleman for some beautiful foot-work in the passage of play that precedes the foul, before the ball it transferred to Fitzgibbon.
Second half follows a similar pattern
Cork's diagonal ball weapon is one I've discussed after they beat Waterford in the Munster semi-final, in this column, and it served them well again yesterday.
Above, it's Horgan who's the recipient from a Bill Cooper delivery. He'll get inside David McInerney, draw a foul, and pop over the resultant free.
Here's more good Cork play, but it's simple stuff, as Nash finds Cahalane with another short puck-out:
In the next two shots, collated below, we see Cadogan first of all winning another fine possession, before popping a pass to Kingston, coming off his shoulder:
It's a goal chance for Kingston and while he's bottled up going through, the referee whistles back for a foul on the Cork player and it's another point.
It's lovely Cork play again, as they open up Clare in identical fashion time and time again.
But the contrast, again, is in my next example.
Here's John Conlon, preparing to drive a ball inside in the 40th minute:
It goes from right to left but as the ball drops, just look at the three Clare forwards (white circles):
They're all bunched in the same corner, and outnumbered by four Cork defenders.
Colm Spillane will pick up the breaking ball and where the Clare men have positioned themselves under the dropping ball, they're no threat to their opponents whatsoever.
It's one of those rare occasions where Cork cough up possession themselves, however, and David McInerney, who had a fine game for Clare, wins it and sprints forward to score what should have been an inspirational point.
But Cork don't panic, and in contrast to the Clare 'bunching' example above, look at how their forwards position themselves from the restart. It's another quick and short puck-out from Nash, and when the ball is delivered, I've frozen it here:
The ball-winner is Patrick Horgan, circled in red, but he has two possible options offering support. One of them is Shane Kingston (highlighted), who comes around on a lovely little looping run to take the pass, before scoring:
Cork had the answers when required.
There was a savage period of play leading up to this foul on Alan Cadogan, committed by Cian Dillon in the 50th minute:
Initially, Colm Galvin hit a very long ball that was collected under his own crossbar by Nash. He popped a ball out to Christopher Joyce, who literally ran through John Conlon before transferring to Cooper.
A straight ball down the line was gathered by Cadogan, winning a very hard possession, and he turned and went straight at the Clare defenders. Dillon was high around Cadogan's neck and that was a statement from Cork. It said to me 'we'll beat ye hurling, in the physical stakes, any way ye want it.'
Clare's goal from Conor McGrath came from John Conlon's good work, being ultra-dogged with the ball and going hard on goal. It was brilliantly finished by McGrath but there was nothing really scientific from Clare.
I wrote in my preparatory notes 'why are we not seeing this more often from Clare?'
There was more of it in the 57th minute, Clare doing well under a long delivery, as Shane O'Donnell popped a pass to Cathal Malone and he drove a shot off the woodwork. It was all about guys dogging it out and creating the opportunity. We should have seen more of it from Clare.
This is what I'm talking about, as Conor Cleary sends a good, diagonal ball to Conor McGrath:
McGrath took on Colm Spillane and scored a lovely point from the touchline. This is what Clare wanted to do right through the game, but couldn't often enough.
The clincher was that wonderful Cork score late on, when Damien Cahalane roared out of defence, transferred to Luke O'Farrell, and onto Horgan.
Once again, Cork had the answers and Cahalane's thinking was along the lines of 'to hell with this, it's our day.'
It was wonderful stuff from the Rebels again and they're worthy Munster champions.
The question now is, how far can they go for the remainder of the season? Keep playing like this, and they have a real chance.
The42 is on Instagram! Tap the button below on your phone to follow us!