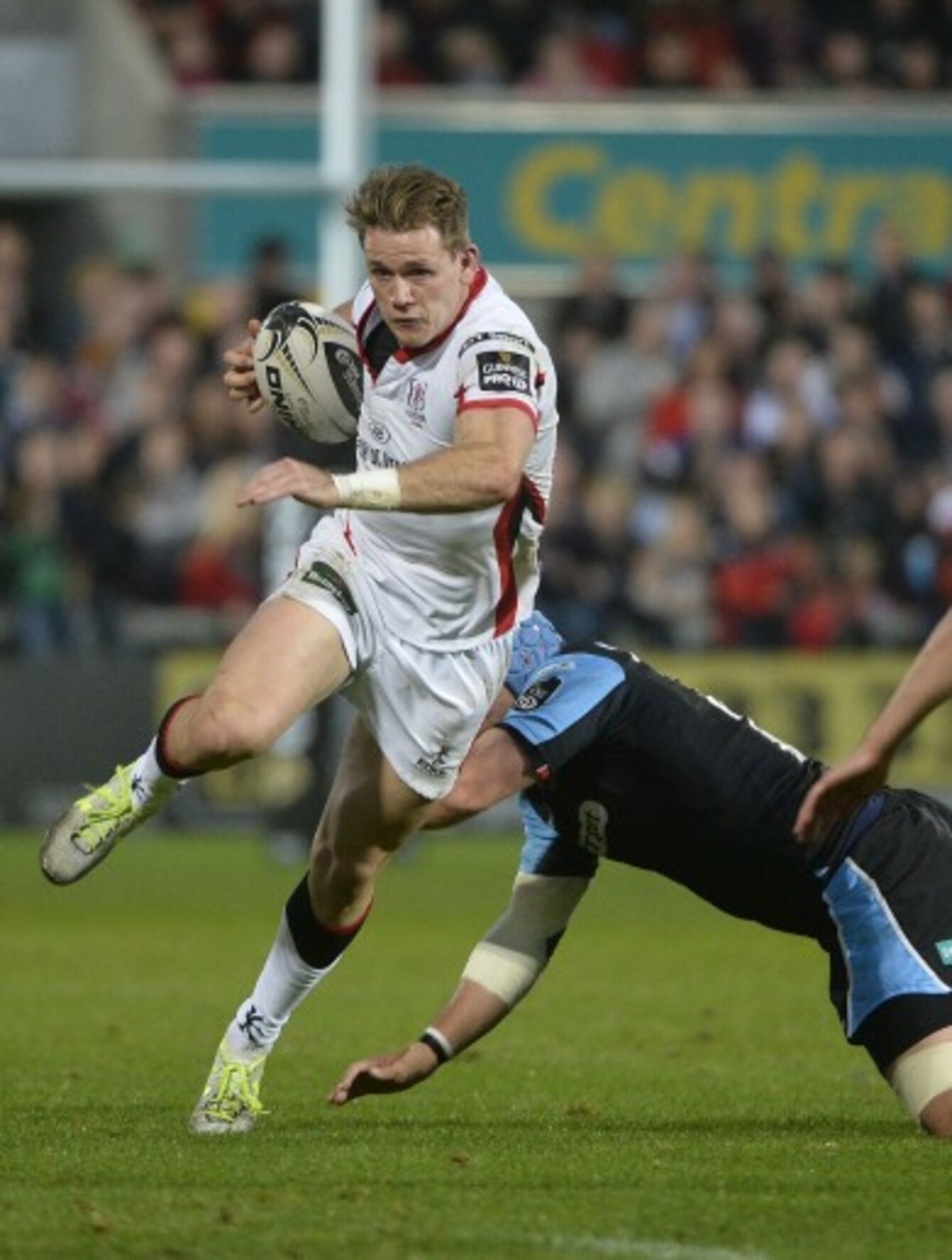 Image: Presseye/Stephen Hamilton/INPHO
Image: Presseye/Stephen Hamilton/INPHO
HE MAY HAVE started more games than he's been left out of this season, but Craig Gilroy has had to force himself to become a good spectator in recent seasons.
The Co. Down man has been exemplary in his patience and professionalism as he goes about his day-to-day preparations in the shadow of Andrew Trimble and Tommy Bowe.
Try as he might though, the extra experience and physicality within that duo always seems to have them one step ahead when it comes to selection for the very biggest games..
However, before half-time of Ulster's impressive 29 – 9 win over Pro12 league leaders Glasgow Warriors on Saturday, Gilroy was given an extended shot in a top class game.
"It was a class game to watch from the sidelines, I was glad I could come on and make a wee bit of an impact," said the winger whose try at 15 – 9 gave Ulster the breathing room they needed to close the game out.
"It always is [tough] when you come off the bench. It was quite a quick physical game. I was just saying to the lads it didn't feel like I played just over a half, it felt like I played a full match. I thought after five or 10 minutes I adjusted to it quite well."
As positive as Gilroy is, he admits that talking a good game is not much use once you cross the whitewash. The 23-year-old found himself repeating small mental triggers to settle in to the action.
"I just had to remember to relax and try to get my hands on the ball as much as I could and just break myself in. It felt good, I really enjoyed it."
He added: "You never really know how much time you're going to get with the competition we have in the squad at the minute, so I was glad to get on and get my hands on the ball. It felt good."
With a pivotal fortnight ahead in the season, however, Gilroy is in pole position to grab a starting jersey in Ulster's back three. Jared Payne's move from fullback to centre has piled the pressure on the 12 and 13 jerseys, Michael Allen is a long-term absentee from nipping at Gilroy's heels and Andrew Trimble was the man he replaced during the first half on Saturday.
A medical report today will shed a more light on the seriousness of the toe injury to Ireland's Six Nations star, but the jersey must seem ripe for the picking for Gilroy. Not that you would get that from the elusive winger. Sitting beside your head coach with all the media mics switched on is rarely the time to demand a starting berth, so Gilroy calmly batted the question away and left the decision to the 'higher power' of Neil Doak who happened to be sitting to his left.
Modest and professionalism not withstanding, Gilroy must be relishing the possibility of getting involved in more "class games" rather than just enjoying from the sidelines.