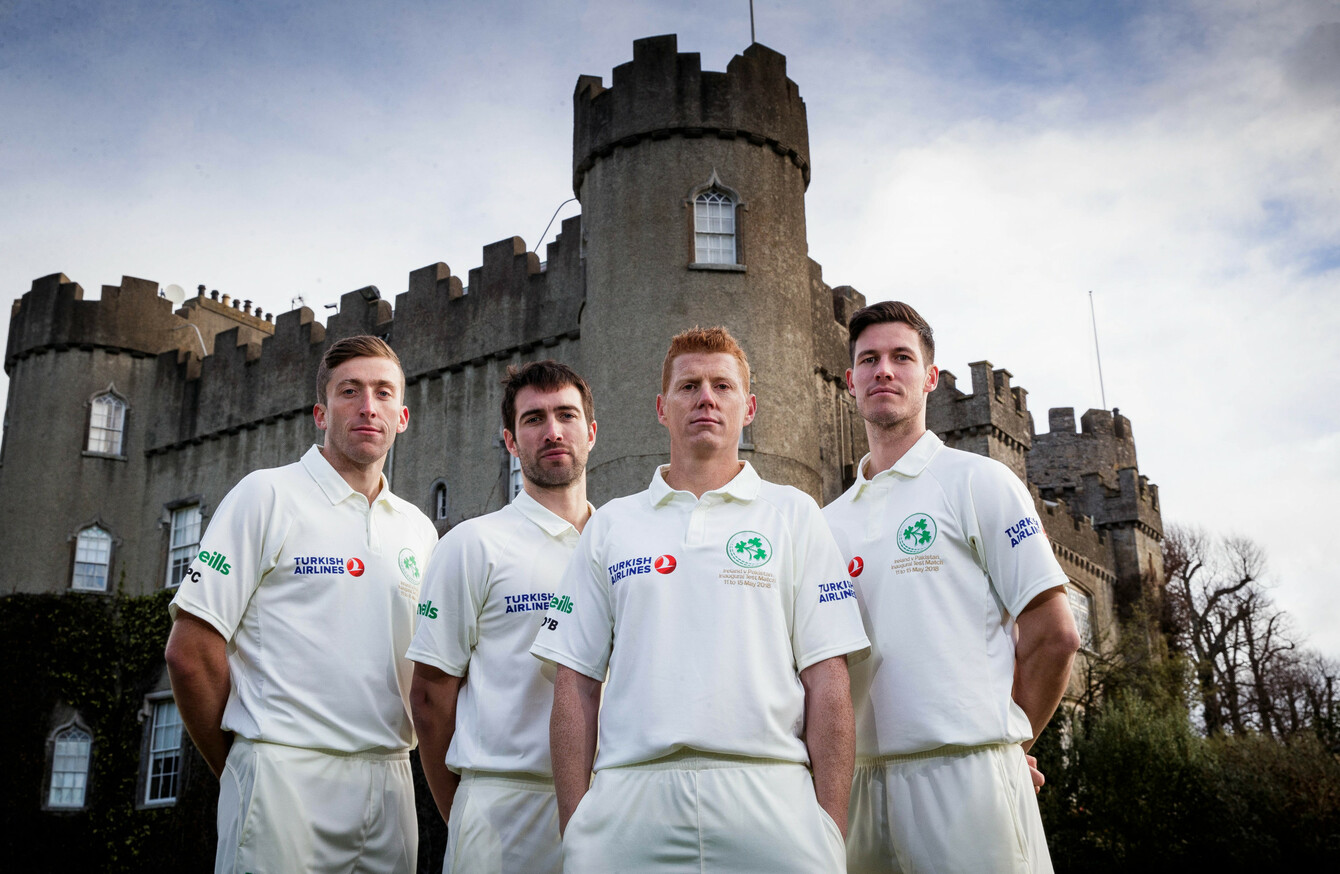 Ireland play their first Test match this May in Malahide.
Image: Ryan Byrne/INPHO
Ireland play their first Test match this May in Malahide.
Image: Ryan Byrne/INPHO
PLANS TO DEVELOP an international ground at Malahide have been shelved, with Cricket Ireland today announcing its preference for a purpose-built playing and training facility in west Dublin.
Malahide, which has hosted the majority of Ireland home games in recent years, was originally identified as the location for the development of a new €6 million national stadium, but Cricket Ireland has performed a u-turn on those plans.
With the recommendations of an external expert, who found drawbacks in developing Malahide as an international ground due to planning and zoning restrictions, Cricket Ireland's board last week endorsed the development of a new permanent stadium in Abbotstown.
To be situated on Sport Ireland's National Sports Campus, the new stadium will be separate to the €600,000 high-performance training facility which is nearing completion after 15 months of construction.
The announcement is part of Cricket Ireland's wider strategy to develop a larger network of international standard grounds to meet the added demands of international and first-class cricket, as well as Ireland's Full Member and Test status awarded last year.
At present, only four grounds in the country — Malahide, Clontarf, Bready and Stormont — hold the necessary accreditation to stage international fixtures.
"It has been no secret that our initial thinking was based around a redevelopment and expansion of Malahide Cricket Club," Cricket Ireland CEO, Warren Deutrom, said.
"However, the report informed the Board's deliberations around a number of important issues around venue access and future-proofing."
"When we selected Malahide as the location for our main stadium in Dublin a decade ago, Irish cricket was in a very different position with a much smaller fixture list. By achieving Test status and joining the FTP [Future Tours Programme], we've had to ask ourselves the tough question of whether that decision is still fit-for-purpose."
"Fundamentally, if we are to request substantial sums from Government, we need to be sure we can deliver on our programme of cricket matches at permanently-constructed venues which are commensurate with our new status."
Be part
of the team
Access exclusive podcasts, interviews and analysis with a monthly or annual membership.
Become a Member
"It was a decision the Board did not take lightly. Every member of the Board acknowledged the emotional ties we have developed with Malahide – particularly after some of the big games of recent years – and the decision should not in any way be seen as a reflection on the club."
"In fact, Malahide's members and volunteers have been superb to deal with over many years, but our entry into the FTP will place requirements for availability on the club that will be unrealistic for members who will understandably want access to their main pitch to play their own fixtures."
The next step in the process is engaging with Sport Ireland and the Government over the procurement of funding, with Deutrom adding that it will be some time before the facility is fit for use but Cricket Ireland wants to set the wheels in motion as soon as possible.
He told The42: "There's a lot of ground to cover around design and planning let alone commencing discussions with Sport Ireland and the Government on the financial, legal and technical elements.
"What we can say is that experience of developing the playing surfaces at Malahide tells us that we have to wait a good two years for the pitches to properly bed down, so it's unlikely we'll be bowling the first ball there for a good three years or so."
Meanwhile, Cricket Ireland has approved a budget of €9 million for this year, representing its largest ever annual operational expenditure ahead of a busy summer which includes a historic first Test match against Pakistan in May.
Malahide will host Ireland's inaugural Test as well as the Twenty20 series against India in June.
The42 is on Instagram! Tap the button below on your phone to follow us!