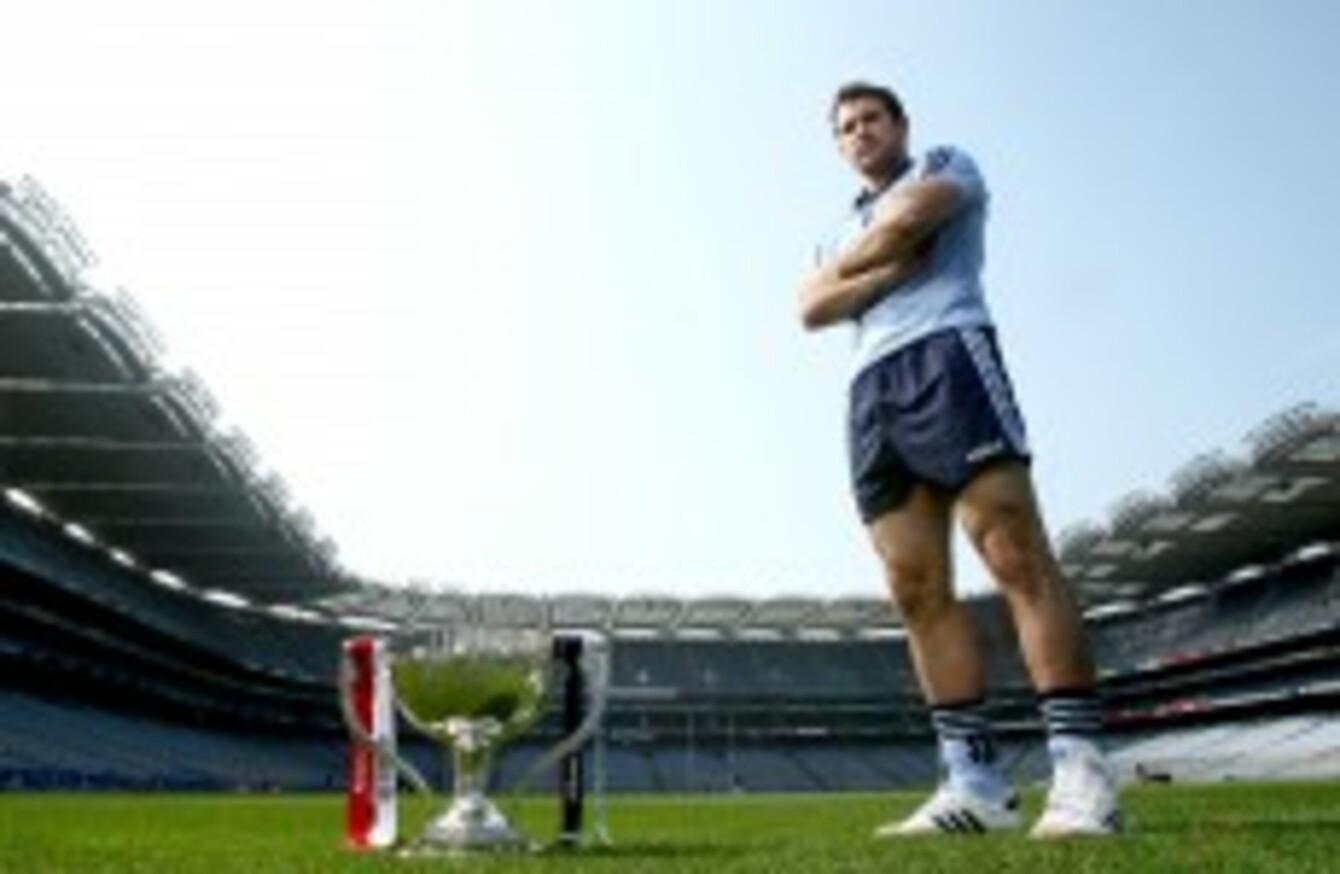 Image: ©INPHO/James Crombie
Image: ©INPHO/James Crombie
THE HYPE SURROUNDING Dublin GAA's recent resurgence may be reaching fever pitch ahead of the beginning of this summer's Championship, but for veteran footballer Bryan Cullen, the bitter memories of last summer still loom large.
Despite having led from start to finish in the All-Ireland semi-final against Cork last August, a damaging combination of wasteful point-taking and needless indiscipline cost Dublin dearly, allowing Cork to nip in at the death and steal a 1-15 to 1-14 victory.
Though the men from the capital have already seized the opportunity to banish their demons with an impressive win when the two sides met in the league back in February, the man from Skerries Harps knows that there are still valuable lessons to be taken from the trauma of that day.
"We shot ourselves in the foot with our lack of discipline," Cullen admits. "We gave away a lot of scoreable frees, and we gave away the penalty. If we want to mix with the best teams, that's something that we'll have to eradicate."
Facing marksmen as lethal from dead-ball situations as Cork's Daniel Goulding and Donncha O'Connor are, it is imperative that Dublin box clever for 70 minutes on Sunday and cut out silly infringements which could otherwise cost them dearly.
"You can't afford to leave the hand in at all. Refs will just pull you for that straight away."
I suppose you really just have to be disciplined, stay on your feet, and try and make contact with the ball if possible.

Guys have to play the ball every three or four steps so you just have to bide your time and try to get a hand in.
Throughout this year's league campaign, however, there has been a sense that Dublin are a different side from the one which squandered their shot at All-Ireland glory. Unbeaten in seven games, the Dubs have been ruthlessly efficient in raising the umpires' flags, scoring 16-82 since February.
Part of the reason behind Dublin's new-found ability to take their chances is the excellent form of the inside-forward line, admits Cullen, although he is quick to credit manager Pat Gilroy who has sought to impose a new style of play on the team in his third season in charge.
The 27-year-old neatly sums up the boss's mentality. "Our philiosophy would be that when we don't have the ball, we just try to get it back. You can't win the game unless you have your fair share of possession."
Part and parcel of this approach, however, is Gilroy's expectation that his forwards will engage in midfield battles and launch attacks from deep while he equally encourages others to get forward in numbers to support the front lines.
It sounds great in theory, but it has meant that the boys in blue have found themselves working an awful lot harder this time around.
"It is a very demanding role," says Cullen. "I suppose in the early stages, we found it physically very tough having to track back to join the attack. It was probably just a little bit of a shock to the system because we haven't been used to playing that way."
Equally important has been the strength in depth which Gilroy has drafted in to the Dublin panel, blooding new recruits alongside old hands such as Cullen. Although this expansion of the forces was largely forced on the Dubs boss by absences and injuries, he will reap the benefit of it on Sunday when he has an array of options to choose from in seeking to fill the suspended Alan Brogan's boots.
"Alan will be a big loss, but we've plenty of lads to step into the void. He's probably our most talented forward but Pat's been trying to create a good panel with plenty of strength in deptth. I think by and large he's achieved that this season."
And what of the weight of expectation that comes with being an in-form Dublin side? Will the boys in blue be able to handle the pressure on Sunday and beyond?
The man who has been here many times before certainly thinks so. "Going through the league undefeated has definitely raised expectations of us."
If we're fortunate enough to win this weekend we'll probably be installed as favourites for the Championship.

But we're not putting any undue pressure on ourselves. We're just treating it as another league game and a great opportunity to prepare for the Championship.
"Win or lose, I don't think this game will define our season."