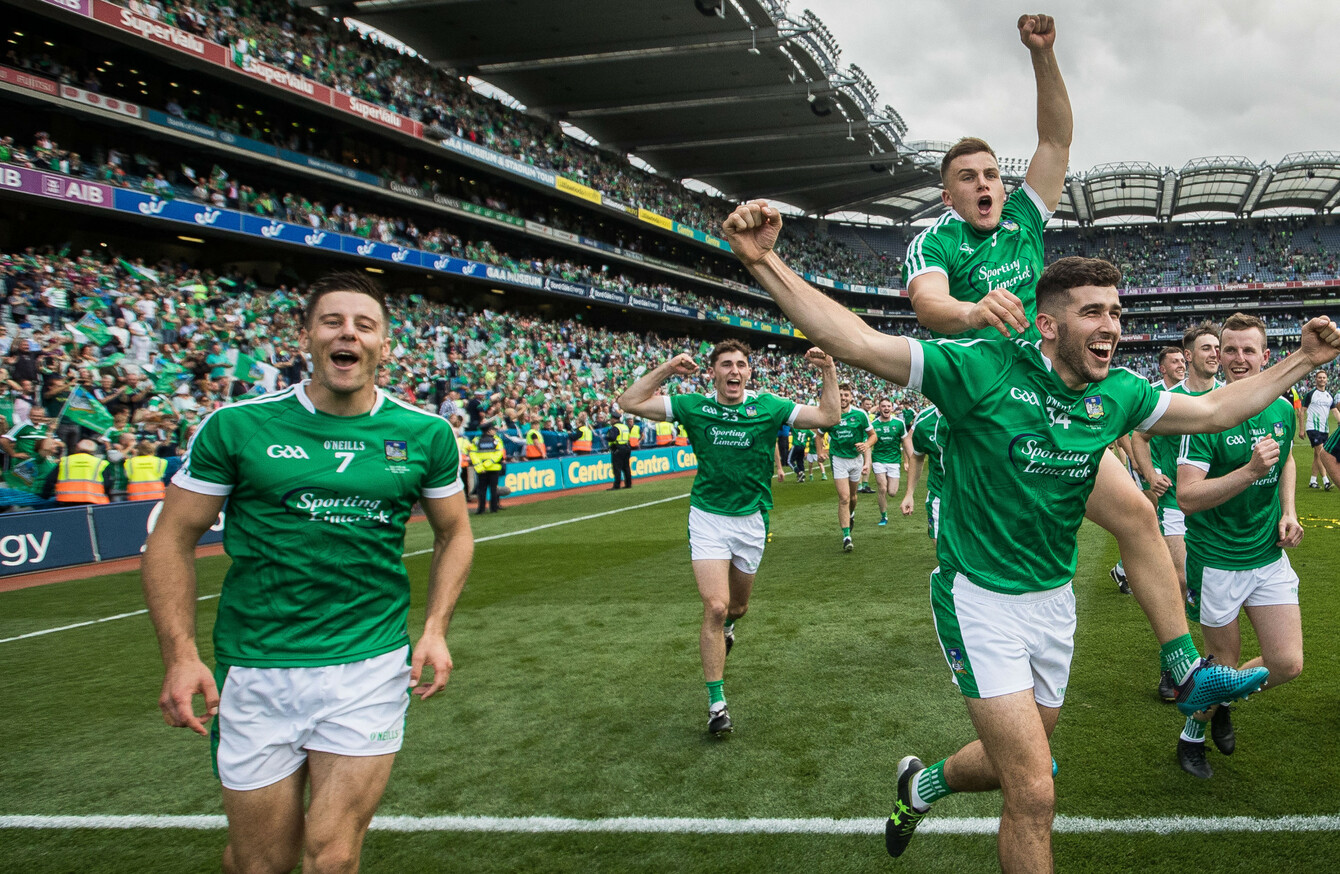 Dan Morrissey (left) celebrates Limerick's All-Ireland final victory.
Image: Tommy Dickson/INPHO
Dan Morrissey (left) celebrates Limerick's All-Ireland final victory.
Image: Tommy Dickson/INPHO
AS THE LIMERICK players raced around the pitch, the substitutes and management spilled over from the sideline, and their fans rose to acclaim in the stands, the temptation was to suggest that last Sunday was a moment that had felt inevitable.
A sense that this senior breakthrough had been in the offing for Limerick. Minor final showings in 2014 and 2016 with U21 decider victories in 2015 and 2017, all pointed to a county whose hurlers were on the rise.
Look at the starting team when the Liam MacCarthy Cup was lifted. Eight were All-Ireland U21 champions in 2015. Three of those players were present for another U21 triumph last September with three more – Kyle Hayes, Aaron Gillane and Seamus Flanagan – picking up their first medals.
Goalkeeper Nickie Quaid, captain Declan Hannon and attacker Graeme Mulchay supplemented the side with experience, and they had played integral roles when that Munster crown was won in front of the locals in 2013, bringing a 17-year barren spell to a close.
And yet if it felt like the latest chapter of success for the younger talents in the side, there was a figure who bucked the trend. The exception that had seen a career not offering any proof this afternoon of glory was imminent.
Dan Morrissey, a 25-year-old wing-back, chose an All-Ireland senior final for the first day he would win a medal in Limerick hurling colours.
"Myself, Shane Dowling and David Reidy, we call ourselves the class of '93," says Morrissey.
"I just turned 25 this year, we were just unlucky with our underage teams, we never won anything minor or U21. I played a couple of years even with Limerick intermediates, I don't think we won a game either.
"So yeah my first medal with Limerick this year. It's a good one to start off with."
That it is. He puts Dowling in the same unlucky bracket but the super sub with the knack for goals was a Munster U21 winner in 2011 while still being eligible for minor, was central to that provincial senior victory in 2013 and has been part of an all-conquering Na Piarsaigh club team.
Morrissey has endured tougher days and had to watch someone closer to home enjoy contrasting fortunes. Last September his younger brother Tom rounded off his underage spells as captain of a victorious Limerick U21 team. That was his second All-Ireland medal, a Munster minor honour was lobbed into the trophy cabinet as well.
"When they're winning, you're obviously delighted," says Dan.
"The first U21 (win), I missed out by one year. So I suppose part of you would be thinking, why couldn't you be one year younger? Tom was just out of minor and he won.
"Then I think the year when I was just minor, the U21s won a Munster when I was 18. But look senior is the one you always want to win. I'd take no minor or 21 for winning what we won last Sunday. It's great."
Victory was a personal reward for perseverance and dedication. He has needed to stick at it in order to carve an identity for himself.
A two-year minor in 2010 and 2011, who won two opening round ties and then lost a pair of Munster semi-finals. The U21 days saw three seasons entering championship combat with hope and losing first time out on each occasion between 2012 and 2014.
The latter season saw Morrissey join the senior ranks. That sense of timing eluded him once more, joining a team who were fresh after a momentous Munster success the previous campaign.
2014 saw him rooted to the bench for four summer games. In 2015 he was sprung against Clare in the 63rd minute for his debut and the cameo was followed by a couple more before their journey ended in mid-July against Dublin.
In 2016, he was in from the start but had been remodelled as a potential solution to a Limerick problem. Full-back against Tipperary, tasked with shutting down Seamus Callanan. They lost that day by two points, Tom introduced in attack to bag a late goal. The championship ended in familiar fashion with a qualifier exit, this time against Clare.
He sensed last year that there was progress even if the results didn't show it as they lost their two outings against Clare and Kilkenny.
He bedded down at wing-back, alongside Hannon at the heart of the team. 2018 saw them joined on the other flank by Diarmaid Byrnes, who had shaken off injury struggles. They were three imposing defensive pillars, the bedrock of the Limerick side.
Dan started all eight of Limerick's championship games this season and was on the pitch for the final whistle of all of them. The Kilkenny match was his standout display, bestowed with the RTÉ man-of-the-match afterwards, but all through he was a model of consistency.
"Some of the young lads on the panel are used to in the first year just starting straight away. Other lads spent a bit longer just trying to get into the team. It's my fifth year on the panel. I'd be considered one of the oldest lads on the panel, which just shows how the game is gone.
"Compared to last year, I wouldn't say there was one major thing that we did differently. I think it's just a combination of a load of small one per cents.
"I suppose confidence is a big thing and belief. The way the format was this year, like we played 18 competitive games this year from the start of the Munster league on the 30th December to Sunday. You get a bit of momentum then with the format in the Munster league, confidence is a big thing. Last year training wise was nearly all the same but last year we just couldn't get a win to get us on a roll."
The power of Limerick's collective also spurred them on.
"We played an A versus B game last Saturday, and the B team actually beat us by seven points, the starting fifteen," says Dan.
"A few of us came away that day concerned for our places. A week away from an All-Ireland final and our so-called B team has beaten us by seven points, it was a 60 minute game, flat out. We just knew it was a reflection more on how good the lads on the bench and extended panel were pushing us.
"Definitely this year the way the old lads and young lads mixed together, off the field and on the field, everyone comes to training with a smile on their face.
"It's much easier to motivate yourself for training when you're training with lads you get on with and you enjoy. We did a boxing fundraiser before Christmas, it really gelled the team together. I actually got injured the week before it, I couldn't box myself! But the bond off the field this year has been something else."
The Morrissey brothers hail from Ahane, keenly aware of the rich tradition in their club. They have a knowledge from stories of the exploits of the celebrated Mick Mackey but it is more recent figures that they can identify with.
"Mick Mackey is everyone talks about but I obviously wasn't there to see him play. The Morans would have been the main one on the county teams when we were growing up.
"In 2007 when Niall, Ollie and Seanie O'Connor from Ahane were playing in that All-Ireland final, I remember calling up to the Morans house. My father dropped us up and we got a jersey signed the day before the final.
"It just shows how the wheel has gone full circle now, 11 years later, Niall was calling up to the house during the week, wishing us luck. We had a good old chat, he's very down to earth.
"Niall was on the panel in 2014, my first year was actually his last year. We used to go back training together. He was a great man for small pieces of advice. He knows exactly what's going on, he's been through it all."
Last Sunday was his first time gracing the pitch on All-Ireland final day but he was no stranger to the occasion.
"I remember my father brought me to my first All-Ireland final in 1999, I was only six. I haven't missed an All-Ireland final since then, we go every single year.
"It's kind of a family tradition. I remember last year even sitting up in the stand with Tom, watching the Galway lads win. You'd always be a bit jealous seeing different counties win. You're wondering will we ever be there, will we ever get the chance? Thankfully it came through.
"It's great when you win it with your brother and your family and all the cousins there up in the stand, my aunts and uncles, meeting them afterwards, it's very special."
After seasons of frustration, that special feeling hit home even more. 2010 was his first time donning a Limerick jersey in championship action as a minor. In his ninth season he got his hands on a medal at last.
The42 is on Instagram! Tap the button below on your phone to follow us!