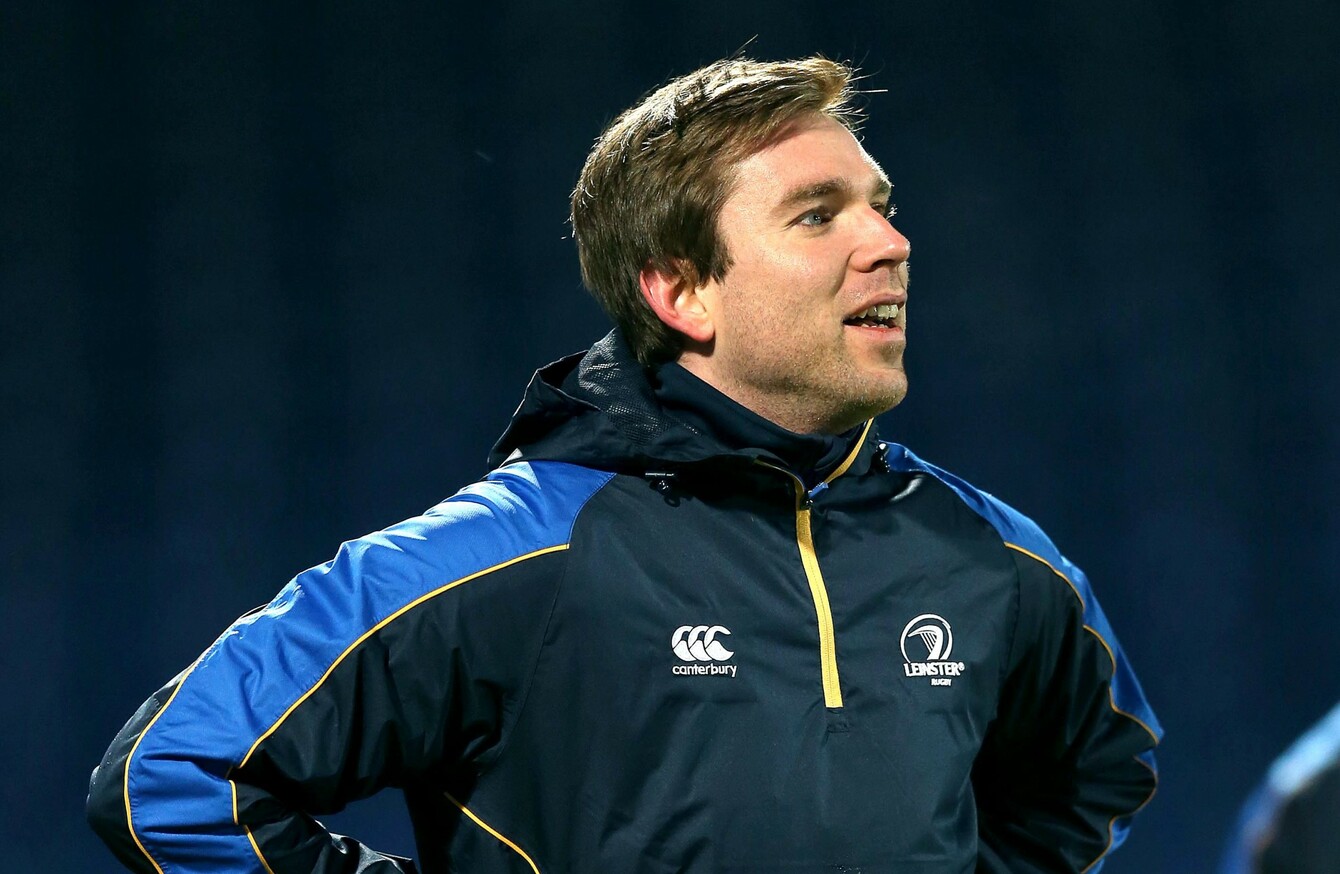 Davey has become an integral member of the Leinster set-up.
Image: Dan Sheridan/INPHO
Davey has become an integral member of the Leinster set-up.
Image: Dan Sheridan/INPHO
DANIEL DAVEY PRACTICES what he preaches, and in his line of work it's the key ingredient for success.
As the senior performance nutritionist with Leinster Rugby and the Dublin senior footballers, he's ultimately responsibility for fueling the performance of some of the country's leading athletes.
And then there is his own sporting career, previously playing inter-county football for Sligo and only recently winning an All-Ireland club title with Ballyboden St Endas.
As a practitioner and an athlete, he appreciates the intricacies of sports nutrition, an ever-evolving science, from both sides of the fence.
His own playing and training experience allows him to associate with the players and relate to the challenges connected with managing and sustaining a diet required to ensure peak physical performance.
"Nutrition and particularly performance nutrition is something that has changed even since I got on board five, six years ago," he tells The42.
"How it started was you went in and did workshops, hydration testing, provided meal plans and gave athletes the tools to go and implement it in and around their training.
"That has changed hugely into a much more holistic type of role. Food has become something which is everywhere and there is a lot of confusion surrounding nutrition and your role has to be much more individualised with the athletes you're working with.
"So it's about getting to know your athletes and know what their requirements are and prioritising nutrition information which will help them reach their performance goals.
"I'm actually never off the clock, ever. Either with Leinster or Dublin and that's the reality of it and that's just the way life has gone. Whether it be social media or Whatsapp, the role has evolved massively.
"The reality of it is that I could get a message at 10 o'clock in the evening from a player, Leinster or Dublin, wondering about a product and if it's okay to use, wondering what recipe is suitable, how to alter their diet if they have an injury or if they've had a stomach upset. You're never off the phone."
While Davey is constantly advising or pointing players in the right direction, he spends a large chunk of his time in and around Leinster's UCD headquarters during the week while also attending one or two of Dublin's evening training sessions.
He's also part of Jim Gavin's backroom team on match days, regularly seen running the line with water and ensuring the players are fully hydrated and fueled during the heat of battle.
His job title with both teams might formally be the same, but the roles are completely different.
"With Leinster, I've a lot more contact with the players during the day," he explains. "I could be in with them Monday, Tuesday, Thursday and Friday and that would be from eight in the morning until 4.30pm.
"Because it is a professional environment, it is a lot more formalised. I would meet the players on a daily basis while with Dublin that would be on a weekly basis. When I am on site with Dublin, it's not as often so there's a bit more appetite for information.
"The group will be a little bit more engaged when you are there because it's an opportunity for them to tweak something.
"When I do attend a session with Dublin, the focus is on having the information for the lads ready to go and making sure they're comfortable with it to go away before I check in with them again the following week."
With a background in GAA, Davey can relate to the unwavering commitments of an inter-county footballer and the importance of time management.
His primary focus is on developing individualised nutrition strategies for each of the players under his jurisdiction and enhancing their understanding of appropriate practices needed to meet the daily requirements.
He speaks with authority and clarity. Davey is a man of his word and his word is certainly not taken lightly. But building that relationship with players doesn't happen overnight.
His own stature as an elite level sportsman has helped build strong, and honest, bonds with the players. Trust, in this game, is essential.
"Unless you're willing to try things yourself, you almost shouldn't be recommending them off the bat," he says.
"So many of the things I would put down as part of our strategy, I will have tried myself and I will be able to stand over it and say this is how it benefited me.

It's absolutely critical. Leicester City using beetroot juice means nutritionists are going around recommending it but not having tried it themselves. They don't know the exact effects.
"It's very important to be able to practise what you preach and it's been very important for me to be able to do that. I have a very honest relationship with players and there's no issue with it. They prefer for me to say it how it is. There is a lot of different parts to working with elite players and building trust is definitely something that is vitally important.
"It doesn't really matter how good your knowledge is or how much of an expert you are, players do require time to become familiar with you and if you lead by example, play sport yourself, if you're open and honest and good at managing relationships and have an element of authority it helps.
"They're all very very important attributes to have to be able to get that buy-in from a player and it's not something which comes straight away, you have to earn that.
"That's what happens over time and I didn't just walk into either of those environments and players started listening to me. They will be very cautious because they've listened to other people before and have access to a huge amount of information and they're incredibly smart – they're able to challenge it.
"Some of the Leinster guys you'll sit down with for 45 minutes and they'll press you on things and see little gaps if you tell them about a new piece of research."
That's essentially Davey's job. With an inordinate amount of information available at one's fingertips, separating fact from fiction can often be the hardest part of breaking down the confusion over nutrition.
At the elite level, the margins a player must work within are incredibly small, and indeed unforgiving.
For example, a rugby player's failure to meet his protein requirement could have consequences for his muscle mass. Players must adhere to a strict diet and meet certain criteria. All the hard work can be undone if the standards slip. 
"My job is moving from the education element back to removing the confusion and getting the building blocks right and then moving on to the finer details which we can tweak to enhancing the on-field performance," the 33-year-old continues.
"The challenges for a GAA player are how do you meet your nutritional requirements on a budget? The amount of food they're consuming versus an average person is huge.
"The calorie requirements for GAA players at the top level training five days a week and playing at the weekend are enormous.
"So it's about providing guys with the information so they can prepare their lunch and have snacks with them throughout the day and teaching them how they eat in work and how to make the best food choices when they're out and about.
"There aren't very many things you can eat in a petrol station but we go through the best case scenario, worst case scenario.
"There is a lot of stuff out there and they want to know the small detail so they can get that competitive advantage. When it comes to the Snapchats and Whatsapps, it could be about bringing flavour to a meal or about a recipe they've prepared or a dish.
"It could be a type of green tea they're trying like things come on trend like matcha lattes or different varieties of dark chocolate and guys are wanting to know about what brands to use.
"A player might send you a message about a recipe they've put together with Greek yoghurt and dark chocolate and nuts and they're wondering if it's okay.
"Things come to the lads at different things and social media has made it more accessible and I'm more than happy to facilitate that because I love what I do."
It's nearly four years since Davey has been tasked with managing the diets of two of the country's leading sports teams.
His time with Dublin has coincided with a period of unprecedented success for Gavin's charges as they've enjoyed national dominance over the last few years.
The environment Gavin has managed to create is professional in everything but name yet success has come off the back of every individual's willingness to commit to the process, and Davey plays an integral role in that.
Similarly at Leinster, Leo Cullen has carried his appetite for perfection through from his playing days and places a huge emphasis on leaving no stone unturned in the kitchen.
If a coach or management values a nutritionist's input and acknowledges and understands the relevance of it, then they are far more likely to reinforce that message to the players.
"I have seen a change, there has been a change of culture," Davey adds. "Nobody is coasting any more. You can't because it's so competitive. Every player needs to be switched on and there is now a better awareness at a younger age level that that's what the expectation is.
"I am very, very fortunate that Leo was an incredible professional and carries that through with him in Leinster and it's something he really values in the environment.
"It's so important where nutrition sits in the list of priorities. This year when Ballyboden won the All-Ireland, Andy McEntee placed a huge emphasis on nutrition and the guys had to buy into it. It wasn't 'this is what we should do', it was 'this is what we are doing, lads'.
"So you're going to get buy in to a much greater level if the coach supports your messages and ideas rather than him saying this is an option and if you're interested then go and speak to the nutritionist in your own time."
As Dublin's season begins to intensify with the championship around the corner, Leinster's is reaching its conclusion.
At times, it's been a difficult campaign for the eastern province but the fact remains that a Pro12 semi-final gives them a realistic chance of ending it with silverware.
While Davey can savour the glory days as much as any of the squad, and indeed feel the pain of failure, he gets the most satisfaction from the small victories achieved on a daily basis.
"Every single person who works as part of a backroom whether it's Dublin or Leinster is held accountable for success and failure," he says.
"That's just part of working in elite sport. If a player is not covering the ground they should or he's not strong enough, every aspect of their performance is looked at – how they fuel for games, how they recover after training. All of those things are absolutely observed.
"It doesn't matter if you're a physio or nutritionist, you're still very much part of that team and it's our responsibility to ensure a player is consistently performing.
"So the wins and the trophies are the cherry on top but the day-to-day wins you have with players is what has to drive you.
"It's the players telling you that they tried a new recipe and they really enjoyed it or a player coming back to you with very good results with their body composition testing and they feel they've really improved with your input.
"There's nothing more rewarding than that." 
Daniel Davey is hosting a nutrition seminar for team sport athletes this Saturday, 14 May, at the National Sports Campus. Sean O'Brien will be among the speakers. The event starts at 9am and runs until 4.30pm. More information can be found here.
The42 is on Snapchat! Tap the button below on your phone to add!