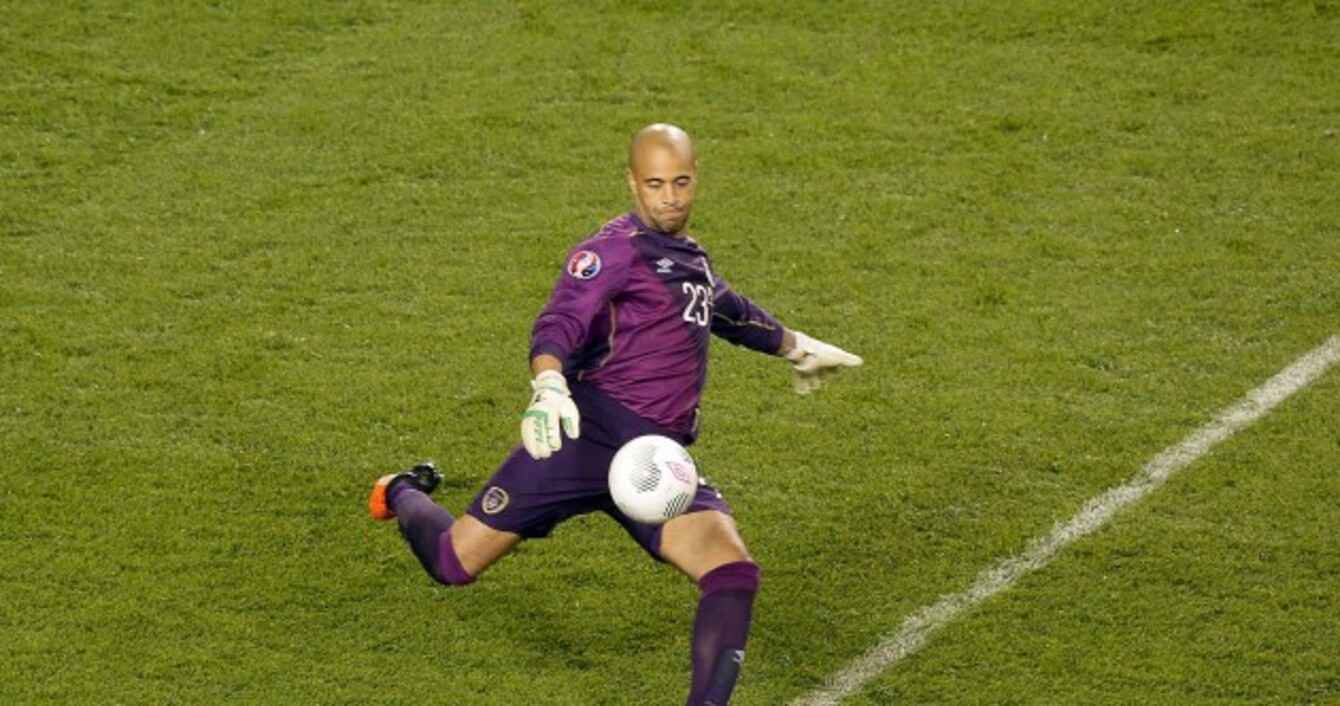 Darren Randolph provided the assist for the goal as Ireland secured a historic win against Germany last month.
Image: Morgan Treacy/INPHO
Darren Randolph provided the assist for the goal as Ireland secured a historic win against Germany last month.
Image: Morgan Treacy/INPHO
"I'M A BIG believer in everything happening for a reason," says Darren Randolph, as he sits back contentedly on the sofa in the impressive Castleknock Hotel complex in which the team are staying, located not too far from their Abbottstown training base.
One year ago, Darren Randolph was toiling away in the relative obscurity of the Championship with Birmingham. He was third or fourth choice Ireland goalkeeper for Ireland, and had won just two caps since his first squad call-up in 2007, while Martin O'Neill's side were about to be beaten 1-0 by Scotland at Celtic Park — a result that cast serious doubt on the team's Euro 2016 qualification aspirations.
Now, most would agree that the situation in which the 28-year-old goalkeeper finds himself in has improved considerably. He is with a Premier League club that are currently three points off a top-four spot. He recently kept a clean sheet in his team's shock 3-0 win at Anfield. Moreover, in the absence of Shay Given at least, he has become Ireland's first-choice goalkeeper.
Last month, Randolph experienced undoubtedly the biggest game and surely the best moment of his career. When Given picked up an injury in the vital qualifier against Germany and was unable to continue, most people assumed O'Neill would play it safe and opt to bring on the more experienced David Forde.
Yet with Forde struggling to gain first-team football in League One with Millwall this season, O'Neill opted for the one goalkeeper at his disposal with Premier League experience at the time. Coming up against the world champions who had beaten Ireland 6-1 on their previous visit to Dublin, Randolph faced more or less the most daunting situation imaginable in which to make his competitive debut in international football. But O'Neill has not been averse to making the odd gamble during this Euro 2016 qualification campaign and on that night, the decision to introduce Randolph paid off handsomely.
Not only did the Bray native produce a solid display and play an integral part in keeping a world-class Germany side at bay, he also laid on the assist for Shane Long's all-important match-winning goal. Fortune, Randolph admits, played a big part in this moment, as he happened to play the perfect pass for the speedy Southampton striker to latch onto.
"Jon Walters was the target man and he was standing offside, but I still kicked it at him," Randolph tells The42. "Shane knew he was offside so he obviously ran back onside. So Jonny left it and Shane ran through."
Randolph could hardly have performed better having been thrust into the action so suddenly, and he says that circumstances on the evening worked in his favour.
"For that night and for that game, it was probably better that I didn't have the time to think," he says, explaining how he scarcely had the chance to feel nervous and contemplate the magnitude of the occasion amid the rush to enter the action.
Source: ShivDes357/YouTube
The 1-0 win at the Aviva meant that Ireland had taken four points off Germany, conceivably the best team in the group, yet the solitary points that they managed against Poland and Scotland ultimately cost the Boys in Green an automatic spot at the Euros. How can they improve on this inconsistency?
"That's football, you see it week in week out," he says. "You see teams raise their game when they play someone that's supposed to be better than them and some teams end up losing to teams where you think they should have won.
"It was a tough group and you can see by the results how tough the group was. You take into consideration Scotland v Ireland — it's like a derby — so there's all kinds of aspects that come into play.
"It's about trying to manage expectations. Everyone was expecting us to lose against Germany. You get something from the game and it's like a bonus. I can understand why people would get frustrated or say what they say, and suggest it's about trying to find that consistency. But it's sport — if it was that easy, we'd go and win every game."
One element that can make a difference, Randolph believes, is the atmosphere. It was telling that Ireland's home match prior to Germany was played in front of a rather underwhelming attendance for such an important group match against Georgia. Though the results were ultimately identical (1-0), few people would dispute that the Irish team produced a far superior performance on the more recent occasion, with a packed, vociferous Aviva Stadium passionately urging them on.
"Sometimes, if there's no atmosphere, the game's a bit flat. I don't want to say players go through the motions, because they don't, but I think everyone would choose to play in front of a big crowd with a big atmosphere rather than a half-empty stadium where it's quiet.
"No one goes out to play badly and it might be a subconscious thing (with players underperforming).
"When you hear a roar from the crowd, whether it's from a tackle or a shot or something, it gives you a bit of a lift, an extra little boost."
On Friday, Randolph and Ireland face another huge match, as they prepare to enter the cauldron of the Bilino Bolje in Zenica for the first-leg of their Euro 2016 play-off with Bosnia.
Aside from their two Roma stars, Edin Džeko and Miralem Pjanić, Randolph admits to being relatively unfamiliar with the opposition players, but he says that the team will study the opposition before Friday's big game.
"I think everybody does a lot of video analysis — different set pieces and shape of play and different players and stuff like that. We do it before every game and we'll continue to do it for this game."
Although they'll be hoping to qualify in more comfortable circumstances, Ireland's Euro 2016 fate could potentially be decided by penalty kicks — an unlikely scenario that Randolph admits he hasn't given much thought to.
"Can you prepare for them? You can do your research. You can look at all their players. You can go back a number of years to see how many penalties they've taken and if they favour a side. But unless there's an obvious pattern to their penalties, personally, I think it's pot luck — if you go the right way, then so be it.
"I'll have a list of the penalty takers and where they go if it comes to that. But I wouldn't say I'm going to be practising penalties all week in training."
He continues: "I wouldn't be nervous about it at all. I'd be excited to think: 'Do I have a chance to be a hero?' For me, the pressure is on the penalty-taker, because they're 12 yards out into the goal. They know where they're going to go, the goalkeeper doesn't.
"If they told us where they were going to go, the pressure would be on us, as if you don't save it then, it's your fault, but I'd definitely say the pressure is on the taker. If they're in control, you just have to try to guess and react."
And while he won't be obsessing over penalties, the mental side of top-level football is something that Randolph devotes considerable attention to.
On a related note, in an interview last month with The42, Randolph's childhood hero, Irish goalkeeping legend Packie Bonner, described the intense anxiety and nervousness he felt on the eve of the 1994 World Cup finals, as he prepared to represent Ireland against Italy, wishing he had access to a psychologist and all the other benefits modern players now have access to.
"It's different for goalkeepers, because obviously, we're out there by ourselves. As a player, you misplace a pass and there's always something happening so you're switched on to the next thing, but when you're a goalkeeper, you might only have two or three things to do in the game. So I understand where Packie is coming from.
"In terms of the club or country, I have my own psychologist that I use — I think it's important. It might not work for everyone but it works for me and it helps me, so I can see what Packie meant by saying he wished he had one.
"You might not have anything to do in the game for 70 or 80 minutes, then you might be called upon. I find those games where you have nothing to do more difficult because your concentration level has to be higher. Sometimes, I come off the pitch more tired when I've had nothing to do than when I've been busy.
"Every attack, you think: 'This is the one where I have to make the save.' So concentration and the mental side of the game is key
"If you're playing at the top level and you make a mistake, it doesn't automatically make you a bad player. It's just a moment in time that you have to forget about and concentrate on the rest of the game, or concentrate on the next thing you need to do."
There is a sense of positivity and confidence in Randolph's tone that these psychology sessions presumably helped to cultivate. Some criticised his decision to give up guaranteed first-team football at Birmingham in exchange for West Ham, where he is currently the reserve goalkeeper behind Adrián. Yet the Wicklow-born stopper is unapologetic about his decision to move to Upton Park on a free transfer during the summer.
"You have to back yourself. If you've no confidence in yourself, there's no point in doing many things in life. I said I'd go in there and see what happens, and luckily enough, I got a few games and did well. So hopefully, the manager knows that if he needs me in the future, I'm ready to go."
Source: Birmingham City Football Club/YouTube
Randolph adds that he has settled in "fairly well" to life with the Hammers, playing three Premier League games so far. Although his debut didn't go according to plan, as West Ham were beaten 4-3 by Bournemouth, he followed that up with two consecutive clean sheets and wins over Liverpool and Newcastle.
However, despite barely putting a foot wrong during his stint in the first team, Randolph ultimately had to be content with a place on the bench again after Adrián returned from suspension.
And Randolph says he would have no complaints if a similar situation occurred at international level should Ireland qualify for Euro 2016, despite having to wait so long for his chance in the first place.
"First and foremost, I just want to qualify, and if I can help in anyway possible, I'll take that. I have to worry about that situation afterwards. If we qualify, it's down to the manager, but I'll obviously keep my head down and whatever decision he makes I'll support and just get on with."
Meanwhile, Given is not the only genuine contender for the Ireland number one jersey right now — Keiren Westwood is highly thought of at Sheffield Wednesday and was included in the Championship team of the year last season, while Randolph's former Charlton teammate, Rob Elliot, produced a stunning man-of-the-match display as Newcastle beat Bournemouth 1-0 at the weekend.
Yet Randolph shows further glimpses of the aforementioned positivity when asked about his rivals for a spot in the team.
"I'm just focused on myself," he says. "I don't spend time worrying about other people and what they're doing. I don't know if anybody worries about what I'm doing. One thing I've learned is just to focus on yourself because I can't affect somebody else. If I'm thinking about them, I can't affect them."
This confidence will undoubtedly come in handy when he prepares to do battle with Bosnia on Friday night, with Randolph having come a long way since his days growing up in Bray and playing for Ardmore Rovers. However, his professional career could conceivably have been over before it really begun.
As a 22-year-old, Randolph's loan spell at Hereford ended in controversial circumstances, despite initially impressing with the club. He never played for the side again after refusing to play in an FA Cup match with Dagenham & Redbridge.
Then-Hereford manager Graham Turner condemned the player's actions, calling them "unprofessional" and suggesting he would have terminated the Irishman's contract if he was a permanent member of the playing staff. Randolph, however, was defended by the then-manager of his parent club (Charlton), Alan Pardew, and it has since emerged that the Addicks did not want him cup tied and consequently told him not to play the game in question.
Looking back, though, Randolph describes this stressful and potentially damaging incident from which lesser young players may have never recovered as a "blessing in disguise".
"You take something from everything," he adds. "It might take time to step back and think about the situation again. But in that situation, it ended up working out well — I went back to Charlton and actually played for them in the FA Cup against Norwich. We ended winning and I got a run in the team because of it."
Again, that phrase springs to mind: "I'm a big believer in everything happening for a reason."
Today Three announced the renewal of its sponsorship of the Republic of Ireland football teams with a sponsorship deal which will continue to 2020 and will bring Three customers closer to the action. Three are proud sponsors of the Republic of Ireland football team.