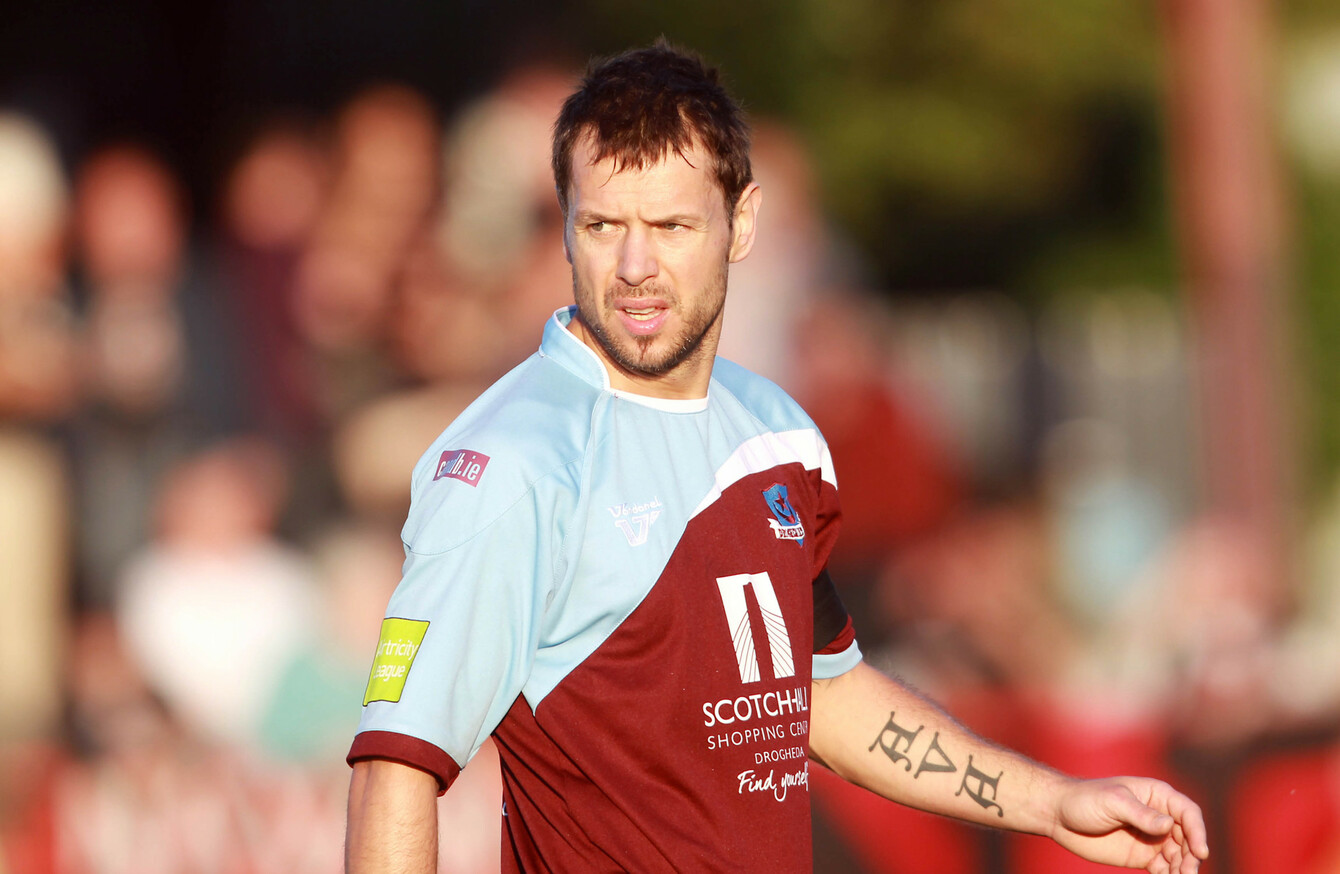 Declan O'Brien is Drogheda's all-time leading goalscorer.
Image: Donall Farmer/INPHO
Declan O'Brien is Drogheda's all-time leading goalscorer.
Image: Donall Farmer/INPHO
DECLAN O'BRIEN KNEW he was in for a rough ride.
Having established himself as a hero with Drogheda due to his phenomenal goalscoring feats, he had left the club during what was probably the most turbulent period in their 99-year history.
But what was more unforgivable from a supporter's viewpoint was that he had joined bitter rivals Dundalk.
Shortly after this highly controversial switch, the talented attacker came up against his former side in a pre-season friendly.
O'Brien knew he was in for plenty of abuse. What he got, however, was not exactly what he had been expecting.
Passions were very high at the time and there was still a lot of bitterness and sour tastes in people's mouths," he tells The42. "I went up and played, and after about a half hour, a pig's head was thrown at me onto the pitch.
"It was a funny experience, to be honest. I took it all in good jest. I expected something, maybe not a pig's head. I just said 'look, I'm used to getting abused playing football,' so it actually didn't really bother me at all. I found it quite funny."
The reason why a Drogheda legend decided to join their most hated opponents we'll come to later, but first to more important matters: how exactly does a League of Ireland striker come to be known as 'Fabio'? It turns out Italian relations on his mother's side of the family were the inspiration behind the nickname.
"I used to go over the odd time a few years ago, and when I'd get back, the lads would always call me 'Fabio,'" he remembers. "It just stuck as a kid and I didn't think it would be coming up when I was older, playing football.
"Even the coaches would call me 'Fabio,' it's hilarious really."
1. A small problem
O'Brien, who is currently 22nd on the list of all-time top scorers in the League of Ireland with 128 goals overall, grew up in Corduff near Blanchardstown. He played soccer locally before joining Finglas-based side Rivermount Boys. His father had played briefly for St Patrick's Athletic, but his job with Bord Gáis Energy always came first and he was reluctant to commit to a long-term career in the game as a result.
"But football was certainly in the blood and he had a good bit of talent for it, he was a striker as well," O'Brien says of his dad.
"I remember him showing me his first contract. When I saw that he got paid for playing football, what he loved doing, I got the bug then and that gave me something to build on.
"But [my parents] didn't push me at all, to be honest. It was more myself and my own drive that got me there in the end."
The words 'in the end' are significant, as O'Brien might have been a sporting hero of a different sort were it not for the intervention of fate. In fact, the youngster became "disillusioned" with soccer in his mid-teens. He consequently gave up the sport in favour of GAA for a few years.
"I wasn't the biggest and didn't think I was going to forge a career in soccer," he explains.
I always had an eye for goal. But I was slight enough, and sometimes I was getting bundled off the ball — this is how you lose confidence.
"I scored goals when the chances arose, but at that age, I didn't really exert myself on the pitch as somebody that looked like they were going to push on to a better level."
O'Brien is not the only Irish footballer to have felt he was penalised for perceived physical inadequacies. Countless players, including Roy Keane, have suggested there is a prejudice against 'small' players, while Wes Hoolahan is probably the most commonly cited example of a footballer whose stature counted against him, despite the Norwich star's irrepressible talent enabling him to have a fine career regardless.
"[Wes] was an absolute magician with the ball since I can remember, since he was 17 years of age," O'Brien says. "He was standing out from then but he only got the move when he was 26, 27. It makes you think he was overlooked for so many years because he was smaller.
"These fellas should be praised for the skill and technical ability that they have because they're streets ahead. This physicality and athleticism that [some coaches are] looking for, sometimes it's the wrong decision and you see that with England — they have the physicality, but they don't have the technical ability to win tournaments."
There was one player O'Brien came up against, however, whose sheer ability more than compensated for any other supposed limitations.
"I remember playing against Robbie Keane in Crumlin. You could see even though he wasn't the biggest, he had a lot in his locker. He had really good technical ability, skills, movement and you could see he had the confidence to push on.
"I suppose he just got the confidence earlier than a lot of people. The likes of him, you can see their star burning too bright for where they were. It was only a matter of time with them [before they moved on to a higher level]."
2. A simple twist of fate
Owing to the doubts about his size, O'Brien could easily have been lost to the game completely. It took a moment of luck to set his dream of playing professional football back in motion.
While enjoying his GAA stint, the Dubliner was back playing casually with Leinster Senior League side Verona FC. One day, they came up against St Patrick's Athletic in a pre-season friendly. Harry McCue, the former Dundalk and Athlone player, was managing Drogheda at the time. He happened to be watching the match in question along with his assistant and an eye-catching performance in which the then largely unknown player grabbed a couple of goals was enough to convince them that O'Brien was worth a punt.
"It was a real coincidence just that he happened to be there, he liked the look of me and was looking for a striker," O'Brien recalls.
I'm sure lots of people will have stories like this — fine lines make the difference in the end. He might have been at a different friendly that day and I wouldn't have been seen. I might have just kept up the GAA, I might have played for Dublin, who knows?
"But I'm glad that I chose [soccer], it's been very enjoyable for nearly 20 years now."
So O'Brien was already in his early 20s by the time he started out at Drogheda, but this late development did not prevent him from making an immediate impact owing to his natural ability for the sport.
A half-hour into his debut against Cobh Ramblers, on the opening day of the 2001-02 season, O'Brien scored his first League of Ireland goal of many.
"I felt 'this is where I want to be,'" he says. "I thought 'I know I can score goals in this league' and I had a real determination for it. The first few years I almost felt I wasted in my career, because I knew I had a bit of ability, I probably should have pushed it earlier to try to get in at 16 or 17 maybe, getting involved in a decent set-up.
"But it happened when it happened. When it did, it was fairly straightforward. The level wasn't a big jump for me, and I felt at home straight away."
O'Brien's elevation into the first team came amid a difficult time for Drogheda. Attendances had been poor, with the club relegated from the Premier Division the previous season. Morale and finances were also low. Yet inspired by their prolific young striker, they were promoted back to the top flight at the first attempt, claiming the league title in the process amid a hugely successful 2001-02 campaign.
"I just hit the ground running — we got promoted and I scored 20 odd goals," he remembers.
3. Drogheda rising
Drogheda's transition into Premier Division football was less than smooth. In their first season back in the top flight, they needed to win a promotion-relegation play-off. McCue's men just about achieved this feat, coming back from a 2-0 first-leg deficit to secure a dramatic 3-2 aggregate victory over Galway United in front of a jubilant home crowd.
When there was no sign of improvement the following 2003 season, the first in which summer football was introduced, McCue — who had spent six years at the club including three as assistant to Martin Lawlor and later Eddie May — was replaced by Paul Doolin.
The former Shamrock Rovers and Derry star, who has also featured in our League of Ireland legends series, had previously spent two years in charge at UCD, frequently helping the Students punch above their weight during that time. Yet the Dubliner was about to achieve his greatest managerial feat at Drogheda.
With O'Brien as captain, the club gradually progressed from relegation battlers to title contenders. Nevertheless, there were a few painful moments along the way, literally and figuratively. In the 2006 season, O'Brien broke his jaw after a collision with Bray Wanderers goalkeeper Chris O'Connor.
I was really on fire at the time and maybe would have been in for Player of the Year," he says. "And obviously getting plates in your jaw is not a nice experience.
"[O'Connor] came out and caught me with his knee — a really bad challenge actually that put me out for months.
"I was into double figures and it was only early [in the campaign], so I was well on my way to having a top season."
It was a rare setback, however, during these memorable few years where O'Brien and Drogheda were looking increasingly unstoppable.
Their new manager helped the side avoid relegation after taking over, as they finished eighth in 2003, just one point above Derry City, who faced the prospect of a promotion-relegation play-off, and four points ahead of Doolin's former side, UCD, who went down. 2004 saw a sizeable improvement, meanwhile, as the Drogs came fourth in the league, just 16 points behind champions Shelbourne.
But the FAI Cup final win against Cork City the following year, which O'Brien considers the best moment of his career, was the first real high point.
While Drogheda finished fourth, 26 points off top spot, the Leesiders had just won the league but subsequently "nearly drank Cork dry," with the underdogs capitalising on their opponents' complacency.
Source: retroloi/YouTube
An 83rd-minute goal from O'Brien capped a well-deserved 2-0 victory, as Drogheda claimed the trophy for the first time in their history.
"We felt we were close to achieving something big," he says. "Cork were going for the double — they had a very good team with George O'Callaghan, John O'Flynn and all these lads who were flying.
"It wasn't going to be easy, but we had a real quiet confidence within the squad.
"We really battered them that day. It was fairly one-sided. We scored [in the 52nd minute], we cemented the goal and I was lucky to get one myself.
"That was the start of it — some very good years there with a very strong squad."
4. Champions at last
The FAI Cup success proved the catalyst, as Drogheda ultimately became the best side in the country.
According to O'Brien, Doolin's contribution was key over the course of this period of unprecedented success at the club.
"Paul was probably the first gaffer I ever had that lived his life through football and put every sinew he had into making the team better, making it more professional, making it like a family atmosphere as regards you live with the team, full-time, double sessions a lot of the time. So I was seeing the football team more than I was seeing my own family.
"I could understand his ethos on it. He really wanted to create something special and bring fellas into that professional mentality. We wanted to win things and not just accept playing, we had a real drive and passion for the game as well.
"He's one of the most committed coaches I've worked with and I'm surprised that he's actually not back in management at the minute. I think he'd do a great job for someone in the league. He put all these things in place. We had breakfast together, we had lunch. He brought in strength and conditioning guys who did gym sessions together.
Maybe Shels did it before us, but to bring that real professional outlook to the team [was rare], we were real physical, we were all in the gym every day, and we were a team to be reckoned with."
In addition to the FAI Cup triumph, the team also secured back-to-back Setanta Cup successes in 2006 and 2007, but in the latter season, winning the league for the first time in the club's history was the clear highlight.
Doolin's team had come third the previous season, but had gone very close, finishing four points off title winners Shelbourne, who were promptly relegated to the First Division owing to financial problems.
And with their confidence skyrocketing, O'Brien and co eventually tasted glory, finishing seven points ahead of runners-up St Patrick's Athletic.
"That was a build-up of three years' work that league win," he says. "That was 2005, 2006 and 2007. We won the FAI Cup in 2005, 2006 we won the Setanta against a great Cork team again.
"In the final I remember, [Cork midfielder] Joe Gamble was probably at the peak of his powers then. He was brilliant. We turned them over in extra time, so we were getting confidence from all these wins.
"We came third in the league [the season before] and we knew we were ready to win the league in 2007. Cork were strong, but we had the beating of most teams. We started great and everybody was scoring goals — myself, Eamon Zayed, we brought in Guy Bates who hit the ground running. It all just clicked. We had some special players — Ollie Cahill, Stuey Byrne, Simon Webb, Shane Barrett.
"We had a bench of six or seven players that would start in any team in the League of Ireland now. That was one thing with Paul with the bench he had, he always said 'you're only as strong as your bench' and he certainly had some artillery to call upon if things weren't working out on the pitch with the first XI."
While the victory over Cork City that secured their status as league champions will undoubtedly be considered the apotheosis of the mid-2000s Drogheda success story, there were other great nights too.
Source: Terry Collins/YouTube
5. So near yet so far
In Europe, the Drogs acquitted themselves very well at times. In 2008, the side came desperately close to knocking Dynamo Kiev out in the second qualifying round. Having lost the first leg 2-1 at home, the Irish team came back twice to draw 2-2 amid a dramatic return fixture. In the final moments, Adam Hughes missed a gilt-edged opportunity from six yards out that would have earned the visitors an away goals' win.
To make matters worse, in the final qualifying round, Drogheda would have certainly fancied themselves against a beleaguered Spartak Moscow team, who Kiev trashed 8-2 on aggregate to seal their place in the group stages.
"The away game [in Kiev] I look back at with a bit of heartache," O'Brien says.
"It's 'ifs' and 'buts' and fine lines and everything, but it was so close to something huge.
"We held our own in Europe, which was against top teams, so the results were there to see for the progress we were making."
While the Champions League group stages eluded them, Drogheda did come up against some top players in different circumstances. During a pre-season friendly, they faced a talented Zenit Saint Petersburg side, which included Andrei Arshavin and Martin Skrtel, who would go on to join Arsenal and Liverpool respectively. Again, however, the League of Ireland outfit did not look out of their depth, drawing 0-0 with the Russian outfit.
I'd heard about [Arshavin]. I was captain on the day and so was he, there's some nice pictures of it actually. You could see the level he had. He was controlling the game.
"Obviously, it was a pre-season friendly, so they weren't battering the door down trying to score, but it was still nice. Martin Skrtel was the centre-half marking me that day and they were a good team. Dick Advocaat was coach.
"With the professional attitude we all had then, we didn't care about the big names. We just wanted to do our own thing and try to stamp our authority on the game as well, and that's kind of what Paul instilled in us — whoever we're playing against, just keep doing what we're doing. We were very fit, strong and hard to score against, so any team would have struggled against us.
"[Skrtel] was very physical. He has that nasty streak about him, which you would expect. But he was a very good player as well. He's obviously forged a brilliant career for himself from Zenit."
6. A bad break
A career in football is invariably full of highs and lows, and if he did not know it already, O'Brien was about to discover as much. In 2007, he had just signed a three-year contract extension in addition to the year he had left on his previous deal at Drogheda, when he tore his anterior cruciate ligament during the 2007 Setanta Cup final against Linfield.
"I thought 'my knee might not recover, I might not get back to the level that I want,'" he recalls.
The situation went from bad to worse, as after the ecstasy of their league title triumph in 2007, there was a feeling of despair prompted by Drogheda entering into administration the following season.
These financial issues led to mass upheaval at United Park. The club were docked 10 points and narrowly avoided relegation, finishing four points off the drop in eighth.
Doolin left the club owing to these problems, plans for a new €35 million stadium fell through and the entire first-team squad was put up for sale with the club going part-time. They even looked to be on the verge of extinction by the end of 2008, but ultimately just about raised enough funds to survive.
Amid this troubling backdrop, it was understandable that O'Brien was unwilling to stick around. Sentiment can only go so far when you need to pay the bills somehow.
I had that [contract] cemented, it was a good deal," he says. "But then when it all went up in the air with the examinership and stuff, I was certainly worried. I'd bought a new house and I just needed to get a decent full-time deal to keep me running on that. That was my concern, for myself and my family, like everybody.
"There were rumblings about [the club's financial difficulties] maybe a month or two before, but you don't ever think it's going to happen until it goes 'bang'. You're always living in the hope that 'we'll be okay, the lads here have plenty of money, the club will be fine'. But it was what it was. It wasn't the first time it happened and I'm sure it won't be the last time with football in this country, which is a poor thing really.
"The likes of St Pat's, let's say, they have [Garrett] Kelleher there pumping money into the club. If, in a few weeks' time, his business isn't going as well, it's so precarious. If he pulls out, where are the lads' wages for the next year?"
7. From despair to where
Of course, Drogheda's struggles were reflective of wider issues in society. After all, it was a time where the entire country was in the midst of a severe recession.
"Everybody was angry at what happened," O'Brien says, of the problems at the club. "It wasn't a nice time to be involved at all and there were a lot of heated exchanges between people and whose fault it was, but it wasn't really anyone's fault. It was just the nature of what happened with the downturn of the economy and everything else.
"In hindsight, you can see that, but at the time, you don't — you have tunnel vision and you just want to look after yourself and your family. That's what I did, and I signed for the rivals in Dundalk, which was the best option at the time. It was a two-year deal, full-time, that was the best I could do.
No other clubs were offering full-time deals in Ireland. It was either that or go abroad. I'd just bought a house and had a kid, so I wasn't ready to anywhere [outside of Ireland] at that moment in time."
Many Drogheda fans, of course, did not empathise with O'Brien's predicament and instead felt betrayed when he chose to join the Lilywhites, hence the incident with the pig's head et cetera.
Throughout this time though, O'Brien insists he never let the supporters' abuse get to him.
"I'd take it with a pinch of salt — the good and the bad, the praise and the negative comments, which are inevitable in football.
"From a young age I learned – take it all the exact same way. It's a fickle world, you can be a hero today and a villain tomorrow. It's just the nature of it, I've no problem with that, it's just the way it is."
The Dundalk move, however, was not a success. After four goals in 15 appearances, he left on loan for St Pat's within six months of joining the Oriel Park side. A fractious relationship with then-manager Sean Connor did not help matters.
"I never enjoyed Dundalk whatsoever, not even for a day to be honest," he says.
"Sean Connor came in, signed me, and straight away he wasn't my cup of tea as a manager. I didn't like him personally, I didn't believe in what he was telling me as regards his values in football and tactically.
"If the relationship isn't there and you don't feel the manager is someone you can respect and talk to, it's gone from the start.
"I obviously tried to the best of my ability when I played, but was just counting down the days until I could get out of there, to be honest.
"I was played on the left and right wing a lot and with three up top. I'm a number nine and he signed me as a number nine, so I would have expected to play there."
8. Maltese mavericks
During his loan stint at St Pat's, O'Brien began to rediscover his best form. He helped the team progress in the Europa League, scoring in both legs as they knocked out Valletta. The Maltese side were suitably impressed, and subsequently signed the Irish star on a permanent deal just a few months later.
O'Brien's new club featured an individual who will be familiar to anyone that followed the Premier League closely in the late 1990s.
The former Manchester United and Barcelona player Jordi Cryuff, son of Netherlands legend Johan, was in charge at Valletta alongside another Dutchman, Ton Caanen. Cryuff worked as player-coach as his on-field career was winding down.
"It was a breath of fresh air," O'Brien says of the Malta experience. "Jordi Cryuff was the player-coach, which kind of swung it for me. When you see someone of his quality trying to sign you, it's a very nice thing.
"I went over, signed a three-year deal. It was just a world of difference — I was enjoying my football again, I was enjoying the lifestyle. My wife took a career break and came over with my little girl.
"It was great. I could forget about the past experiences with Dundalk and how it ended at Drogheda. Everything seemed to come back into place again and it was just a lovely change.
"What happened was we just rented out [the house in Ireland] and went for it. We just committed to it. We said we're going to give it a good crack over here. If you're going to do something, do it right and luckily, my wife has been very supportive of any move I've ever had."
Cryuff, O'Brien adds, was the best coach he ever worked with.
It was how he saw the game and how he explained it. The best analogy I could give you is that it's like playing snooker, he's thinking three shots ahead of what he's doing at the minute. He's not thinking about the player passing the ball, he's thinking about where it's going to go in three passes.
"Ton Caanen, who obviously worked well with him, was really good at explaining totally different drills that you would not do in Ireland.
"A lot of Jordi's beliefs would have come from the Barcelona coaching school — that's kind of where his mind is at. Barcelona, to him, is everything. Just to get some knowledge from him over that nine-month period was really helpful."
And what sort of drills would they practise?
"Simple stuff that people just don't think about here. Thinking about the game relative to what you're going to be doing on the Saturday as regards not just doing the drill for the sake of it — everything is specific to what you as a player in your position will be doing.
"It wasn't just generalised. I would have been doing different training to the midfielders or the way the defence would have been training, which you don't see in Ireland that much."
O'Brien was also pleasantly surprised by the standard of football in Malta.
"A lot of them would be better players [than in the League of Ireland], the foreigners that come over from Brazil and other places like that as a stepping stone into [bigger European leagues]. So you get a lot of good players.
"As a whole, it's slower, obviously with the head, but in terms of technical ability, it would probably be better [compared with Ireland]. It was just a different type of game altogether, almost like Serie B in Italy I suppose would be the best way to describe it.
"You learn a lot of tactical stuff over there. It's like a game of chess almost. You have to try to draw people out to create chances.
"It's not frantic like the League of Ireland, because you're playing a lot of the time in 30-degree heat."
9. Back to reality
Despite maintaining a decent scoring ratio during his time in Malta and winning the domestic cup competition there, his spell with Valletta ended quicker than expected, as he returned to Ireland after just one season abroad. A change in the club's management had sealed his fate, while the 'three foreigners' rule in place at the time in the league also contributed to this abrupt exit.
I could have stayed and sat on my deal, but I reached an agreement with the club and it worked out in the end. I had a few options to stay with other teams over there, but the missus' career break was coming to an end and I just decided it was the best move to get back."
Upon his return in July 2010, half the League of Ireland season had already elapsed. Then-Athlone manager Brendan Place convinced O'Brien to join the First Division outfit essentially as a stop gap. He had gone a number of weeks without playing and needed to improve his fitness, and the Town were more than happy to accommodate a player of his calibre.
After a few months with Athlone, O'Brien joined another First Division outfit, Monaghan United, ahead of the 2011 season. He describes the ensuing period as "enjoyable". His goals helped the club finish third in the league. In O'Brien's last game for the Roddy Collins-managed side, he scored a brace, as they earned a 5-1 aggregate victory over Galway United to secure promotion to the top flight. By that stage, O'Brien was only playing football part-time.
"It wasn't too serious from what I'd been used to, it was light-hearted," he says.
"I had got a real job by then. I started managing a gym, so my time [devoted to football] wasn't as much as it had been. I was training on Tuesdays and Thursdays, I was starting to see life after football. I was completely just trying to enjoy it really.
"I'd done a lot of different courses over the years since the Drogheda [financial debacle] to equip me for life after football.
"I'm working for An Post and I'm well into the working world 10 years now. One thing I try to encourage people to do is if they feel full-time football is coming to any sort of an end, just get ready and get your working hat on for the real world, because it comes very quickly and you need to be ready."
Source: UnitedParkDrogheda/YouTube
10. A sort of homecoming
Owing to his work commitments, what O'Brien achieved next was all the more remarkable. The striker returned to Drogheda, quickly winning over those fans who still had not forgiven him for the Dundalk move, by reverting to his past prolific form and ultimately consolidating his place as the club's all-time leading scorer with 90 goals in total.
During his second spell at the club, which lasted three seasons, O'Brien helped Drogheda finish second in the 2012 campaign, coming just four points behind champions Sligo Rovers. That same year, the team also won the League of Ireland Cup — the only domestic trophy their experienced forward had failed to win up to that point — with O'Brien scoring and producing a man-of-the-match display as they defeated Shamrock Rovers 3-1 at Tallaght Stadium in the final.
Drogheda were also runners-up in the FAI Cup final the following year, with O'Brien and co losing 3-2 to Sligo Rovers at the Aviva Stadium, as Anthony Elding grabbed a dramatic last-gasp winner.
"Not playing full-time, I was actually surprised at how well it went," he adds.
"Sligo Rovers were full-time, they were a top team and we pushed them all the way that year [in 2012]. We beat Rovers and would have only spent a third of what they spent that year.
"Who would have thought that team would have reached those heights with the budget we had compared to a lot of other mid-table teams at the time?
I was playing with a smile on my face, things were good outside [of football]. My working life was going well. It helps when you're happy, things seem to happen for you on the pitch."
11. Northern exposure
Mick Cooke's side, however, could not build on their runners-up spot during the 2012 season in the league, finishing eighth and ninth respectively in the next two campaigns. At 35, O'Brien opted to leave Drogheda for the second and final time, joining NIFL Premiership side Glenavon in January 2015.
While the intimidating atmopshere in certain games was not for the faint-hearted, the veteran striker enjoyed his two-year spell at the club overall.
"I always wanted to try Northern Irish football. I'd heard a bit about it. I knew the commitment levels weren't that high. With training, you'd maybe come up once a week.
"I went up, it was not too far away, we had Saturday three o'clock games and it was excellent. I played on a good team with [former Celtic player] Paddy McCourt, [ex-Derry City midfielder] Ciarán Martyn and Daniel Kearns, who is now with Limerick.
"We won the cup against Linfield in Linfield, which is a memory that I'll have for the rest of my life.
You're coming from where you're coming from and you're playing in the national stadium against Linfield. It's a daunting fixture, but brilliant to play in. The atmosphere is tense, but all the family were up there, it was a really good experience, a different experience compared with the Aviva. You feel like you're in the lion's den almost, not in a sectarian type of way, but it's totally different.
"Even the family found it that way, but for the few years I was up there, I didn't encounter [sectarianism] much at all."
After 24 goals in 48 appearances for Glenavon, there was still time for one last improbable moment of glory in the twilight of O'Brien's career, as he joined Carrick Rangers in January 2017.
The club were battling relegation during the 2016-17 NIFL Premiership season. Of the 12 teams in the league, they finished 11th, which meant their fate would be decided by a promotion-relegation play-off.
The tie hung in the balance after Carrick drew the first-leg against Institute 1-1. However, O'Brien — well used to such pressurised occasions — shone in the pivotal return game. He registered a brace that included a brilliant solo goal and a cheeky 'Panenka' penalty, as his side won 4-1 on the day and 5-2 on aggregate, preserving their top-flight status as a result. It wasn't bad for a striker who was a month away from his 38th birthday, as he bowed out in style.
12. Full circle
Having ended his time in Northern Irish football, last June, O'Brien fulfilled a long-held promise. The Drogheda legend returned to the club in which he kick-started his football career, Verona FC, where he continues to operate to this day as player-manager. Between that job, his work as a postman and his role as a pundit on RTÉ's flagship League of Ireland show 'Soccer Republic,' the Dubliner has plenty on his plate these days.
Yet his response when asked whether he has ambitions to manage at a higher level gives a strong indication as to where his priorities increasingly lie.
There are not enough jobs for coaches," he says. "Everyone's doing coaching badges these days. I've done my B license and I'm not even sure if I have the drive to do my A because the one thing I wanted to do when I stopped playing was to stop going out in the evenings, every evening, when I'm busy with the kids and family stuff."
In addition, his customary advice for aspiring footballers is quite simple, but constitutes the type of encouragement O'Brien could have done with during his late teens, when a career in GAA was looking more likely than one where he would go on to achieve so much in the League of Ireland.
"The one cliché I'll always use, and I don't use many, is you'll get back out of the game what you put into it. You certainly do. You need a bit of luck along the way, you need different managers to like you, but if you believe in yourself, you can definitely achieve something."
The42 is on Instagram! Tap the button below on your phone to follow us!