JUST A FEW days prior to facing Ireland at Croke Park, England coach Brian Ashton decided to give his players a history lesson.
He felt it important his side were aware of the political significance of the game and the magnitude of it.
So, he called upon one of his former pupils to deliver a lecture to the class.
Conor O'Shea played for Ashton during his stint as Ireland boss in the mid-1990s and, in 2007, was Director of the RFU's Academy. With his father an All-Ireland winner with Kerry in the 1950s, it seemed a neat fit.
Commenting on the experience afterwards, O'Shea said:
What Brian Ashton wanted was to get this over and concentrate for the rest of the week on playing rugby".
A fortnight earlier, the Irish stepped onto the Croke Park pitch for the very first time and suffered a bitter three-point defeat thanks to Vincent Clerc's last-gasp try.
Writing in The Telegraph, Mick Cleary opined:
"They were overawed by the significance of being on such hallowed turf. For them, they were stepping across a cultural divide. The momentousness of it all swamped Ireland".
To a certain degree, he was right. But we all know what happened next.
"I felt we were always in control", says Denis Leamy.
We were winning the mental battle as well as the physical battle. I think England were a little bit stunned by the occasion. They had a lot of experienced players and were a very good side in their own right. But I think we felt they were a little bit more damaged by the occasion than we were. We got on with our business a lot more quickly than them and we never really relinquished that.
Conor O'Shea had been brought in before the game and maybe they weren't sure what sort of atmosphere they were entering into. I do feel that we handled the occasion better than we did. I have heard it said by a few English players from that day that with the anthems and the whole feeling prior to it, some of them felt uneasy before kick-off".
Defeat to France, according to Eddie O'Sullivan, was down to 'the bounce of a ball'. And the circumstances of the loss certainly left its mark on the Irish side. But even in the direct aftermath of that result, attention was already turning to the clash with England.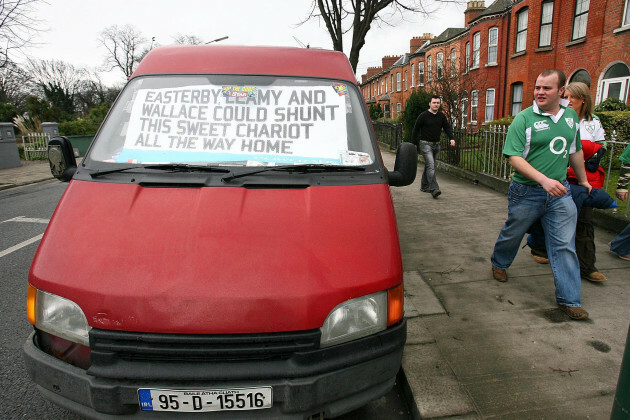 Julien Behal Julien Behal
"The prospect of playing England at Croke Park gives us all the incentive we need to pick ourselves up", Paul O'Connell said afterwards.
They had two weeks of a build up and, considering the media attention, it was a lot of noise to try and drown out. But when Leamy recounts the whole experience, it was calm and composed.
"We felt so focused, so clear in what we had to do in terms of taking on the emotional stuff – which is always in the background in rugby", he says.
"It was about getting the emotional battle right. And we were right on the money that day. We brought a huge intensity and massive aggression and lots of discipline.  And we played well, which was key, and we didn't get over-emotional.
Sometimes you're involved in games when guys are very vocal and coaches are in your ear about setting standards and stuff like that. I just remember guys just really looking forward to the occasion and almost having to keep a lid on it. Guys were absolutely bursting to get out onto the pitch and do their bit. It was one of those games that if you could play it 20 times over, you'd love to.
You see the anthems and the likes of John Hayes and Jerry Flannery crying, which is a very rare thing. You can imagine the emotional state those boys were in. The fact they were visually touched by the occasion says enough".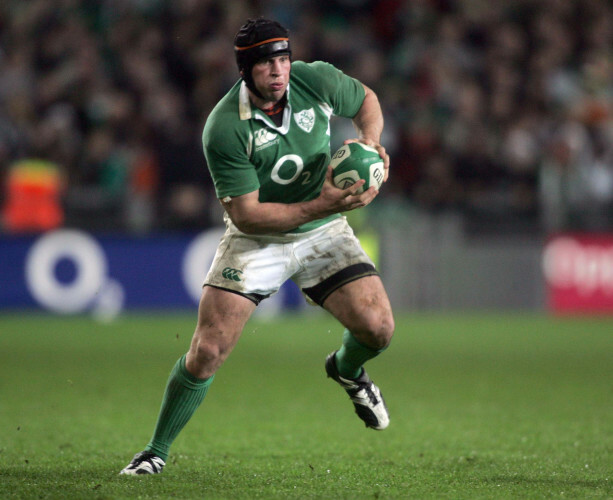 Morgan Treacy / INPHO Morgan Treacy / INPHO / INPHO
By half-time, they led by 20 points thanks to tries from Girvan Dempsey and David Wallace and had restricted the guests to just one penalty.
Leamy's standout memory came 63 minutes into the game. But as much as Shane Horgan's iconic try was aesthetically pleasing, the number eight enjoyed it for a different reason entirely.
"In the week leading up to the game, we worked on – off scrums particularly – getting to Jonny Wilkinson", he says.
MottiRugby / YouTube
"We identified that he stood very close to the scrum and we were looking to shorten the English defensive line. So it actually worked really well for that try. We had a scrum five metres out and I managed to get off the back of it, get clear of their back row, and just get into the guts of Jonny. He had to make the tackle and it just narrowed their defensive line enough for ROG to get the ball to Shane. We had a number of options – we could've gone through our hands – but ROG went directly to the boot and it was a brilliant try. In the build-up, Eddie identified it as the area where we'd look to attack them and it's just lovely sometimes when you spot something the defensive side are doing and you manage to nail the play".
For any athlete, the defeats stay longer than the victories. But this seemed different. Leamy refers to it as a 'perfect day'.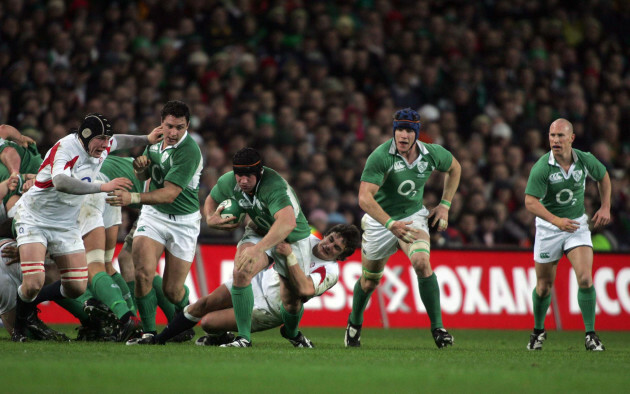 Morgan Treacy / INPHO Morgan Treacy / INPHO / INPHO
"As good as it gets, really", he says.
A lot of these big occasions, the first feeling is elation that you've won. Then there's relief. And then over the course of 24 hours, it's reflection and dwelling on a satisfactory outcome. You realise that when you wake up the next morning, for the first few seconds you're not entirely sure where you are or what way the result the day before had gone. And then you realise you won and get that lovely feeling…'I can relax now. I'm not going to be torn to shreds in the national media and I can walk down the street with my head held high'. That's always there on occasions like that.
It's lovely that people still talk about it. I met a French coach recently and he's over here at the moment. He wanted to talk about that game and we spent 20 minutes chatting because he was enthralled by everything about it. It's obviously special to a lot of people and means a lot in the history of Irish sport".