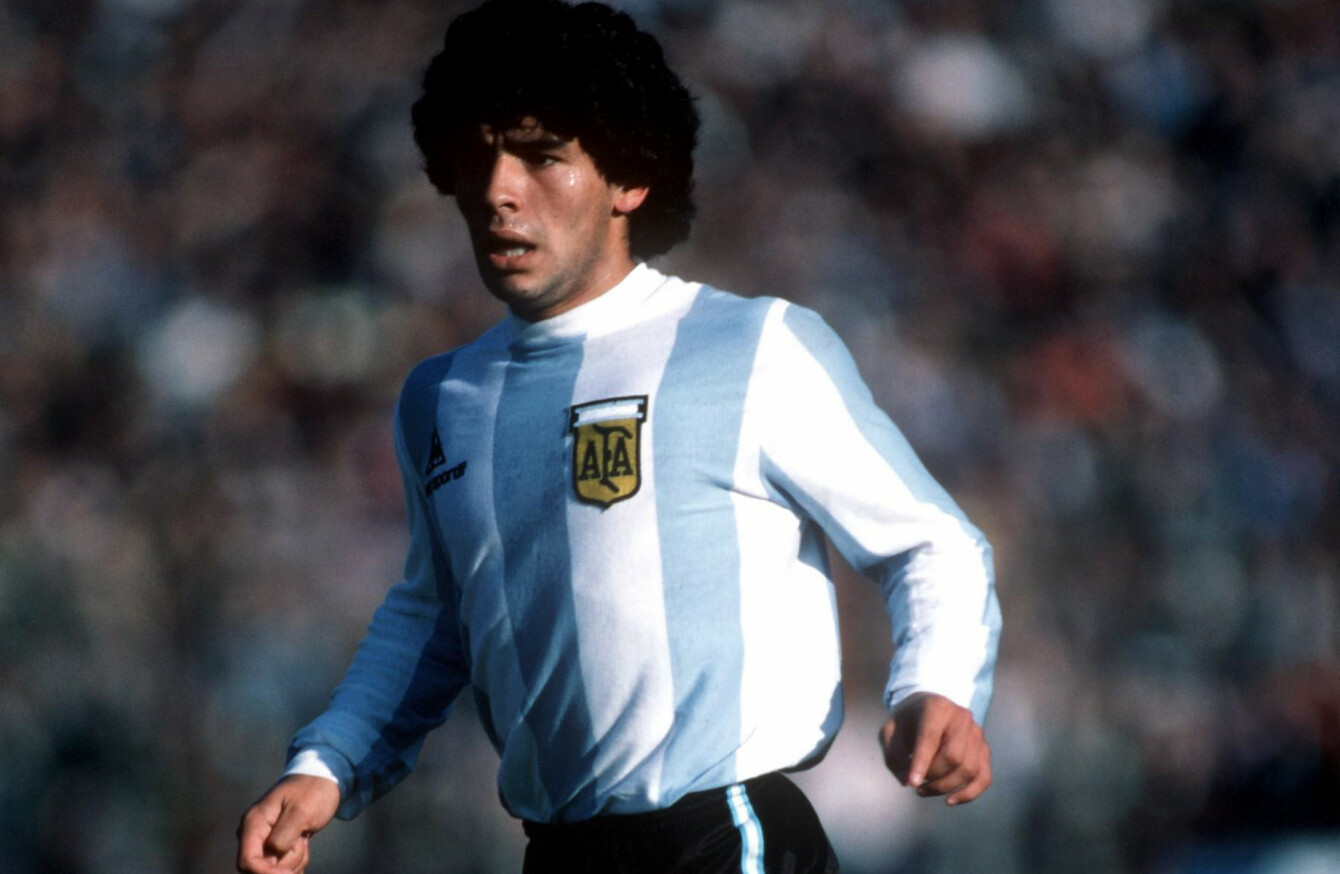 Diego Maradona came to Dublin twice in the space of a year - once as a substitute and the second as a star.
Image: Peter Robinson
Diego Maradona came to Dublin twice in the space of a year - once as a substitute and the second as a star.
Image: Peter Robinson
WHEN MARADONA TURNED up to play, the circumstances were a little unusual. 
John Giles had been in charge as Republic of Ireland player-manager since 1973 but the pressure on him intensified after failure to reach the 1980 European Championships. And there was his ambitious Shamrock Rovers project running alongside his national team commitments too.
Speaking to Vincent Browne for Magill magazine after returning to Dublin in 1977 to take on the Rovers job, he was asked why he came back. 
"Ultimately, to win the European Cup," he said. 
This may sound fantastic, but when you consider the great amount of football talent there is in Ireland, as shown for instance by Frank Stapleton, Liam Brady, Gerry Daly and other players who have gone abroad, it isn't all that outrageous an ambition. We have proved at international level that we can compete with the best, and if we can identify the promising youngsters here, sign them up, and keep them here, then there is no reason why we shouldn't succeed."
The optimism soon irritated many fans and though Giles took Rovers to Europe for the first time in eight years in 1978 and oversaw the development of many fine young players, frustration increased. Despite his fanciful talk, he hadn't brought enough relative success to either club or country.
He briefly resigned after a clash with the FAI over his desire to bring in Eamon Dunphy and Ray Treacy – two of his colleagues at Rovers – as assistants to the national team. There had been tension for a while, owing to Giles having spent the summer playing with NASL side Philadelphia Fury and when the 1980 Euros drifted out of reach, the jig was up and Giles finally walked.
What happened next was a damning indictment of how things worked in the FAI at the time. 
Alan Kelly Senior was already in charge of Preston and running a sports business there but was still asked to take on the Irish job too. He agreed and asked Eoin Hand to be his assistant. But after surviving one friendly against Switzerland in April 1980, Kelly decided the added toll wasn't worth it financially or practically and stepped away.
So, when Argentina came to town just a few weeks later, it represented Hand's first game in charge as caretaker.
"It was a huge event," he wrote in his autobiography. 
"I carried out detailed research on their players and set up our team to contain their threats, yet to trouble them when we had the ball."
Hand's first XI reflected Giles' previous comments about the standard of player the country boasted at the time.
The side was captained by the relentless midfielder Tony Grealish, then still at Luton but who'd hit his stride after his move to Brighton the next year. Around him was Derby's Gerry Daly, who'd made his name at Manchester United under Tommy Docherty, United centre-back Kevin Moran, Steve Heighway, winner of four league titles and two European Cups with Liverpool and Tottenham's young full-back Chris Hughton.      
Still, rather inevitably, despite the Irish talent on show, all eyes were on the visitors' mercurial number 10.
But Maradona had been to Dublin before.  
In May 1979, a charity exhibition was arranged to raise money for Unicef and the reigning world champions were invited to Lansdowne Road to face an Irish/Shamrock Rovers XI, the entire event effectively arranged by Rovers' doyen Louis Kilcoyne. 
Argentina were on a European tour and a few days later, Maradona – then just 18 – would put on a show at Hamden Park and score his very first goal for his country against Scotland. 
But in Dublin 4 that evening, he left quite an impression too, coming on as a second-half substitute. Though the game ended 0-0, he displayed enough flicks and tricks to justify the hype.    
Later that year, he'd go to Japan and light up the World Youth Championships, scoring six times and pushing Argentina to victory.
But, during his visits to Dublin, he was still plying his trade with Argentinos Juniors and wouldn't move to Boca until early 1981.
'Diego Armando Maradona' was still to properly bloom. 
However, despite being a teenager with minimal experience of the senior team, he was already the playmaker at Lansdowne Road, the vital ingredient in how the side operated.
In the space of twelve months, he'd graduated from substitute to star.
And there were some beautiful moments. An impudent back heel on the edge of his own area. An outrageous first touch to bring a sweeping ball down from the heavens before a subsequent thumping strike that whistled narrowly over the crossbar. A superb free-kick that seemed destined for the far corner only for Gerry Peyton to tip it around the post.
Maradona had a shadow for the day in Dave Langan, who marked his territory early on with a robust challenge.  
"Well, Eoin Hand said to let him know he was in a game," the full-back later told The Irish Post. 
I remember, the ball broke and I clattered into him. Maradona looked at me as if to say: 'Is that the best you got?' "I thought: 'I'm in trouble here.' But there had been a rugby match the Saturday before and the grass was still a bit long so anytime he went running he couldn't get away with the ball."
Hand's system worked relatively well, though Argentina did create chances. But the Irish side were lively, Daly particularly shining in midfield.
Still, when Maradona was caught by Grealish on the left side of the area, he dusted himself down, curled in the resultant set-piece and Jose Valencia expertly headed to the bottom corner.   
"They won one-nil but he didn't score," Langan recalled.
"I remember we shook hands after and he gave me a smile. It was a highlight of my career, the best player I have ever marked. You know, if I give a talk in any school, the students will always ask: 'Who is the best player you have played against?' It's strange to hear myself say 'it was Maradona'…their eyes light up."
Meanwhile, Hand was pleased with how his team performed, going toe-to-toe with a gifted collection of players and signed Langan out for special praise.   
Although Maradona's exceptional ability was obvious from the first whistle, Dave succeeded where most failed: he shackled and frustrated the South American playmaker. We put in a very strong performance against one of the best sides in the world."
The game proved prescient for a few reasons.
Maradona would consistently be shackled and frustrated throughout his career but still possessed enough stardust to create magic.
And Hand would continue to oversee strong Irish performances and preside over a very talented group that probably should have been rewarded with an appearance at a major tournament.  
Subscribe to our new podcast, Heineken Rugby Weekly on The42, here: