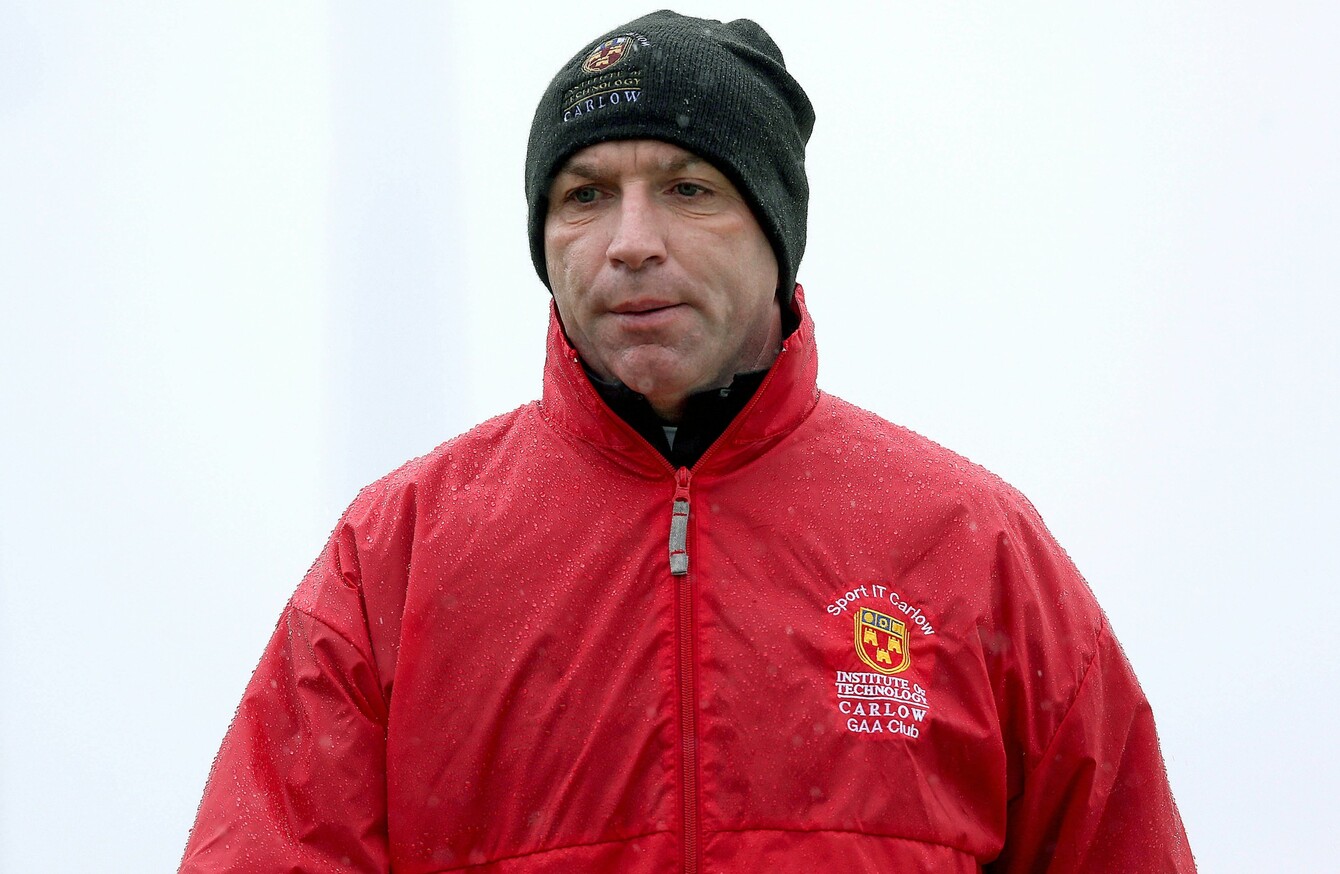 "No team should be beaten by that amount – particularly in football."
Image: Donall Farmer/INPHO
"No team should be beaten by that amount – particularly in football."
Image: Donall Farmer/INPHO
KILKENNY HURLING LEGEND DJ Carey has expressed huge disappointment with last weekend's 71-point defeat to Wexford in the Leinster minor football championship – but insisted that county board chairman Ned Quinn should not have apologised for the mauling.
Carey, who first chose football over hurling as a juvenile player, insists that board officials are doing all in their power to develop the big ball code in the county, and insisted that "no team should be beaten by that amount, particularly in football."
The 0-0 to 17-20 whitewash was discussed at a county board meeting on Tuesday evening and Carey reflected: "A result like that is very disappointing to be fair. I would like to see football stronger.
"People might not believe it but while football is not at a standard in Kilkenny where it is in Kerry, Dublin or Donegal, there's still a very decent standard.
"I would see Kilkenny being able to compete with half the counties in Ireland at U12, U13 or U14 level. Unfortunately, or fortunately, you have to look at it and say that the success of the hurling team has been so massive that everyone wants to hurl.
"Take for example my son Sean – he was waiting on a call and waiting and waiting last year, hoping to get a call for the Kilkenny minor panel which never came.
"That's the ambition of young fellas but he was quite a good footballer coming up along at well at that level. I think Kilkenny will have to look at it and say, we're going to put out a team to compete, and that might not mean win, but compete.
"I'm slightly disappointed with the fact that the Kilkenny county board should be ashamed.
"I know for a fact that Ned has done as much, if not everything, in his power to get football going in Kilkenny, along with a few more like Brendan O'Sullivan.
"But when you have such success in hurling, it's difficult. Even in a place like Dublin, some of the best footballers are also the best hurlers.
"That is why Dublin have had a bit of a fallout with hurling at senior level.
"There would always be four or five of the best footballers on their minor team as well but Dublin are at a far greater level than Kilkenny trying to marry both codes.
"Geography has a lot to do with it as well. If you're from South Kilkenny, you can't be training minor hurling one night, minor football the next. I do think we look at a situation in Kilkenny whereby we can compete or we look at a situation where we don't compete.
"But I'm not fully in agreement with Ned Quinn apologising for the young fellas that went on the field. It's a very nice gesture but I'm not fully agreeable with apologising for anybody going out on a field and getting beaten.
"No team should be beaten by that amount – particularly in football."
Carey acknowledged that the magnitude of the result was "sad and disappointing" but his strong assertion is that it should not have happened.
And he recalled: "I chose football over hurling the very first time I ever played for Kilkenny.
"I go to almost all of the All-Ireland football finals and semi-finals. I like the game of football, I'm a very proud Kilkenny person and would want nothing but the best for Kilkenny at any code.
"Fair dues to the young lads who put the jersey on but it's sad and disappointing that sort of result happened. With all due respect to Wexford, I'm assuming they're not Dublin or Kerry here when it comes to the high level. I don't think it should have happened."