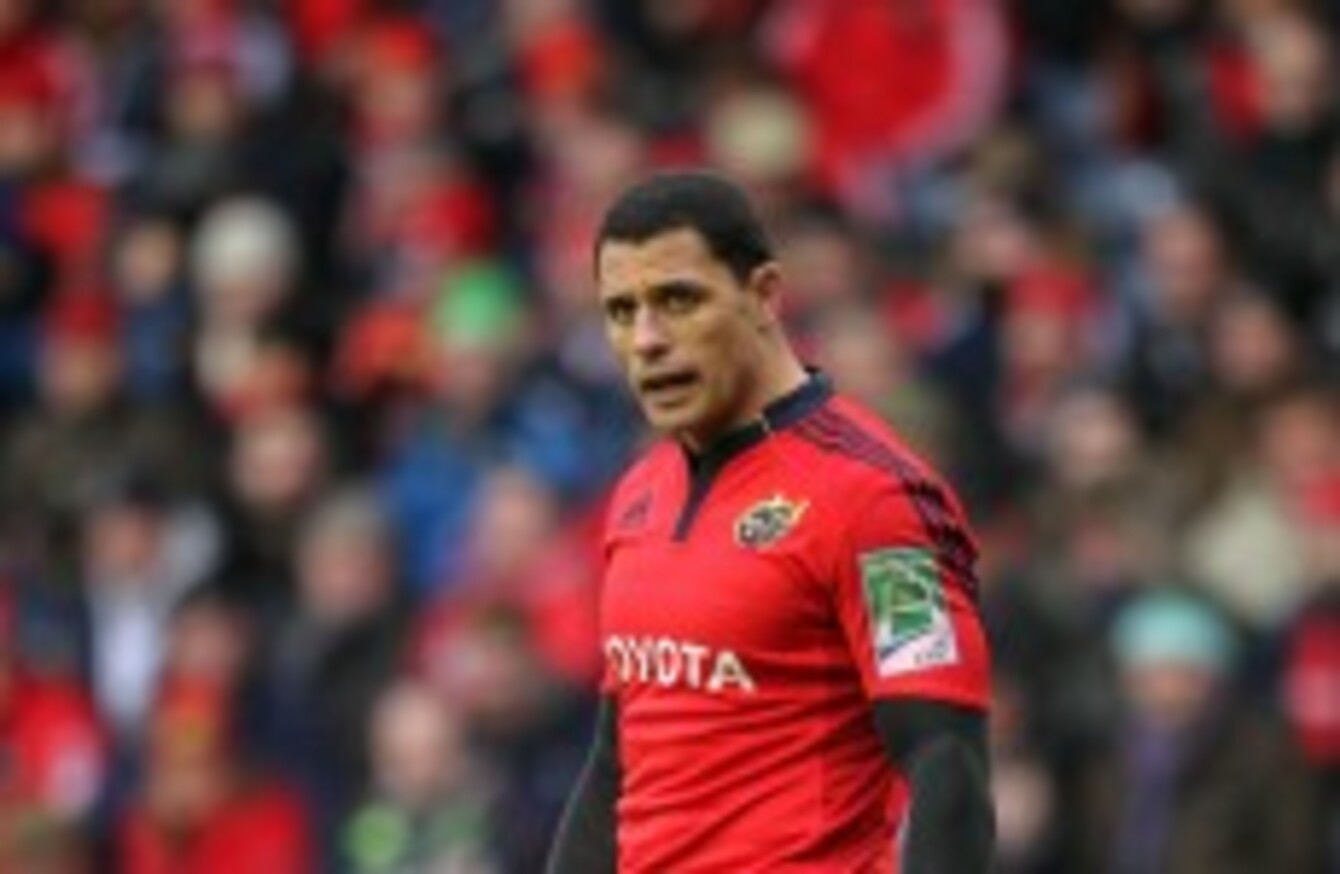 Doug Howlett made over 100 appearances for Munster during a five-year spell towards the latter half of his career.
Image: PA Archive/Press Association Images
Doug Howlett made over 100 appearances for Munster during a five-year spell towards the latter half of his career.
Image: PA Archive/Press Association Images
Updated at 21.13
DOUG HOWLETT RECALLED his time with Munster and in particular, the pressure he felt upon arrival, in an interview at the Web Summit in Dublin today.
Speaking along with Galway hurler Joe Canning in a talk entitled 'the franchise player,' Howlett revealed that joining Munster rejuvenated his career.
"I came from one of best teams in world, the All Blacks, to Munster, which I was going to make my home," he says.
"There was huge expectation. I was nervous. It took me back to being that 20-year-old kid — having to prove yourself in front of peers and supporters. It was invigorating and it probably gave me a few more years of rugby. Things were getting stale (in New Zealand). It was 10 years doing the same thing.
"But when I came to Munster and European rugby, it was a real eye opener.
"Looking back, I'm proud to say two of my best five rugby memories are in the red jersey of Munster. Nobody was bigger than the team — it was a great environment to come into. You had to prove yourself and everything you did was earned."
Howlett, however, was already accustomed to pressurised situations, having made his debut with Auckland at the age of 18.
"I was lucky," he explained. "As an 18-year-old, I was a marquee player in school. I made all my mistakes there — they were out of my system when I became professional. I bought the car. I didn't endear myself to my team-mates…"
A promising track-and-field athlete, Howlett said picking rugby over a career in athletics was ultimately an easy choice to make.
"It was team sport versus individual sport. Track and field was a lonely place.
"What I really loved about rugby was the team environment. Winning with your friends, losing with your friends, all these great things that build a team. I had dreams of being an Olympian, but that's what did it for me."
And Howlett says that any pressure he felt during the New Zealander's storied career was more on account of wanting to do his family proud, rather than owing to media or fan scrutiny.
"You put the pressure on yourself," he explains. "Your friends and family are the ones that put the pressure on and want you to do well. I didn't feel the external pressure. As I came through school into professional rugby — that's where you start to manage the emotions.
"I was 18 years old (when I started). I didn't know what was going on with my body. There's all sorts of emotions. It's only through experience that you learn to control all these emotions.
"As a youngster, I had talent, but that only got me so far. I needed to work harder to keep up with the other athletes. I thought, if I want to do this, I have to work harder than anybody else."
Of his time in Ireland, he singled out inconsistency as one reason why teams such as Munster continue to lag behind the All Blacks.
"That was a major difference coming from New Zealand to Ireland. The Munster team could be world beaters one day. The following day, they could lose to a really poor team.
"There's emotional rises within the group, but you can't do that every game. You have to be a little more steady with spikes of enthusiasm."
Howlett ultimately garnered enormous respect during his time at Munster, to the extent that he ultimately became captain of the side.
"We were in a small transition. Some players moving on, some coming in. I was an old head. I had the respect of the group. They were learning from what we were teaching.
"One of things I said was: 'Be yourselves. Express yourselves for what you are and show why you're in the room.'
"As captain, you're never out there on your own. There's always different individuals. They're all leaders within the group.
"There were a couple of times when I've dropped a high ball in front of 60,000 people (and felt alone). But again, it's about being in a team, someone will come and give you a pat on the back."
Canning also described pressure in GAA and in particular, his inability to replicate a particularly impressive performance early in his career in which he registered 2-12, and how that display affected him in a negative way ultimately.
"I said that with tongue in cheek (in a previous interview), but the more I think about it, the more true it is.
"When you're not doing that every day, it becomes increasingly frustrating.
"When you get further on and you're not winning All-Irelands, it gets harder to meet expectations of fans."
In relation to media criticism, Canning explains that it impacts on his family more so than himself personally.
"It probably depends on who's saying it," he adds. "A lot of guys say it because they're trying to sell a few papers. It's very easy when you're not successful for someone to damn you when you're damned.
"It was as if they were waiting in the long grass this year in the All-Ireland for when we did slip up to write their article.
"It goes in one ear and out the other. I'd be more worried about how my family would see it. You take it with a pinch of salt.
"But the beauty of sport is that everyone has an opinion."