JIM GAVIN SAID afterwards that the first goal wasn't a pre-planned move and looking back it's hard to argue. The players certainly look like they have some plan to create space for Dean Rock if Dublin win the throw-in but you couldn't account for the Laois defending in any game plan.
They set up in a fairly traditional shape, three full-forwards and a centre-forward on the 50. As the ball is thrown in, the two corner forwards keep as much width as possible and the half-forward (Kevin McManamon) here runs towards the ball.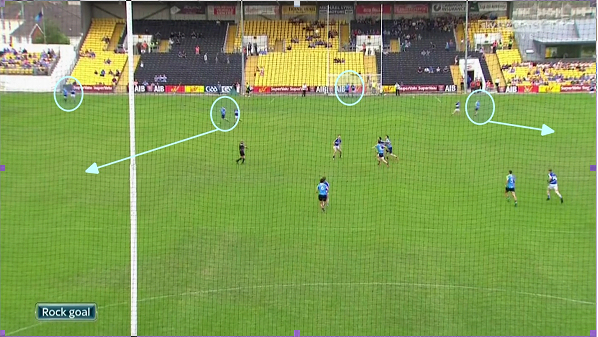 The throw-in is probably the only time we see teams line up as a traditional team-sheet would have them. There is no time for an extra man or a sweeper here. The Laois players simply follow their men and leave an enormous hole down the centre.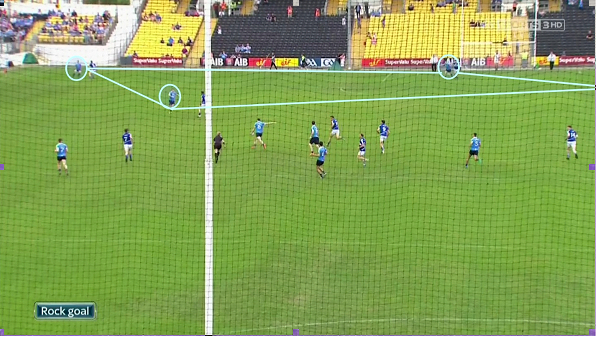 The ball is quick and reasonably accurate but there is a slip in the corner and a mistimed jump so there is an element of luck involved. However, Laois can't be happy with how they defended it from then on.
When Rock gets his hands on the ball he is almost on the end line. It is a 4 v 3 in favour of Dublin so the odds are reasonably high that Dublin would get a goal opportunity from here but Laois made it too easy.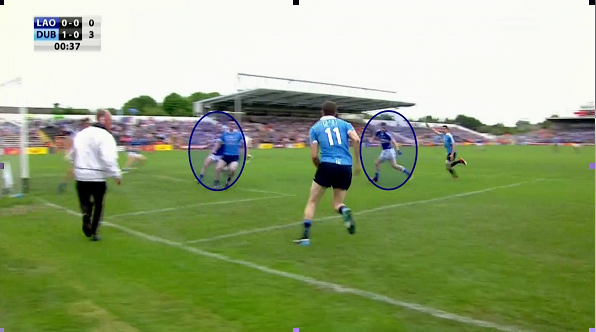 From the above angle you would still say there is a lot of work to do for Rock, yet seconds later Rock is standing on his own in the small parallelogram.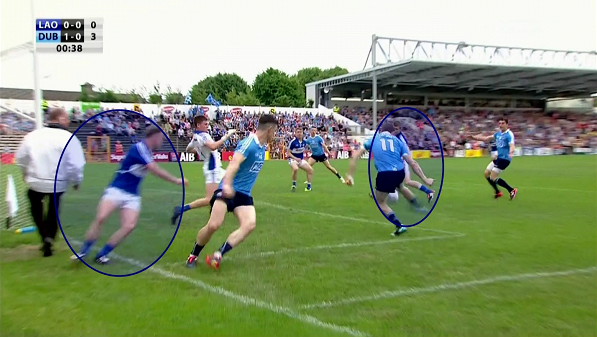 Why did nobody go towards Rock? The closest Laois defender when Rock shoots is Mark Timmons. He's caught between the devil and the deep blue sea. Push towards Rock and it's an easy pass to Bernard Brogan, so he stays on Brogan, which was probably the correct decision.
Laois corner-back Damien O'Connor just needed to put the brakes on at some stage. He follows Diarmuid Connolly off the pitch!
Connolly is running away from goal, he is posing almost no danger compared to Rock. If he holds his ground at the very least, he makes the chance a little harder for Dublin.
Players from all teams need to be much more aware of where the ball is, defending is not just about marking your man when teams are this close to goal.
Laois kickout strategy
Cluxton's speed and the TV replays made it difficult to analyse Laois' strategy against the Dublin kickouts.
In the fourth minute they tried to go man on man and that resulted in Dublin's second goal. The ball ends up in the hands of James McCarthy but worryingly from a Laois point of view, Cluxton probably had another option on the far wing. Some Laois players switched off or just weren't capable of following the Dublin movement.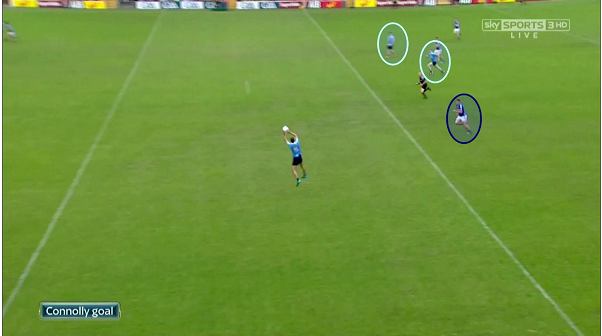 Once McCarthy reaches the Laois 45 it's a 5 v 4 situation. At all costs, especially after conceding such an early goal, Laois' priority here should be to avoid conceding a goal. As a coach, I would be happy if all the Laois defenders simply ran back towards goal, camped on the 13 and left McCarthy with a simple point.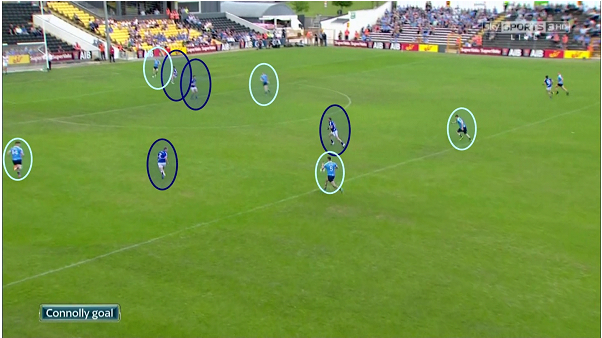 Instead, full-back O'Connor gets a little pre-occupied with McCarthy and in the end doesn't really do either job of closing McCarthy down (which is futile in this case) or dropping off on Connolly. As with the first goal, Laois turn a favourable Dublin position into a gimme of a goal.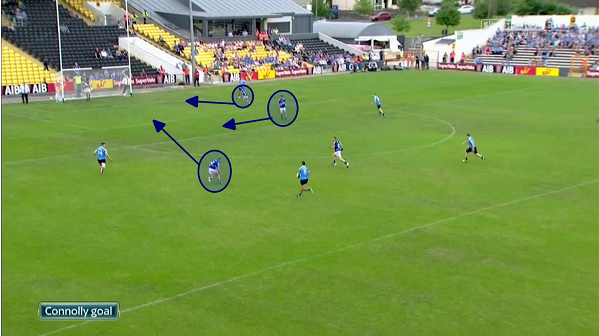 O'Connor is not solely to blame here. The Laois back-line could have seen the danger a bit earlier and at least started to make their way inside.
The priority here should be to get themselves between the ball and the goal. At the very least they should have forced Dublin into another pass before they shot. Instead, Connolly receives a pass and has a free passage towards goal and neatly slots the ball home.
Dublin's width
Nowlan Park might be a bit smaller than Croke Park but Dublin made use of every blade of grass.
Their width throughout the game was really impressive. Throughout the game they were able to stretch Laois, often switching the play to try and prod open a packed defence. There was a great example of this just six minutes in.
First, you have to admire the Dublin movement to win their own kickout. Cluxton is a phenomenal dead-ball specialist but the movement from the outfield players can sometimes be under-appreciated. This is a splitscreen of the Dublin kickout.

There are nine players in and around the D, yet just a few seconds later the camera has hardly any player in shot except John Small — who ironically has barely moved, but everyone else has created the space. From that point, Dublin are looking to stretch Laois with their shape.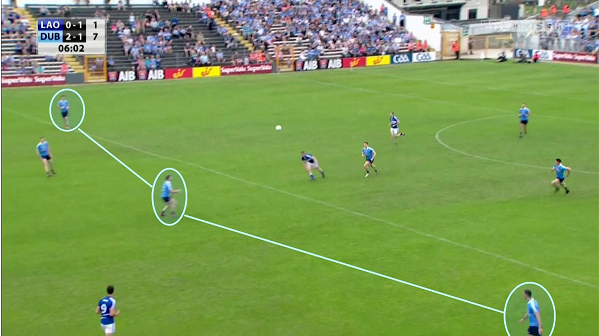 Dublin show width throughout the field. Starting this attack on their own 45 we have McCarthy closest to camera, Philly McMahon in the centre and Michael Darragh Macauley on the far wing. This is pulling Laois' midfield and half-forwards out of the middle or at least forcing them to make a decision.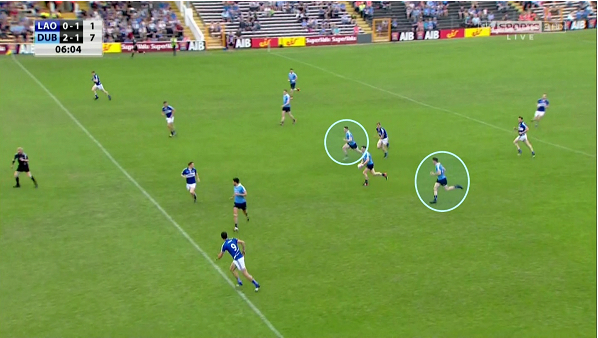 In this particular move Dublin could have easily exploited the middle. They have two runners (Byrne and Small) coming at pace from deep to exploit any soft centre.
Instead, McMahon looks up and produces a good long pass to Ciaran Kilkenny on the half-forward line.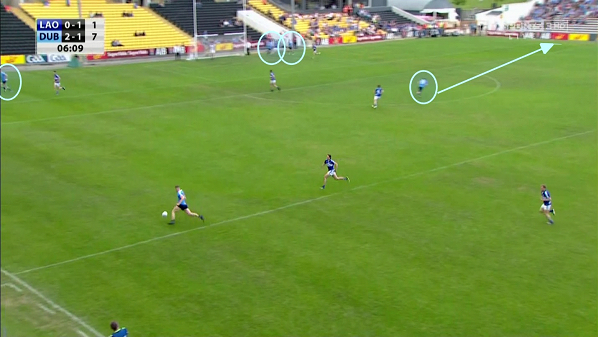 Even before Kilkenny has the ball in his hands you can see McManamon puts his head down and takes off towards the far wing; all the time making sure they have width in their game. You can also see Dublin have a man right in this near corner which has dragged the Laois defender out of the middle.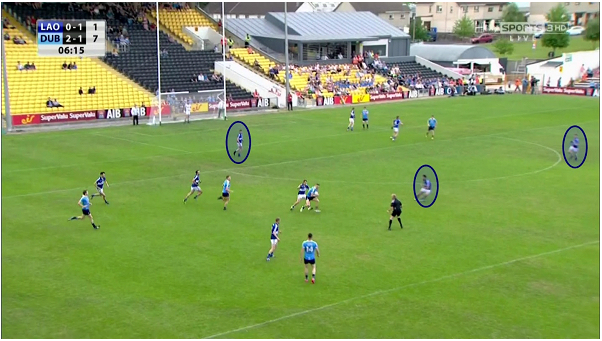 Kilkenny is forced to turn back and lays the ball off to Paul Mannion. From a Laois perspective you would have to be happy with your defensive shape here. At this point they have three spare men and the Dubs have their back to goal.
Once Kilkenny comes inside, Dublin's plan is to shift the ball to the far side. Sometimes (as in this case) it will lead to a point opportunity but other times it will shift the sweeper and offer the chance of a ball inside.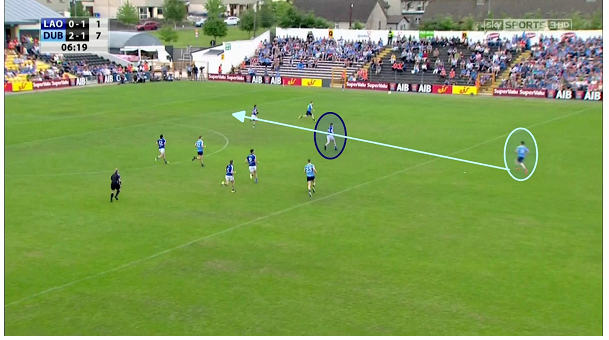 Managers will often talk about players doing the unseen work, the stuff fans and many times the camera misses.
The image above is a great example of this. We highlighted Macauley at the start of this move on his own 45, maintaining the width for Dublin. It would be so easy for him to hang on the 45 here and try to get on the ball. Instead, he makes a selfless run, never looking to receive a pass.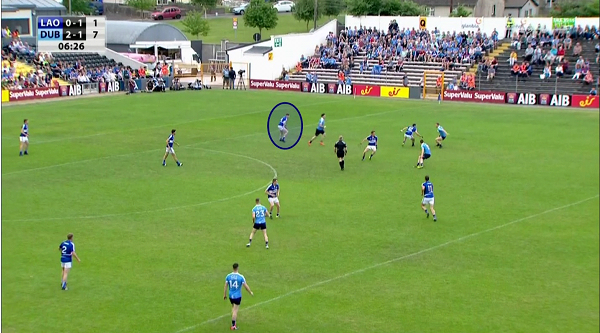 He drags the third spare Laois man out of the game and out of Kilkenny's way. It's a small thing but it all counts.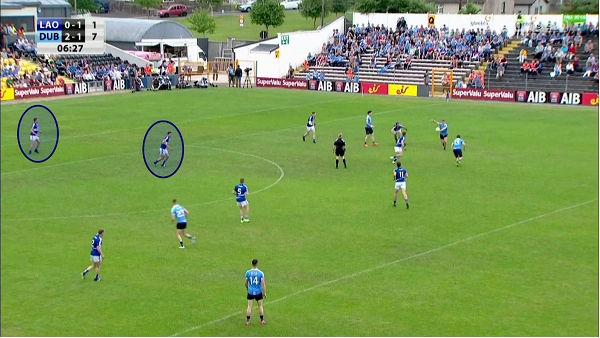 Dublin have completely stretched Laois here. Kilkenny picked the ball up almost on the left touchline and a few seconds later kicked a point from the far side of the pitch.
Laois had the numbers but Dublin's movement off the ball and their ability to switch from wing to wing has left two Laois sweepers effectively in no man's land doing the same job.
Laois width
Contrast the width Dublin showed in the above example with Laois' attacking shape. Brendan Quigley fetched a magnificent high ball, hopped the ball once and soloed five times to end up in the centre of the pitch surrounded by three of his own men.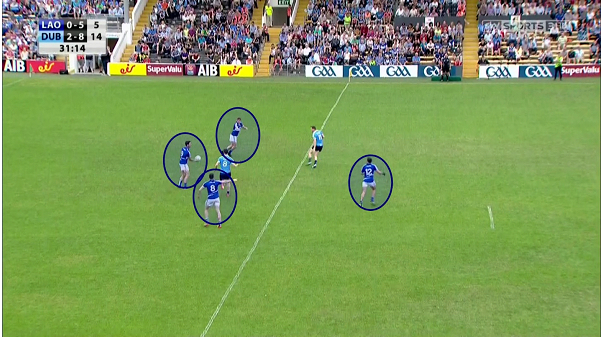 There is no width whatsoever here and as the ball gets moved to the half-forward line, it's a similar situation.
Exclusive Six
Nations Analysis
Get Murray Kinsella's exclusive analysis of Ireland's Six Nations campaign this spring
Become a Member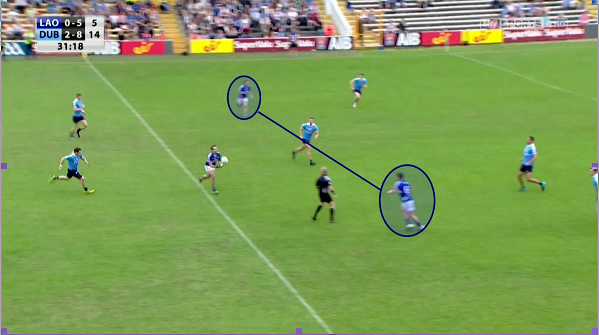 This allows Dublin be nice and compact when defending. Dublin are not as naïve as other teams in terms of spreading themselves to the four corners, but this makes life very easy, especially for the talented Cian O'Sullivan. It is asking no questions of the Dublin sweeper when the ball comes slowly through the middle with no wide options.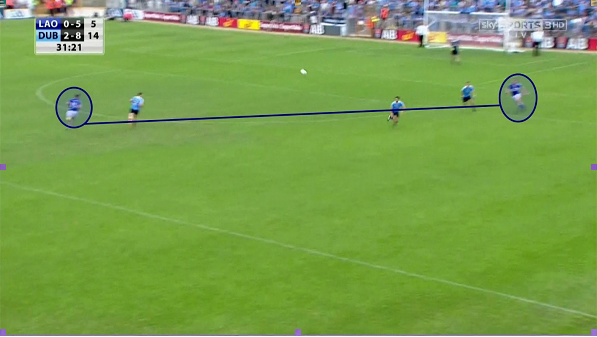 When the ball is delivered to the full-forward line the width is just half the D. It's very difficult for Donie Kingston to get the better of two Dublin defenders in such little space.
From that counter attack, Dublin, through Dean Rock this time, immediately have width on the far wing. He gains possession and kicks an easy point.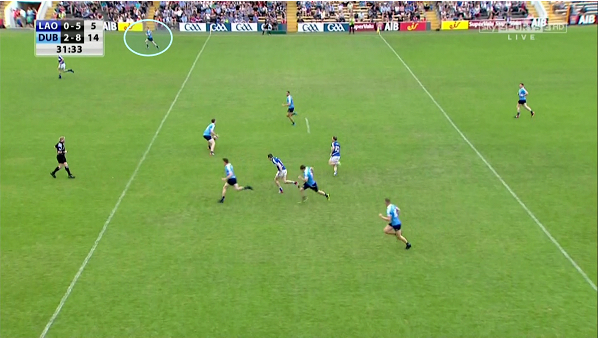 There were countless examples of Dublin's willingness to keep their width and look for whatever space they could. Tyrone did it well against Derry two weeks ago. It's a necessary strategy for any team looking to work around 13-14 defenders.
Dublin frailties
An 11-point half-time lead skews much analysis of the second half. It's hard to know how much Laois improved or Dublin simply eased off.
Dublin won't be happy with the performance but you do feel that they could have won this game by more if they needed to.
The Dublin full-back line is singled out as their biggest weakness but the first goal feels more like the 2014 Dublin of all-out attack systems failure than blaming an individual line.
The move comes from a Dublin turnover and an excellent, quick Laois attack. But let's take it back to the Dublin possession. The ball has come down the right wing and is in the hands of Kilkenny. You can see McCarthy highlighted. Keep an eye on where he ends up as the move progresses.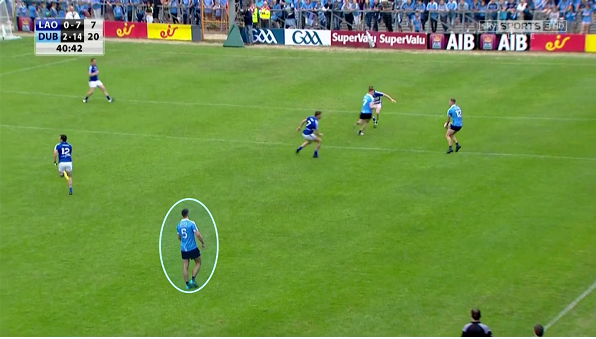 Dublin switch the play over to Davy Byrne on the far wing. There are 13 Dublin players now inside the Laois 45. This means that between the Laois 45 and the Dublin goal line are just Jonny Cooper and Cluxton.
Dublin never left themselves that exposed during the league. The problem here is not necessarily a weak full-back line, it's more a case of missing fullback line.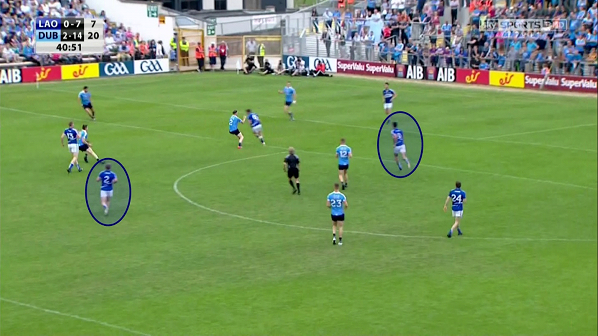 In the above image I've highlighted Quigley and O'Connor. Leaving nobody at home may annoy Jim Gavin but I suspect even more so will be the fact that these two Laois players made pitch-length runs and only McCarthy made the same effort.
It's an excellent break from Conor Meredith, he out-paced and out-muscled O'Sullivan. McManamon comes across and commits a strategic foul, or so it should have been.
Meredith took a quick free and Cooper was perhaps caught ball-watching and let O'Connor get goal-side and ultimately brought him down.
From a Dublin perspective they cannot be happy to have allowed the situation unfold.
Having said that, I would be amazed if we see Dublin leaving just Cooper back come August and September. They have surely learnt their lesson and know they need more cover.
If you turned the game off after the first 10 minutes you would be amazed that Dublin didn't get another goal.
They showed some cracks for a short spell in the second half but Connolly and Rock scored the next six points to ease themselves clear.
It was a solid display from Dublin but not enough to frighten the big boys. They will see areas they can exploit in this Dublin team. While Dublin will feel that have plenty to improve on.
Rob Carroll is a sports performance consultant. He works with sports teams and organisations to collect, analyse and visualise performance data so they can make better decisions and win more often. You can find him at www.gaelicstats.com
The42 is on Snapchat! Tap the button below on your phone to add!