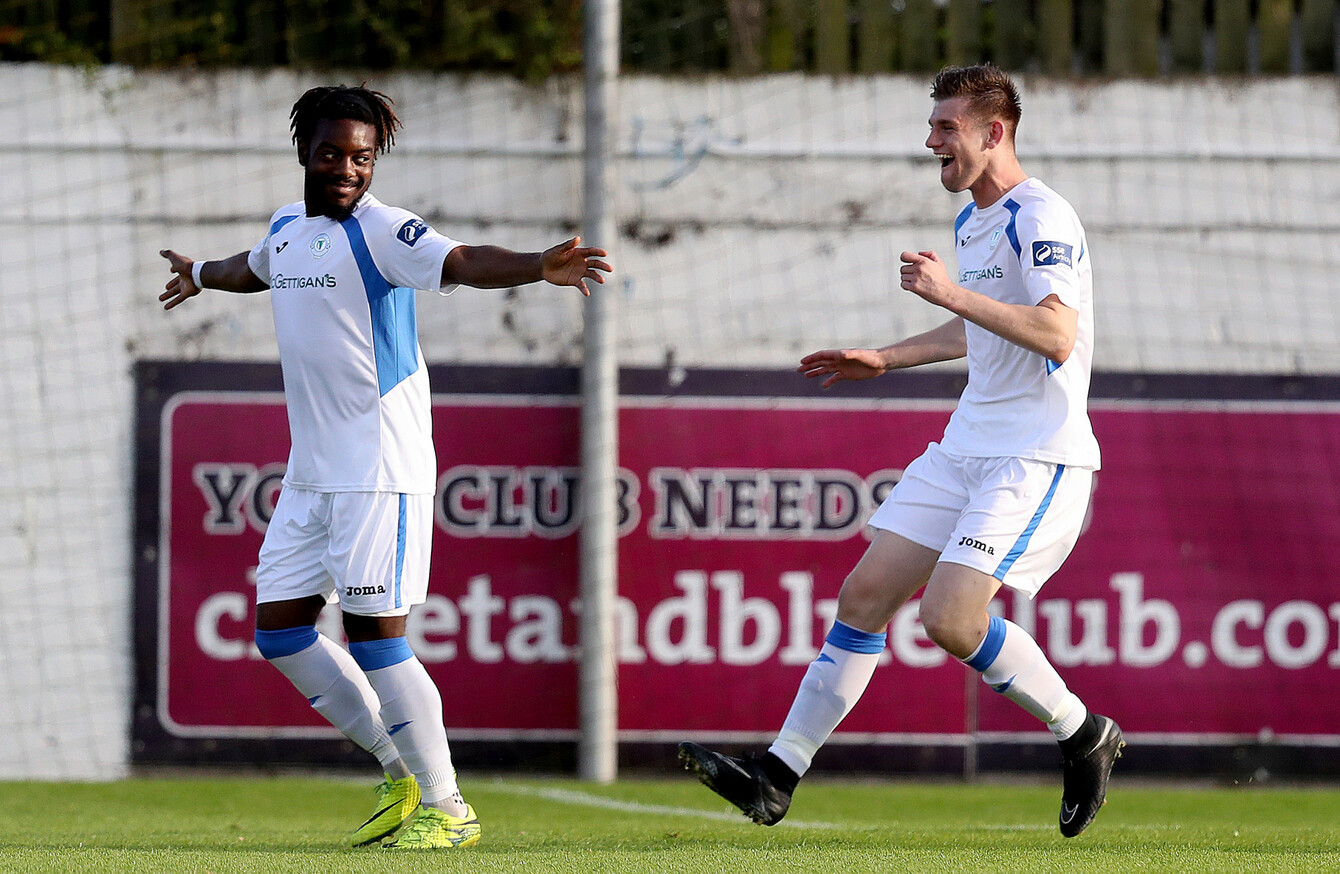 Eddie Dsane celebrates scoring against Drogheda.
Image: Tommy Dickson/INPHO
Eddie Dsane celebrates scoring against Drogheda.
Image: Tommy Dickson/INPHO
EDDIE DSANE WAS met with a crossroads in his career at the start of 2016, where three paths opened up before him.
He could bide his time at Fleetwood and try to earn a new contract playing with the club's U21s, or he could go searching for a new club in League One.
A third option meant he could take an offer from abroad during the summer. It came from a scout who knew a manager called Tony Cousins, and it would take him to an unknown rural football club deep in the midlands of Ireland called Longford Town FC.
Though he knew virtually nothing about the club or about domestic football in Ireland, Dsane did know one thing about the offer put before him – it meant first team football. Little else mattered aside from playing 90 minutes each week.
Playing for a team at the bottom end of the League of Ireland Premier Division? Not a problem. Playing in front of less than 500 fans every week? No hassle. The facilities in the City Calling Stadium aren't what they were at Selhurst Park or Preston North End … No issue.
The 20-year-old's philosophy is a simple one: "as long as you've got grass under your feet playing football, you can't really complain", he said speaking to The42 this week.
Dsane was born and raised in Croydon in south London and spent his youth playing at Crystal Palace before moving to Preston North End's academy.
The academies at these elite Championship and Premier League clubs were intense, he says, but were the ideal environment for players to realise their dreams of one day playing at the top level of English football.
"The setup at those teams is very professional", he explains.
"You're training every day, sometimes double, triple sessions. When you're involved with the first team it's very challenging, but that's what it's all about.
You always want to improve and get better every day. You've got to get the most out of training, so the more you train the more you're giving yourself that chance to improve and get better as a footballer.
"You're just training and training, and I realised that that kind of environment prepares you so that when you do get your chance, you're ready."
Dsane got the opportunity to train with Palace's first team frequently, an incredible experience he still can't quite explain – getting the chance to brush shoulders with the elite of English football, the best league on the planet, and getting to learn how far you have to go to make it there.
"In a way it is challenging. But I prefer when you are training with those first-team players with a lot of experience at a high level", he says. "It's a lot more challenging than when you're just playing against players that are your own age.
I can't even explain it… You go over there at that level and even the warm-ups are intense. The quality is so high and no-one is making mistakes. You get into shooting drills and everyone is hitting the top corner every time."
He explains that there is a level of expectancy which can make or break players at that level. But it is a learning experience and a case of simply adapting to your environment.
"The pressure is on to perform, even if it's just training. But if you're around a good group of players they make you feel welcome and eventually you're not scared to make mistakes – you can just show them what you've got.
I remember one time I had to mark Wilfried Zaha in training. I was playing left wing for the third team and he was playing right wing. They used to play us against the first team and even just keeping up with him was a problem – as you can probably guess.
"But before they were there in the first team playing in the Premier League those types of players were probably doing the same thing I was doing. They were training against players at a higher level and wanting to take their place.
"They make you feel welcome, saying small things like 'have a good session' and they will help guide you along. You're looking at them thinking, 'man, I want to be playing in the Premier League.' They welcome you in at first, and from there you just have to get used to it to get on with it."
Dsane moved on from Palace to Preston, where he spent a year in 2015, before moving to Fleetwood Town. When talking about his time at the League One club, he reflects that the opportunities he expected at Highbury Stadium didn't arrive, causing his move to Ireland a year later.
"It was different", he says of Fleetwood. "I was in and around the first team, but I wasn't there at that point. I started off well and was scoring goals but I wasn't getting the opportunity that I wanted, which was kind of frustrating.
Then the chance to play first team football in Ireland came up, so I knew I had to make the best decision for my career. I left Fleetwood just before my contract ended, I didn't even get the chance to have contact talks because they were open to letting me go to Ireland."
The player says he doesn't hold any regrets about leaving English football, because if all goes according to plan, it will only be temporary and will lead to better opportunities further down the line.
Word came through that an Irish manager by the name of Tony Cousins needed a striker, and Dsane needed first team football. It was a match made at the perfect moment in his career.
"Tony knows a scout who works with me. The scout's brother works at Man City and Tony was telling him that he was looking for a striker, so he called me and offered me the opportunity to play in Longford. And I was happy to take that because I knew I would be playing first-team football.
At first I was a bit hesitant because I didn't really know what the Irish league is like. But I knew in terms of the bigger picture it was going to be the better decision for my development."
Dsane is enjoying the League of Ireland and even notes that it is far more physical than underage games at the top level in England.
"It's a big step because it's really physical in this league. You don't get much time on the ball and when I first arrived here I had to adapt really quickly.
"I realised straight away that you have to move the ball on a lot quicker. In England you get a bit of time on the ball and especially at U21 level the intensity isn't as high as it is in Ireland.
When I first arrived it was a bit of a weird situation because Longford were bottom of the league and hadn't won that many games during the season. I felt that in some parts of the changing room some of the players weren't really confident that the club was going to stay up.
"But I still enjoyed it. Personally I like challenging myself and my first season over here was quite a challenge. As long as it was challenging me I knew that I would be improving as a player."
Even the diminished playing numbers at the City Calling Stadium weren't an issue.
Dsane insists that during his first year in the Premier Division and even still now, he does not pay attention to comparing facilities between England and Ireland. He just stays focused on his own game and making the most of it.
When I first came to Longford I heard that they hadn't won in about 13 games. So the fact that there weren't many fans at games wasn't that surprising.
"But at the same time the fans just want to see a performance and want to see you, as a player, working hard and giving it your all. You've just got to do that each game."
2016 saw Dsane play in 13 Premier Division games for Longford following his arrival in July, with his performances against Finn Harps earning the persistent attention of manager Ollie Horgan. Even after Dsane returned to England at the end of last season, Horgan was eager to bring him back to Ireland.
We played against Finn Harps at the end of the season and when I got back to England I got a phone call from Ollie and he was asking if I would be interested in coming to Finn Harps.
"I wasn't too sure at first because I wanted to see what I could do in England first. But I knew that I would be making a better decision for my development if I came back to Ireland, so really it was an easy decision in the end to sign for Finn Harps.
The respect between player and manager seems to be mutual with Horgan and Dsane. Feeling appreciated and above everything, wanted, was a key motivation in returning to Ireland.
I felt really wanted, which is a good feeling as a player – to be wanted", he explains. "That contributed to me coming back to Ireland.
"As a manager Ollie makes you work hard and he makes you want to work hard as well. There are times where you're thinking 'oh I can't make up that ground', but Ollie can make you want to do it and push yourself further. He gets a lot out of me and makes me want to work hard and improve."
Harps have punched well and truly above their weight this season.
It is said that a football club's budget will reflect their position in the league table come the end of the season, however the Ballybofey club, under the motivation of Horgan, are proving the theory as mere myth.
With seven wins from 22 games, the club sit eighth in the table – two points above safety with a game in hand. It is no exaggeration to say were Horgan to keep the club in the Premier Division this season, it would be an achievement worth the levels of recognition he has too often gone without.
A 2-0 defeat to Derry City with late goals from Darren Cole and Aaron McEneff in the 87th and 90th minute was a cruel way to put their recent winning streak at an end.
But Harps have shown heart and fury this season, beating St Pat's home and away, as well as Drogheda Bohemians and Limerick, among others.
For now Dsane is happy to help them in their fight for survival. Even if an offer from England or elsewhere came at the end of this season, he says his manager would not stand in his way.
"The players already knew this season that we were going to be fighting to stay up. We all knew it was going to be a battle to stay in this division without Ollie having to say it.
Ollie just wants us to give it our all. If another team were to come in for one of his players, he wouldn't stand in the way of their development. He just wants you to give it all you've got while you're here.
"Everyone wants to represent their country and play in the Premier League or other top leagues. That's your motivation every day, even when you're not training.
"I would just say that I'm trying to perform each week and score goals. If the opportunity to go to a bigger club comes then I would see how that goes. For me it's just about giving it all I've got every week and if the opportunity to go to another club came, then we'll see"
He says all Horgan asks of his players is all they can give.
Happy to call Letterkenny his home for the past two years, Dsane is willing and able to fight the good fight for Harps until the very end.
Predictions
Every week, we're giving readers the chance to take us on in predicting the Premier Division results. After Week 20, here are the standings:
The Readers: 63
The42: 63
Next up is Ed Stanley from Cork…
Bray Wanderers v Finn Harps — Draw
Cork City v Galway United — Cork win
Drogheda United v St. Patrick's Athletic — St Pat'swin
Shamrock Rovers v Bohemians — Draw
Sligo Rovers v Dundalk — Draw
Derry City v Limerick — Derry win
Cork City v Bohemians — Cork win
The42 (Aaron Gallagher)
Bray Wanderers v Finn Harps — Draw
Cork City v Galway United — Cork win
Drogheda United v St. Patrick's Athletic — St Pat's win
Shamrock Rovers v Bohemians — Shamrock Rovers win
Sligo Rovers v Dundalk — Dundalk win
Derry City v Limerick — Draw
Cork City v Bohemians — Cork win
The42 is on Instagram! Tap the button below on your phone to follow us!