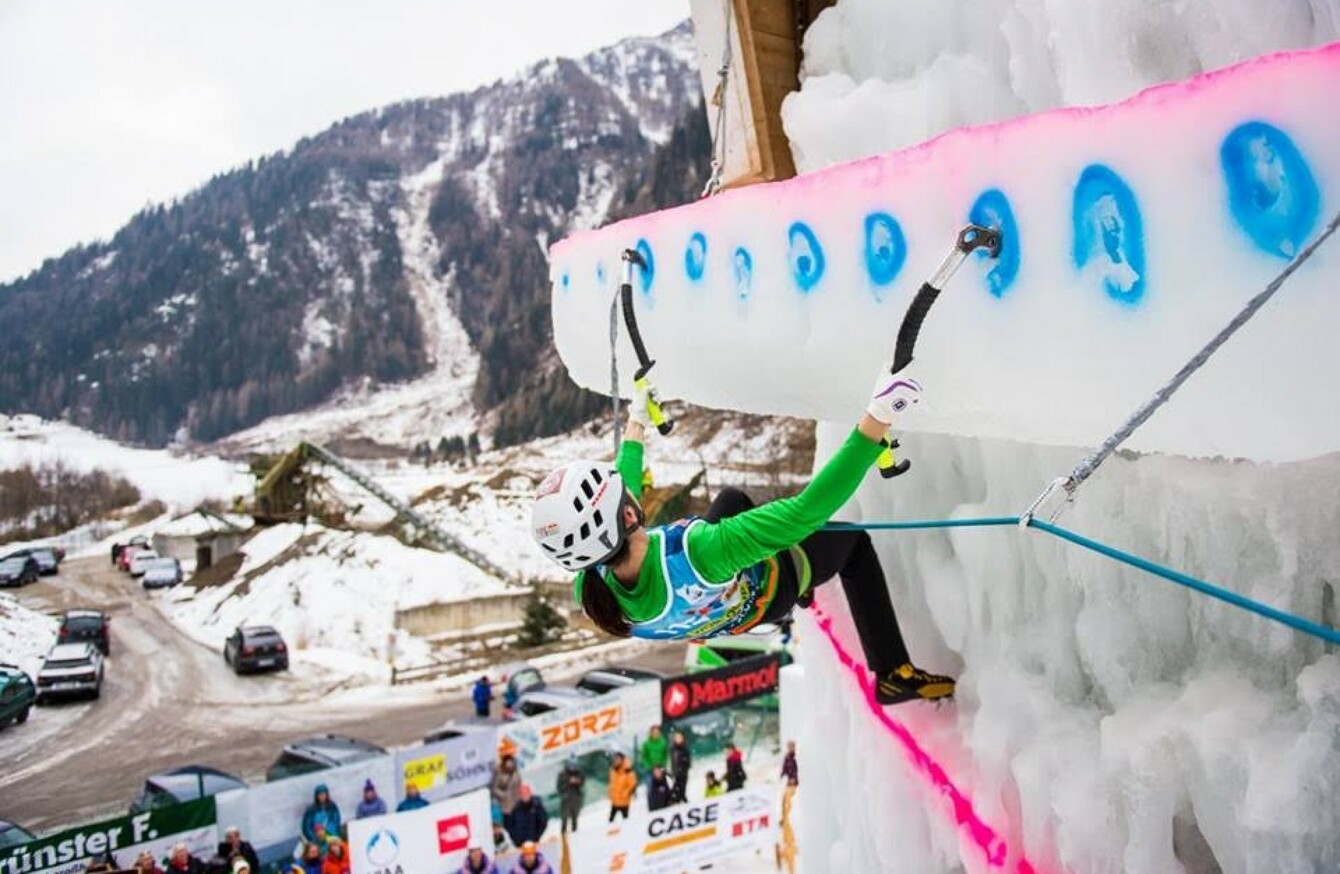 Eimir McSwiggan scaling new heights.
Image: Eimir McSwiggan
Eimir McSwiggan scaling new heights.
Image: Eimir McSwiggan
THE DEMISE OF the Celtic Tiger has bequeathed Ireland many things but who'd have thought it would have given us one of the world's top female ice climbers.
Meet Eimir McSwiggan who, thanks to economic emigration, has quickly scaled the icy heights of a sport dominated by Russians and Asians.
She hails from the village of Gortin, 10 miles from Omagh, so how on earth did she take up such an unusual sport and get good enough to finish 10th on the World Cup circuit this season?
She is a qualified architect who was working in Dublin before the economy went bust and initially went to South Korea in 2010, just for a year to teach English.
"I was here about six months when I joined a climbing group and that just completely changed my life," McSwiggan explains.
She had tried rock-climbing once in Australia and really enjoyed it so joining a climbing gym an hour from her home in Anyang, a satellite of Seoul, was her introduction.
"They were so welcoming to me, brought me on every trip. The Koreans train really hard, if they're doing any sport they give it 100 per cent. I think they saw I was willing to train hard so were just really helpful to me."
South Korea is the same size as Ireland but with a population of 50 million. Eighty % of the landmass is mountainous, winter temperatures can plummet to -20 and ice climbing is a particularly popular winter-sport.
McSwiggan didn't try climbing on ice until her second winter when she tackled the frozen face of Towangseong Falls, one of Asia's tallest waterfalls.
"It is 350 metres high and that was my first big climb. I trained for three months for it and it took us almost 24 hours to finish.
"I just loved ice climbing from the first time I tried it," she says. "It's so unusual to be able to climb something that's only there for a few months of the year and the rest of the time is a waterfall."
Competition ice climbing is very different.
It involves traversing very technical courses on icy, man-made faces, some of them without ice. The World Cup circuit even includes one course up the middle of a 10-storey car-park in Switzerland where spectators get particularly close to the action.
The climbs get longer and tougher with each round, starting with 4-5 minutes and double that in finals. Only 18 reach the semi-finals and just eight make the final.
McSwiggan's club coach is one of the chief route-setters in Korea and also a national coach and it was he who suggested she should compete for Ireland on the World Cup circuit.
"I thought it was a joke in the beginning but, after a while, I thought 'I'm in the right place to learn so why not?'"
She started out by just entering the Korean leg of the circuit for the first two years but did the full circuit this season.
She made the final at one event (finished seventh), was just pipped for a place in another final on count-back, finished 10th overall and was also invited to compete in Red Bull's 'White Cliffs Challenge' on the Isle of Wight.
She teaches fulltime in a local secondary school and initially got an extra teaching job at night to fund her sport but recent grants from the Sports Councils of Ireland and Northern Ireland help cover her travel.
"That's a huge help and all thanks to Mountaineering Ireland. I used to wear my own green jersey but they've also give me the same climbing t-shirt and hoodie that their sports-climbing team wear."
McSwiggan's success is particularly impressive considering she fell on an outdoor climb last June and broke her foot badly.
Not even surgery and the insertion of pins stopped her. "I was still able to go to the gym on crutches and do some work," she says cheerfully.
"Half the year I do sports climbing and the other half is ice climbing. I do a lot of running for aerobic fitness, spend a lot of time climbing with the ice-tools plus a lot of pull-ups and core work and a lot of hiking.
"Ice climbers come in all shapes and sizes. I'm 5' 6", the female world champion is tiny but the men's world champion is really tall. Arm length and reach seem to be the most important factor.
"Finishing in the top 10 was my dream, I really didn't think I'd be near it but I got to all the competitions and it just worked out.
"Yes, everybody is pretty shocked when they find out I'm from Ireland!" she laughs.
"But I think it's really about me being in the right place at the right time and meeting the right people."
With her teaching contract due to end this summer McSwiggan, ironically, had planned to come home but her recent international success is now prompting her to have a re-think.
Whatever happens she hopes to help introduce more Irish people to climbing in future.
"The only sport I really did before was Gaelic football when I was younger but I grew up on a farm so I was always outdoors and loved it.
"I never really knew about climbing when I was at home, which I kind of regret now because I've discovered there is a really big climbing scene in Ireland."
The42 is on Snapchat! Tap the button below on your phone to add!