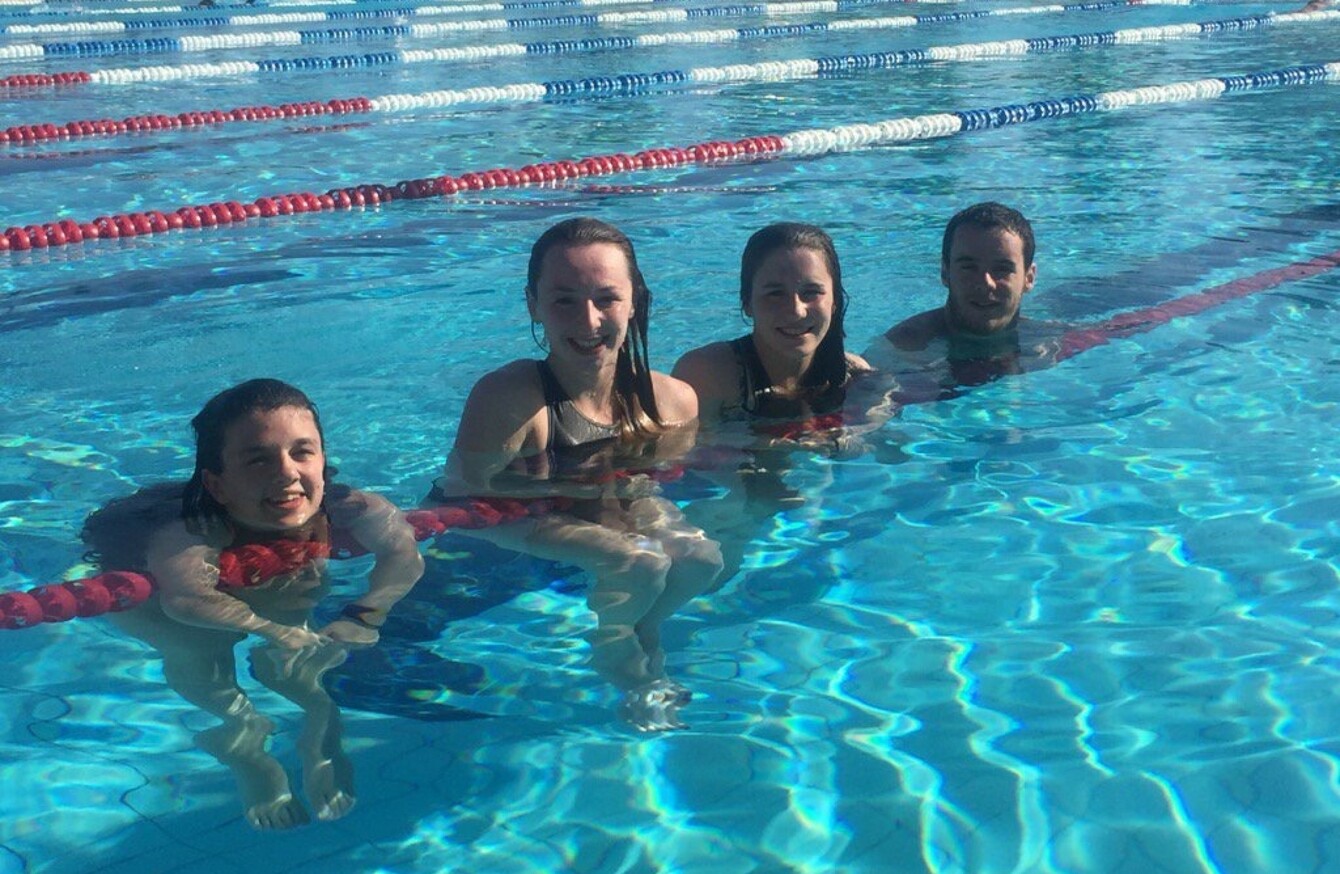 Nicole Turner, Ellen Keane, Ailbhe Kelly, James Scully in training for Rio.
Nicole Turner, Ellen Keane, Ailbhe Kelly, James Scully in training for Rio.
LLEN KEANE (21), from Clontarf, is already a two-time Paralympian and a three-time world medallist in swimming, an all-rounder whose best events are 100m breaststroke, 200m individual medley (IM) and 100m butterfly.
She made a Paralympic final in Beijing 2008 when she was only 13 and reached two finals in the 2012 Paralympics. She won two bronze medals at the 2013 IPC World Championships and another last year.
She combines training, six days a-week at the National Aquatic Centre (NAC) in Abbotstown, with studying culinary entrepreneurship at DIT. She reached finals in five of her six events at the 2016 European Championships in May.
Ellen is an Allianz sports and brand ambassador and will be writing a monthly diary in the build-up to the 2016 Paralympic Games:
I'm just a week back from Fuerteventura where I was on an 11-day warm weather training camp with Paralympics Ireland. I was there earlier this summer with the club and about 30 swimmers, but this was much smaller, just the four of us – myself, Ailbhe Kelly, Nicole Turner and James Scully – and our coaches and support team. It really helped going away ahead of Brazil because we needed to get a block of work done and it was also a nice bonding time together.
We also had a sports scientist with us and wore heart rate monitors all the time. We have waterproof versions that are strapped around our chest and are still wearing them in training. They're keeping a very close eye on our heart rates, especially in our recovery sessions. I feel in really good shape, and the fact that we've done so much work on our recovery gives you nice peace of mind. We're going to be fully ready when the Games begin.
I'm leaving for Brazil in a matter of days, the countdown really has begun! We're going to Uberlandia first for a holding camp and will then move down to Rio a few days before the Paralympics begin on 7 September. As I was going to be away for nearly two months I moved back home recently to save money and you should see my bedroom! There's boxes and cases everywhere, it's basically a storage cupboard. When we were in Fuerteventura we tried to watch some of the Olympic swimming but couldn't get a good connection so were relying on Twitter. It didn't help either that it was on at crazy times in the morning.
As a breaststroker I was particularly interested in America's Lilly King. I watched her through the American trials and Rio was actually her first international meet so it was great to see her beat Efimova after everything that went on. And obviously I follow Adam Peaty! His work ethic is amazing, he wasn't really known four years ago but after watching London 2012 said he wanted to become an Olympic champion.
When I got back home I saw more of the Olympics and Ollie (Dingley) was amazing! I'm so happy for him. I see him in training in the National Aquatic Centre all the time.
I had the misfortune that my appendix burst two months before my first Paralympics in 2008. I wasn't allowed train for weeks and kinda thought I wouldn't be able to go, so to have got to swim there was great.
It was mad. I had just finished first year in Holy Faith, Clontarf. My appendix burst the same week as my summer exams and my dad was like, "you'll do anything to get out of exams!' London was my second Paralympics.
I had a lot of growing up to do between 2008-2012 but was still a teenager, still a bit distracted I think. I was really disappointed with how I actually swam, but the overall experience was amazing. Going into Rio is completely different. It's just about getting my head down. I've been here twice before so it's like 'let's not get distracted.' I don't think I'll allow myself to enjoy the whole 'wow factor' until I'm finished competing.
I have a very busy programme. I'm doing four events and my last one is on the second-last day. Scully and Ailbhe will be racing on the last day so it'll be nice to be done and go and support the others. I can scream and go as mad as I want once my races are done.
I loved the hockey team supporting Scott Evans in the Olympics. If we can get anything like that support in Rio it would be amazing. I'll have to talk to our soccer team. I haven't been to either of the two previous Opening Ceremonies and I won't go to the one in Rio either. You can be standing around for hours and not get home until all hours with the transport after. My first race is on the fourth day so it's just not worth the risk.
But I have been to two Closing Ceremonies and Rio has a lot to live up to after London because we had a Coldplay, Rihanna and Jay Z there. The one thing I'll probably bring with me is my own pillow because I've had to sleep on so many dodgy pillows before while abroad. My boyfriend isn't going over but he gave me a teddy a while back that I bring everywhere so that's definitely coming with me too. A few weeks ago I was nervous but, after watching the Olympics, I just can't wait to get to Rio now and get started.
The42 is on Snapchat! Tap the button below on your phone to add!