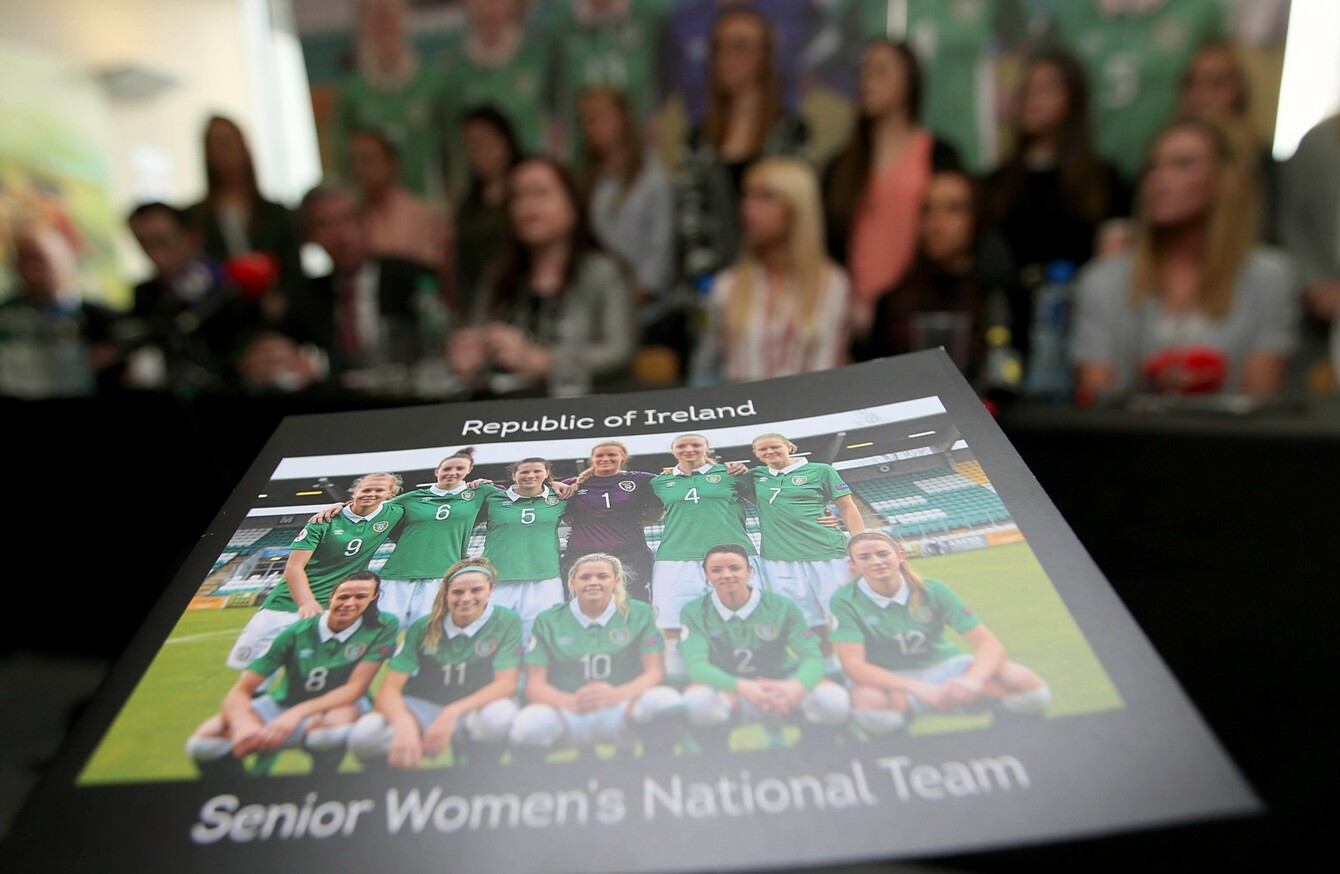 The booklet outlining the concerns of the players.
Image: Donall Farmer/INPHO
The booklet outlining the concerns of the players.
Image: Donall Farmer/INPHO
WRITTEN COMMUNICATION FROM the Football Association of Ireland (FAI) to members of the women's national team stated that going public with their grievances over playing and training conditions would damage the game and its future development.
Two years of frustration at the association's general treatment of the squad came to a head this morning, as fourteen players, as well as officials from the Professional Footballers Association of Ireland (PFAI) and SIPTU, threatened to boycott next Monday's friendly against Slovakia if the issues they've raised continue to be ignored.
Various attempts by members of the squad, including captain Emma Byrne, have previously been made to bring their concerns to the attention of the FAI, but the association have failed to take any meaningful action.
During this morning's press conference at Liberty Hall in Dublin, it was repeatedly stressed that the FAI's refusal to engage with the PFAI, who are acting as the players' representative, is now the key issue.
In a series of emails detailed by PFAI solicitor Stuart Gilhooly, the FAI made it clear that they would only enter negotiations with the players directly and not through the representative body.
"In September 2016, Stephen McGuinness [PFAI general Secretary] wrote to Peter Sherrard [FAI operations director] looking for a meeting to discuss this. He received no response or certainly no reasonable response at that stage," Gilhooly said.
"He then wrote directly to John Delaney in December 2016, at which stage a letter was received from John Delaney saying he would bring it to the board of management of the FAI at the end of January this year and nothing further was heard despite reminders.
"After a while, the correspondence became I suppose a little bit more fraught and become apparent no progress had been made whatsoever.
"In the later half of last week, a letter was written to the FAI in which it was made clear that negotiations would have to take place immediately or further action would be taken.
"On the back of that, a response was received, signed by Ruud Dokter [FAI high performance director], Peter Sherrard, Sue Ronan [FAI head of women's football], on 31 March:
'The association will not and has never negotiated with the PFAI in regard to our national teams, either men or women, and will only deal with you directly.
There is a real danger that the consequences of the actions you have threatened and your refusal to engage directly will set back the development of the game generally and the development of your own careers as players.
We will be happy to meet with you when you're in camp next Wednesday (tomorrow) in an effort to resolve and put our proposals to you. We would like to meet with you directly then. As a suggested approach, we would like to suggest three players meet with us to discuss this issues. We'd also be willing to appoint an agreed third-party mediator to facilitate the meeting.'
"On 2 April, Emma Byrne, representing the players, sent back an email to them saying:
'Your continuing refusal to engage our representative, PFAI, is unacceptable. It's perfectly clear the men's international team have used agents and representatives in the past.'"
Gilhooly continued: "Within half an hour, a response was received from the FAI. It was a long letter, essentially saying 'we will not allow the PFAI to represent you.'
It read:
'We would urge you to consider seriously, both individually and as a group, how your proposed actions could damage your club careers with club penalties for refusing to play international football, your international reputation as players and your responsibility to many young people who look up to you as role models.
Your current stance into making this an issue about representation with the PFAI and making it a public matter will not yield any positive results but will in all likelihood damage women's football and its future development.
We would also like you to consider the Slovakian players and the association who had already booked flights and accommodation before issuing your ultimatum.
We are serious about our engagement with you and have real financial proposals to make to you and will meet you at any time and appoint an independent facilitator to facilitate.'
"At that point players were understandably taken aback as you can imagine by the tone of that letter and what can only be described as veiled threats. They sought further advice and did not respond to that."
The primary concerns of the players revolve mainly around payments for loss of earnings whilst on international duty and the lack of respect shown to the squad by making them change in toilets and return team tracksuits after away trips.
Among the issues the players want addressed is the introduction of a €300 match fee for all international fixtures and for all non-professional players in the squad to be compensated for loss of earnings from employers.
It was claimed that players have been losing money by choosing to represent their country at the highest level, but the indignity of being obliged to change in airport toilets to hand kit back was the most startling revelation of the morning.
"First of all we're not allowed to keep the kit so we turn up to camp in our civvies," Byrne explained.
"That's always been the case. We've never ever been allowed, there has been occasions where it might have suited the kit man or the FAI, where we might have to meet up a week later and we keep the tracksuits, but in general we've always had to change somewhere.
"It's humiliating to have to go into a public toilet and change. Then it's just little things like where do you put your clothes that you were wearing, that's just awkward. It's humiliating in the fact that it doesn't cost much to give the squad a tracksuit but if they want us wearing the same clothes, the same badge, give us a tracksuit, it's not that difficult. I'm actually a bit embarrassed by it.
Defender Aine O'Gorman added: "They don't have enough tracksuits and our underage teams have to use those tracksuits too. It's kit allocation, that's what we're told.
"We're looking for borderline basics. It highlights the lack of respect and it's not a lot we're looking for. It's just basics."
The FAI were quick to respond to the explosive claims made at the press conference by releasing their own statement, saying that the ultimatum by the players came in spite 'of repeated invitations from the FAI to the players to discuss clear and tangible financial offers.'
"Repeated efforts by the association have been made in a bid to encourage the players to row back from their unprecedented ultimatum," it read.
"On five occasions in recent months the FAI has attempted to bring the players to the table, only to have the offer rebuked at every turn."
The issue at the the heart of the problem is now the FAI's refusal to allow the PFAI to represent the players, and the association's statement clearly misses that point.
"They shouldn't have to do it," Gilhooly says of the players being asked to enter the boardroom.
"They keep saying they're footballers and they've clearly put it in correspondence to the FAI that they're not comfortable doing it, that they're not skilled negotiators, and that they're not willing to go into a room with the FAI.
"They've tried, it hasn't happened, and it's got to this stage where they've mandated us to do that on they're behalf.
"Our offices are in the FAI building, they can come around and they can come speak to us anytime they want and set up meetings. We're more than willing to meet them on behalf of the squad here but it has got to this point unfortunately."
The42 is on Instagram! Tap the button below on your phone to follow us!