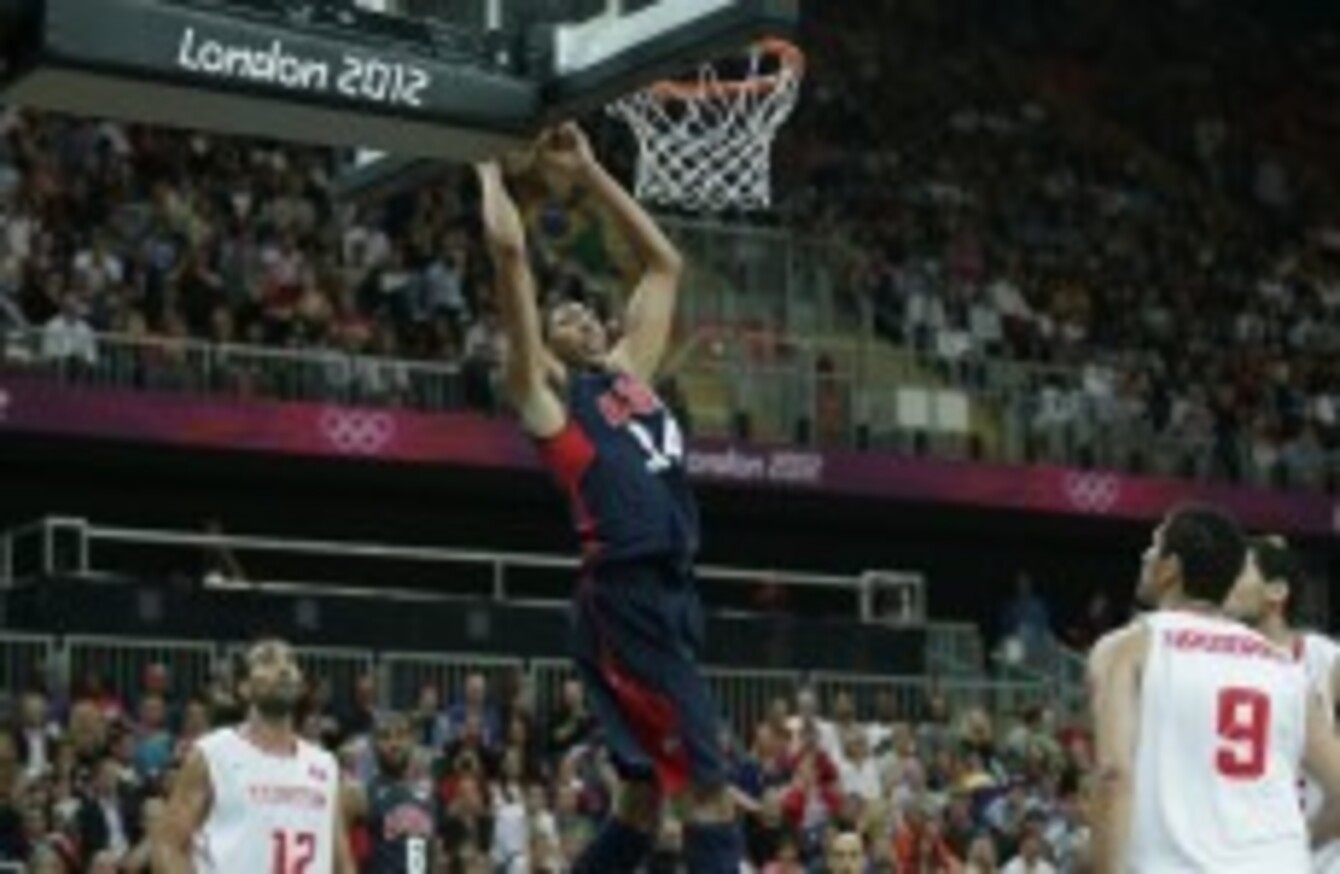 Anthony Davis powers towards the basket on Tuesday night.
Image: AP Photo/Charles Krupa
Anthony Davis powers towards the basket on Tuesday night.
Image: AP Photo/Charles Krupa
ANTHONY DAVIS HAS not even played in a professional basketball game but the first pick in June's NBA Draft showed he has earned the respect of his US Olympic peers in a 110-63 American rout of Tunisia on Tuesday.
Carmelo Anthony and Kevin Love each scored 16 points while Kevin Durant added 13 points and 10 rebounds.
Russell Westbrook netted 11 as the American NBA stars seized the Group A lead at 2-0 with four rivals at 1-1 and Tunisia winless.
Davis, a US college star for University of Kentucky, scored 12 points in 13 minutes off the bench that included three spectacular leaping one-handed slam dunks in the third quarter after US coach Mike Krzyzewski put him in the game.
Davis commented, "Real great to play with these guys." The 19-year-old, who signed for the New Orleans Hornets, added:
Coach K took me out and 'Melo got mad and said, 'Leave him in.' I am glad I have earned these guys' respect. Coach had a lot of confidence in me and hopefully it continues on.
African champions Tunisia, led by Macram Ben Romdhane's game highs of 22 points and 11 rebounds, took a 15-12 lead late in the first quarter before the Americans scored the next 14 points to seize the advantage for good.
"We figured it out," Anthony said. "We didn't get worried. We knew we could take them."
Overdrive
The States led 46-33 at half-time and scored the first 10 points of the third quarter. They kept up a defence so intense that even when Deron Williams lost his left shoe he scrambled around the court to guard foes.
The Americans rolled to an 85-47 lead entering the fourth quarter and cruised home. Tunisian star Ben Romdhane said:
For two quarters, we didn't have too many turnovers and kept the score low but then their physicality became more important as the minutes went by and the point difference was too big.
"They are definitely at a different level. We're far away from leagues like the NBA or the Europeans."
Love limped to the bench favouring his right knee after a layup midway into the third quarter, a cause for concern since the rebounding star is among the US team's few big men. But he later returned to the game and LeBron James revealed later that 'he felt fine'.
James said the team took too many chances on defence early before tightening their game after the first quarter. He commented:
We came out a little sluggish but that's OK. It took us a little bit to get warmed up. The second half we kind of picked it up.
"It's not easy to us. The final score may look that way but we go on, work hard and we try to get better. I feel like we did that."
The States next line up against Nigeria on Thursday.