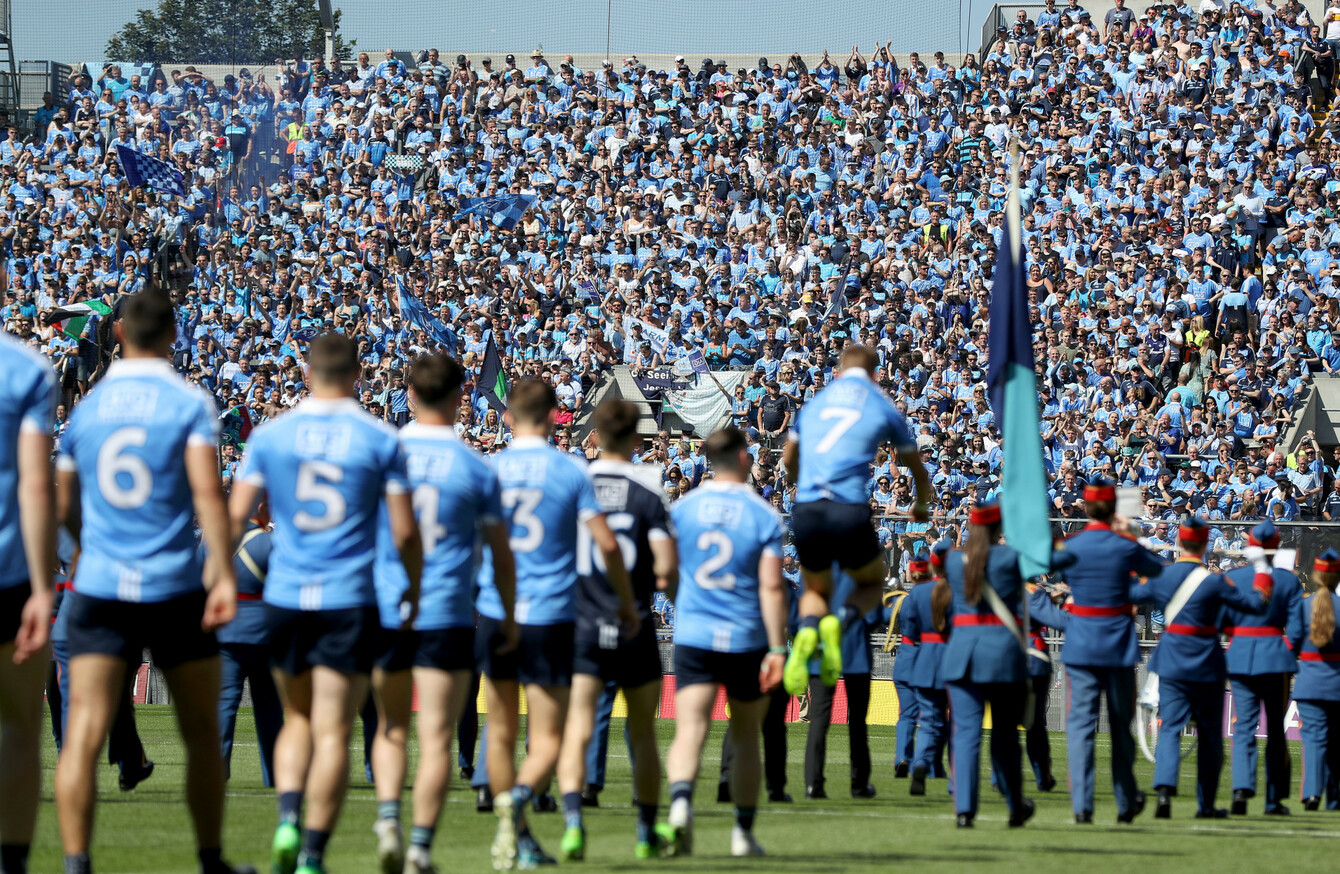 Leinster champions Dublin take on Donegal on Saturday evening in Croke Park.
Image: Bryan Keane/INPHO
Leinster champions Dublin take on Donegal on Saturday evening in Croke Park.
Image: Bryan Keane/INPHO
GAA PRESIDENT JOHN Horan has questioned why the furore over Dublin playing games in Croke Park has now developed given their lengthy record of playing games at the stadium but believes recent issues that have cropped up over the scheduling of games can be resolved.
The thorny issue of Dublin's perceived advantage of playing in Croke Park has cropped up again ahead of their opening tie in the new Super 8s on Saturday against Dublin.
Speaking yesterday on the Aran Islands at the national launch of the All-Ireland senior championships, Horan addressed the topic that has flared up recently.
"When has this developed? Dublin have been playing in Croke Park for a long number of years now and all of a sudden one issue over the Super 8s has kicked all of this off.
"I don't think Donegal's real gripe is about Dublin necessarily playing in Croke Park, I think Donegal's probable frustration is the actual structure of the games that their first game is in Croke Park, I think that is part of their problem.
"I think it's more the arrangement of the games, that their first game happens to be against a provincial champion. Some people are making that point, that maybe the provincial champions shouldn't play off against each other in the first set of matches, that they should all get a home game in the first set of matches.
"This is a debate that needs to be held. Look, I think Donegal felt they had to express a view on the matter. It all depends on which side you're coming from like, and no matter what I say in that debate it's always going to be seen I'm going to say something with a bit of a shade of blue on my back.
"So I'm going to leave that to others, but we will resolve any of those issues. You can't solve everything for everyone and you will get divergent opinions on things. We'll never be seen to be totally right."
Horan was keen to point out that he has no issue in seeing the Dublin footballers play away from Croke Park and the benefits generated from their matches at headquarters.
"You're talking to the one man that did take Dublin out of Croke Park when I was chairman of the Leinster Council, and they've remained out of Croke Park.
"I mean Dublin have never complained as to where they have ever been asked to play, so I'm quite sure if Dublin were fixed to play in Thurles, Dublin would play in Thurles and they'd be the last county to complain.
"To quote one of Dublin's least greatest fans, Colm O'Rourke, the playing of matches in Croke Park by Dublin benefit an awful lot of other counties in Leinster from the funding that's raised and the benefits they get from infrastructure grants and coaching. That's just one angle from a person who is not the biggest fan of Dublin.
"When Dublin were caught last year against Tipperary down there, Sean Shanley spoke out but not in any strong manner, they went ahead and played the game, there was no protest even though that was listed as a neutral venue they did play Tipperary in Thurles."
A theory that the push to get Dublin on the road is fuelled by a begrudging sense towards Dublin, multiple All-Ireland champions of late, is not one shared by Horan.
"I never experienced any begrudgery going around this country looking to become president of this organisation as a Dublin man. In actual fact it was never ever on the table, so I don't feel there is begrudgery there against Dublin.
"People have a rivalry against Dublin, which is healthy, they're the capital, they're successful. I mean there is rivalry against Kilkenny, I'm quite sure if Galway keep going the way they're going there will be a rivalry against Galway.
"You've got to live in the real world, when you're up there you are always going to be challenged and you have to live with that."
Horan also reckons the new competition formats in the GAA will be examined at the end of the season by the CCCC and improvements can be made for coming campaigns.
"We are in somewhat unchartered waters and we will continue in unchartered waters until we see this whole programme of games out. Then I think the sensible thing then would be in the calm light of day to settle down and just see are there any tweaks, we may be able to apply to just improve things, for the player, the spectator and the competitions overall.
"I think that will be addressed in the next 48 hours and you will get all of those fixtures (for 2018 final stages) laid out to you, in fairness to them. I think it's only when we roll out all of these fixtures that we'll actually get a full feel for some of the difficulties that probably were unforeseen when we set out on that road."