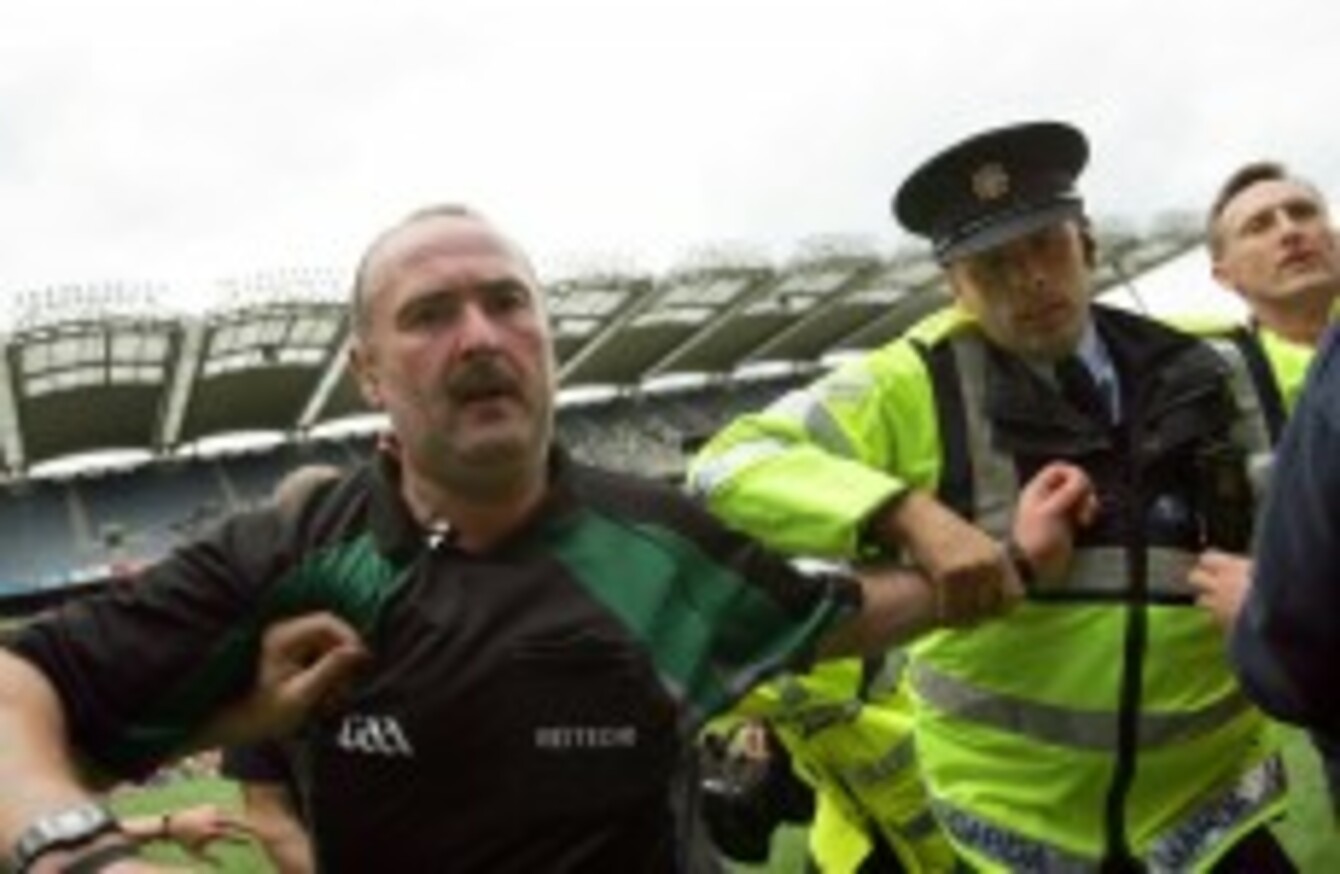 Image: INPHO/Donall Farmer
Image: INPHO/Donall Farmer
"I thought it was a joke. If the man has a conscience, he won't sleep for a long time." - Portlaoise manager John Mulligan curses referee Michael Duffy who sent off his son Brian after less than a minute of the AIB All-Ireland Club Championship semi-final. Kilmurry-Ibrickane won by 1-14 to 0-8.
"As far back as last August some of the players were trying to get rid of us, and didn't want us on board, because they had their own agenda, really and truly… this nit-picking of managers here and there has gone overboard. - Justin McCarthy's stint as Limerick hurling boss was one long, drawn-out demise.
"Since October 12 months ago this county has been dragged through the depths of what can only be described as torture. All sides were wrong, there is no two ways about that. Lessons have been learned and we will endeavour to make sure events like this will never occur again." - Limerick County Board secretary Mike O'Riordan sums it up.
"Last year after the Sligo game, scraping a win by a point, you'd have fellas coming up to you on the street and saying, 'You're useless this year, what's wrong with ye?'. And this kind of craic happens 10 times a day when I walk from the bank down to where I eat my dinner and then another 10 times on the way back. Then I have the boss giving out to me for being late back to work!" - Kerry's Kieran Donaghy bemoans the life of a Star in the Kingdom.
"It wasn't a hard decision not to appeal. At the end of the day what I did you couldn't condone. I was wrong to do what I did so I felt it best to take it (the suspension) on the chin." - Amateur dentist Paul Galvin accepting that sticking a finger inside Cork defender Eoin Cadogan's mouth during the Munster SFC semi-final replay win over Cork was a little out of order.
That was just daylight robbery. For the referee to do that to us, it is totally out of order
"It's not worth trying to win a provincial championship because you are sitting around for four weeks while other teams get match practice." - Kerry boss Jack O'Connor laments another Munster title.
"That was just daylight robbery. For the referee to do that to us, it is totally out of order… I just hope when he goes home and has a look at it, he will turn around and say that he shouldn't have given the goal… I couldn't believe it. I can still see it. I'll probably see it the next 50 years." - Louth manager Peter Fitzpatrick, meanwhile, would have dearly loved to have the dilemma of a provincial title holding his team back.
"Is it a new manager Monaghan should be looking for or a new chairman? Paul Curran is only in the role nine months and I think his inexperience is starting to shine through. You get the feeling the chairman has gone on a bit of a solo run here for whatever reason." - Monaghan assistant manager Paul Grimley criticising county chairman Paul Curran's handling of Seamus McEnaney's exit.
'I respect the opinion of Meath people that didn't want to go outside Meath for a team manager. I totally respect that but what I would be saying now is that we need to get on with the job here."- McEnaney going from the frying pan into the fire.
"When I quit that will be it, I will watch it on TV. Games are so bad nowadays that I don't know why you would pay in to go watch matches way down the country when that's what you are getting." - Down's Benny Coulter in his role as ambassador for the game.
"I wouldn't touch it with a 40-foot pole… He had a go at everybody as far as I know, including Tipperary players as well. He made very derogatory remarks about Kilkenny, statements that you wouldn't even consider challenging." - Eddie Keher blasting Donal Og Cusack for comments made in his 2009 book
"I hope it's a rite of passage. You'll learn from that. Maybe we weren't cynical enough or cute enough. Cork will say it's a rite of passage. They've been through it for so many years with Kerry." - Dublin defender Michael Fitzsimons trying to look on the bright side of their agonising All-Ireland semi-final defeat to Cork
"I've always said that the only way to beat them [Kilkenny] is to man-mark their defence. I honestly believe Sheedy hasn't been preparing them to do that since last October when he should have been… You look at Sheedy on the sideline and he's doing Riverdances." - Babs blasting Tipperary manager Liam Sheedy – his timing would prove to be a little off, however
"It says an awful lot about this team. There was an awful lot said about them, but they showed great courage and conviction over the years and now they've got their reward. I do hope other counties, the likes of Down will take heart and know that failure is only fuel for success. It's a great day to be a Rebel!" - Conor Counihan vents years of frustration after Cork's win over Down.
Everybody put their shoulder into whatever little part they had, I had a lovely part, the nicest part of all: sitting down in a good seat looking at wonderful players. – Mícheál Ó Muircheartaigh signs off for the last time after 61 years in the radio gantry
"I met with the Cork hurling manager, Denis Walsh, on Saturday last where he informed me that I was not in his plans for the Cork Hurling Panel. I would love to continue to play for Cork, but I must respect the manager's decision in this regard." - The door closes on Sean Óg Ó hAilpin's intercounty career.
Aisake went back to Australia a couple of weeks ago. He just couldn't face going back to play for Cork.
"Sean Óg Ó hAilpinwas a very good friend of mine, an inspiration not just to me but to a lot of people in Cork and all over the country. I'm just very sad over it." - Donal Og Cusack coming to terms with the end of an era on the john Murray Show.
"[Aisake] was gutted against Kilkenny. The most hurtful thing was that there was no explanation. The only chance we had of getting a goal was Aisake. He went off and that was that." Sean Óg says farewell to another brother.