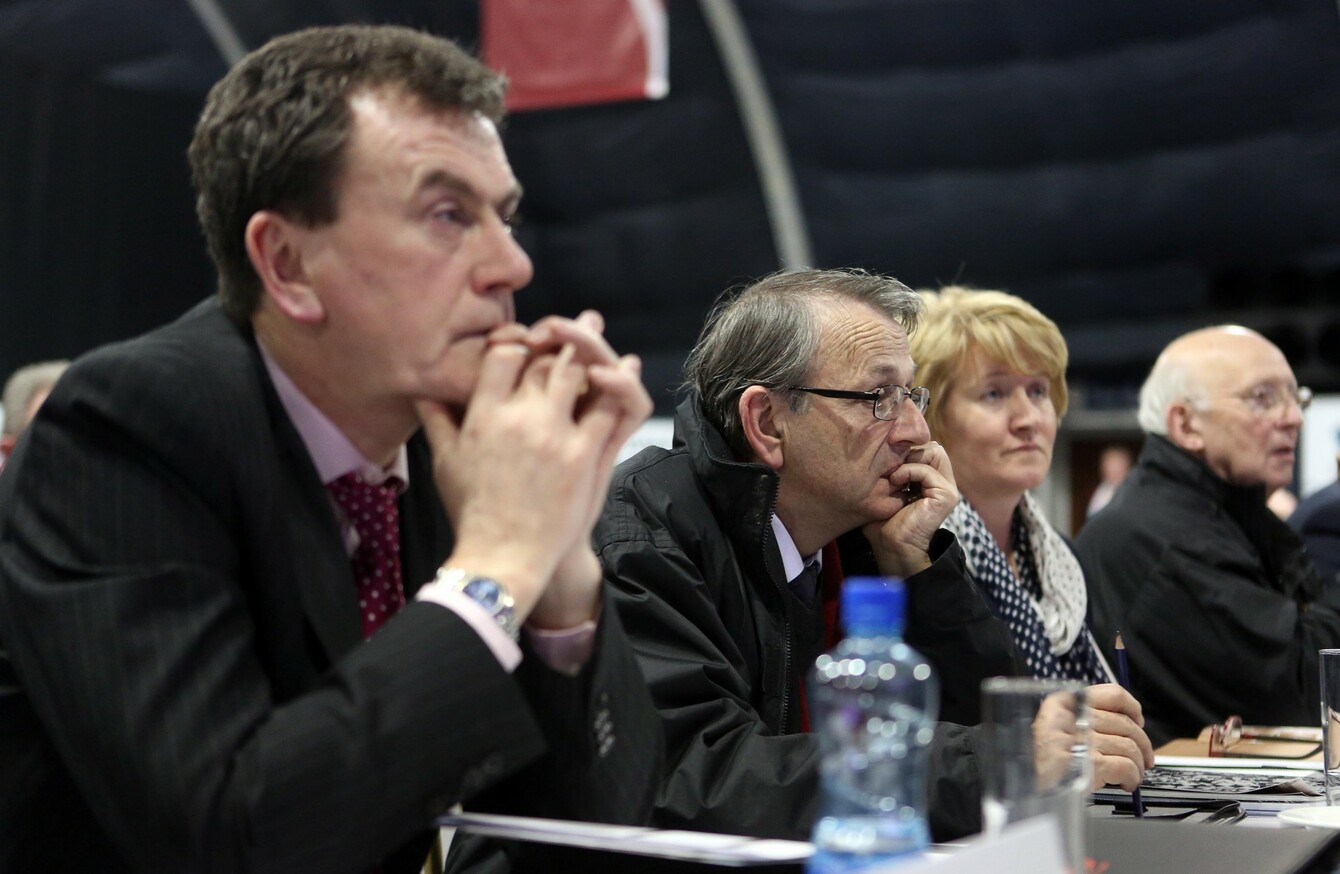 Tyrone delegates attending the 2013 GAA Annual Congress.
Image: Lorcan Doherty
Tyrone delegates attending the 2013 GAA Annual Congress.
Image: Lorcan Doherty
THE ANNOUNCEMENT THAT a 30% gender quota is set to be introduced into sporting bodies, was always going to be divisive.
The sentiment behind it is to bolster female representation at administrative level and redress the gender imbalance.
Nothing wrong with the intention there and many will say it's a necessary evil, but the process is flawed.
The situation at the moment is that seven of the top 20 sports organisations that received state funding in 2015 had a female representation of 10% or less. So effectively, the Minister of State for Sport Patrick O'Donovan, is hoping that figure will leapfrog by 20% from next year on.
We're trying to sprint before we've even worked ourselves into a jog with an aim like that.
A directive like this has to be sustainable if it is to affect real change and I just don't think that shoehorning women into admin positions in governing sporting organisations is the answer. Change must be organic and gradual for it to survive.
You can't build a house without laying the foundations so how can you expect to see consistent progress in the number of women being appointed to these roles, without installing stepping stones first?
Implementing gender quotas is a short-term answer for something that needs a longer-term solution. Skipping vital steps in the process just to get the finish line quicker is a dangerous route to take.
No matter what way you dress it up, gender quotas undermines the importance of merit when selecting an applicant. The person best qualified for the position should always get the job and if gender quotas are used as part of that process, and a woman is hired, there is no definitive way of confirming that she was picked because of what she brings to the table.
Anyone who is appointed on the back of a gender quota based initiative will constantly be under the microscope. In fact, her appointment will be sharply scrutinised before she even starts the job and it will always seem like she has more hoops to jump through compared to her other colleagues.
The other side of a gender based appointment which could make life uncomfortable for her is that it will be excessively celebrated. Her appointment should be discreetly carried out as a means of normalising the idea of a woman getting the job. But as long as there's people out there condemning her, there will always be the reactionary fanfare. Meanwhile, the real measure of her ability and competence for the job is lost in the furore.
You can break down barriers without making a sound and we already have examples.
Róisín Jordan is the chairperson of Tyrone football, Mary Quinn is the chairperson of the Women's IRFU and former Irish football coach Sue Ronan has recently been appointed the Head of Women's Football for the Football Association of Ireland (FAI).
There was no fuss made when their appointments were announced and in truth, none was needed. They applied for the position, they were deemed to be the best candidate. Ta-dah. Move on.
You also have to ask, what woman would want to be hired under the conditions of gender quotas? Imagine receiving that email or that phone call inviting you to be part of that 30%, for most likely a voluntary role, in order to protect a sporting body from cuts in state funding?
I know of several female journalists who wouldn't agree to taking part in a radio/TV panel just to fill up the female contingent so why should this be any different? It's something that is akin to an 'any woman will do' type of system.
You can counter argue that the woman in question already has the credentials for the position, meaning there's no tokenism involved. But if that's the case then surely there's no need for gender quotas in the first place.
If it's an issue that women are being unfairly overlooked when they apply for administrative jobs in sporting bodies, then gender quotas would have to be enforced in order to eliminate discrimination. But there's no evidence of that. It doesn't need to be happening on a wholesale level for it to be a problem. One such case would be one too many but none have been made public.
The numbers are undoubtedly slim, there's no argument there. But the fact that the aforementioned women are fulfilling these roles in the first place, means it's possible.
Minister O'Donovan's intentions are noble and we all want to see more women populating the committees, county boards and other administrative platforms in Ireland. But sustained change must be gradual. Otherwise another conversation of this nature won't be too far away.
The42 is on Instagram! Tap the button below on your phone to follow us!