ACH SHUR, DON'T we know.
You went and ate your own body weight over the past few days and suddenly you're feeling a little soft around the fringes. We're all in the same boat. And lookit, it's a little too risky to go out for a run – it's cold, the road's slippy and you're not overly confident of making it all the way round without puking.
Don't worry, because TheScore.ie has got you covered. Here are 10 exercises you can do to challenge yourself one small step at a time (we presume you all know how to do push-ups sit-ups and the odd star jump). Just don't overdo it.
Plank
The daddy of all core exercises. Either do it like Paulie's doing it below; in push-up pose but with hands under your shoulders rather than out wide. Or let your elbows down and use your entire forearms for balance.
Either way, the important thing is to keep your back and legs straight, trying not to let your backside rise or fall outside the trajectory of your spine and femurs.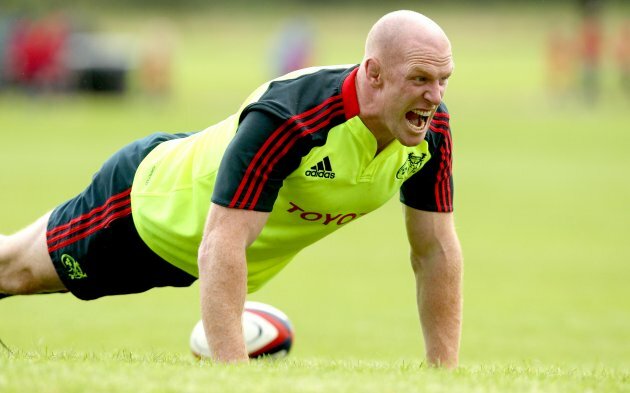 Got it? Now, hold it there for 60 seconds to start. If that's too easy go for 100 or 120.
Now you're warmed up.
Calf raises
Easy as one of those fake lemon things that's always left rolling round the press after Pancake Tuesday. Simply stand straight with a hand resting on a solid surface (like the back of a chair). Feet hip distance apart and rise up on your tiptoes and back down.
That's one, go for 19 more. Or try taking one foot shin-high off the floor and doing 10 raises on each calf instead.
This is handy, isn't it?
Tricep extension
Never mind your man with the weights. Grab anything: a bottle of water, a stray fire engine, seven Barbies… whatever – even an empty hand will do for starters. Just make it a nice smooth motion down behind your head and back up.
You can do it sitting down like Mr. I Go To The Gym Shirtless down there, or standing up (to keep momentum going). Try it 15 times on each arm.
Footage by BodyBuilding.com
Squats
Nobody looks cool doing squats, everyone who does squats looks cool. This is the best illustration of how to do them correctly. Your body will try to escape this rigid form when fatigue sets in. Your job while rising and descending is to fight the urge to curve your spine and drop your hands.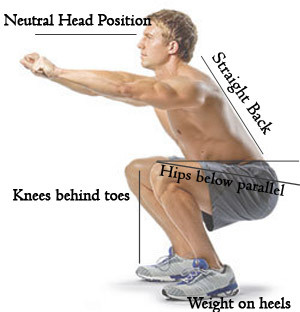 Make the above image your lowest point and power up to a standing position with your hips slightly thrust out. Do it 10 times for starters. 10 more if you're enjoying yourself.
Side arm stands
As we've said above, you don't need us to tell you how to do push-ups, so why not try lobbing a side arm stand in between each push-up? After coming up from your first push-up bring a hand directly under your chest so you can rest all your weight on it and stretch your free arm to the ceiling.
Down, up, left arm stand for five seconds. Down, up. right arm stand for five seconds…
Your foot will be on its side too, so depending on how balanced you feel you can look directly up to the ceiling to make balancing a little more difficult.
Try 10 reps first, five stands on each arm. Make it 10 seconds per arm stand if it's too easy for you.
Single leg squats
Yep, just like squats but with one leg raised. Watch this video and do 10 on each leg.
YouTube credit: James Dunne
Circle planks
In plank pose? Good. Now, hold your arms steady and raise one knee towards your chest. Alternate taking it back to where it came from with clockwise and anti-clockwise movements of the knee.
Exclusive Six
Nations Analysis
Get Murray Kinsella's exclusive analysis of Ireland's Six Nations campaign this spring
Become a Member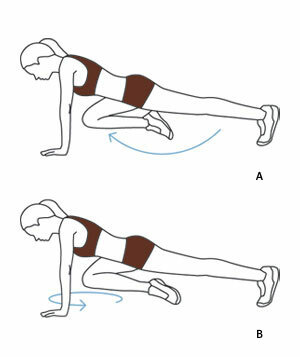 Image credit: Real Simple
Give me five clockwise moves and five anti-clockwise before you switch legs and do it all over again.
Chair dip
We know what you're thinking; 'my mother had those exact same chairs'. Well put that sturdiness to good use by exercising your triceps some more.
You can do it with your feet up as below (if you've got chairs to spare) or make it a little easier with your feet stretched out on the ground in front of you.
Once in position with a straight arm, bend your elbows to lower yourself down just like the image above. Push back up and that's one, so go for it nine more times.
Jump squats
'YES! I love jump squats' is a sentence you will never say ever in your life, but the sweat will be pumping off you after 20 of these bad boys. Like a squat, except you need to put extra force on the rise, enough to jump in the air.
YouTube credit: fitnesstrainingvideo
Top tip: Do not jump squat under a light fitting or on the creaky floorboards of an old house.
Superman
You've made it this far, have a lie down. Now, raise your arms and your legs at the same time. Gimme 20 of those and hit the showers.

Now, that wasn't so easy was it? But you'll be ready to take this show on the road in no time.