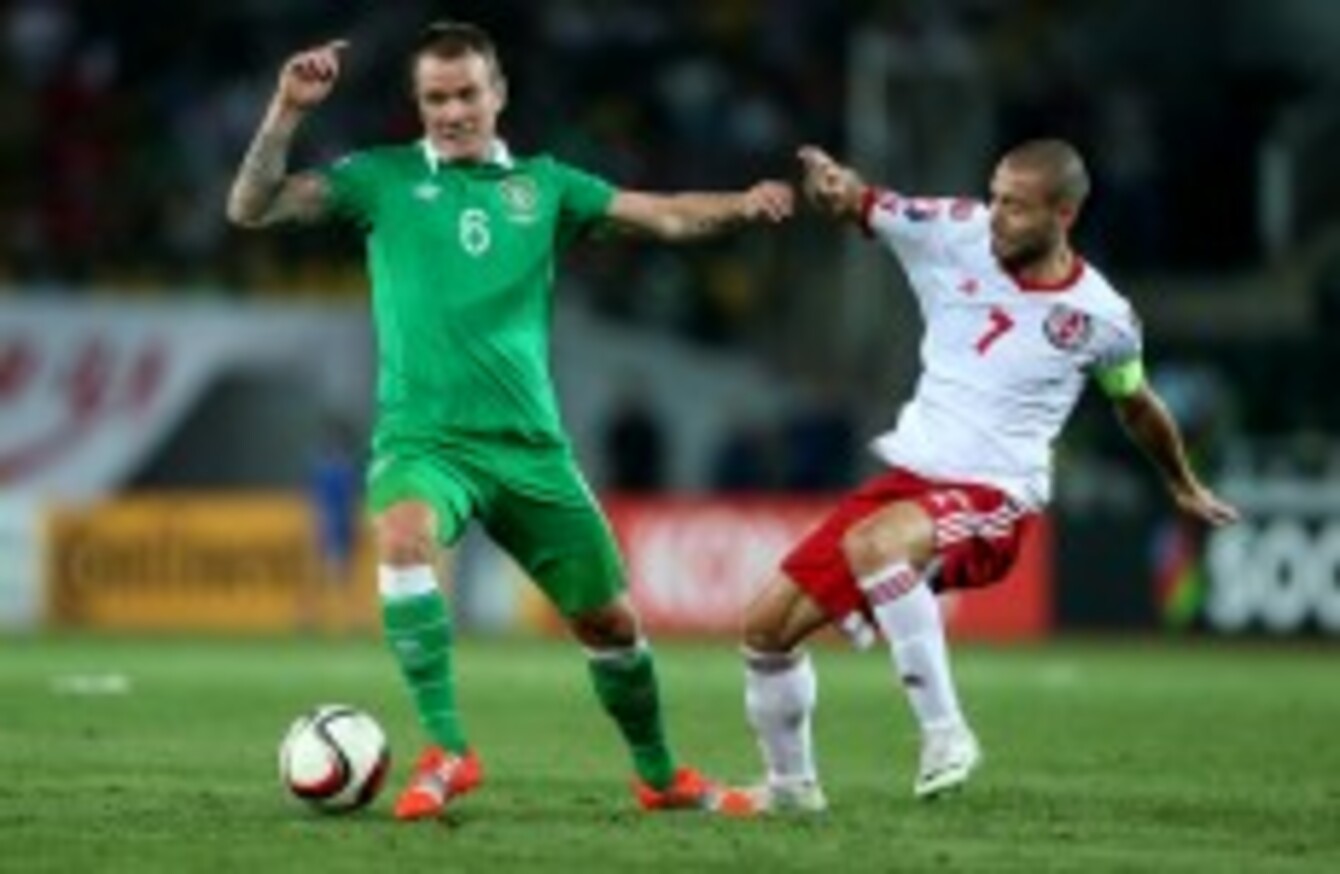 Whelan has been in a regular in the Irish midfield since Giovanni Trapattoni's first game in charge of Ireland.
Image: Donall Farmer/INPHO
Whelan has been in a regular in the Irish midfield since Giovanni Trapattoni's first game in charge of Ireland.
Image: Donall Farmer/INPHO
IT HAS BEEN good week for redheads, so after the beatification of Paul O'Connell and Henry Shefflin, I'd like to propose another candidate for strawberry blonde sainthood.
While it's likely Martin O'Neill will prevaricate over his team to face Poland until the last minute, Glenn Whelan will present a straightforward decision for the occasionally dithery Derryman. Whelan will start as the deep-lying midfield factotum, as he has done, barring injuries, for every meaningful Ireland international since Giovanni Trapattoni plucked him from the Stoke City bench in 2008.
Not that this fact will hurry the hordes along to the Aviva any more excitedly come Sunday evening.
On the contrary, few players are considered by the long-suffering Republic of Ireland supporter more emblematic of the national team's descent into mediocrity, and thence lower, than Whelan.
Type his name into Google; suggested searches include "Glenn Whelan salary" and "Glenn Whelan wages", hinting at a thousand pub arguments in which the question of Whelan's paycheck was posed as rhetorical condemnation of all Irish football's ills.
Putting it in the context of this week, Whelan, for all the modesty of his ability, comfortably earns several multiples of what a supreme warrior like O'Connell takes home. Eamon Dunphy took up this point with his notorious charge about the Whelan garage boasting "two Ferraris".
In fact, Whelan, in his indefatigable durability at the elite level of a truly global sport, is a better role model for most of us average Joes than any of those in the pantheon of Irish sport.
The stories about O'Connell's totemic leadership and Shefflin's iron will are awe-inspiring. But – and maybe I've been reading too much florid prose from the big beasts of the broadsheets' sports pages – I can no more relate to them than I can a statue of Zeus in the Acropolis.
I may as well seek life coaching sessions from Mount Rushmore.
Whelan, on the other hand, is the personification of the everyman struggle. His is the perennial football tale: teenage migration to England; rejection by Manchester City; the steady climb back to the top, via Bury and Sheffield Wednesday. Even at Stoke City, where he has spent the best part of seven seasons as a Premier League footballer, there have been knocks and slights, challenges and vindications.
Since he joined in January 2008, Stoke – who really don't spend much money at all – have handed over €30 million for central midfielders of his ilk, not including free transfers such as last summer's acquisition of Steve Sidwell. Every new arrival was a silent slight on Whelan. Every one has been faced down.
Well not entirely.
Whelan still gets dropped on occasion, like with Stoke's most recent Premier League fixture, a defeat to Crystal Palace. But he's never dropped for long. His career press clippings are regularly punctuated by phrases like "Whelan vows to fight for his place."
And fight he does.
He's just signed a new contract. That's another two years – taking it that Stoke will continue to dwell in their comfortable midtable mundanity – as a Premier League player. He'll be a very rich man and, if he's still being picked for all of Ireland's big games by then, he'll probably be no more popular.
For the largest part of his international career so far, Whelan manfully toiled alongside Keith Andrews in Giovanni Trapattoni's woefully understaffed middle office. Andrews put their plight best, when describing Ireland's 4-0 defeat to Spain at EURO 2012: "Xavi, Iniesta, Busquets and Xabi Alonso. Against meself and Whelo."
He got little thanks for it, nor will he on Sunday, regardless of how things go. But if there's such a thing as the Irish Dream, then Whelan is it.
Emigrate, struggle, get told you are worthless, graft, get rich enough to piss off the begrudgers back home.
Looking for sporting inspiration? Never mind the chiselled, steely-eyed Irish sporting gods, embrace your inner Whelo.
*****
No Shefflins or O'Connells, but there remain in the Irish squad a couple of faces that could open a supermarket from Inishowen to Castletownbere. The last of the good ole boys: Robbie, John O'Shea, Shay.
The occasional Aston Villa goalkeeper is involved in one of the mildly interesting sub-plots in this long, slow burn of an international week. He wants his old job back and, even within the neutered, shapeless language of football press briefings, let it be known so in Malahide this week.
When Given returned to the squad he thought it was to be as number one, but David Forde has, as the accepted wisdom has it, 'done nothing wrong'. Charming, friendly, Forde has little ego. On Tuesday, he responded to Given's gentle landgrab in humble and respectful tones. Given has an ego.
A big one. It has survived his grim recent experiences at Villa. His type are a dwindling breed in the squad, and one wonders whether O'Neill might be swayed for this game.
******
I mentioned the manager's tendency to prevaricate. Wisely, O'Neill has held off the sense of a reckoning in this group for as long as possible. He was quick to reach for perspective in the aftermath of Glasgow, when the performance had many fumbling at the panic button. Seven points from the four opening games was, in the manager's eyes, a respectable return.
What the Scotland defeat kicked down the road to Sunday evening is the need for a defining statement. A win, yes; a result, definitely. But most importantly, a foundation on which to build the remainder of the campaign, something sturdier than the twin flashes of Aiden McGeady's last-minute virtuosity in Georgia and John O'Shea's fairy tale finish in Gelsenkirchen.
Sunday evenings remind me of schooldays and undone homework. If Martin O'Neill remembers back that far, he'll know it's a good time to do the things you've been putting off.