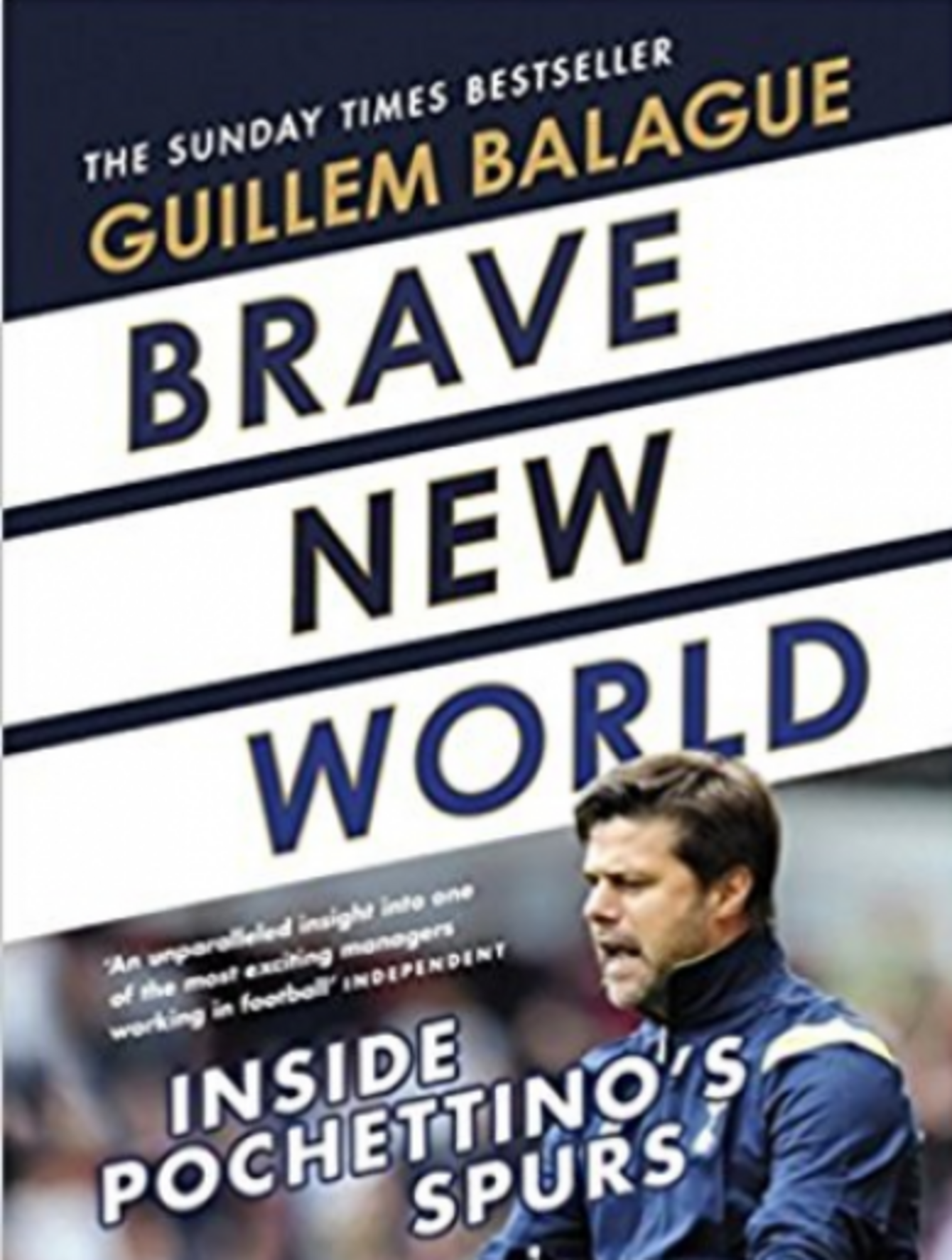 An image of the front cover of 'Brave New World'.
An image of the front cover of 'Brave New World'.
OF ALL THE Premier League managers to write a book on, Tottenham boss Mauricio Pochettino does not immediately stand out as an obvious candidate.
The Argentine coach does not have the intensity of Pep Guardiola, the crankiness of Jose Mourinho, or the manic energy of Jurgen Klopp.
Unlike many managers, there is a distinctive calmness about Pochettino — you rarely if ever see him get upset or start criticising a reporter during a post-match interview, even after watching his team suffer a poor result.
There is a niceness about the former Paris Saint-Germain and Argentina player that some people might consider to be indicative of a bland persona.
Yet 'Brave New World,' a new book by Guillem Balague — a renowned football journalist with Sky Sports among other outlets — sheds insight on Pochettino and reveals a thoughtful man with an uncanny ability to forge special bonds with players, even long after they have parted ways in football (Iván de la Peña, Adam Lallana and Luke Shaw are among those to speak glowingly about Pochettino in the book).
The project was a long time in the making and involved Balague spending a season (the 2016-17 campaign) inside Pochettino's Spurs, in the process gaining unique access to a number of the coach's most trusted confidantes as well as the man himself.
Balague, who has previously worked on a number of books, including biographies of Lionel Messi and Cristiano Ronaldo, got the idea from a colleague.
"It was part of a three-book deal with Orion — they asked me for an autobiography," he tells The42. "About two years ago, a Spurs fan, Mark Rusher, who worked with them asked me about Pochettino.
I knew that he was a very good coach, especially as I'm an Espanyol fan, and I was very close to what he was doing there. I really had no idea where he would be two years down the line, but there was still a confidence (in the project).
"The next step was to try to convince him to do the book. He was non-committal at first: 'What, a book about me?' But the conversation was referred to his wife and she said: 'You have to do it.' They had decided about two years before that if there was ever to be a book on Pochettino, they were going to do it. And I had no idea that was the case.
So it all came together. And after that, there was never one single question from Pochettino about how I was going to do it. It was 'write what you need'. I said: 'I'd like to go to the training ground as often as possible, go to press conferences, go to games.' He said 'yeah, no problem'.
"So we started with that and I was given so much information from everybody — players, directors, coaching staff, his family. So I thought: 'How about, as a genre, which is not very common, I do a biography in the first person.' So it's still a biography, but by doing it in the first person, it was a mixture of his words, his wife's words, the coach's words, but all as if he said it — I felt it would be a good impression of how managers work, what he's like in control, and that secret world we get to see so little of."
As fortune would have it, Balague ultimately would document Tottenham's best-ever Premier League season, with Spurs finishing seven points behind champions Chelsea in second. They also went the entire season unbeaten at home, winning 17 of their 19 league games at White Hart Lane, before saying goodbye to their old stadium amid an emotional send-off.
There was drama during the campaign too, including Man City-bound Kyle Walker's much-publicised exit, while one or two bad runs of form ultimately ended up costing Tottenham the title. Were there times, over the course of the season, when Pochettino was too angry or busy to speak with Balague?
"It wasn't so much a difficulty when the results weren't happening – that was never a problem," Balague explains. "But there were times where he didn't want to do anything, and I was part of that.
We sat down and talked for an hour and then I would look around and talk to other people. But there were times where there would be literally 20 or 30 lads in reception waiting for something. Then one of the coaches, Toni (Jiménez) or Miki (d'Agostino), would start talking to me. And that was the message that I couldn't talk to him that day.
"That happened sometimes, but I still had a level of contact with those coaches and the family and so on, because I needed other gaps to fill in.
"We'd talk in general about life and how he felt about things, and if I had been given a detail about a conversation he had with a bunch of players or a tactical chat or a tactical decision that was interesting, I would go into detail with them.
"So what's come out is a mixture of minds, but eventually, what you need is perfectly what's given to you."
One of the early influences on Pochettino was the legendary Argentine coach Marcelo Bielsa. The current Lille boss, along with former Argentina international Jorge Griffa, were integral in scouting a teenage Pochettino and bringing him to Newell's Old Boys in 1987. After Bielsa was appointed manager, they won the 1990–91 national championship and the 1992 Clausura together.
Both moved away from Argentina ultimately, but Bielsa and Pochettino's paths aligned again in 1998, when the former became manager of Espanyol.
Again, the experienced coach's influence was telling. As Pochettino remembers in the book: "We didn't see Marcelo during the morning, so he'd come in for the afternoon session, bursting with energy. It was all about tactical work with him, but there were days when we were shattered. We were doing some drills on one of those scorching hot afternoons and I said to him, 'Marcelo' — calling him by his first name was a bad start — 'Have we got much longer to go?'
'Five minutes.' And we kept working. At the end, a furious Bielsa called me over. 'Look, that's the last thing I expected from you. It confirms to me just what you've become.' He laid into me and I cried. I went home in tears because I felt so embarrassed, as embarrassed as I've ever felt in front of someone. Everything he said was right. I'd been blinded, trapped in my own world. I had stopped doing what had got me there in the first place.
"He helped me to move on and later called me when he was in charge of the (Argentina) national team. He handed me my full international debut against Netherlands in 1999. If he hadn't gone to Espanyol, I never would've become a senior international."
Pochettino admits his Spurs side have some similarities to Bielsa's Newell's Old Boys team, particularly with regard to the intense, high-pressing and the emphasis on making opponents uncomfortable on the ball, which they both favour.
Balague, however, stresses that there are key differences between the two coaches' styles.
In the book, he very clearly says, of course I've learned things from Bielsa, but I'm not a Bielsa man. They had a special relationship, but are very different to one another.
"They see football differently. Bielsa likes marking all over the pitch. Pochettino likes to structure teams differently and generally prefers teams that dominate and doesn't have to care so much about positions.
"When you find yourself on the journey at 17, 18, 19, 20, some of those ideas (stay with you).
But there were other coaches and people who were influential to Pochettino too."
A little over three years into his tenure at Spurs, it is no exaggeration to say Pochettino is already one of the most popular coaches in the club's history. He may not have won any silverware yet, but there has been noticeable progress each year. In the 2014-15 campaign, Spurs finished fifth on 64 points. The following season, they came third, just behind Arsenal, on 70 points. And last year, they finished second on 86 points.
This season has been far from perfect, with some disappointing results, most notably the 4-1 defeat to Man City earlier this month. Nevertheless, the club are still challenging for the top four, and there have been signs of progress in the Champions League particularly, with Tottenham coming top of a group that included two sides with far superior experience at that level — Real Madrid and Borussia Dortmund.
It could have been so different, however. A key game in Pochettino's first season as manager of Spurs was away to Aston Villa. Tottenham were on a bad run of form and desperately needed a win.
The visitors went 1-0 down, before the coach made a brave call, just before the hour mark — he took off the team's most high-profile striker, Emmanuel Adebayor, and brought on a relatively inexperienced youngster by the name of Harry Kane. The substitution proved to be inspired — goals in the 84th minute from Nacer Chadli and an injury time winner by Kane gave Tottenham a much-needed victory.
In the book, Pochettino recalls the feeling of despair he felt for much of that game: "With seven or eight minutes to go, I turned to face the dugout. I looked at (coaches) Toni, Jesús and Miki and told them, 'Lads, pack your bags tonight, because tomorrow we're going home.'
"Our next attack won us an 84th-minute corner. The ball fell to Nacer Chadli and bam, it was 1-1.
"'Bloody hell, get in! Come on, we can do it, we can save our necks!'
"Cue, a free-kick in the 90th minute. And Kane scores!
After the final whistle, I said to my staff, 'Lads, we've been saved, we've earned ourselves a couple more lives, but now we've got to turn the corner. We can't carry on like this.' The revolution had begun.
"The match made us realise that, to succeed at this club, we had to do things our way. That game unshackled us. Before then, we had too many people around us spouting their opinions. All those voices confused me and passed their fears onto me."
So how close was Pochettino to actually being sacked by Spurs? Was the Aston Villa win his Alex Ferguson-v-Nottingham-Forest-in-1990 moment?
"He's not the man undertaking that decision, but that's the pressure they have, and sometimes when you are in a club, you realise that there are certain points, moments, where anything can happen," Balague says.
"It could well be that they needed to get something out of that one and as they did (win), it gave them the impetus they needed really.
"Once they got the victory, it released him from a lot of tension. He perhaps wasn't being himself all the time."
Since then, both Pochettino and Spurs have gone from strength to strength, as the Argentine coach turned a notoriously inconsistent and flimsy side into regular top-four challengers. What helps is that, unlike at many other clubs, he appears to have a particularly close relationship to his chairman, Daniel Levy.
"I've heard from both and I've heard from people around them and it's a working process obviously, but they have become very close from the beginning.
What Pochettino wanted to do from the beginning was to create a synergy with everyone else around him and the players, so the decision they made as part of that conversation was for Daniel to understand what he was trying to do and for him to understand why Daniel would be this way or that way.
"Some of the stuff that has happened: the new stadium, the new philosophy and down to how well they get on — they have meals together, they like wine, so they've found themselves common ground — sometimes that doesn't happen in football clubs. Everybody knows about the business and that's it.
"So it's another job that Pochettino has taken on — the relationship with Daniel — and that of course creates closer bonds between the team and the management."
In relation to the key reasons behind the team's increasing success in recent years, Balague continues: "First of all, it's: 'Do you have the confidence of the chairman?' He does, by a long way, because Daniel Levy believes in what he's doing and that what he's doing is right.
"He's got a very clear idea, which goes back to his time in Argentina and with Espanyol of how a team should be (in terms of) commitment from the players and style and everything. Those things had to go that way — that's what he believes in, that's what he's going to do, because that's what he started with.
He had to make decisions on the squad, to bring in a special type of player, which is a good person, something that he can work with and mould to his idea.
"That meant that there always was going to be a way for what they have created so far. Good results have helped and progression has been made every season, so everybody's happy, which means they can continue to adapt.
"They know that he's not only a manager but someone who needs to create an atmosphere that everyone enjoys so they can push themselves to take Spurs forward.
"I'm not sure if Daniel Levy was aware that it was coming, but now that they're there, it's (a vindication for both)."
While it has been a team effort and the players themselves deserve plenty of credit, Pochettino's role in turning the likes of Harry Kane, Christian Eriksen and Dele Alli into world-class performers should not be underestimated.
If you talk to Harry Kane, or Winks, or Alli, they all tell you what he has done for them. He has changed their habits, the way they follow the football, he's given them a path to keep breaking.
"He has helped them as individuals with lots of conversations and by creating an atmosphere of wanting to improve and not thinking: 'If a bad result comes in, we can buy a new player.'
"He pushes these special players, where they are right now, they have to work on it. He gives them the tools and the facilities to work with. So all that helps players. It's not a case of saying: 'I'm going to make you the best player in the world, please come and do this.' You have to do it at the right place."
While Pochettino has assembled a highly talented side brimming with potential, one question perennially hangs over the team: will their limited finances be enough to keep hold of the top players?
England international Kyle Walker left the club for Man City in the summer, while Danny Rose has also been publicly critical of the situation at Spurs. Will there be further trouble down the line?
"What's part of this is a team that goes to a new stadium. That and to keep progressing seems to be the priority with the money.
Whatever happens in January or the summer, the players that go, I think it's because they want to let them go. They have players that can play with the same structure in the academy.
"But how long can you convince players that you are in a special place and stay progressing?
"At the moment, I feel, with this new stadium, they all want to be part of it."
While Balague's book has generally been well received, it also was part of a bizarre subplot in Tottenham's campaign earlier in the season.
An indifferent run of results led to suggestions that the publication of the book had affected the team's morale somehow — though happy with the extra publicity, Pochettino dismissed the claims, while Balague was baffled by the theory.
"The first reaction was amazement. That was described in the biggest newspaper in Britain and also was followed in another.
There were people approaching me in book signings saying you jinxed us. I couldn't believe it, serious people. It confirmed to me what I always said — as fans, we are 12-year-olds, even if they're 40 or 50.
"Fans need explanations for everything and if you have four games where results don't go as expected, it's (a case of) 'let's look at what's happened'. It was raining. It was sunny. It must be the sun. The book? Ah, the book.
"It was a selective jinx, because they forgot that Spurs beat Liverpool when it came out, Real Madrid and Dortmund were beaten when it came out and they drew at the Bernabeu and it was only after (that they started losing games).
"It's interesting because it brings it back to that idea of 12-year-olds with the comments. Of course, you've got the 12-year-olds who live in jinxes."
Brave New World: Inside Pochettino's Spurs by Guillem Balague is published by Orion Books. More info here.
The42 has just published its first book, Behind The Lines, a collection of some of the year's best sports stories. Pick up your copy in Eason's, or order it here today (€10):