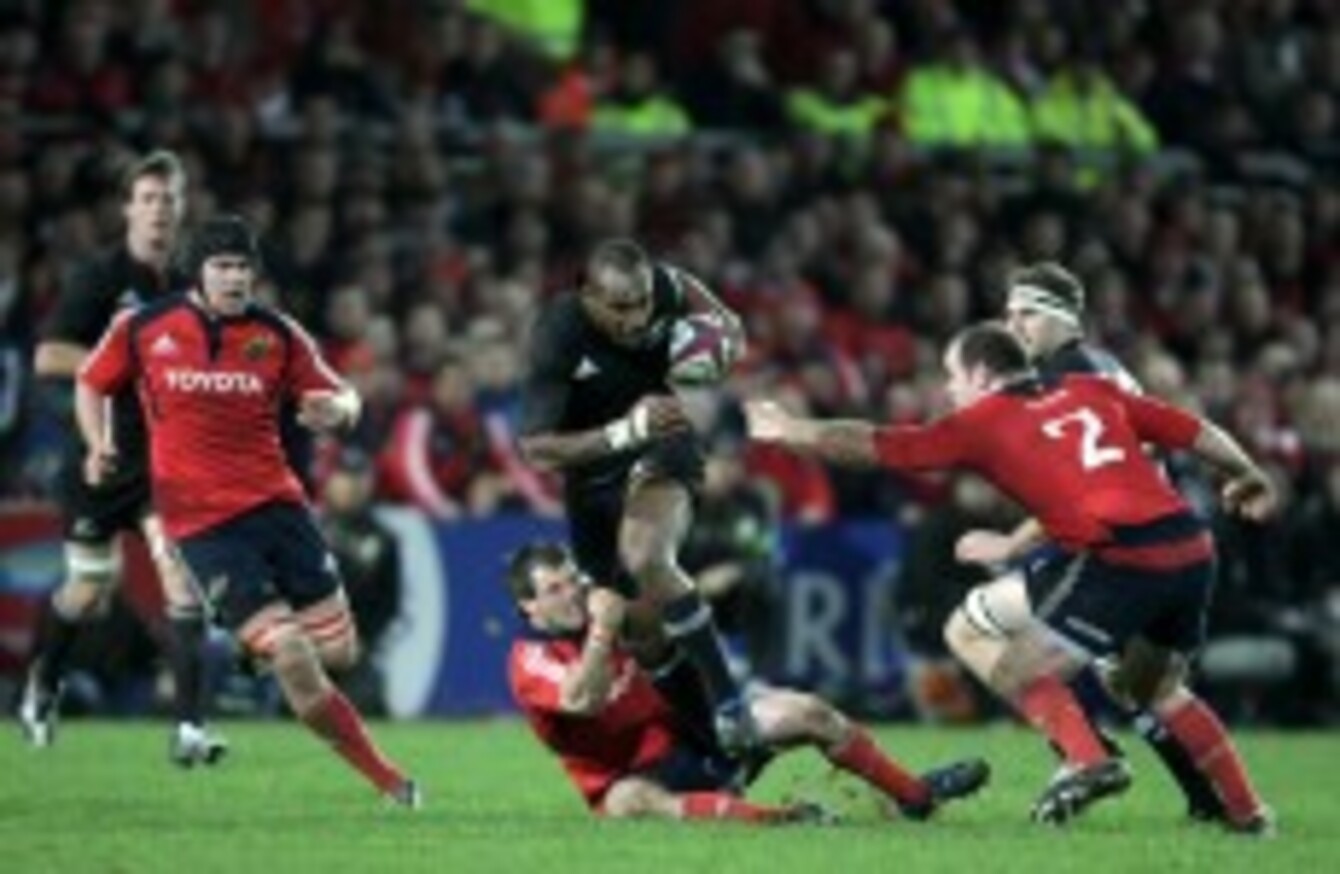 Munster's Ian Dowling and Frankie Sheahan with Joe Rokokoko of New Zealand in 2008.
Image: INPHO/Morgan Treacy
Munster's Ian Dowling and Frankie Sheahan with Joe Rokokoko of New Zealand in 2008.
Image: INPHO/Morgan Treacy
THIS WEEK MARKS five years since Ian Dowling and his Munster team-mates came up just short against the All Blacks at Thomond Park.
And the now-retired Kilkenny man admits the defeat still hurts.
A Thomond Park side missing 10 key players were leading 16-13 with minutes to go before a late Joe Rokocoko try saved the Kiwi's blushes.
"I think about how close we came and could I have done better to stop that try – it is a disappointment," says Dowling. "The All Blacks game was special — and incredible considering that we were all just thrown together," he said. "It was one of those special things. How tight we were that day was incredible and it is another wonderful memory to look back on."
Forced to bow out of professional rugby with a serious hip injury in 2010, Dowling is now into the final six months of a physiotherapy course in the University of Limerick and he is keen to look to the future.
"I want my own business that is catered for the elite athlete," he said. "At the minute I just want to keep driving forward with this career now. I have done nothing with it yet but I have some high hopes and ambitions for the job but at the minute – to stop and reflect on my rugby career will get me nowhere," he added.
Dowling was aware of the traps that a rugby player can fall into after retirement and he believes that his former coach, Declan Kidney, played a key role in encouraging him to develop a career away from rugby.
"In 2011 I started thinking that I really need to have something on the back burner. Deccie was always asking: "What are you doing outside of rugby?"
"I have seen lads just finish up and they are left in the lurch because the rugby world moves on and you are left wondering what to do. You have no time schedule any more — as a player you are told where to be and what to wear and have a routine. That is taken from you and some lads are not proactive," Dowling said.
"Hopefully, I'll make something special that all athletes can come to and know that they are going to get the treatment and standard of care that no other place can offer — if I can get that I'll be happy," he said.