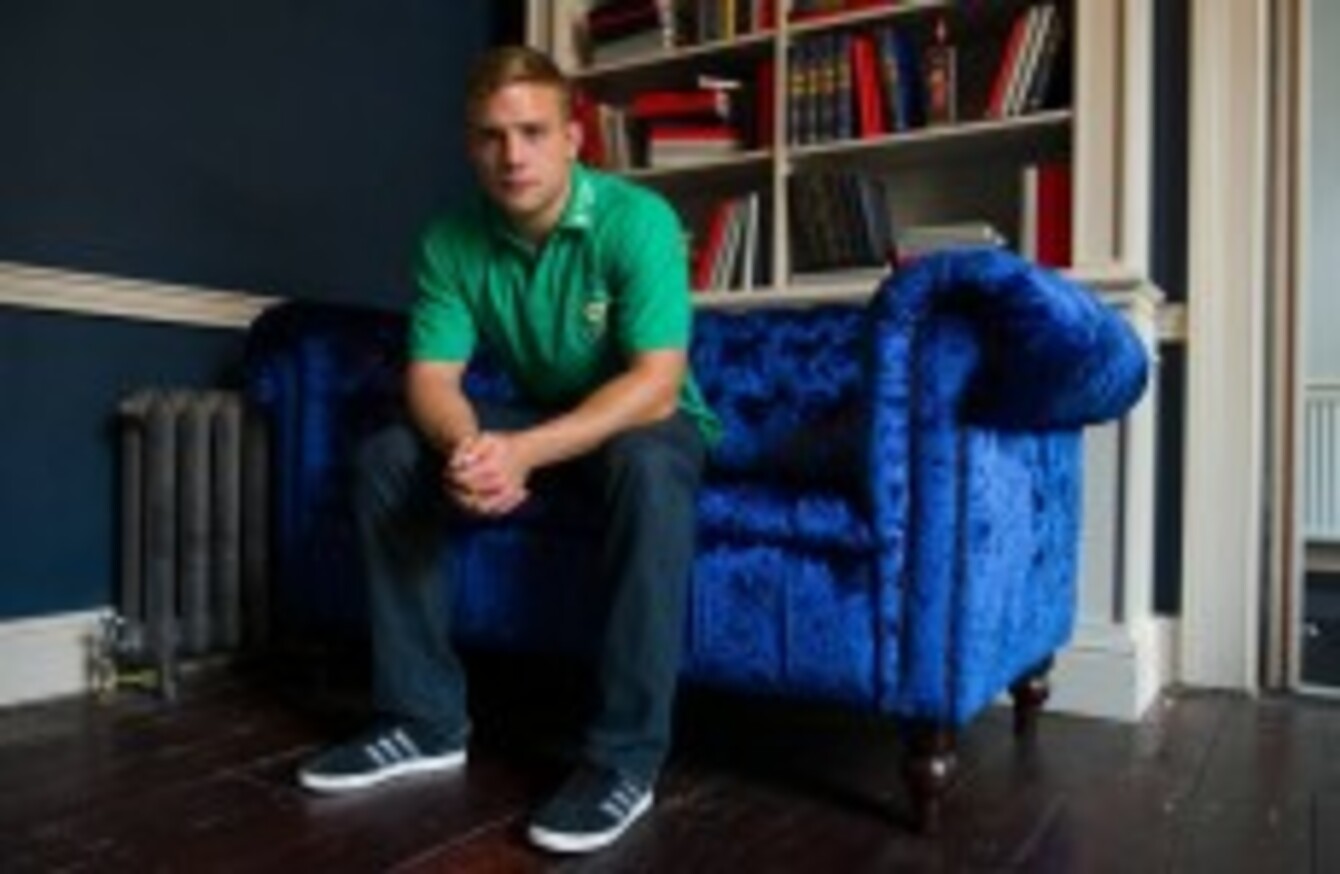 Madigan scored a try against the Cardiff Blues last weekend.
Image: Sportsfile
Madigan scored a try against the Cardiff Blues last weekend.
Image: Sportsfile
WITH A FIRST start of the season at out-half for Leinster under his belt, Ian Madigan is excited about the next challenge. The Ireland international claims his focus is on the immediate future and a "very special" game against Munster.
The RaboDirect Pro12 holders face their toughest fixture of the season so far with a trip to Thomond Park to take on their inter-provincial rivals on Saturday. Leinster have won at the stadium on the last three occasions the sides have met there, but Madigan is aware that stats don't win games.
The 24-year-old has been keeping a close eye on Munster's form in this campaign, and has been impressed with what he's seen.
"I've watched nearly all their games. They look really comfortable playing that shape that Rob Penney's brought in and they've definitely moved forward again from a very strong finish to the season last year."
Madigan acknowledges that every inter-provincial game is important, but admits that the Munster games are "probably another step up." The out-half points out that familiarity is what breeds such a strong rivalry between the two provinces.
There's something very special about playing against friends. I would have played underage against the likes of Peter O'Mahony and Conor Murray. As a result of that, I'd be good friends with them. You see them if you're lucky enough to get called into international camp and you could be living with them for a few weeks on end.
"So you can only become friends and you know full well that whoever wins at the weekend will have the bragging rights. It's a small thing, but it's something you want dearly."
Madigan and Eoin Reddan at Leinster training. ©INPHO/Dan Sheridan
Rivalry can often spill into a more aggressive level of competition, but Madigan doesn't feel that has happened between Munster and Leinster yet. The playmaker concedes that there is slagging after the games, but stresses that the competition on the pitch remains clean.
"I've experienced no real sledging during games. I think players are above that, they don't stoop to that kind of level. If they do, it generally effects their own performance you find. There might be a few light-hearted jokes after the match but nothing's left behind in the heat of battle."
If Matt O'Connor picks Madigan at out-half, he'll be lining up opposite either Ian Keatley or JJ Hanrahan, both potential rivals for Ireland caps in the future. The Leinster man says that competition for international places hasn't crossed his mind.
""Ian and JJ are both really good players bu I'm not really looking past this week, as much the Heineken Cup is important and you'd like to be factored in the autumn internationals. If I'm lucky enough to play or come off the bench against Munster and then get a chance the following week, then great. I just go game-to-game that way as opposed to looking forward to the autumn internationals."
His first outing in the 10 shirt for Leinster in this campaign went well, with a 34-20 win over the Cardiff Blues showcasing Madigan's ability to spark the province's attacking game. Defensively, he was solid and his place-kicking was accurate. All round, it must have been a pleasing performance, but Madigan says it was made easy for him.
It was teed up for me, a home game with a really strong team around me. Matt made it very clear to me beforehand how he wanted the game to be played. I was happy enough, it was a good baseline to start my season at out-half. It was certainly nice being eased into it having played fullback initially and got a tempo for the game.
Be part
of the team
Access exclusive podcasts, interviews and analysis with a monthly or annual membership.
Become a Member
"The set-piece was great last week. Dev [Toner] ran the lineout really well, we got our scrum right so we had a great platform that possibly hadn't been there in the previous weeks. Off that platform, it makes it easier to play an expansive game."
Madigan was man of the match last weekend against the Blues. Pic: INPHO/James Crombie
Brian O'Driscoll returned at 13 for the win over the Blues, and the legendary centre benefited from Madigan's passing game to make several breaks and create havoc for the visiting defence. Madigan says it's only natural to get the ball to O'Driscoll as often as possible.
"I don't think you can blame anyone for looking to Drico in attack. He's got so much to his game that he can create something out of nothing. The first try [Sean Cronin's] was a prime example of that. There were three defenders, three-on-three and he just creates a hole for Sean, who in fairness ran a great line to go through.
"I'd a good week's training with Brian and he makes it very clear to you exactly what he wants. You just have to go out and execute it. That's one of his greatest strengths, his communication to you on the pitch."
The Heineken Cup looms inescapably on the calendar a week after the Munster clash, with a difficult trip to the Ospreys on the agenda for Leinster. While Madigan insists that the three-time European champions are keeping a "week-to-week" focus, he does say that he would relish the opportunity to lead Leinster to a fourth title at out-half.
Yeah that would  definitely be a goal of mine, to lead the team in their Heineken Cup campaign. I'd only be selling myself short if I thought otherwise."
These are key weeks ahead for O'Connor, Madigan and the rest of the Leinster set-up. The rumours surrounding the futures of Sean O'Brien and Jamie Heaslip are certainly not welcome at this time, but Madigan says it's not something that the players discuss among themselves.
"Not really. I'd have definitely said to the players involved, 'I hope you stay.' It's a nice thing to say to your teammate that they're wanted in the club, that they'd be a massive loss if they left. Players definitely get confidence from that, you want to know how much you're wanted in the squad by your fellow players. That's what matters most to you.
"But there is very little talk about it because it's obviously done behind closed doors and you don't really know what's going on until it's announced. It is what it is and you just get on with it on a day-to-day basis. We have our squad for the year and we'll play with what we have. We'll deal with it next year when it comes around."
That's the recurring theme with Madigan, focusing on what he can affect in the immediate future. Right now that means helping Leinster to a fourth consecutive win in Thomond Park. It's going to be a fascinating clash.
Golden Irish Eggs brand ambassador and Leinster Rugby player Ian Madigan speaking at the launch of the limited edition 12 pack of Golden Irish free range eggs, available from all leading retailers nationwide. Log onto Goldenirish.com for more information.