Image: John Raoux/AP/Press Association Images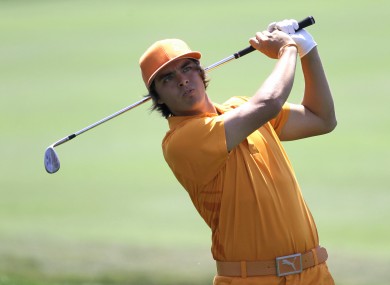 Image: John Raoux/AP/Press Association Images
AN ARTICLE APPEARED on pgatour.com over the weekend with the headline "Ricky has a chance to join Rory atop golf's landscape."
Rory McIlroy and Ricky Folwer have been compared and contrasted by many over the last year to 18 months, but other than the fact that they're both young, there aren't a huge amount of similarities.
To suggest that by winning the AT&T National that Rickie would have joined Rory "atop of golf's landscape" is unfair.
Rickie Folwer is a very good player, but he is far from reaching the summit of this so-called "landscape". He has never even won a tournament on the PGA Tour. Sure, he has been in contention a few times, but not in a Major, despite what the article in question would lead you to believe.
Tied 14th at last year's British Open is Fowler's best Major finish to date. You'd hardly call that contending. McIlroy, as we were told on numerous occasions over the weekend of the US Open, has lead three of the last four Majors at one point or another.
The fact that McIlroy had a PGA Tour victory under his belt meant he was already in a different league of golfer to Rickie Fowler, but now that he has a Major, he's in another world.
"A young, vibrant, confident and talented American"
That's not to say that Rickie Folwer isn't a golfer of significant quality and potential. It won't be long before he is welcomed into the winners' circle, all the more so if he keeps putting himself in contention like he did last weekend.
But to say that by winning a regular Tour event he would suddenly be classed alongside McIlroy is an unreasonable amount of pressure on a guy who is learning his trade on the Tour and who could have at least 20 years on Tour ahead of him. Unfortunately, that is the pressure that comes with being a young, vibrant, confident and talented American.
The success of the PGA Tour as a brand and as a marketable form of entertainment has always relied heavily on Tiger Woods. Those days would seem to be over and now the Tour has to go and find another starlet on which to pin its hopes.
Rory McIlroy was their man, but he decided not to take up a full PGA Tour card and with that the hottest property in golf slipped through their net.
Not only did they lose their man, but as if to add insult to injury, the European Tour has seen a significant resurgence to the point where many of the European tournaments now carry more ranking points than their American equivalents due to stronger fields.
You don't have to go back too long to find a time where Tiger Woods, Phil Mickelson, Jim Furyk and Vijay Singh, amongst others, were golf's heavyweights, all plying their trade in the States.
Now, Lee Westwood, Martin Kaymer and Rory McIlroy all play predominantly in Europe. World number one Luke Donald does indeed play the majority of his golf in America, but the English and the Americans clearly need someone they can call their own.
"Essentially they want Fowler to be American golf's leading light"
The article in question refers to that. It is written that Rickie Fowler has the ability to "shift the spotlight back to this side of the pond and help create a rivalry with McIlroy for the next 20 years."
So essentially they want Fowler to be American golf's leading light. To try and quantify that a little, that probably means multiple Major Championships and a top-three world ranking at the very least.
All this on a guy who in three years on Tour hasn't managed to win a single tournament. Again, you cannot deny that he is a very talented golfer with a bright future, but he's not the next Tiger Woods.
Furthermore, to be expecting one man alone to "shift the spotlight back to this side of the pond" says a lot about the belief and self-confidence in American golf at this moment in time. A more realistic expectation would be that Fowler be part of a group of five or six Americans who would scatter the top 10 of the world rankings and build up an armoury of Majors between them. Clearly there is no belief that such a situation will materialise in the near future.
As good and all as McIlroy is, even he hasn't single handedly taken the spotlight away from America. He's had help from the likes of Graeme McDowell, Martin Kaymer and Lee Westwood.
Rickie Fowler may well one day be a Major Champion, but he has some way to go before he has a legitimate chance at joining Rory McIlroy "atop golf's landscape."