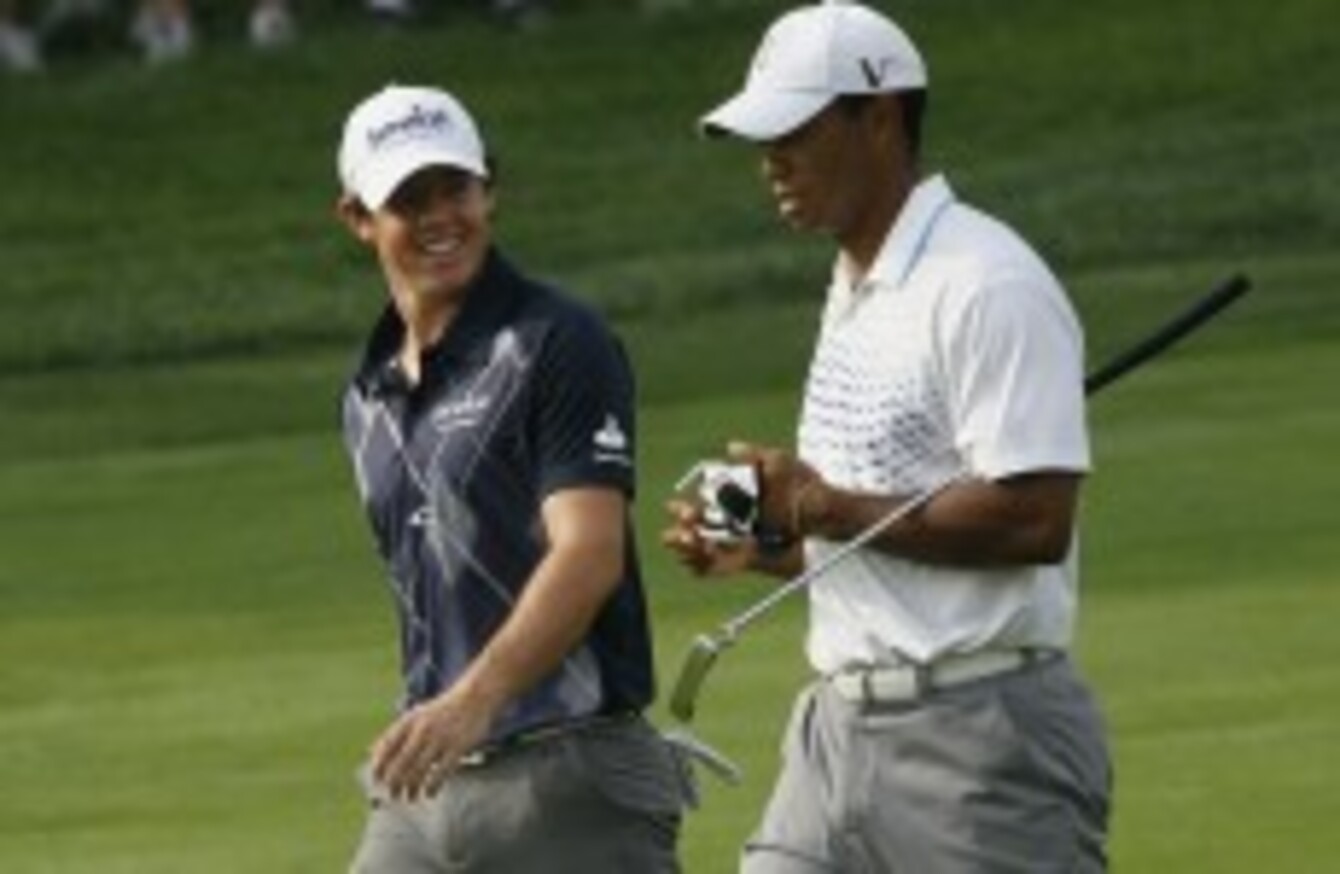 If McIlroy can reproduce the levels of consistency he has shown over the past month, the 23-year-old could even bypass the achievements of Tiger Woods.
Image: Charles Rex Arbogast/AP/Press Association Images
If McIlroy can reproduce the levels of consistency he has shown over the past month, the 23-year-old could even bypass the achievements of Tiger Woods.
Image: Charles Rex Arbogast/AP/Press Association Images
HOW GOOD IS Rory McIlroy's golf at the moment?
Incredible doesn't even do it justice.
It really is amazing to think that only a couple of months ago he was being criticised for his form with some people suggesting his focus had strayed away from the golf course and on to other aspects of his personal life.
Whatever way we look at it and regardless of the one or two troughs of form he may have had during the season, there's absolutely no denying that this has been his most successful season to date as a professional. 2011 was a great year for him, but 2012 has been even better.
It has been better for two reasons.
The first is because of what he has achieved on the golf course. Four Tour wins is the most he has ever recorded in one calendar year. In fact, up until this year, he had only recorded four wins in total since turning professional at the end of 2008.
His first win of the year was The Honda Classic back in March where taking home the trophy also lead to him becoming world number one for the first time.
Thereafter, his form did dip slightly and he traded the number one slot with Luke Donald over the early part of the summer, but under the scrutiny and criticism which enveloped him after a string of inconsistent results seems to have ignited him and he came out all guns blazing in the USPGA Championship four weeks ago, dominating the field and claiming a Major Championship in more than convincing fashion.
Since then, he hasn't looked back. He has continued to play golf at the peak of his powers, a level so good that there is literally nobody out there who can catch him. That might seem like a bold statement, but have a look at the BMW Championship which he won last Sunday and think of the players he beat. The top 10 after McIlroy read Westwood, Mickelson, Woods, Garrigus, Dustin Johnson, Scott, Singh, Furyk.
In that list you are looking at a total of 22 Major Championships and 677 weeks at World Number One. McIlroy beat them all and all of them were playing well.
We have seen Rory Mcilroy dominate fields before, but never have we seen him do it on such a consistent basis as he has over the last month. Therein lies the second reason why 2012 has been comfortably his best to date as a professional.
Up until this point, we had seen glimpses of his talent and we all knew what he had in his locker, but he had never managed to produce it so consistently. There seemed to be a feeling with previous victories that he had to "find" his swing in order to win. When he found it he was unstoppable but he didn't seem to be able to find it with any regularity.
The evidence over the last four weeks has been that he has a bit more control over the on/off switch. Whatever he has found he has managed to keep, and it really brings into question how could this guy can really be and how much can he go on to win. It is a marvellous though.
I have to admit, in watching McIlroy over the last five years or so, I wondered would if really had the talent to win a lot of Majors. I was fairly certainly he had a couple in him, but I wasn't convinced, as some were, that the potential was there for him to challenge the likes of a Tom Watson or an Arnold Palmer, dare I even say a Tiger Woods or a Jack Nicklaus, in the Major league.
But if he can find this level of golf with any kind of regularity over the next decade and beyond we will look at him challenging those guys, maybe even bypassing them before we even know it.
It would be remiss of me not to mention his open letter from yesterday in relation to his allegiances for the Rio 2016 Olympics. As an Irish person I would love to have him as one of our own and see him take on the world, but you have to respect his decision and some of the trench warfare online that has surrounded his statements really doesn't do anyone any favours.
The only place he needs to prove himself is on the golf course and the last four weeks have shown us moreso than ever that he has what it takes to do that in a very big way.