Image: Dan Sheridan/INPHO
Image: Dan Sheridan/INPHO
Sean Farrell reports from Soldier Field, Chicago
IRELAND HEAD COACH Joe Schmidt will let the whip fall limp before his squad return home after the thrilling 40 – 29 victory over New Zealand.
The Kiwi is a noted disciplinarian, but admits that a slip of the tongue this week will force nutrition standards to dip far enough to include a few beers over the next 24 hours.
"You've got to take a moment every time you make history. Knowing Joe, it will probably be a brief moment," said Rory Best, captain of the first Ireland team to ever beat New Zealand.
Though Schmidt was sitting still and stern, his words conveyed his delight at a 111-year-old job done at last.
"I think I actually said something inadvertently during the week like: 'well if you win here, I don't really care too much about what you do the rest of the series', Schmidt joked having already turned some attention towards Canada next weekend.
I've probably put my foot in it there… Besty, being the stickler he is, will probably remind me about that all night. And on the fight home, where there's an alcohol ban which will probably be lifted as soon as the boys sit down."
Buckle up!
"I'm probably not going to obey the alcohol myself.
"I really thought the players did themselves proud. To be fair, they did Axel proud and his family and they did their country proud. I think the supporters did well as well. The longer the game went, the more they got behind the team."
Schmidt may have been driven to drink for the wrong reason if his home nation had managed to complete a 22-point comeback and consign Ireland to the loser's enclosure for the 28th time in 29 attempts. Fortunately, this time around, that juggernaut of a Kiwi comeback was halted at 33 – 29.
"A little bit," Schmidt said when asked if there was a worrying sense of deja vu in the second half.
"You get nervous about that for sure, but I just thought that young Joey (Carbery) came in and what a massive stage to have to enter on your Test display."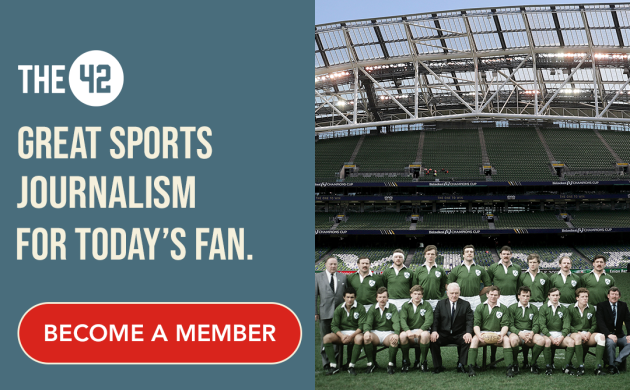 As for Best, after he had successfully negotiated an extension of the celebration window for his squad, he spoke of  how big an achievement this feels for him and his team-mates.
"It's quite hard to sit here and it is a massive thing for us and it's a massive mark of the respect to the All Blacks because it means so much to us because they are such a quality side and they've shown it."
The42 is on Snapchat! Tap the button below on your phone to add!