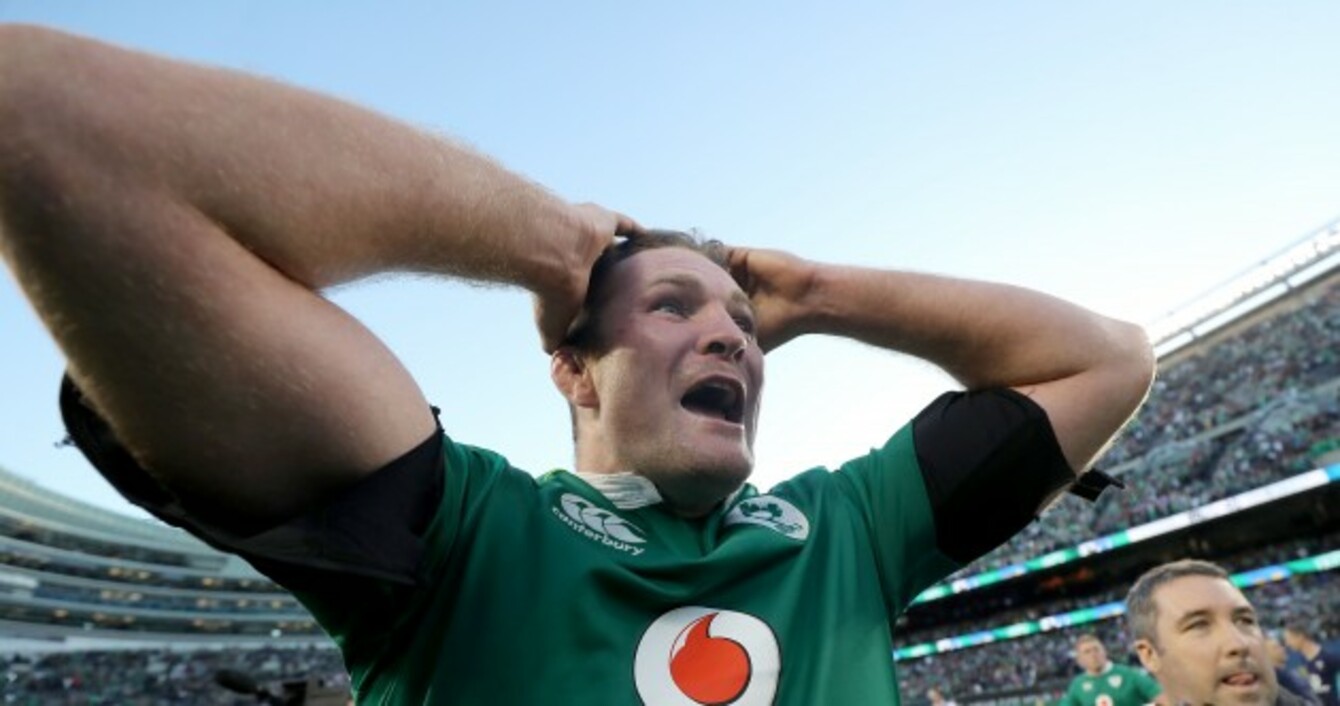 Image: Dan Sheridan/INPHO
Image: Dan Sheridan/INPHO
Sean Farrell reports from Chicago
THE THING ABOUT the Chicago Cubs is that they were favourites to win that World Series.
Sure, like Ireland's trouble with New Zealand, they had waited over a century to get over the line, but aside from a little superstition, it was only the Cleveland Indians standing in their way.
It was a great journey, a romantic that culminated in a ridiculously gripping Game Seven overtime decider.
Ireland beating New Zealand is different, though.
Only the most hopeful people among us even dared to suggest there was a chance of upsetting the odds. New Zealand were 23-point favourites. So when sent them 22 down in the second half, there was still plenty to suggest that they would force their way back and then bring the winless run to 29 and probably 30 games.
It takes a lot to put a full stop on 111 years of history like that.
Munster's win over the All Blacks became a play, but there are hundreds of little moments at Soldier Field yesterday that deserve a short film at the very least.
Every one of them would feel utterly epic.
Robbie Henshaw stormed around like Jon Snow defending Castle Black from Mance Rayder. Conor Murray looked up and decided to make (the one-time best nine in the world) Aaron Smith go 'SQUIRREL!' as he scuttled on by. Andrew Trimble smashed Liam Squire, using the tried and tested Tony Soprano trick of laying out the biggest guy around just to make a point.
Joe Schmidt? Well he was like the hand on the puppet strings on the Godfather poster.
It must be terrifically satisfying. Not just because he's a Kiwi and not because he's the first Ireland coach to get the job done against the rightly-lauded ABs.
But he did it by beating New Zealand at their own game.
40 – 29 is not a score Irish rugby sees on a scoreboard very often. A nine-try thriller is not a contest you would expect Ireland to come out 11-point victors from.
We would have valued a 9 -3 win just as much, but we would surely have to defend the success from the snipers waiting to decry the style, the entertainment and the weather that surely played a part in a tryless game.
In Chicago the unseasonably warm weather most certainly played its part. The dry track allowed Ireland to combine a terrific aerial threat with vicious wide patterns, and also made it a little easier for Andy Farrell's awesome defence to get off the line and make its presence felt.
So many layers, too many stories: like Rob Kearney switching into 2009 Lions tour mode and completely vindicating what was a controversial selection (ye never doubted him for a second, right?) Like Doug Howlett celebrating an Irish win over the team he holds the try-scoring record for.
Can we talk about the anthem being played on a violin? The 18-game winning streak in tatters? About Joey Carbery, whose 11th game of first class senior rugby was a pivotal role in beating the world champions? CJ Stander bullying Jerome Kaino, the hair-raising figure eight that faced the haka – can we do that in every Test from now on?
So much to like. The list goes on and on, but the bottom line is that Ireland's senior men have stood on the shoulders of the women's team and the under 20s. They attacked New Zealand at source, withstood the backlash, found second, third and fourth winds to keep energy up and, most importantly, they showed incredible mental strength to keep their foot firmly on the throat when the safe option might have been to kick for goal rather than touch, or pick and drive rather than pop it up on an angle.
We've noted a few times down the years that All Blacks, though a friendly bunch off the rugby field, are not in the habit of learning a great deal about Ireland's rugby players.
Most would know the name of one or two key guys, butafter that they were looking at faceless obstacles. It was almost hard to blame them when they had never tasted defeat against the Boys in Green.
Now though, they must respect us.
The Cubs were grand. Ireland delivered one of the truly great days.