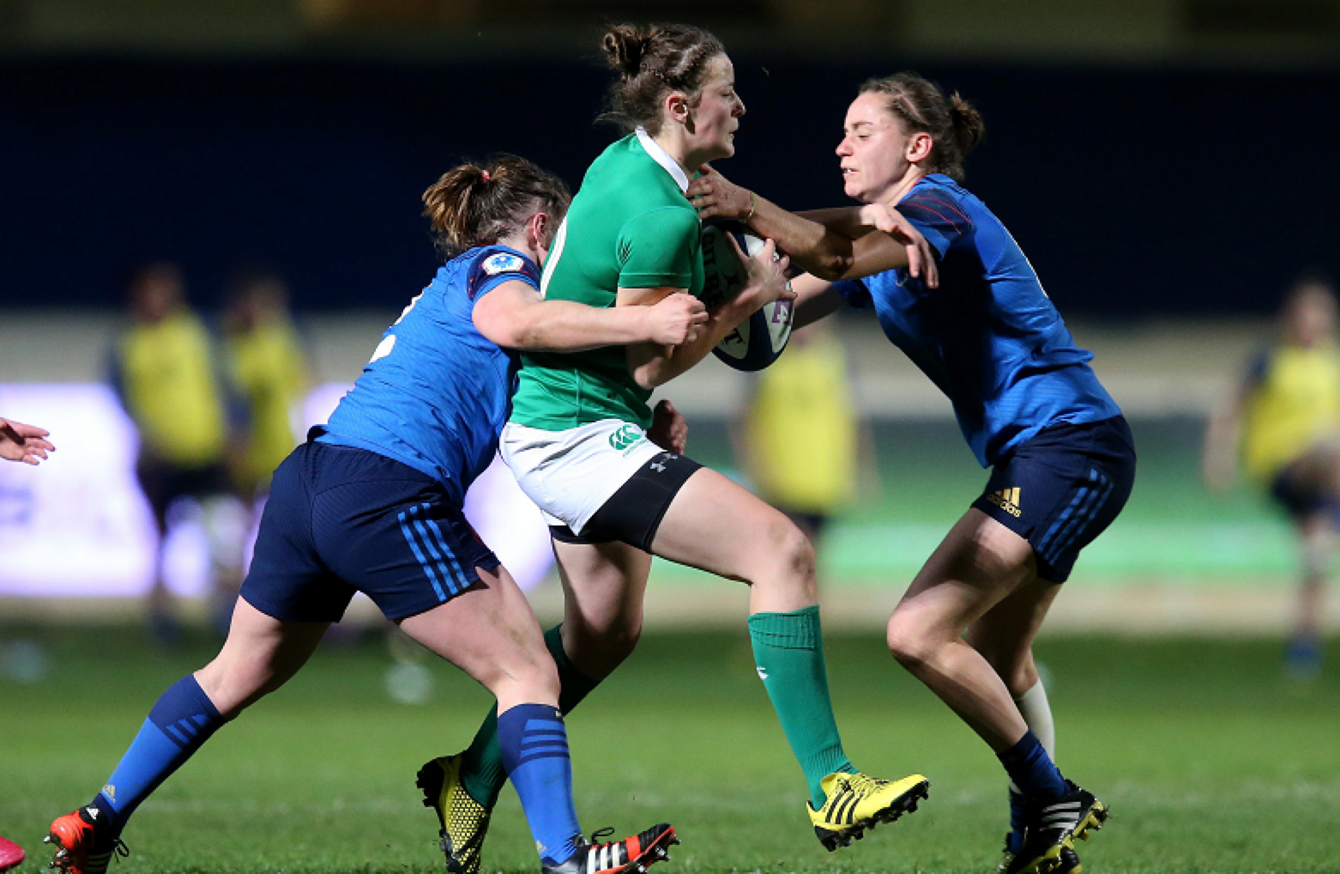 Caughey with Gaëlle Mignot and Audrey Abadie.
Caughey with Gaëlle Mignot and Audrey Abadie.
IT WAS A weekend for bruising encounters between Irish and French sides.
It was also a weekend where all three sides wearing blue – the Under 20s, the men and the women – came out on top.
After their 18-6 defeat to Les Bleus in front of a crowd of over 11,000 at Perpignan's Stade Aimé Giral and with last week's victory over Wales and one defeat, the women are the best-placed side of three team's representing Ireland.
Two first half tries via France's talismanic captain and hooker Gaëlle Mignot and pacey wing Caroline Boujard was what separated the two sides on the scoreboard.
In terms of what the French did technically to gain and maintain this advantage, it came down to superiority around the breakdown and ruck.
From a player perspective, Belfast-born outhalf Nikki Caughey says she and her team-mates knew that it would be an attritional.
"It was a very physical game, we knew that coming into it as France are a massive side," Caughey said.
"In the breakdown they are always going to make it hard for you and I think our girls put up a tough fight."
Due to the nature of her position, Caughey has a tendency to take a loss such as this to heart.
I take losses like that a wee bit personal because I feel as an outhalf because it is such a controlling role, I find that I can be striving for perfection but you are never going to get it."
Away from the on-field action, another worthy talking point was the electric atmosphere created by the home fans. Caughey sums up how it feels to be an opposition player facing a wall of noise from the partisan French support.
"Coming from women's rugby to play in front of a crowd like that is unbelievable," she said. "Obviously, it is a wee bit intimidating when you are not used to it and the calls are coming for the other side."
She added: "The crowd are amazing, if we played good ball, and it was just as good for us as well.
"They just support good rugby and that is great to have behind you and that is great to build that support of the women's game, it is only going to go up and up."
The42 is on Snapchat! Tap the button below on your phone to add!