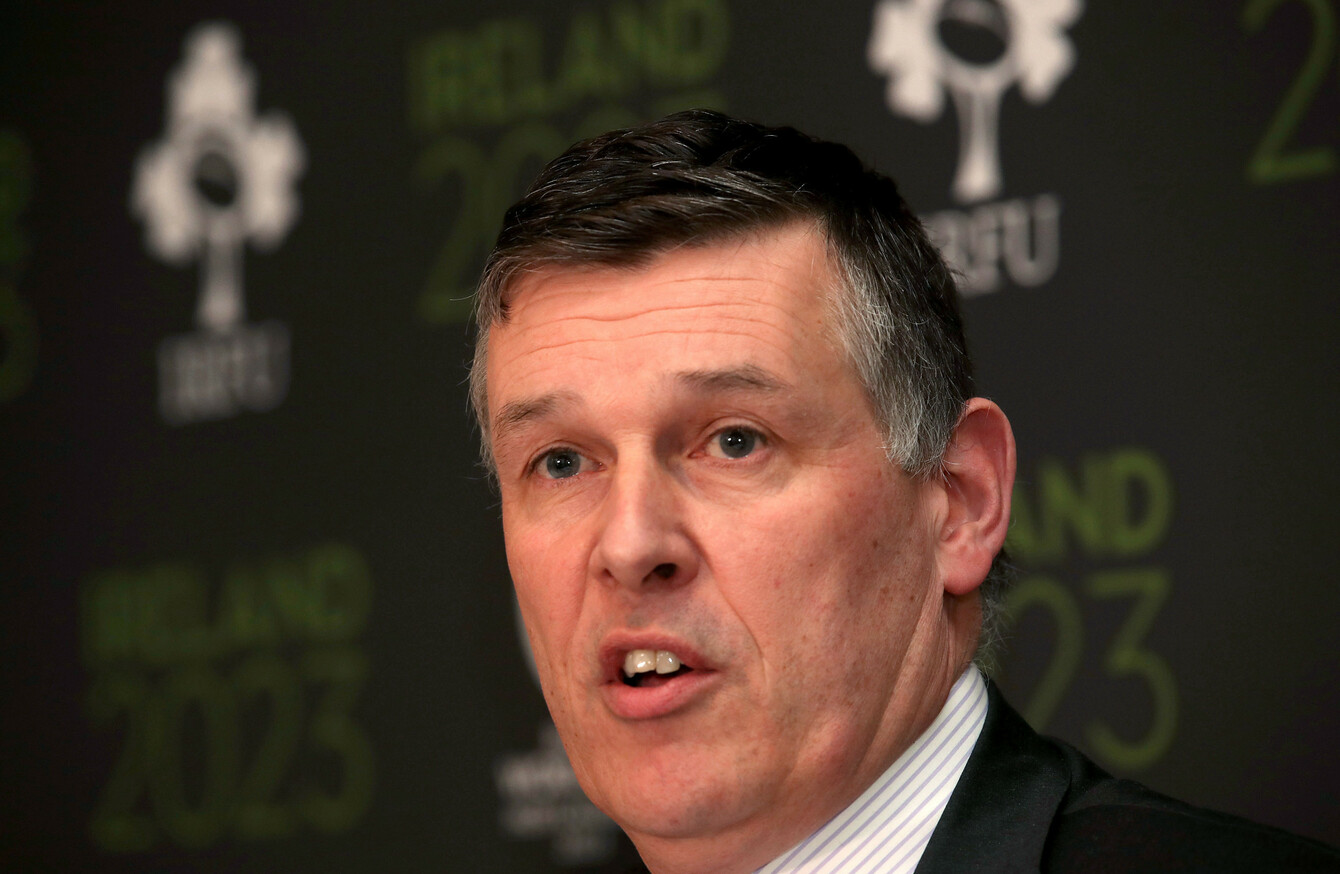 File photo of Browne.
Image: Dan Sheridan/INPHO
File photo of Browne.
Image: Dan Sheridan/INPHO
IRFU CHIEF EXECUTIVE Philip Browne says the union will consider their recruitment policies in future after a week of furore surrounding Munster lock Gerbrandt Grobler.
The presence of the South African second row, who was banned after a positive doping test in 2014, has called into question the IRFU's 'zero tolerance' stance on performance enhancing drugs after the need for a powerful presence to replace Donnacha Ryan in Munster's pack appeared to place little importance on the incoming player's track record of integrity.
"We're all guilty of making poor decisions," Browne said at the announcement that Aviva Stadium's naming rights have been extended until 2025.
"I think 20/20 (hindsight) vision, when you look at it, would we consider how we would deal with a similar situation in the future? The answer is yes: I think we probably need to consider how we would deal with something in a similar set of circumstances in the future.
"I think it's something that it's self-evident that's something that we do need to do."
Asked a follow-up question on whether a convicted and banned doping offender would be permitted to play for an Irish province in future, Browne reacted with similar words, but with a more vehement tone.
Well that's a nonsense question. The reality is that we will obviously consider our policies, we will consider how we deal with a similar set of circumstances in the future."
The chief executive spoke at length about the measures in place in Ireland to combat doping and the 'stringent' testing carried out by Sport Ireland. There is scepticism around whether controls are as tight in South Africa where Irish provinces have recruited heavily from, but Browne suggested that convicted dopers will, in future, be overloooked in the search for playing personnel.
"There will continue to be foreign players brought into Ireland for a variety of reasons. Whether it's to make up the numbers in a certain position, whether it's to bring those cachet players who add value and we know the players, we can all name them, who have added value to what we're doing.
I foresee that continuing. In terms of: 'are we going to bring in drug cheats' the answer is: I don't think we are.
"But in this circumstance there's a young man, who made a poor decision in an environment which is very different to the environment he's operating in now. And at this stage, he's had a pretty torrid time for the last week or 10 days."
Browne added: "We have a strong policy in relation to (doping). Do we need to consider what we'd do in a similar set of circumstances should they arise in future? The answer is: yes, we should probably consider that."