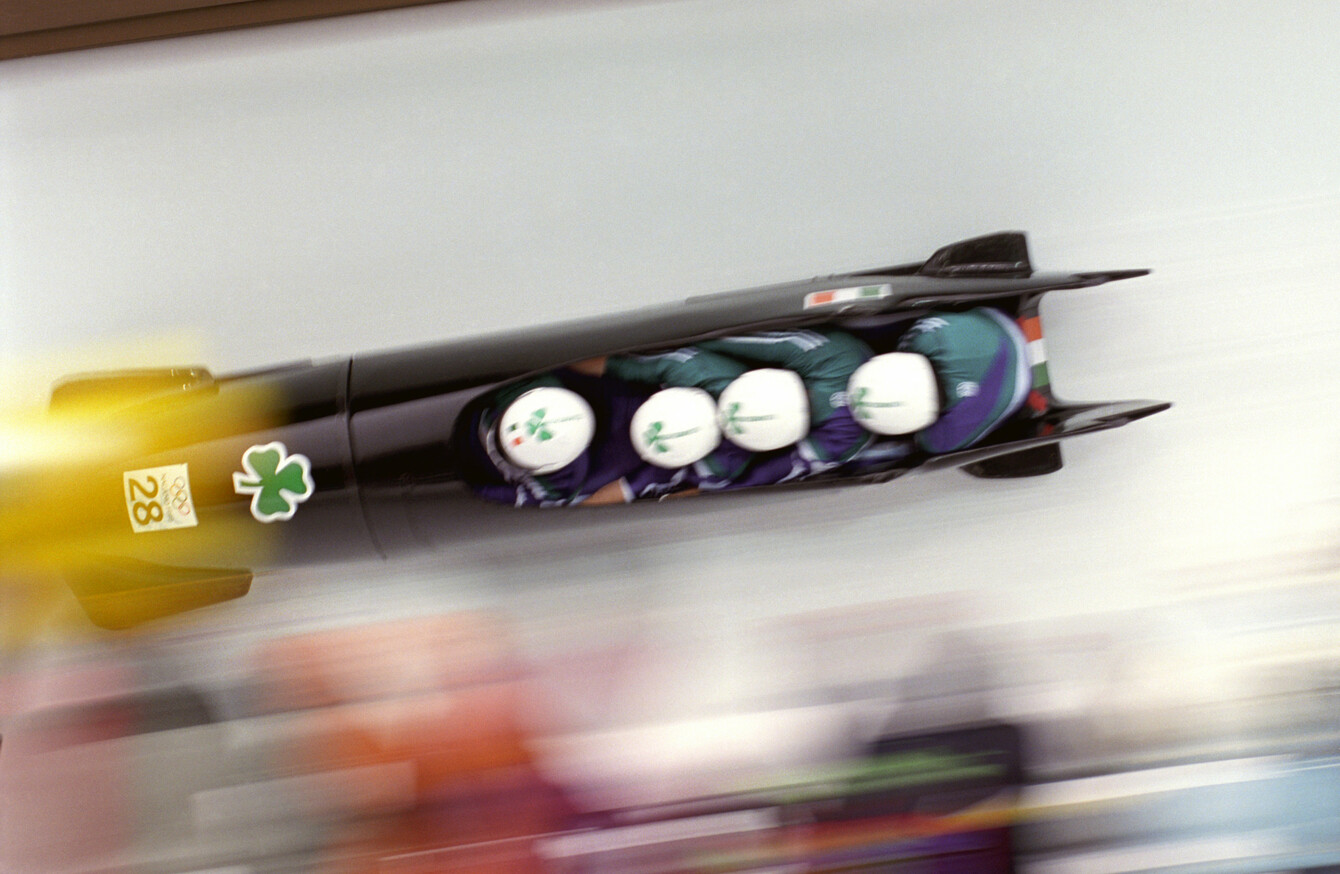 Image: Tony Marshall
Image: Tony Marshall
IT SHOULD BE the 30th anniversary of Ireland's first involvement at a Winter Olympics. In Calgary, the tricolour was flying alongside those of the other competing countries. But there was no Irish team present, despite four bobsleigh athletes having qualified.
The story is a remarkable one and revolves around a UK entrepreneur named Larry Tracey and one memorable birthday gift he received from his wife: a trip to the famous St. Moritz winter sports track in Switzerland to take in a week-long bobsleigh course. It was thrilling and exhilarating but Tracey wanted to drive one, not just be the brakeman at the back. But, he was told he needed a licence to do so. And in order for that to happen, he needed to go through a federation. Also, if he was going to be a pilot, he needed some crew too.
Tracey – whose parents were both Irish – was a sports enthusiast and had found a new obsession. Having trialled with the Ireland rowing team in the early-1970s, he had connections. In the summer of 1986, he went to the Henley Regatta and tapped up two Irish rowers – Pat McDonagh and Gerry Macken – to be part of his new Irish Bobsleigh Association. They were intrigued and signed up. The proposal was rubber-stamped domestically (Olympic Council of Ireland) and internationally (FIBT) and once a fourth team member (Andrew Hodges) was found, they decamped for a training week in Innsbruck and survived.
Quickly, Olympic aspirations began to form. After some steady progress on the European circuit, the quartet graduated to international meets and were able to hold their own. Without any OCI funding, Tracey took care of all the expenses and in 1987, with Jim Cassidy having replaced Hodges, the team did enough to secure their place in Calgary.
But, just 10 days before the Olympics were due to begin, they received a letter from the OCI saying their entry had been withdrawn. There was no explanation. No details. And despite Tracey trying to go through the courts to get an injunction, there wasn't enough time.
Frustrated and angry, Tracey pulled back from competing but still continued to cover the costs of the entire operation, allowing McDonagh and Macken to turn their attention to Albertville in 1992.
With Cassidy dropping out, they needed new team members and it was while competing in the Summer Olympics in Seoul that javelin thrower Terry McHugh was first approached by McDonagh, who was competing in Korea.
"I didn't really know what the hell it was," he says.
"I'd heard of it but you never saw it on TV much and you didn't really know what was involved with it. I'd heard that it was very exciting but tough and in the back of my mind I wanted to have a go. But I didn't have any Olympic aspirations. It was just to try it out. The trials were in Belfield – and it was just physical stuff. Sprinting, jumping, shot-throwing – all the power requirements that we had as throwers. And then two weeks later I was in Winterberg in Germany staring at a sled and about to compete at the European Championships.
In many respects Pat and Gerry had been the crash-test dummies so I was quite lucky. And they qualified for those Olympics in 1988. But the politics at the time meant that the-then OCI president basically said, 'Absolutely not. There's no way we're going to disgrace ourselves by sending a team to the Winter Olympics – it's got nothing to do with us.'"
Malachy Sheridan came in as brakeman for Macken while McHugh partnered McDonagh. Other members of the team included John Farrelly and Garry Power, who were both in reserve.
McHugh's debut was in Winterberg and it was a baptism of fire. Everything was new and he had to pick things up quickly.
"Down by the rowing club on the Liffey I had seen an old, old bob that we used for push practice but suddenly I was at a track and seeing a competition bob," he says.
"The first thing was how stunningly basic it is on the inside. There are some foot grips – bits of metal screwed in to some holes – and you adjust them to suit you. You put in some hand grips. You go to the nearest hardware store and pick up some adhesive foam and double-sided tape and make it as comfortable as possible. The first time you see it you think, 'Is that it?' The driving mechanism is incredibly simple. If you made a little go-cart as a young fella and wanted to go down the road, it's basically the same thing. Two D-rings, two strings connected to an axel. Left is left, right is right and away you go.
But the other thing was the architecture of the tracks being so spectacular. I couldn't get over it. I'd seen it once or twice on video but it doesn't give you any preparation for what it's actually track like. You've got a mile or mile-and-a-half of a concrete cube with refrigerated piping built into it and when you stand in the 270-degree curve – that every track usually has – and you look up, it's about five metres to the top of the track. When athletes are coming around that bend, they're at a height of two-and-a-half or three metres and stuck to the wall, like a wall of death situation. So it really is quite something."
McHugh was never an adrenalin junkie. He had never jumped out of a plane or thrown himself off a bridge while attached to a bungee. But for him, this was a competitive experience. To do well, the sled needed to go fast. It was pretty straight-forward. There was a process. You learned the track, got to know the twists and turns, pushed and hopped in.
"The first day you walk the track with the driver and you see where you're going to come in and out of the bends," he says.
"You know what you need to do. You might get some help from a coach – 'Get in here. Get up here. At this line of the track just give it a slight steer' – that sort of thing. You visualise the track with the driver. In the back you're really focused on counting the bends and trying to judge how the driver is doing. Obviously you're wanting to go faster and faster but I wouldn't have been a high-octane person.
The difference between the front and the back of the sled is immense. In the back, you're the engine. You're in there and then dead-weight until the end, basically. In the front, you're the person in control. You're going to make the mistake or save the thing from crashing. When I went to the driving school eventually, that was when you really felt the thrill and trepidation of bobsleigh. But I was in a competitive sport so I never had any issues about being in it or crashing. I had a fair few of them, front and back. But we were lucky and nobody was ever seriously injured."
Like any smaller nation, there was a novelty element. But the team was serious about what it wanted to achieve. Still, that didn't mean there was a lack of comedic episodes.
"Cool Runnings was good aul' craic but we could make a far better film focused on the Irish story," McHugh says.
We were genuinely trying to do a good job. But back in the early days, it was a bunch of lads being given a chance and high-flying it for a while. The starting point of any film about it would be Pat and Gerry getting breathalysed in St. Moritz around '87 or '88. But to their credit they were experienced drinkers and passed the test. There was craic on the circuit but you're doing so much – preparation of sleds, runners, the transport of equipment, the logistics of hotels and registration. And we were all doing that ourselves. So a day at the track with two runs is an incredibly long, full day. If anything happened the sled, you took the spanners out and the Isopon and repaired it for the next day.
Another funny moment was at our first European Championships and we asked if we could have a practice run from bend three because it was our first experience of the track.    They told us there would be an unofficial training day and we could hop onto the track after the Italian team went down. So, everything was sorted. The two of us gather at bend three the following day and after a while we hear, 'Bahn ist frei fur Italia eins'.
I turned to Pat and said, 'I don't have much German but that's Italy'. And the sled comes whizzing past. That was our cue. So I grabbed the back of the sled, Pat grabbed the front and you have to lift this damn thing that weighs about 170 kilos up onto a wall, over it and then onto the track. And then we hear, 'Bahn ist frei fur Italia zwei'. And I say to Pat, 'There's another Italian sled'. And he just turned around and said, 'What???' So we had to get this yoke back up over the wall and off the track and then the second Italian team flew past us."
McHugh and McDonagh qualified for the Olympics, ironically enough, at the Calgary track. But the experience was tainted and McHugh was reminded of just how much the odds were stacked against the smaller teams.
"If you know anything about sliding, you start off the day and the snow is beautiful," he says.
"But by the time everyone has gone down it's all cut up and it's a bit slower. So being a smaller country, we'd normally be somewhere towards the end. We were about 42nd of 52 teams that day. It had been unseasonably warm in Calgary – about 20 degrees in the direct sun – and the track had got a bit slushy. So they turned up the refrigeration at the track and then the competition started later in the evening. But the temperatures dropped really suddenly so the ice got harder and harder. So for the first time in our lives, we caught a break. We got good ice.
It's no exaggeration when I say that Pat had the drive of his life. Like, he was a great driver but he never touched a damn thing on the way down that day. It was amazing. We reached the bottom  and we just started high-fiving. We couldn't believe he'd come down so clean. And after that first run, out of about 52 teams, we were at around 16 in the standings. And then, of course, it all happened.
The sport is dominated by a few countries. They have the advantage every time. They have the good ice, the equipment, lots of sponsorship, funding, the technical know-how. So they pulled out the standings and went to the jury of appeal and said, 'Look, with these unseasonal conditions, it really gave a huge advantage to the smaller nations at the end and it's not a true reflection of the runs.' And they used Ireland 1 as the example. Now, Pat had just had the run of his life and it showed it was possible to be competitive given the right circumstances. But the bigger countries got together, took a vote and said, 'Right, let's scrap the first run and restart the competition'. To go from a situation where we had qualification guaranteed to it being 10pm and starting our first run all over again, it was quite a downer. But Pat did another great job and we completed our two runs. For that last run we were getting into the sled at about 2 o'clock in the morning. But we did enough and still scored enough points to qualify."
Both Irish bobsleigh teams qualified for the Games in Albertville, France and this time the OCI, with a new president in Pat Hickey, didn't stand in their way.
But McHugh is quick to point out just how minimal the organisation's input was throughout the entire process. Tracey was still bankrolling the team and they were without proper support at federation level. Logistical details slipped through the cracks and for McHugh and his teammates, it seemed there was a complete lack of thought and interest.
"Oh, the OCI will always be there," McHugh says with a sigh.
"Whenever there's a trip, there'll be an Olympic official.
Look, you're not talking to a fan of the OCI here. Through six Olympics I competed in, they were the travel agents. They were nothing more than that. The Olympic officials would always be in the best hotels. In 1992, Pat Hickey showed up with the Irish ambassador to France and he made a speech standing on the ice about how wonderful it was we were there and how we'd be there the next time. And then he went off to his five-star hotel, as they did. And he turned up in Nagano and brought us out for a nice sushi meal one night. All that sort of stuff. But with the exception of, perhaps, providing some funding, they had no other role to play. There was a little bit of funding and I'm even a bit cynical about it in itself because the funding of minority sports is a strategy to secure votes. We did get some help from Olympic solidarity, probably through Pat, but that's something anyone could've organised because it's there for under-privileged nations or small nations or countries without tracks. So while there was some help, there could've been a whole lot more.
"And this whole ticket controversy that happened in Rio, it's quite difficult for me to look at it all. Not once did I get a single ticket for any member of my family to come and watch me at an Olympics. Even down in Sydney – my last Olympics – and I'm quite bitter about this – I remember desperately trying to get a ticket for my coach to come and coach me at my event. But this is history. I had a huge fight at the end of my career when I entered the politics of sport, trying to be the athletes representative on the OCI, to try and make things better for people. And it was a big mistake. It cost me so, so much. I was made the enemy of the Olympic Council and made the enemy of the athletics association for a period of time because of it.
I hope the new regime is better but I'd say that the Olympic Council at the time was a pointless, pointless committee. Now, looking back and knowing what can be done and what should be done, it was a self-serving thing. Who's going on the trips? The trips were what people were there for. The bodies never changed. They came and ticked the boxes and did whatever administration needed to be done but they were not productive in furthering the athlete towards a better performance. They were a hindrance."
Even when quizzed about the memories of the opening ceremony in Albertville and the excitement of walking in the athletes' parade, McHugh's mind is drawn to another OCI cock-up.
"The opening ceremony is always amazing, to be part of it is always special and there's a lot of national pride," he says.
But we had to fight for everything. We had to tell the OCI that we needed proper winter boots so that we wouldn't look like complete idiots during the opening ceremony. So we squeezed, I don't know, 120 quid a man out of them and marched down to The Great Outdoors or whatever to pick them up. For competition, we didn't have any racing suits. There was no equipment provided by the OCI. Somebody knew somebody working for Columbia and gave us four green body suits so we looked like four mints with helmets. But I'm not complaining about that – not for a nano-second. I have no complaints about that stuff. We weren't there for the frills of it. We were just there to be competitive."
From the 46 teams competing in Albertville, McDonagh and McHugh finished in 32nd place – ahead of Yugoslavia and both Jamaican sleds – while Macken and Sheridan were back in 38th. For a Winter Olympics debut, it was an excellent performance and something to build on.
But, rather inevitably, things didn't exactly work out that way.
"The only teams ahead of us that didn't have a track would've been Australia and Britain, probably," McHugh says.
"Everyone else there – Germany, Switzerland, Austria, France, Japan, Canada, the US – they all have tracks. And those that didn't – like GB – were still very serious about it. They did it through the military so the funding was big. I wouldn't be ashamed of our results. We were reasonably competitive and, with the obstacles placed in front of us, we sat in the thing when we could.
But after Albertville, we tried to move it on with athletes up the front and driving. So leading towards Lillehammer in 1994, Pat stayed on as manager and coach and we all went to a driver's school with the intention of competing at the next Olympics. But the Olympic Council sent a letter just before Christmas – before qualification begun – and said, 'We're not sending anyone to the Winter Olympics' and that's when the programme died on the spot. The IOC had a space problem and wanted to reduce the numbers. And it seemed like the Olympic Council were trying to be compliant – almost as if someone had political aspirations to move up – and said, 'We won't send an Irish team' even after committing to it after Albertville and telling us we'd done great and we'd be there the next time."
McHugh focused on the Atlanta Olympics in 1996 but decided to take another crack at bobsleigh two years later in Nagano. He assembled another team and partnered with Jeff Pamplin while Peter Donohoe and Simon Linsheid were also involved. Garry Power also returned to the group and was part of the four-man team that also competed.
But, McHugh has some regrets about taking part in Japan.
Larry Tracey had stepped back from funding the enterprise so the money required was cobbled together from a variety of different sources. They called in favours and relied on the goodwill of others. But ultimately, a top-20 place still eluded McHugh, much to his disappointment.
He and Pamplin finished 27th from 38 competitors while Donohoe and Linsheid were 35th.
"When I look back, the one thing I would've done differently is probably not gone for the '98 Olympics," he says.
"I naively thought we could be more competitive than we actually could. From living in Switzerland now, I know we were very limited in what we could have done, that we were where we should've been."
McHugh lives in Lucerne now with his wife and son, with snow and mountains and winter sports all around him. It's opened his eyes to the fact that sometimes – even with commitment, relentlessness and plenty of enthusiasm, the cards are still stacked against you.
"Sadly, bobsleigh is a material, money-driven sport," he says.
The material, equipment, coaching and the expertise is such a huge part of this sport. You can't contemplate being competitive in bobsleigh without history, tradition or a lot of funding.
My young fella is 12 and he's a damn good skier. Now, I say that from an Irish standard. He's been on skis since he was three. If people are introduced to the sport early, it becomes like breathing for them. We are always going to be the poor relation. But we have something like 30 million Irish people around the world. We have, without a doubt, Olympic medalists who were born in Canada with Irish parents, born in America with Irish parents, whatever. It's just a question of going around, like the Irish football team under Jack Charlton and gathering them up. Guys who were brought up in the infrastructure and with the abilities to be competitive. Think back to Lord Clifton Wrottesley in 2002 and finishing fourth in the skeleton. The Winter Olympics is soft in terms of competition for medals. The athletes doing what they're doing are amazing. But, in something like javelin, you might have 200 countries competing. But you might have 15 countries who are very serious about winter sports. So, can Ireland be competitive in certain sports? Yes, without a doubt but there would be investment needed or for someone to have been born in a different country but with an Irish parent."
Before we wrap up, McHugh is keen to allude to the influence wielded by one man in the entire bobsleigh story: the mysterious UK entrepreneur who started it all.
"If Larry Tracey hadn't had a run on a sled for his birthday, the Irish Bobsleigh Association would never have come about," he says.
"I have nothing but the highest appreciation for him. He deserves every bit of credit from anyone who has ever gone to a Winter Olympics for Ireland because he was the first and made it happen and made some Irish people believe. Maybe other people may have taken the initiative but we were the first and Larry started that.
The 42 is on Instagram! Tap the button below on your phone to follow us!