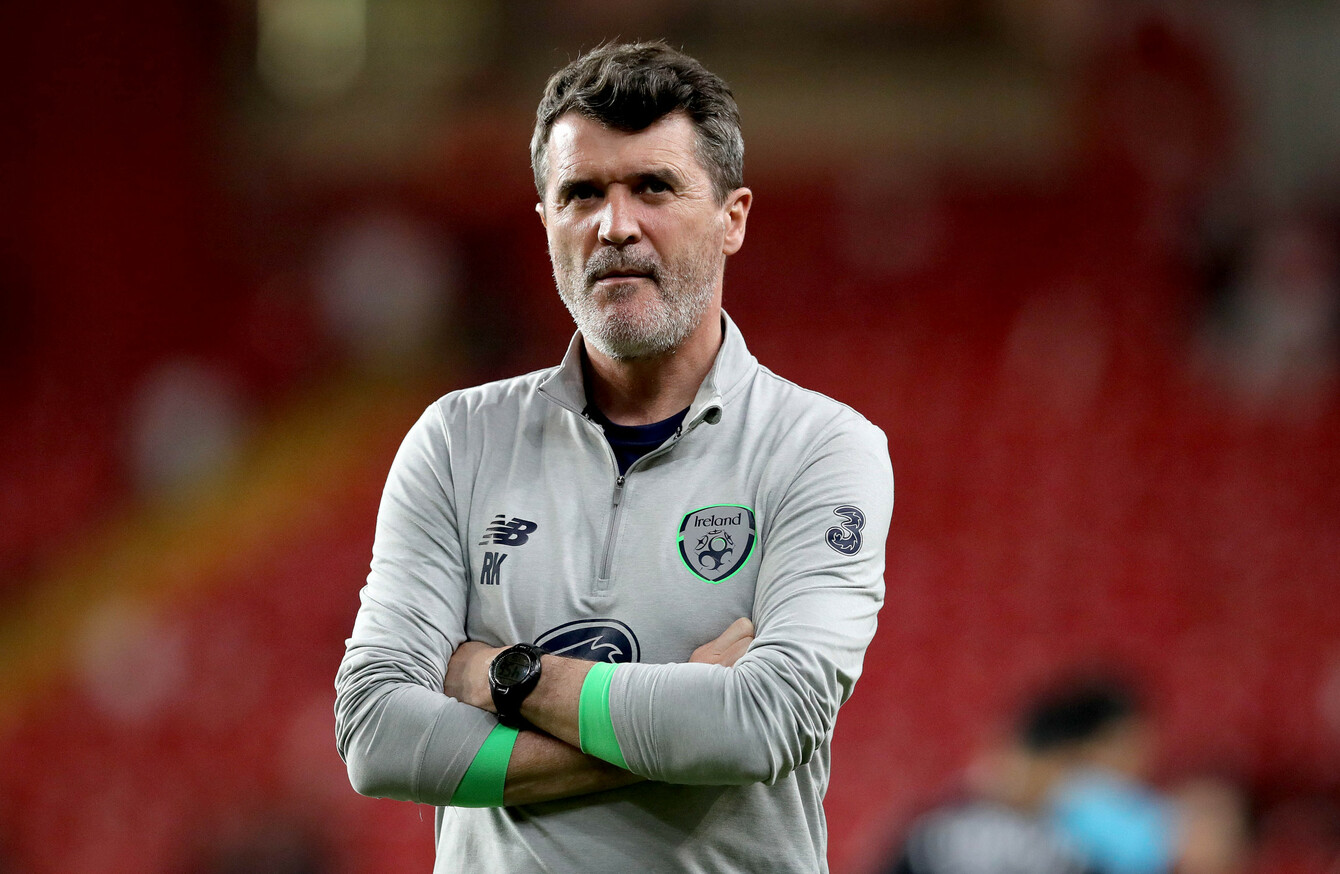 Ireland assistant boss Roy Keane is alleged to have verbally abused Harry Arter for sitting out training.
Ireland assistant boss Roy Keane is alleged to have verbally abused Harry Arter for sitting out training.
Updated at 13.28
IT WAS THE conversation everyone was talking about but no one could discuss publicly.
Audio, purportedly of Stephen Ward, discussing the falling out between Harry Arter and Roy Keane had been largely kept out of the media for fear of legal ramifications, but did the rounds on WhatsApp on Monday morning.
However, at a press conference later in the afternoon, Ireland boss Martin O'Neill effectively confirmed that Ward was the individual in question who made comments suggesting Keane has launched a tirade of abuse at Arter and Jon Walters over their reluctance to train while apparently injured.
Former international John Giles was among those critical of the Man United legend, saying: "Players who are really injured, unless they are kidding on, need a lot of sympathy and a lot of help. We've all been injured as footballers and there is nothing worse.
"In Arter's case, if Martin O'Neill felt Arter was kidding on then he shouldn't be picked. If he's not he needs sympathy and support."
Yet despite the backlash, O'Neill defended his assistant, saying: "In my time as a club manager, I've chosen two brilliant, brilliant assistant managers — John Robertson and the young man himself, Roy Keane.
"I've chosen them particularly and at the end of it all, none of them have ever let me down. I'll take the responsibility for it at the end of the day, because that's my job."
If Ward's comments are taken at face value — and O'Neill suggested Keane had a different version of events — then it seemingly contradicts claims he had made a few years back.
Keane in his autobiography spoke of his regret at playing through the pain barrier, writing: "I was conditioned to think that not playing if you weren't 100% fit was a sign of weakness and that you should be strong and play when you were injured."
Particularly with these quotes in mind, it seems strange that Keane would get so frustrated at a player opting out of a friendly, as Arter seemingly decided to do, even if the decision was just precautionary.
But whatever way you look at it, on account of that saga, the bad defeat in Wales and the Declan Rice situation, it is starting to feel like the international week from hell for the Boys in Green.
It is hard to believe only three competitive games have taken place since Ireland secured a rare away win in Cardiff that put them in a promising position to qualify for the 2018 World Cup.
It is also less than a year since the Ireland boss was being hailed for his achievements by most critics — The Observer's Daniel Taylor wrote an especially glowing piece entitled 'Martin O'Neill is in the managerial elite even if a top job eludes him'.
And prior to the last two disastrous competitive matches, you could make a strong case for O'Neill having done a good job overall as Irish manager — after all, he got a patently limited team to the last 16 of the European Championships and oversaw their progression to the World Cup play-offs despite being in a group in which they were fourth seeds.
Since then though, practically everything that could go wrong has. The Irish side suffered an embarrassing 5-1 loss at home to Denmark to end their World Cup qualification hopes.
And while a one-off thrashing can be played down as a freak result, for it to happen twice in succession suggests the team's problems under the current management could be terminal.
Regardless of injuries and other excuses, there is no doubt that Ireland under-performed badly last week.
After all, it was virtually the same backline as the one that kept a clean sheet in the previous Cardiff encounter — the only change being Seamus Coleman coming in at right-back and Cyrus Christie pushed forward into midfield.
Similarly, while Wales played three teenagers and several other inexperienced individuals, they also had a number of the same personnel from the 2017 encounter, with the likes of Tom Lawrence, Joe Allen, Wayne Hennessy, Aaron Ramsey and Ashley Williams starting on both occasions. 
And as much as Martin O'Neill plays down the Keane-Arter controversy as just one of many arguments he has witnessed in football, it is virtually unheard of for a player to take a break from international football owing to a row with the assistant boss.
While Arter is no superstar and there are arguably better footballers in the Ireland team, to lose a player who has featured regularly in the Premier League for Cardiff this season cannot be dismissed lightly.
Team chemistry can be a strange thing. When it's perfect, limited teams such as Leicester are capable of winning the Premier League, as they did in the 2015-16 campaign.
On the other hand, if something is off in the camp, a team is capable of collapsing, as Jose Mourinho discovered towards the end of his second spell at Chelsea.
Brian Kerr recently expertly outlined the wide variety of problems facing Irish football, so it would be naive to blame the Wales debacle on one specific issue when there are clearly deeper debates to be had about the state of the game in this country.
But while Ireland have lacked talent and technical ability for a long time, the one constant for much of that period has been the side's consistently excellent spirit.
However, recent developments suggest the Irish camp is not a happy place to be at the moment, and the performances on the pitch have done little to alleviate that suspicion.
It is hard to think of another international week where an upcoming match was so starkly overshadowed by events off the field.
Now, as negativity has permeated the international set-up, Ireland are desperately in need of a positive story against Poland this evening to get people talking about football again. It may be a friendly, but some pride must be restored after a demoralising few days.
The42 is on Instagram! Tap the button below on your phone to follow us!