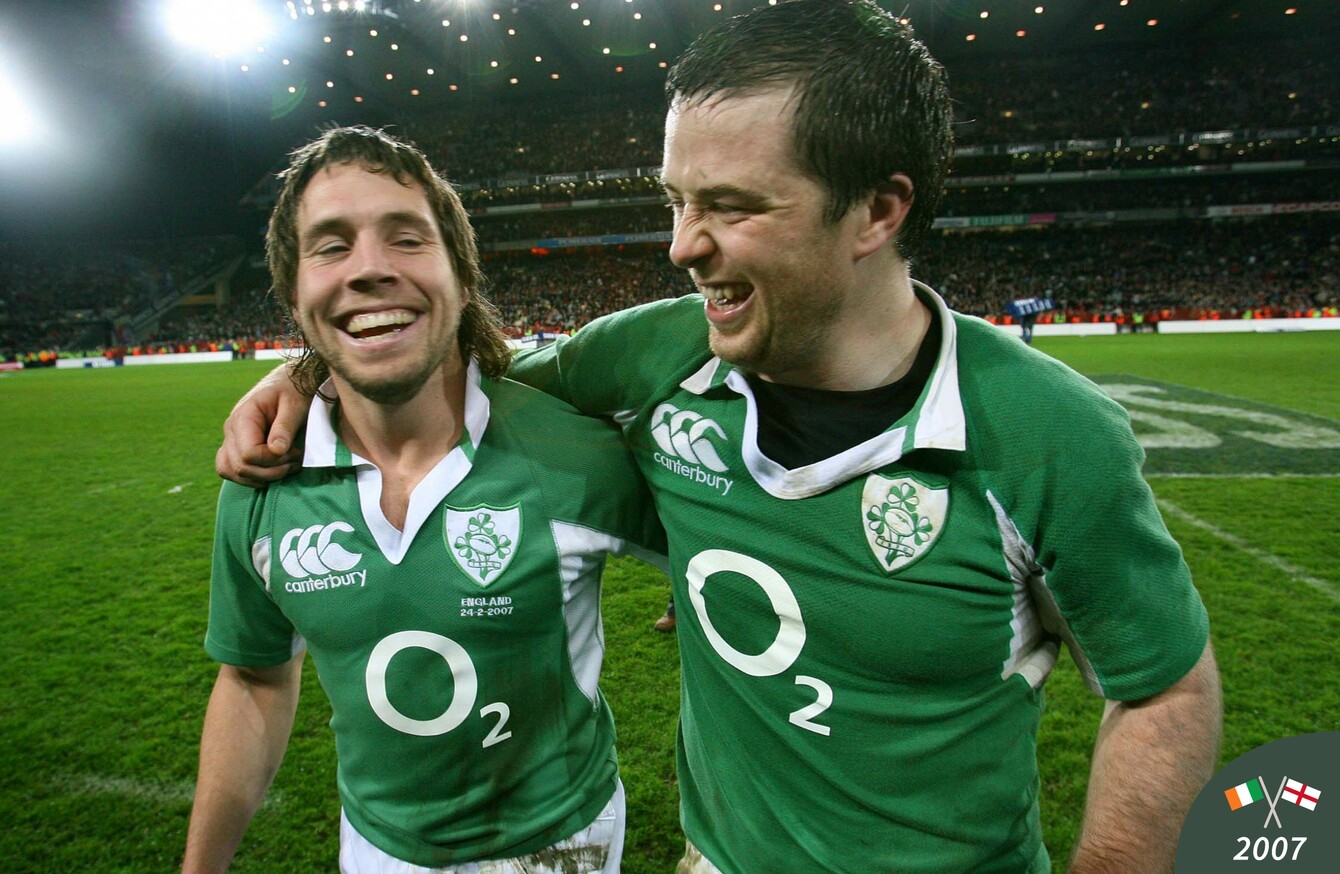 Image: Billy Stickland/INPHO
Image: Billy Stickland/INPHO
Click here for more of The42′s Ireland v England anniversary series >
THERE'S A MOMENT during our conversation when Isaac Boss just bursts into spontaneous laughter.
He just can't help himself as he recounts the memories.
"It just brings a smile to your face", he says.
"You know it's happening at the time and you're pinching yourself. But you're always thinking about not getting too carried away, that there's still a long way to go. But when we started scoring those points, it was like the perfect storm – everything came at once".
The scrum-half was in his debut Six Nations season, having only made his Irish debut in the summer of 2006. Fresh on the scene and New Zealand-born, Boss was still highly aware of the significance and magnitude of playing at Croke Park.
"It's not like you get a crash course", he says.
I was lucky enough to get the green jersey. And it wasn't lost on me. I knew the history. It was awe-inspiring. I was in Belfast at the time and I could see how it, maybe, united rugby fans from all the different sporting backgrounds. Whatever your thoughts on the England game, I think everybody tuned in to watch it and result ensured it was a tremendous occasion – the pinnacle of what rugby is all about, to be honest".
But, perhaps lost in the romanticism of what followed, is the fact that Ireland had already played at Croke Park and went down by three points to France in their tournament opener.
It was irritating and frustrating for a few reasons. Firstly, they had fancied their chances of a Grand Slam. Secondly, they had buckled under the weight of the wider public's expectation.
"There was just as much emotion for the French game but we lost so, luckily, people tend to forget about it", Boss says.
"That was actually a tough pill to swallow because it was tough to go there for the first time and lose".
But, inevitably, the England game was different. Boss could feel it. It was important to keep emotions in check, remain composed and block out the noise. But, in the build-up, there were still little details that stood out. It was impossible to ignore them.
"It was a different environment", he says.
Like, as an example, the bus on the way in parking under the stand. Going from Lansdowne Road was such a massive jump in terms of the type of stadium. It added to the excitement. There were 82,000 there. What was Lansdowne? 45,000? Something like that? You're bordering on twice as many people. And it wasn't something you realised until you got on the pitch in terms of the difference in atmosphere. Like, in Lansdowne, people were basically slapping you on the back.
There was a lot of different things floating around beforehand. Some people wanted it there, some people didn't. But we couldn't wait to play there. That's what fuelled us. We blocked out everything else. We had been ready for it for a long time. We knew the enormity and that added to the anticipation".
When Boss describes the pre-game dressing-room scene on that afternoon, the images are incredibly vivid. The occasion transcended so much. And that dripped into the demeanour of certain players. It almost had a greater impact than any motivational speech. The iconic moments are almost always seen through the prism of a TV camera, captured forever. But for the players, it's different.
"It was hairs-on-the-back-of-your-neck stuff", Boss says.
"There was fire in the eyes. You could feel everybody's body language was a little more intense. You could feel what it meant to everybody.
During the anthems, we're all looking at the crowd so we're not seeing what everyone else is seeing – like when Bull Hayes is shedding a tear and stuff. We're in our own little zone and the crowd is so far away. But when you're in the changing room, you can see guys and their eyes welling up. It's the unspoken stuff. That's what spurs you on and brings you tighter. You get the glance or the bump on the chest or the shoulder tap – it's just the reminder that we're in it together".
"When you're in the stand singing the anthem, it's like a big chorus. But when you're out on the field, the only voice you can really make out is your own – maybe the guy next to you. It's ironic. You can see everyone and hear them all but you feel like you're out there as one. Sometimes, it brings you closer as a team".
Boss was on the bench that day but got on long enough to secure his own golden moment – intercepting Shaun Perry's attempted pass and racing clear to touch down under the posts. Paddy Wallace added the conversion and, just moments later, it was all over.
43-13. A hammering.
"There's a photo of myself and Marcus Horan embracing on the pitch and it's from that game", he says.
"I had scored the try and the whistle went not long after and we were just stuck in the moment celebrating. But when we turned around we saw that all the players had gone so we had to high-tail back into the shed to make sure we weren't gonna get a mouthful from Eddie for being late.
It's probably the easiest try I'll score. It was gifted to me. But it's what I'll be remembered for. After ten years, people still come up to me and mention it. I'm pretty happy I'm remembered for something like that. I'm only recently out of the game and all of the matches seem to roll into one season. When you play for 16 or 17 years, you're defined by moments and that was definitely a moment that defines my memories of that game"