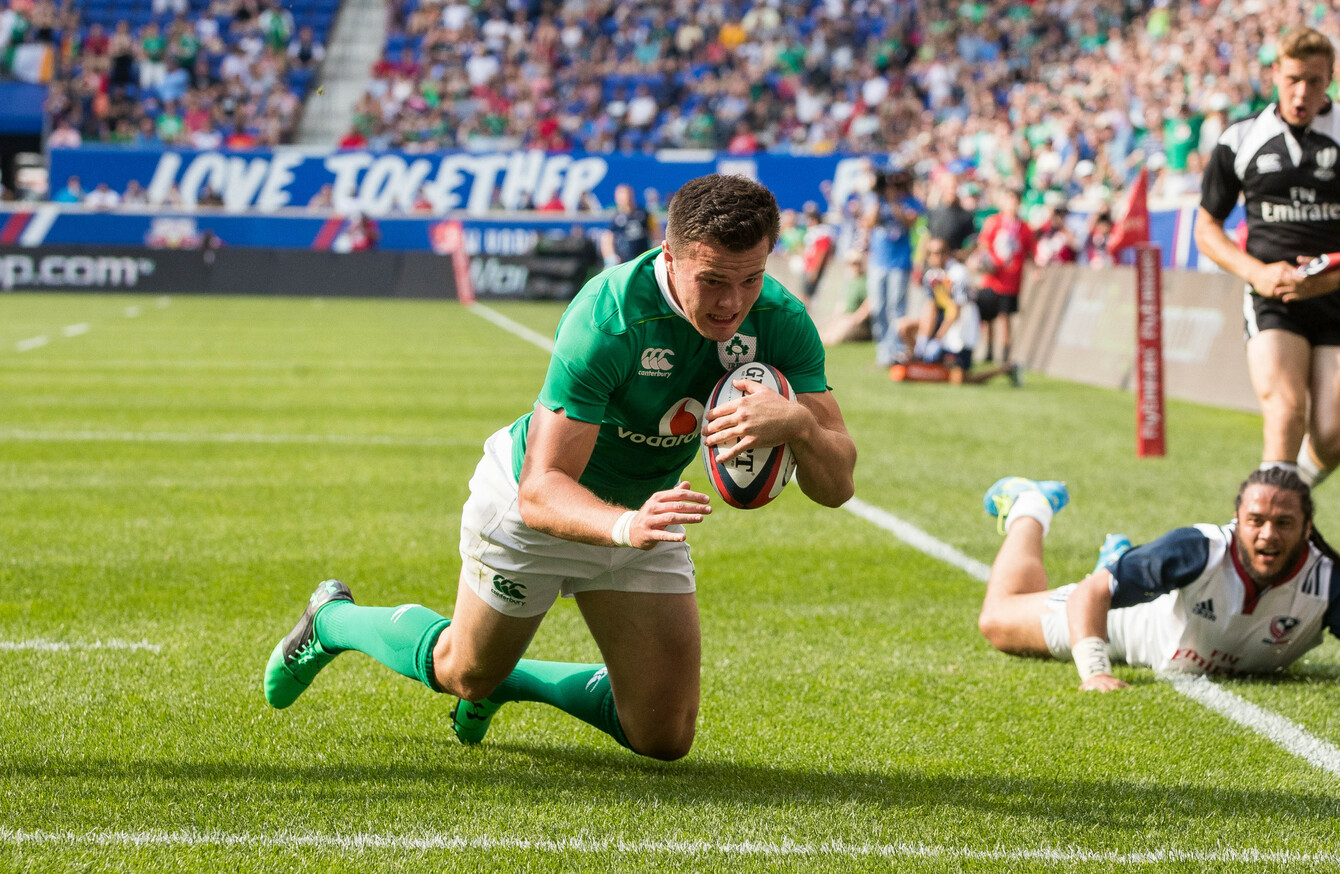 Stockdale goes over for a try on debut against USA.
Image: Ryan Byrne/INPHO
Stockdale goes over for a try on debut against USA.
Image: Ryan Byrne/INPHO
IT'S AMAZING HOW much can change in the space of 12 months.
For instance, this time last year Jacob Stockdale was a fresh-faced 20-year-old winger who was preparing to face the Dragons at Kingspan Stadium in a rare opportunity to shine for his province.
This week, as he again sits down to field questions from the media, Jacob Stockdale is a 21-year old winger preparing to face the Dragons at Kingspan Stadium.
The differences? He's a year older, his opportunities are no longer rare, and he also has two international caps under his belt.
So yeah, a lot can change in 12 months.
It could have been completely different, however. That night, a year ago against the Dragons, it was another academy winger, Rob Lyttle, who stood out with two tries.
But the coaching staff put their faith in Stockdale, who repaid it handsomely with a stand-out first full season for his province, something which he admits he's enjoyed immensely.
"The last year has been absolutely phenomenal and I have loved every single minute of it," the former Wallace High School student smiles.
"(My goals) are still pretty similar in that I still just want to play as much rugby as I can and I'm really enjoying it.
"I feel more comfortable in the team, going to the Kingspan now feels like this is where I play every week rather than when I stepped up.
"It's the same with training going into the sessions now I feel more comfortable I feel of more of a leader in the team than trying to catch up."
Stockdale's rapid ascent to become one of Ulster's most dangerous backs was an impressive feat given that he in many ways forced Les Kiss' hand towards the tail end of the season despite the depth the province have in the back three.
With the likes of Charles Piutau, Andrew Trimble, Craig Gilroy, Tommy Bowe and Louis Ludik all viable options, that the young wing forced his way to the top of that queue with some stellar performances shows how well he played.
By the end of the season Stockdale was firmly solidified in the Ulster starting line-up, and coming into this weekend he's scored 11 tries in his last 20 games, including two to start this season, while also managing a try in his Ireland debut against the US Eagles on their summer tour.
And yet the Lisburn man, who was praised mid-week by Kiss for his work ethic at the start of the season, says he's taking nothing for granted when it comes to selection.
"Ulster are blessed with some of the most exciting backs in European rugby, it's brilliant to be in the mix with those guys and to be on the team sheet with them," Stockdale says.
"Competition breeds success, and I'm a big believer in that, we try to push each other as hard as we can in training so when we get to the game it feels easier, but in saying that no game is a breeze.
"I think the way we push each other is really healthy."
So now the only way is up for the young star, who admits he'll be doing everything to get another Ireland call-up when it comes to the November internationals.
He'll have several games for Ulster in which to prove himself, most notably the European double-header against Wasps and La Rochelle, but first is the visit of the Dragons to Belfast tonight [KO 7.35pm, BBC NI].
"Being part of the international set-up and getting to put on the green jersey is something really special, and it's something once you get it you want it again and again," Stockdale says with undeniable enthusiasm.
"The November series is coming up and I'm really hoping to be involved in that. If not, I've been given work ons and I'll come back to Ulster and work as hard as I can and make sure I'm selected for the next game."
While humility may be a big part of the winger's personality, he did crack a smile when he recalled breaking the news of his first cap to his rugby mad family.
"Actually I played a trick on my parents," he grins. "I told them it was bad news to start with and my mum was saying 'ach it doesn't matter we didn't want you to play for Ireland anyway'.
"Then I told them that I was picked and my mum and dad and my sisters went crazy, they were really proud. I've gotten a lot of support from them."
For now, it's focusing on the Dragons and their much-changed line-up – the visitors have made 13 changes to the side that defeated Connacht last weekend – as Ulster aim to continue their unbeaten run.
After last week's impressive 27-20 win over the Scarlets in Belfast, the crucial thing for Ulster is not to let that good work go to waste, and Stockdale says that's something they know.
"There is a tendency to maybe become a bit complacent and get ahead of ourselves, but we're just focusing on being a week to week team and not focusing too far ahead or too far behind," he states.
"We're just saying this is the challenge in front of us now what are we going to do to make sure we over come that challenge and move on to next week."
Ulster
15. Charles Piutau
14. Tommy Bowe
13. Darren Cave
12. Stuart McCloskey
11. Jacob Stockdale
10. Peter Nelson
9. Paul Marshall
1. Kyle McCall
2. Rob Herring
3. Rodney Ah You
4. Robbie Diack
5. Alan O'Connor
6. Clive Ross
7. Chris Henry (Capt.)
8. Nick Timoney
Replacements
16. John Andrew
17. Andy Warwick
18. Wiehahn Herbst
19. Iain Henderson
20. Matty Rea
21. Dave Shanahan
22. Brett Herron
23. Rob Lyttle
Dragons
15 Carl Meyer
14 Adam Hughes
13 Thretton Palamo
12 Pat Howard
11 George Gasson
10 Dorian Jones
9 Owain Leonard
1 Thomas Davies
2 Gerard Ellis
3 Lloyd Fairbrother
4 Matthew Screech
5 Rynard Landman
6 Max Williams
7 Ollie Griffiths (Capt.)
8 Robson Blake
Replacements:
16. Rhys Buckley
17. Phil Price
18. Brok Harris
19. Joe Davies
20. Lennon Greggains
21. Dane Blacker
22. Angus O'Brien
23. Will Talbot-Davies.
Subscribe to The42 podcasts here: