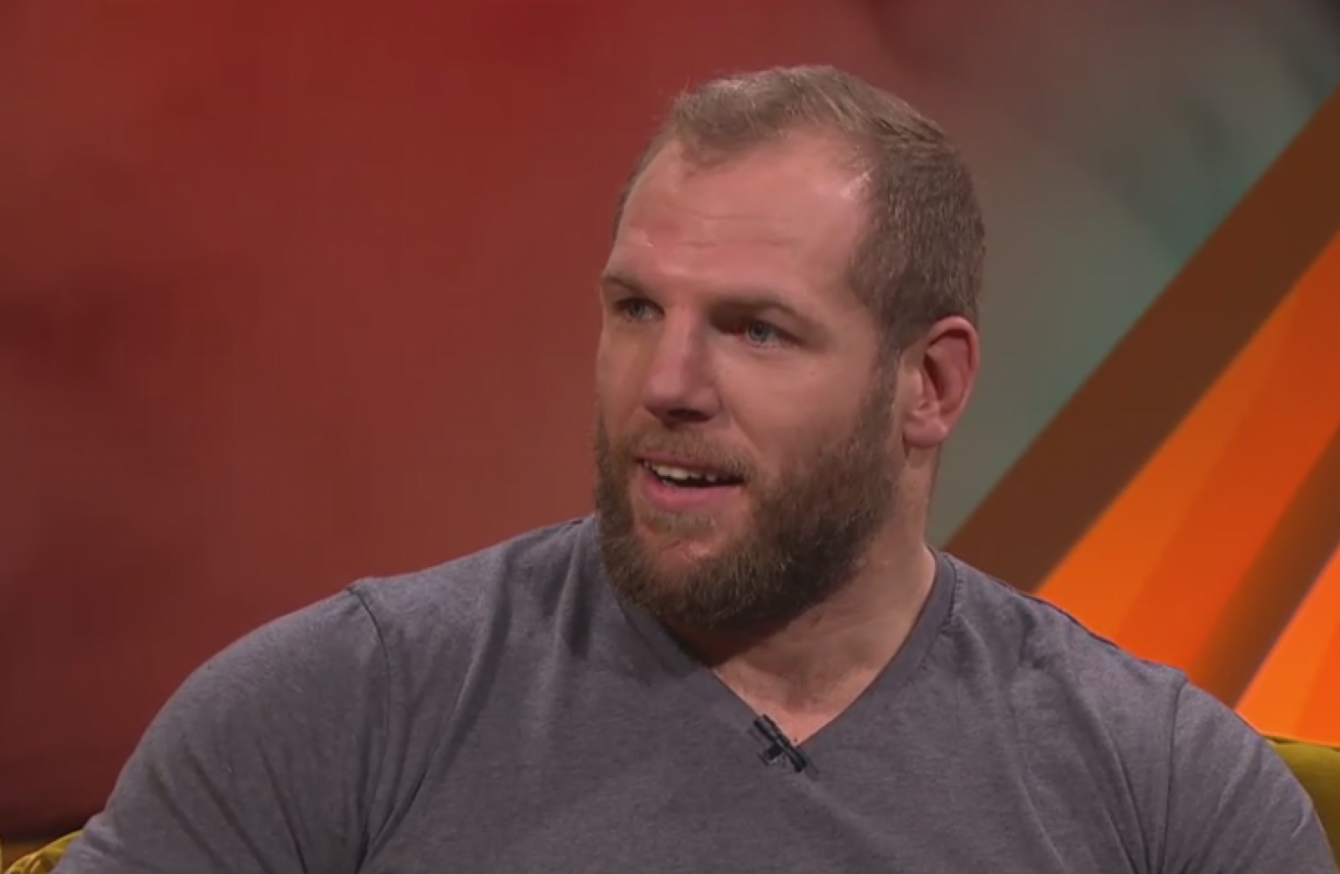 James Haskell appeared on Virgin Media's The Line-Out last week.
Image: Virgin Media Sport
James Haskell appeared on Virgin Media's The Line-Out last week.
Image: Virgin Media Sport
JAMES HASKELL WAS known as a fierce competitor on the rugby field. 
The back-rower earned 77 caps for England and enjoyed a club career in his homeland, France, Japan and New Zealand over the best part of two decades. 
Having faced the top sides in the world, Haskell feels that the Guinness Six Nations battles with Ireland — particularly those at the Aviva Stadium — were often the most difficult.
"Ireland as a nation are very tough and they are probably the team that I found the hardest to perform against, especially playing away," the 34-year-old says, backstage at The Line-Out, Virgin Media's new rugby and entertainment show.
"We lost two Grand Slams to them, which was really difficult."
"My old team-mate, Sean O'Brien, was a hell of a competitor and a hell of a challenge every time we played," Haskell replies, when asked to name the greatest Irishman he faced. "That said, you can't look past Brian O'Driscoll as he's the best player I ever played against. He was pretty amazing."
2017 saw Haskell selected for the British & Irish Lions tour for the first time, meaning a return to the country he once played his club rugby with for the Highlanders. 
For that seven-week period, rivalries are parked as Guinness Six Nations opponents become team-mates and he is thankful of the relationships formed with several Irish players. 
"I was very lucky to go on the Lions tour and build loads of friendships with people I didn't expect," Haskell says. "Johnny Sexton was someone I became close with, there's Sean O'Brien, Rory Best is a friend for life, Iain Henderson and Tadhg Furlong too. I bonded with all these guys."
Last August, Haskell decided to call time on his rugby career but says he had little choice in the matter.
"Retiring was the hardest thing I've ever had to do, but unfortunately the decision was made by the fact that I couldn't run anymore," he explains. "I always said I would play as long as I possibly could but I wasn't able to do that. I wanted to go to the World Cup and finish there but that wasn't possible. [England head coach] Eddie [Jones] tried to get me a game between England and the Barbarians but I just couldn't run so that door has closed now."
Fortunately, he had always held interests away from sport and saw retirement as an opportunity to try new things. He began presenting the House of Rugby podcast, appeared on I'm A Celebrity, Get Me Out of Here and put more time and effort into another passion of his – DJing. 
"I was scared when I retired because you never know what's going to happen and there is no guarantee," Haskell says. "You go from earning money on a fixed contract to earning no money at all, and you've got to find out a little bit about yourself in terms of whether you're actually any good at these things.
"Since the age of 17, I've always done things outside rugby and I wanted to make sure that I'd broaden my horizons so whenever I stopped I'd have something to fall back on. It's one thing having something to fall back on, it's another retiring and trying to stay relevant because you're a long time retired and easily forgotten.
My favourite one of all is DJing. I've been doing that for the last five years. That has picked up recently and I do it two or three times a week now. Last night, I played for 4,000 mad students and it's the best fun ever. It's a nice replacement for rugby as I get all the benefits of performing in front of a crowd, I'm playing amazing music and enjoying myself too."
An unexpected offer landed at Haskell's door in August when mixed martial arts (MMA) promotion Bellator contacted him to set up a meeting. Having previously done some commentary and analysis work in the sport, he believed that they would ask him to do something similar. 
You can imagine his complete shock then, when Bellator explained that they actually wanted him to fight.
"I mulled it over and went to seek advice from a gym called London Shootfighters, where I was lucky enough to have trained.
"They've got an incredible record so I went to them and was like 'Look, I want to prepare for my first fight. Do you think I should do it? Do you think it's a good idea? Am I an idiot? They all came back and said 'Yes you are an idiot, but we think you're very good and you could do well'.
"After a lot of soul-searching, I decided I wanted to challenge myself. I've always been a big guy and people think you're tough because you're big. That's not necessarily the case, as we see in the fighting world all the time.
"I've thrown myself headfirst into it, and it is the hardest thing I've ever done. It is the most attritional sport I've ever experienced. Everyday is a battle but I bizarrely enjoy it."
So, with a competitive debut pencilled in for 16 May at Wembley Arena, Haskell has been training hard over the past few months. 
"I've found it very difficult," he admits. "Every time you learn one skill, there's another one that comes along. It is a multi-disciplined sport and it's very technical. It emotionally challenges you. In rugby, you peak a couple in the week and have contact sessions, but they're not necessarily one-on-one battles like the ones you have in MMA everyday.
"The fitness is horrific and the default position is that you're drowning, so you have to think through that. It is the hardest thing I've ever done and it's a massive challenge."
His heavyweight opponent has yet to be announced but, regardless of who he will face off with in the cage, Haskell is determined to do himself and London Shootfighters proud. 
"There's a big balance between fear and excitement," he says. "I just want to make sure that I give a good account of myself and don't let the gym down because they have an amazing win record. There are probably plenty of people who want to see my get knocked out too.
I've had my rugby career and this is about a challenge, a bit of fun making a documentary and we'll see how I get on."
With that in mind, what does success in MMA look like to him? 
"Just get to the first fight and win," Haskell ends. "That's it for me. I'm not thinking any further ahead than that. It has taken a big toll on me in terms of the training five days a week. We'll see how that progresses. I just want to win the fight and then go DJ in Ibiza."
The Line-Out airs at 10pm on Virgin Media One every Thursday throughout the Guinness Six Nations. This week, the guests will include referee Nigel Owens and pop star Una Healy. If you miss out, you can catch up on the Virgin Media Player. Every Guinness Six Nations game will also be shown live on Virgin Media Television. Please drink responsibly. To learn more, visit drinkaware.ie.