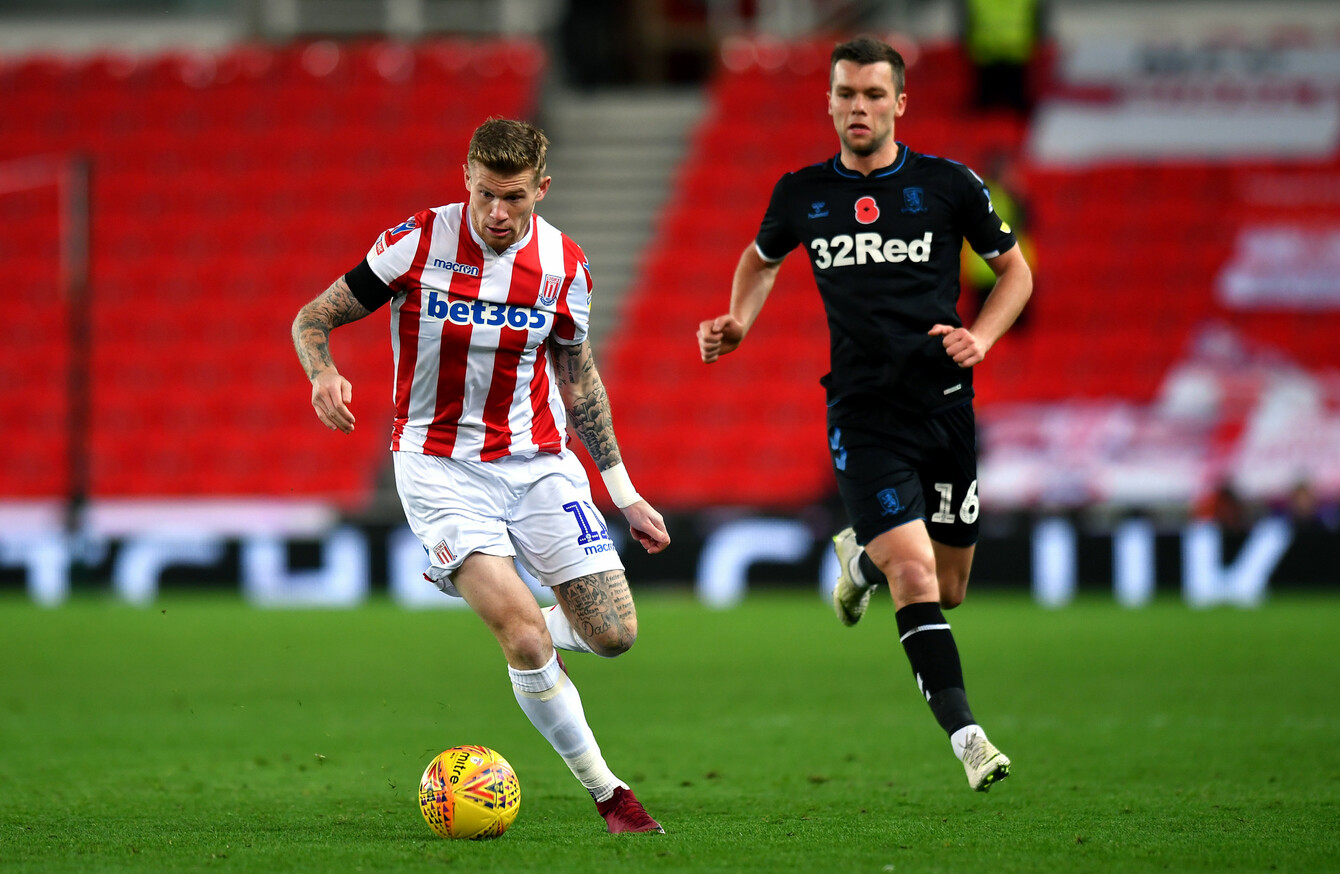 James McClean in action against Middlesbrough
Image: Anthony Devlin
James McClean in action against Middlesbrough
Image: Anthony Devlin
STOKE MANAGER GARY Rowett has revealed that James McClean's family has been subject to death threats and that packages addressed to the winger have been sent to the club's grounds during the most recent instalment of the now-annual controversy surrounding the Irishman's decision not to wear a remembrance poppy.
After being verbally abused for his long-held stance by travelling Middlesbrough fans as well as a small pocket of Stoke's home support last weekend, McClean received a warning from the FA for his use of profanity in an Instagram post in which he also labelled the fans in question "uneducated cavemen".
Speaking to the Stoke Sentinel, Rowett described McClean's post as "ill-judged", but admitted he had sympathy for the Derry man in the circumstances — especially given his family has also been subject to mistreatment.
"In terms of the reaction from the away fans you know you're going to get some form of abuse and it's about containing yourself and not reacting at all really," Rowett said. "When you have those beliefs you have to appreciate it's going to be a big situation on a weekend like that.
"When we spoke to James about it (his Instagram post), I think it was out of frustration and probably ill-judged. Certainly criticising a minority of our fans is not the way to go. We've spoken to him about that and can't condone that.
But when you understand the background to his belief and see that his family have had death threats, that his wife and kids have had abuse constantly, that he's been sent stuff in the post which I've seen recently from fans, you can understand, in a way, why he reacts. He's only human.
"We can't condone certain parts of those [McClean's] actions, but we can understand some because the abuse is pretty bad."
Explaining that he received his own tirades of verbal abuse at Wigan earlier in the season, Rowett added:
"My view is that everyone has freedom of speech and freedom to follow the path they want to follow. If you do that, you can't then react to the abuse or the criticism.
"James knows that. I think it was a heat of the moment thing and he knows he shouldn't have reacted.
He is frustrated with the whole weekend. I think he's one where he didn't want to say anything about it and leave everything alone, but you also appreciate that the club giving the statement before last weekend's game, you almost want to cover it before it becomes a problem.
However, Rowett also expressed his disappointment that some of Stoke's own fans had opted to antagonise a player wearing the club shirt.
The 44-year-old asked that the focus be switched back to football, calling for unity among the Potters' support.
"We want all our fans to be behind every one of our players and I'm not going to go into the fact that I don't believe our fans should abuse our own player for a political belief," Rowett said.
"I understand it's a difficult weekend for anyone who doesn't have the same belief as the majority of us but at the same time we are here to win games of football.
"I also understand that there will be people out there who will not be best pleased by his [McClean's] comments."
Rowett also pointed out that he signed McClean for his prospective impact on the pitch despite all the while being cognisant that he'd likely cause some consternation off it.
The former Derby manager, who described McClean as "a popular member of the group" and confirmed that Stoke's players had gotten behind the Ireland international, suggested that the 29-year-old could yet play a major role for his side this season.
"I always knew that there was always a chance that this type of signing might create a stir but I will reiterate what I said when I brought James to the club: it's about what I think he can do on the football pitch.
"I don't think we've seen the best of him due to his injury, due to a very fractured pre-season. What I would like to do is to try to get the very best out of him to spur us on to where we need to be.
I appreciate there's going to be a very mixed reaction to whatever decision I make but I stand behind him as a footballer and I stand behind him as one of our squad members. I will work as hard as I can to get him playing for Stoke City and showing the desire and the drive you could argue has been lacking in this team for 18 months.
Subscribe to our new podcast, Heineken Rugby Weekly on The42, here: