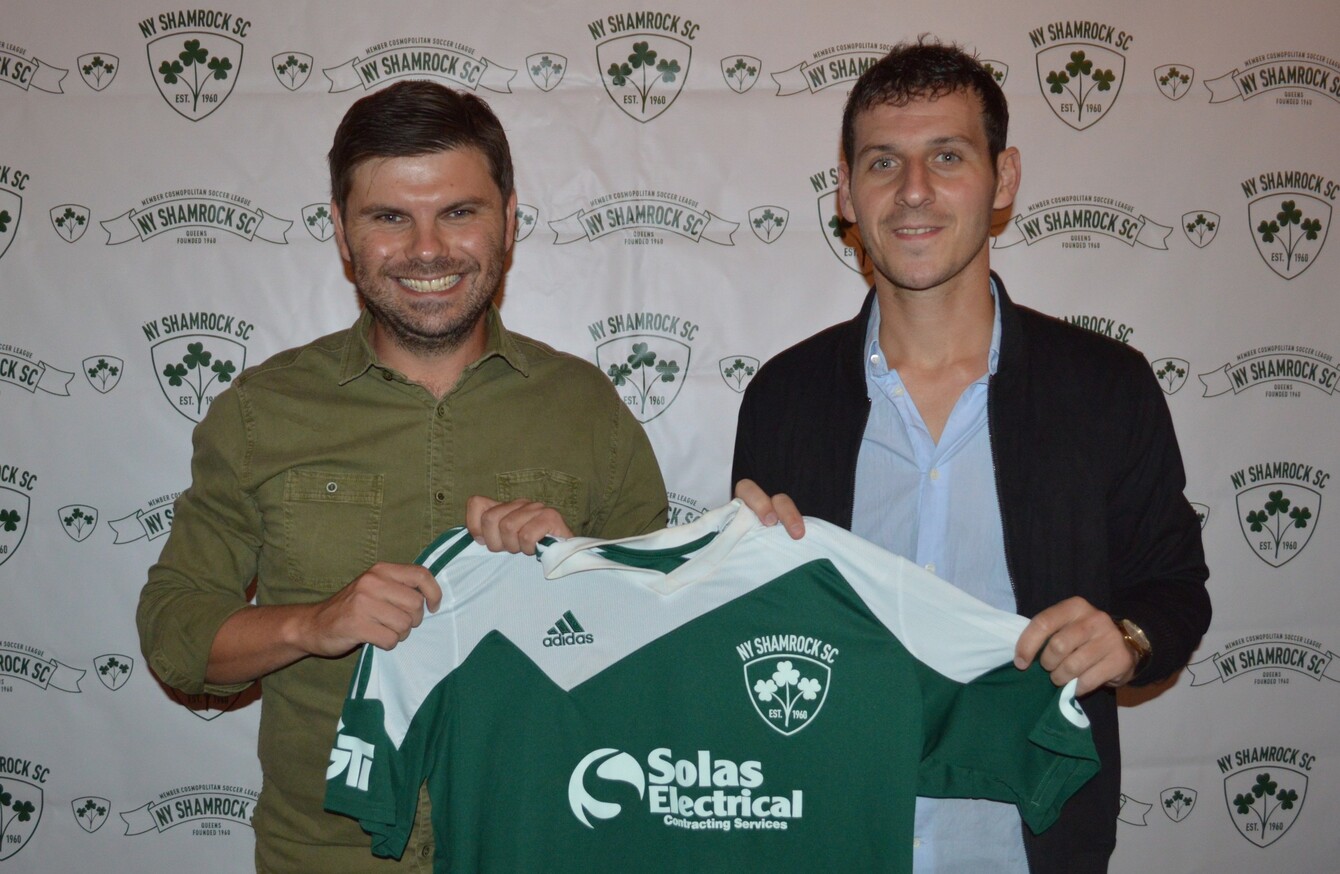 NY Shamrocks technical director Kevin Grogan and new signing Jamie Clarke.
NY Shamrocks technical director Kevin Grogan and new signing Jamie Clarke.
THE MULTI-TALENTED JAMIE Clarke is still putting his feet to good use despite being on a break from inter-county Gaelic football.
The Armagh forward moved to New York in June to pursue a career in marketing but he was also keen to improve his soccer skills, having scored in a cup final victory for Crossmaglen's Cartwheel United against Newry Celtic earlier this year.
Clarke's ability has already been recognised Stateside, where he has also been playing Gaelic football for the Longford GAA club in New York, which has seen him sign with NY Shamrocks, who play in Division 1 of the Cosmopolitan Soccer League.
Former Manchester United youth star and League of Ireland player Kevin Grogan is the technical director and first team coach of the Queens-based club.
The Dubliner's career was plagued by injury but he was part of Brian Kerr's famous Ireland U16s who beat Italy in the final of the European Championships in 1998, a squad which also included John O'Shea, Andy Reid and Liam Miller.
Grogan finally retired due to injury in early 2007, after spells with numerous League of Ireland sides, and proceeded to forge a coaching career in the US. And he has built quite a reputation as a soccer coach in the Big Apple.
When Clarke was introduced to Grogan, he was suitably impressed by his compatriot.
"When I first came out to New York, I was keen to play soccer for a team," Clarke, 27, told New York newspaper The Irish Voice.
"A friend of mine introduced me to Kevin Grogan. He was very professional in his approach. He laid everything out to a tee. He was very precise.
"As soon as I left that conversation, I was on board to join the Shamrocks straight away.
"The Cosmopolitan Soccer League is a really good standard and I hope to improve and develop, and it's all about putting the head down, work hard and learn."
Grogan sees great potential in Clarke, particularly when he considers the Crossmaglen Rangers man's proven temperament.
"Obviously Jamie has a great background in sport," Grogan told the NY Shamrocks' website.
"He understands what it takes to play at an elite level.
"He's been great for us since he's come into the side — his personality, he's been very open about wanting to learn.
"He recognises he has to work hard but he has the raw talent to become a great player here and we have very high hopes for him."
Last week the Irish News reported that Clarke was targeting a contract with MLS side New York Red Bulls, but Clarke was quick to insist that was not the case.
"In sport, rumours and speculation happen on a daily basis," Clarke, who can play up front or on the wing, added.
"Maybe it's because we're here in America and they're in Ireland and wires got crossed, but I have no idea where the story came from."
The42 is on Snapchat! Tap the button below on your phone to add!